I can't remember the last time I bought a frozen entree. I think it was back when I worked full-time about 5 years ago.  Oh wait! I did buy Lean Pocket Pizzas which was one of the only foods I could tolerate at the beginning of this pregnancy…random I know! Too be honest, not only do I prefer fresh food, I just never like the taste of the frozen meals….and I never felt satisfied after eating them. I also don't like the small portions, the high amount of sodium and processed ingredients.
I do love the brand Kashi though. They're known for being a little more natural and a healthier brand who uses more whole foods. They pride themselves in using 100% whole grains, no artificial ingredients and little preservatives. When I saw these frozen entrees on sale for $1.99 I thought it would be a fun blog post to try and review some of these meals. Of course it is always tempting to know that lunch can be ready in minutes without any planning, but that's as far as my interest goes. Let's see if I change my mind. I decided on Red Curry Chicken and Mayan Harvest Bake. Before I get started on my review, I'd like to share some general tips when shopping for frozen entrees.
Choose the lower fat brands such as Lean Cuisine, Weight Watchers, Smart Ones, Kashi, Amy's, etc.
Choose the variety with the lowest amount of sodium- 700 mg or less per entree is recommended.
Look for ones incorporating whole grains (Kashi, Amy's and Spa Cuisine from Lean Cuisine all have them).
Look for vegetarian options and/or entrees with at least one serving of vegetables.
Balance your meal with some fresh fruits and vegetables, not only to provide bulk but more nutrition to your lunch.
Try different brands and different flavors. Variety is always good.
Limit consumption of frozen entrees and try to incorporate more fresh lunches into your routine.
Look for entrees with 5+ grams of fiber.
Review #1: Red Curry Chicken, Kashi (
)
Product description: Kashi 7 Whole Grains and Sesame Pilaf with Chicken Breast, Fire-Roasted Sweet Potato, Red Peppers, Bok Choy, Bamboo Shoots & Kale & a Zesty Thai Style Red Curry Sauce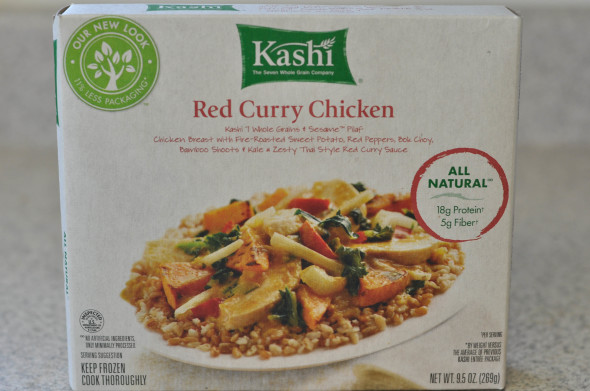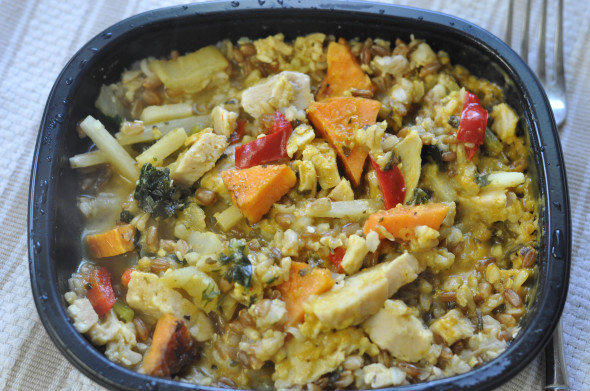 I really enjoyed the flavor of this entree. It definitely had those yummy thai flavors and I enjoyed the heartiness of the whole grain pilaf. The little bit of sweet potato was really tasty and unfortunately there was only 2 specks of bok choy and kale. I would have loved even more vegetables in it. I was very pleased with the calories and lower sodium content. I would eat this again.

Review #2: Mayan Harvest Bake (
)
Product Description: Plantains with Roasted Sweet Potato, Black Beans & Kale over Kashi 7 Whole Grain Pilaf, Amaranth & Polenta with a Spicy Ancho Sauce and a Pumpkin Seed Garnish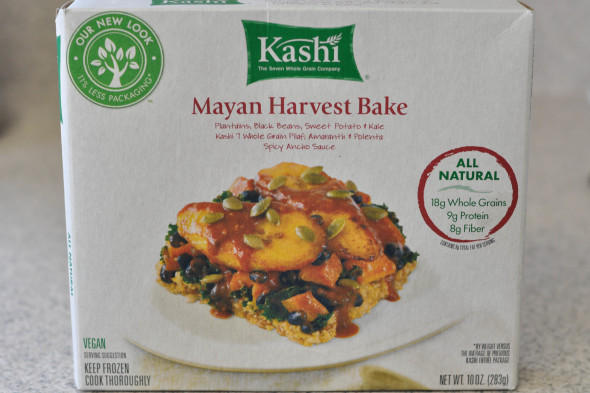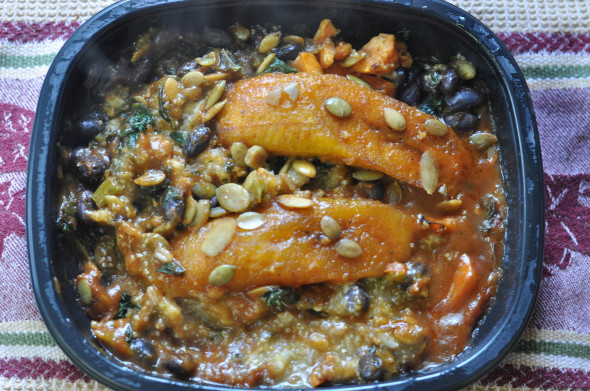 My first bite of this I thought "no like, this is bland" but as I continued to eat, it seemed to grow on me. Still not my favorite but definitely unusual. What I liked: the slightly sweet and yummy plantain, the flavor of the kale came through a little more this time because there was more of it. I also liked the heat from the ancho sauce. What I didn't like: the black beans had a little bite in them which made me feel like they were undercooked, the mushy polenta did nothing for me. I think this dish needs an extra dash of salt to really make all of those flavors pop. It is a vegan choice which is nice. I felt like I was eating something healthy and it really filled me up on 340 calories, 8 grams of fiber and only 380 mg of sodium! I probably won't buy this one again though, but this is all personal preference!

Overall, I am really impressed with Kashi's unusual combinations of ingredients and flavors that make you feel like you are eating something slightly more gourmet than a frozen meal. I am still not going to be stocking up on these, but if they work for your schedule and meal plan then I highly recommend this brand.