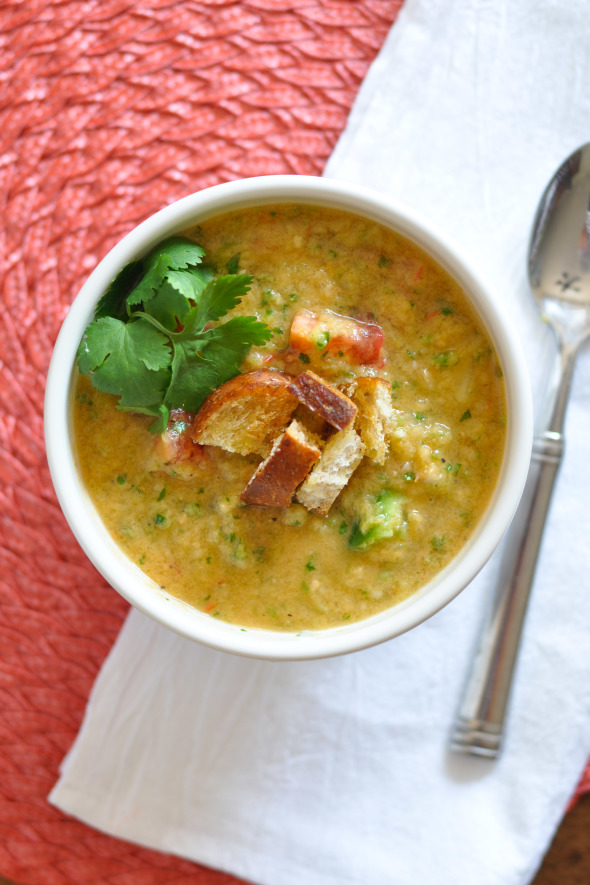 I have wanted to make gazpacho all summer. It has been way to long since I made it last, but then fall arrived and I got over it. Then two things happened: we had a burst of lovely warm weather and our neighbors dropped off a gigantic basket full of vegetables from their garden (carrots, bell peppers, squash, cucumbers, tons of tomatoes, chili peppers).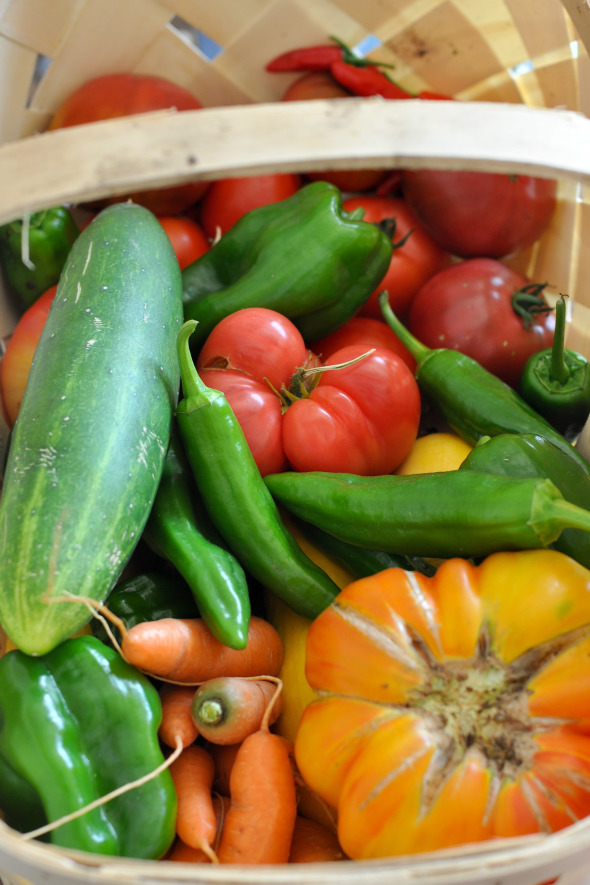 I was a bit in shock that neighbors who we really don't know that well would give us so much! It was very heart-warming and reminds you that there are kind people all around us. So after the shock wore off, I looked at the beautiful basket and it just screamed gazpacho!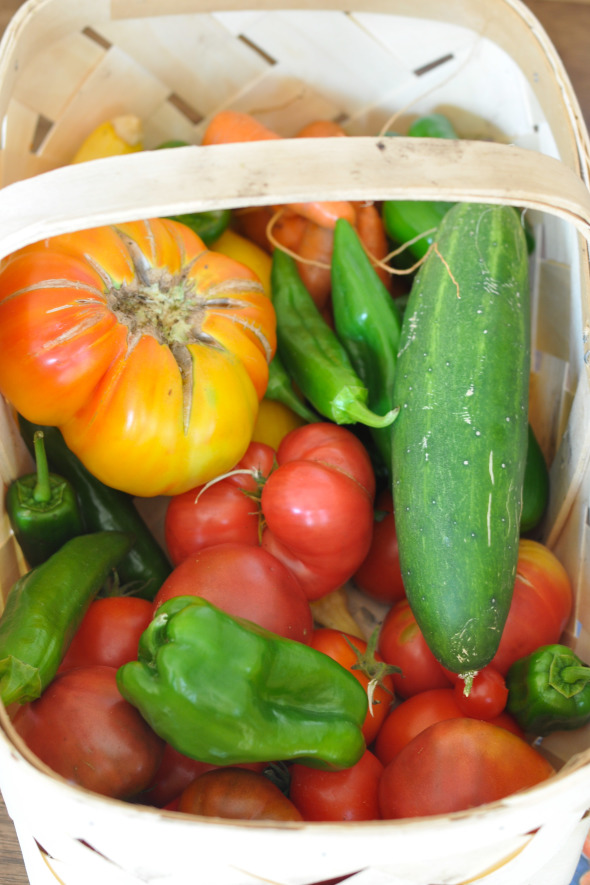 When I went to the BlogHer Food conference back in June I had this amazing spicy gazpacho. It was some of the best I have ever had and boy do I wish I had their recipe. It was also light in color like mine so I am assuming they used mostly yellow tomatoes like I did. I had to use up this beautifully, un-perfect giant yellow tomato.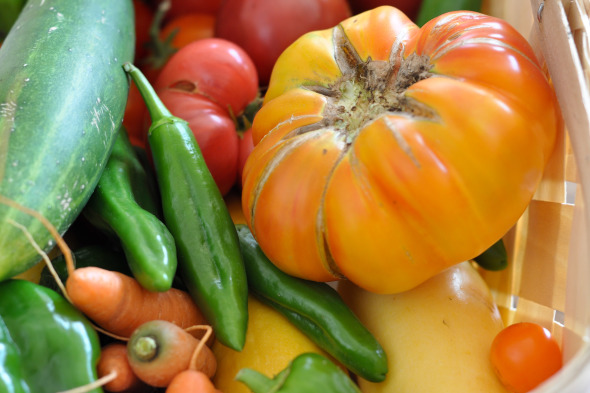 Their version was completely blended but I like a little more texture to mine so I leave a portion of the chopped veggies out of the blender to add them at the end. This gives you some chunks of veggies to bite into.
It might shock you at how easy to make this soup is- the hardest part is all the chopping. All you need is a blender or food processor and you are ready to go!
Here is my version of a yummy end-of-summer produce spicy gazpacho! Healthy and good clean-eating!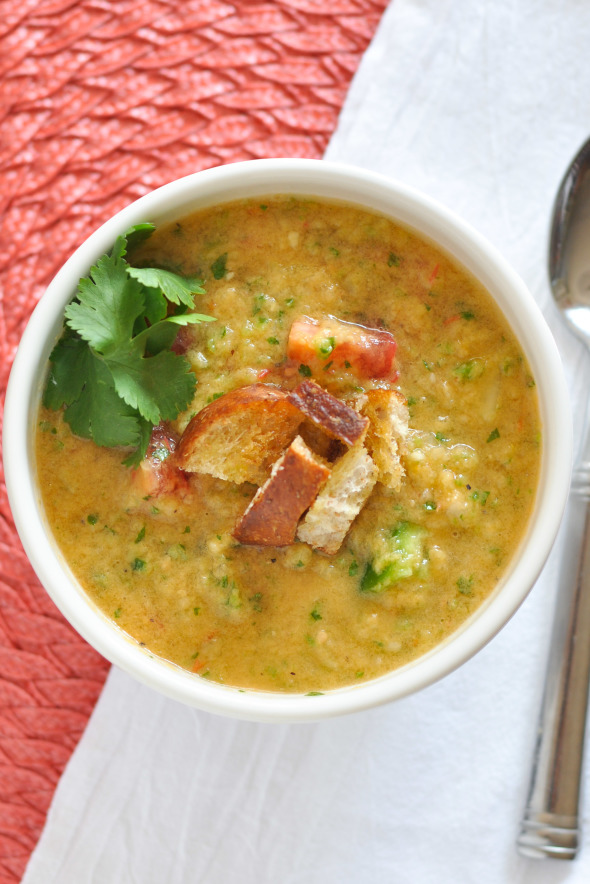 There are a variety of options for toppings: avocados, grilled shrimp, cilantro, croutons, sour cream. I really love the crunch and texture some croutons give it. I made these from some leftover wheat rolls – just cut, drizzle with olive oil and bake at 350 for ~7-8 minutes depending on the size of the cube of bread.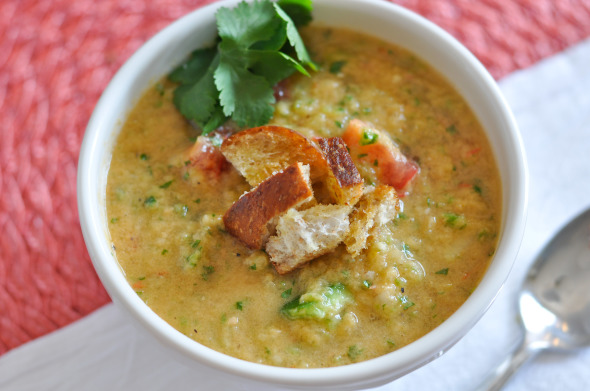 Spicy Gazpacho
Ingredients
~4-5 cups of chopped tomatoes, yellow and red (about 6-8 tomatoes)
½ large cucumber, peeled, seeded and chopped
1 green bell pepper, chopped
2 serrano chili peppers, seeded, membranes removed and chopped
2 garlic cloves chopped
⅓ cup cilantro leaves, roughly chopped
2 Tablespoons red wine vinegar
2 Tablespoons olive oil
1 small lemon, juiced
salt and pepper to taste
Instructions
Add all but ⅓ of the veggies (tomatoes, cucumbers and bell peppers) to the blender or food processor (make sure those remaining vegetables are chopped to a bite-size dice). Add in ALL of the garlic, Serrano chilies, red wine vinegar, olive oil, a couple pinches of salt and pepper. Blend until smooth.
Pour mixture to a glass bowl. Squeeze in lemon juice. Add the remaining reserved chopped veggies and season soup with additional salt and pepper if needed.
Refrigerate for at least 2 hours for flavors to marry. Garnish with cilantro, sour cream, croutons or avocado.
Notes
If you do not like it spicy, omit or reduce the amount of chili pepper added (or may use a milder pepper like a jalapeno). To make homemade croutons, cut up wheat rolls or other airy bread, drizzle with olive oil and toss with hands to to coat. Bake on cookie sheet at 350 degrees for 7-8 minutes or until browned.
I am not meal planning this week because we are have company coming in Tuesday from Texas- my brother and his family and although I have some ideas of what we'll eat, I am not 100% what to make or when we will eat out. I will definitely be back to planning next Sunday!
Question: do you like gazpacho? What are you having this week? What is your favorite meal to make for company?
Don't want to miss a post? Make sure to sign up to receive emails from Nutritious Eats. I love hearing from you! Please leave a comment, ask a question or just say hi. And if you've enjoyed this post, please pin, share, tweet or stumble away so that others can enjoy eating healthy with us! Thanks for reading!