I am so excited that DietBet starts tomorrow! You still have time to sign up and even if you decide to join in later you can (you will just have less time to lose the your body weight). Remember the deal each player puts $25 into the pot. You set the goal to lose 4% of your body weight in 4 weeks and if you succeed, you get to split the pot with the other players that lose. I think it will be a great motivational tool and it's a great time at the start of the new year to get healthy. Like I mentioned before, I am hosting the DietBet and although I don't need to lose 4% of my body weight, I am super excited to try to eat as healthy as I can over the next four months and lose a couple holiday pounds. The pot is at $700 now!
This weekend was pretty busy for us as we rarely have plans. Friday night the hubs took the two older kids clam digging for razor clams with a small group of families from work. This is a very Washington thing to do so they didn't want to miss it as the season is pretty limited. As neat as it sounded, I decided to stay home with baby R. He is 14 months and is used to going to bed at 7pm and clam digging is a low tide which happened to be around 5:30/6pm on Friday. It was about a 2 hour drive to the beach (where this particular type of calm can be found) and temps were in the high 20s so we decided it would be best if I stayed home with him. The law limits each person to 15 clams.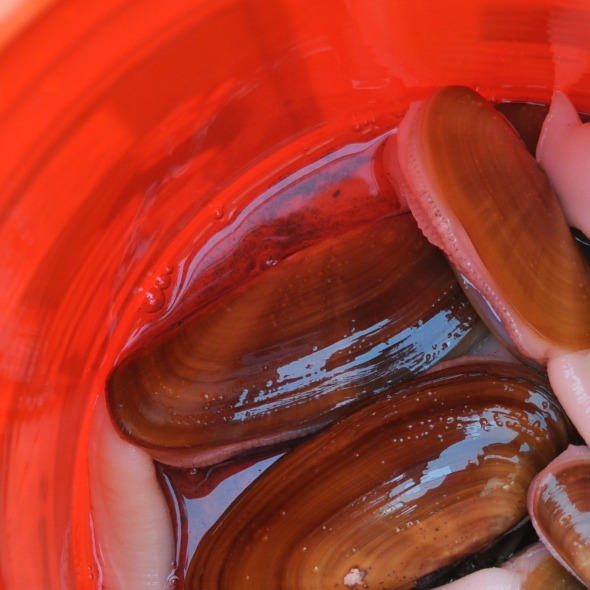 and now the fun part is figuring out how to prepare them! We have around 2 1/2 pounds of clams! That is without the shell so we can freeze some and try a couple different preparations. Clams are not usually something I'd buy and cook at home so this will be a fun challenge to me. Apparently razor clams are like the prime rib of clams so we are excited to cook them!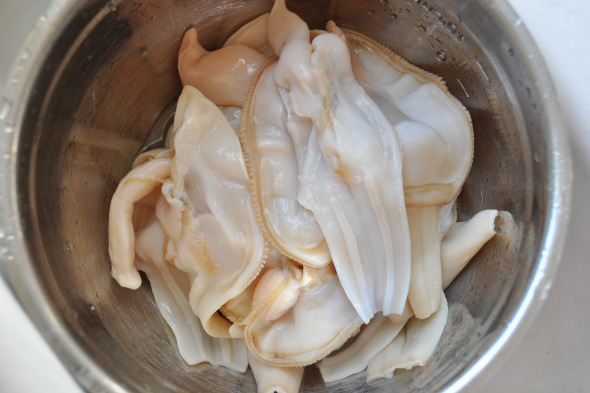 Here are some options for cooking with razor clams (from Saveur magazine recipe here)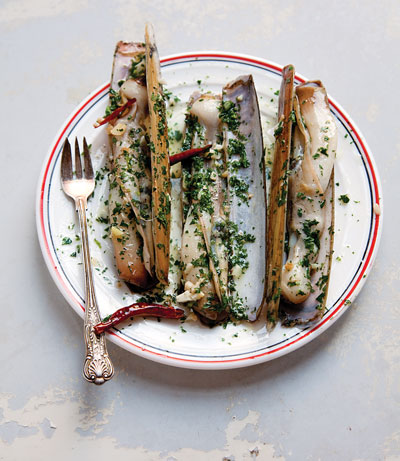 I definitely have to make clam chowder (Photo credit).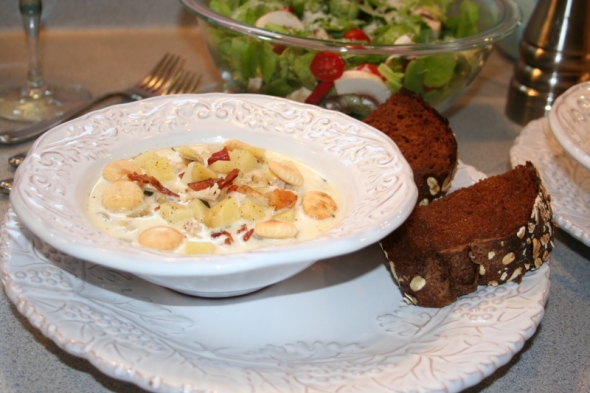 or maybe Emeril's recipe for Grilled Razor Clams with Meyer Lemon Chive Vinaigrette (photo credit from Food Network)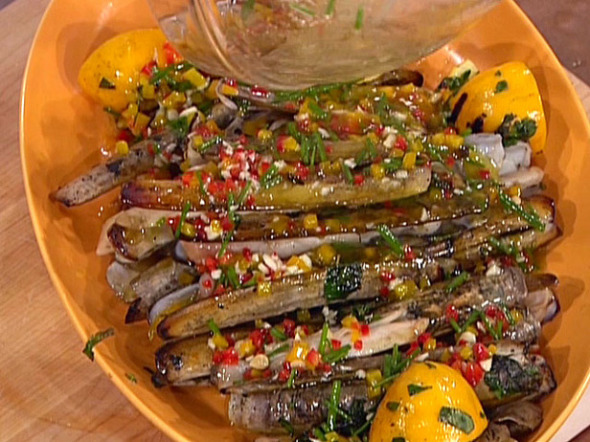 or this recipe for Panko Crusted Razor clams (photo credit from Sticky Gooey Creamy Chewy Blog).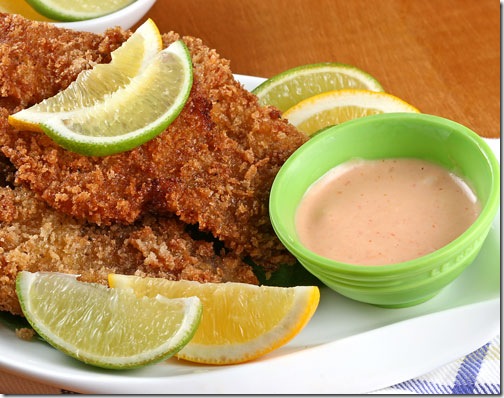 We also had plans Sat night, dinner at some new friends' house and tonight I am having an old work friend and her husband over for dinner. Totally excited. We used to work together in San Diego and she is the only real friend I have here and we haven't been able to hang out much!
Here is meal planning and I gotta run and start prepping for dinner. Have a great week everyone and to those of you starting the DietBet…good luck!
Sunday
Chicken Fajitas, Beans, Broccoli Slaw, Chips & Guac
Monday
Leftovers
Tuesday
Brown Rice Lentil Burger, Sauteed Greens with Garlic
Wednesday
Something with clams….
Thursday
Roasted Veggie Pizza (trying out a new crust)
Friday 
Out to dinner
Question: Anyone cook with fresh clams? I'd love your suggestions on how to prepare them! Who has joined the DietBet?