All the flavors from an Antipasto Platter, turned into a bite size salad, perfect for "Tapas night" or al fresco dining, picnic style.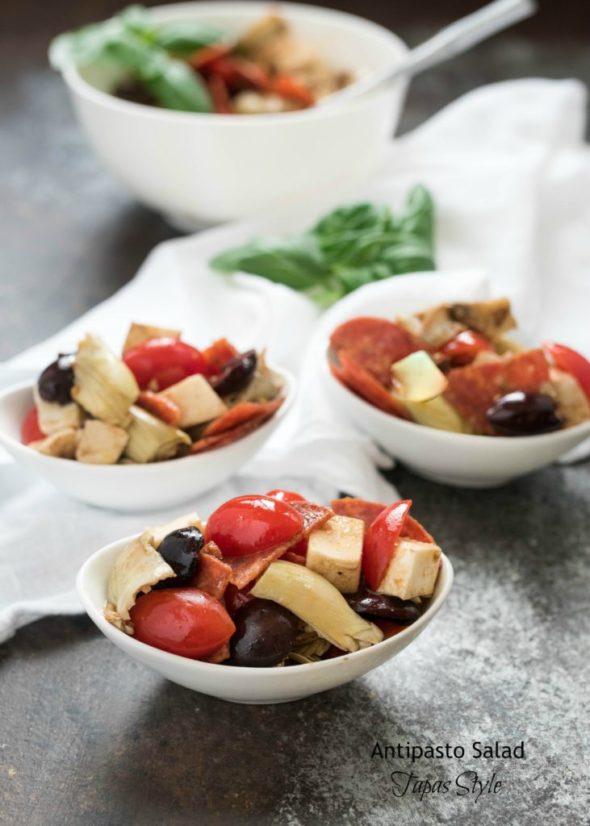 The theme of this month's Recipe Redux is "Small Plates for Sunny Days: Small plates are perfect for trying many different tastes. Take tapas style eating outside for alfresco dining or a simple picnic".
I love a good tapas restaurant, and if you haven't been, it is worth trying one! They specialize in small plates, which are typically more reasonably priced dishes and that allows you to try several things. I have great memories of dinner with friends in New Year, Boston and San Diego, ordering tapas and sipping on wine.
Tapas style eating promotes variety and allows you to try new things that you might not otherwise try. If you go with a large group you can order many dishes for the table and everyone gets a taste or two of each item. I also love how the menu is divided typically into salad type tapas, cold plates and hot plates. You can ensure your palate will have a well-rounded experience if you order one or two from each category.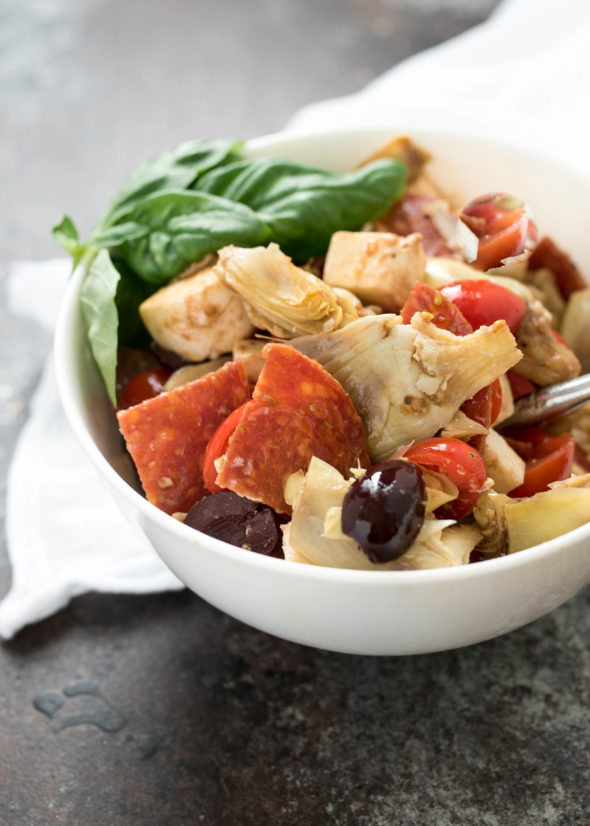 Of course since I am salad girl, I have to make sure that doesn't get skipped over. I basically took some things you'd find in a antipasto plate and turned them into a chopped salad. These are all basic ingredients I keep stocked especially for homemade pizza night. I buy the extra large uncured, nitrate free pepperoni at the commissary. They are at Italian brand Fiorucci and I love the quality and taste.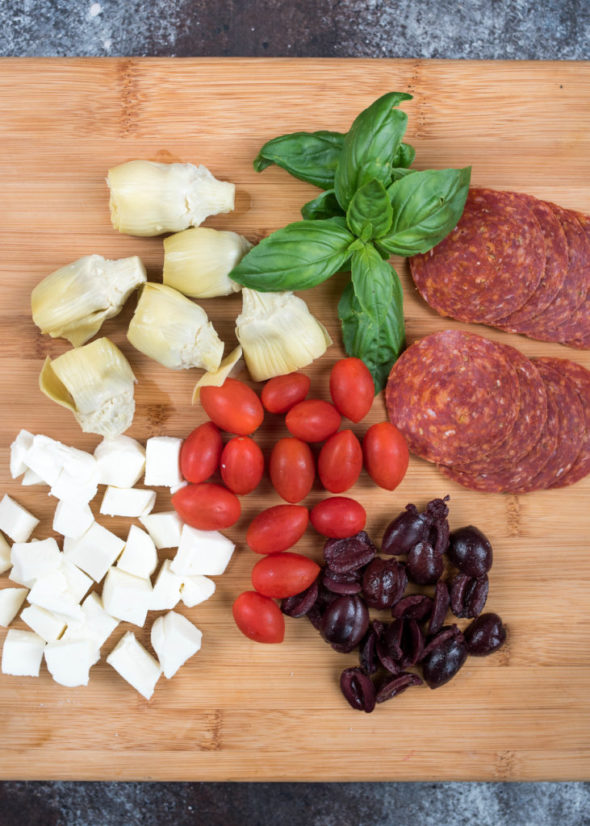 You can totally replicate a tapas experience at home. Just focus on small portions and variety and you are good to go. This might mean taking a recipe and cutting it in half or even fourths depending on how many you're serving.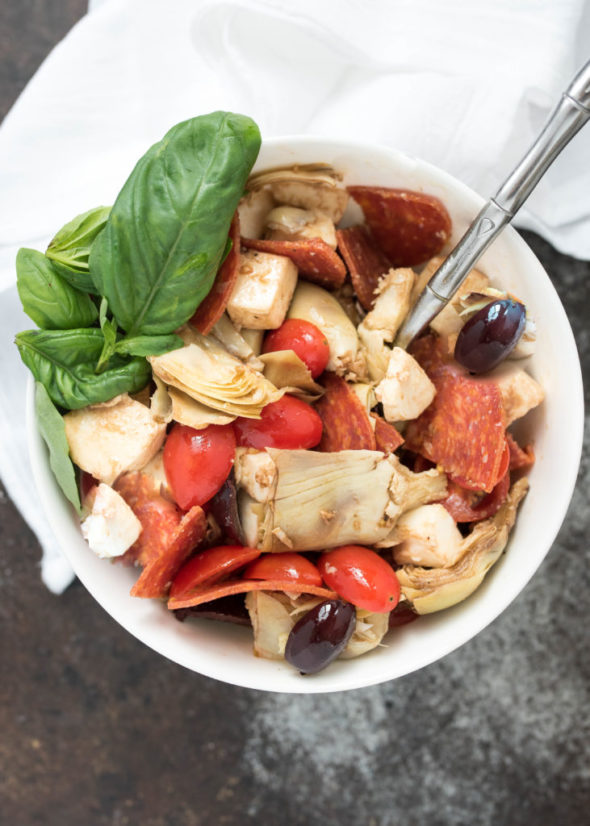 This salad gets even better with time so it's a great make-ahead item. I would just wait to stir in the fresh basil though until you're ready to serve. I actually liked it as is so kept it as an optional ingredient.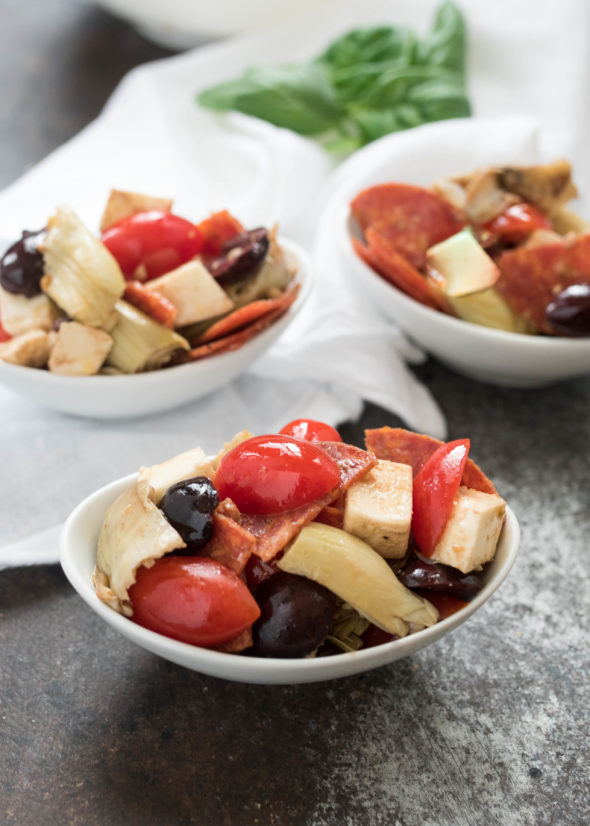 Hope you have fun with your Tapas Menu!

Antipasto Salad
Enjoy eating Tapas style? Enjoy this tasty Antipasto salad along with a few other small plates.
Author:
Melanie F. | Nutritious Eats
Ingredients
½ can artichoke hearts, drained and chopped
4 ounces fresh mozzarella, diced
2 heaping tablespoons chopped kalamata olives
2 ounces uncured extra large pepperoni, cut into quarters (if regular size, just cut in half)
½ cup diced tomatoes
For the dressing:
2 tabelspoons balsamic vinegar
1 small clove garlic minced or ½ large
½ teaspoon honey
⅛ teaspoon pepper
¼ cup olive oil
fresh basil (optional)
Instructions
Chop all ingredients and add to a bowl. Add 2-3 tablespoons (start with 2 and add more to taste) of the dressing and stir to combine. Serve garnished with fresh torn basil (optional) or as is. Can be made ahead of time for a Tapas Style dinner.
Notes
I highly recommend a high quality pepperoni or salami for this salad. I love the uncured nitrate free from Fiorucci.

Check out these other recipes for small plate inspiration!