I hope everyone had a fabulous Thanksgiving! We sure did. We stuffed our faces, enjoyed the beautiful Hawaii beaches and were thankful.
I was very thankful this year for stuffing and the turkey (that I didn't cook !). Be ready though, I plan on doing a lot of cooking next month to get  you prepared for Christmas……and a warning, not all will be super "healthy", but I will try to provide a nice mix of both healthy and decadent dishes.
As we get back on track with healthy eating this week and finish up all of the leftovers, I wanted to post some lighter recipes. One is for my weekly-made salad dressings, a lemon vinaigrette. Growing up, we had salad all the time with our meal. My mom is known to many as the queen of salads. She just has the touch and now I make salads almost every night (different variations). Now I'm not talking boring lettuce with carrots, tomatoes and bottled dressing. I'm talking great toppings- avocado, craisins, nuts, figs, feta, goat cheese, beets, pickled veggies…to name a few of my favorites.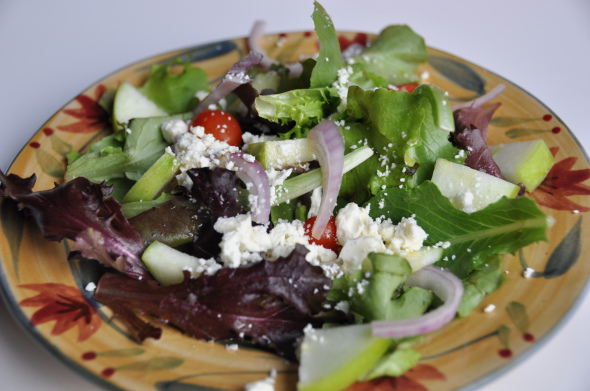 So this is one of my recent favorites. Buy yourself some mixed greens (either in the bag or box). This will have a delicious mix of baby lettuce, spinach and raddichio; then add in some green apple, red onion, tomatoes and feta. Toss with the lemon vinaigrette, it is simple and tasty. I will have to say, there is just something about the green apple and feta that really works with the lemon dressing, but I did substitute a Braeburn a couple times and it was good too. Sometimes I add avocado to this too which is delicious. Feel free to top it with some grilled chicken for a more substantial meal.
Now onto the dressing. I LOVE making homemade dressings. They are so much healthier because you can control the salt and sugar added; dressing needs very little (if any) of both. The reason the bottled dressings have so much salt is because it acts as a preservative. If you pay attention to the expiration date you'll notice that they are good for usually over a year from the date of purchase. When you make dressing from scratch, of course it won't last too long (probably 1-2 weeks tops), but you can control what goes inside and they taste SO much better!!
For now, I'm going to start you off with a very simple vinaigrette. Don't forget you can always use plain ol' oil and vinegar which will provide you with NO sodium as compared to 250 mg to 350 mg of sodium per serving of bottled dressings…..and that is only for 2 Tablespoons!
All you need is these basic ingredients to make homemade dressing (and a pinch of salt, pepper and sugar not pictured)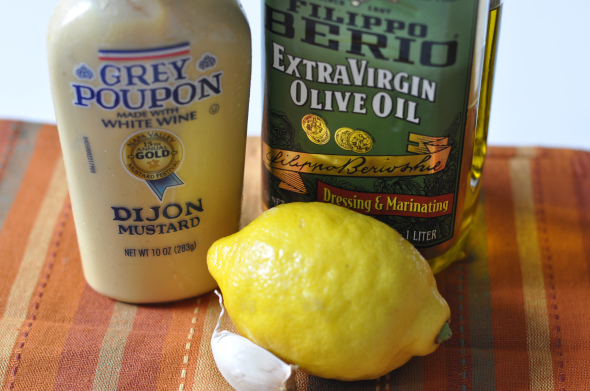 Now when I make my salads, I just dump stuff into a bowl depending on how much I have or want in the salad. I came up with some estimated measurements, but feel free to do your own thing.
Apple, Feta Salad with Garlicky Lemon Vinaigrette
Recipe from Nutritious Eats
INGREDIENTS:
Organic mixed greens, ~ 1/2 bag
1/4 cup red onion, thinly sliced
1/4 cup grape tomatoes
1/2 small apple (Granny smith or Braeburn), cut into chunks or thin slices
2-3 Tablespoons feta cheese crumbles
DIRECTIONS:
Mix in all ingredients in a bowl. Toss with Lemon Vinaigrette (recipe to follow).
Yield: 2-3 side servings, 1 entree size
Lemon Vinaigrette
Recipe from Nutritious Eats
INGREDIENTS:
1 1/2 teaspoons dijon mustard
1 lemon, juiced
1 garlic clove, grated (I use my microplane or you can dice very finely)
1/4 teaspoon sugar
1/3 cup extra virgin olive oil
Pinch of salt and pepper
DIRECTIONS:
1. Mix dijon and the next 3 ingredients together (through sugar)- whisk together. Very slowly add olive oil, little by little until emulsified. Add pinch of salt and pepper. Shake in glass container with tight fitting lid. Drizzle desired amount onto salad.
Yield: 7 Tablepoons
Nutritious Eats benefits: fiber, antioxidants, Vitamin C, Vitamin E, monounsaturated fat, low in sodium
Up next, that homemade tomato sauce I mentioned a couple weeks ago, a great week night soup, some food-inspired Holiday gift ideas and more (obviously)!