You'll taste hints of cinnamon and nutmeg in these super duper moist applesauce muffins.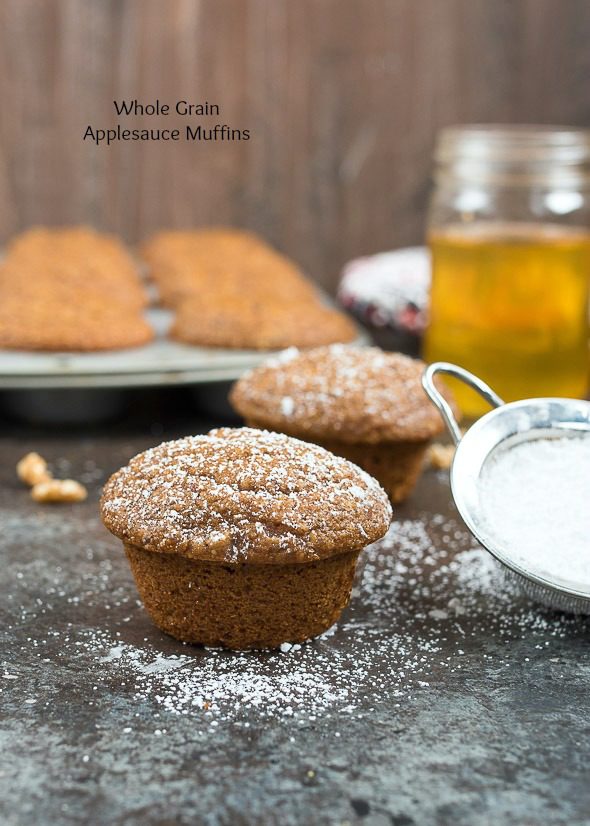 I used to make an applesauce cake, which is simple and delicious but pretty high in sugar. The strange thing is that it didn't even taste overly sweet. 2 cups of sugar….break that down per serving and it's too much to fit into a healthy daily meal plan so I decided to lighten it up by creating applesauce muffins.
These muffins are super duper moist from all of that applesauce and the sugar has been reduced from 2 cups of white sugar to 1/2 cup of honey.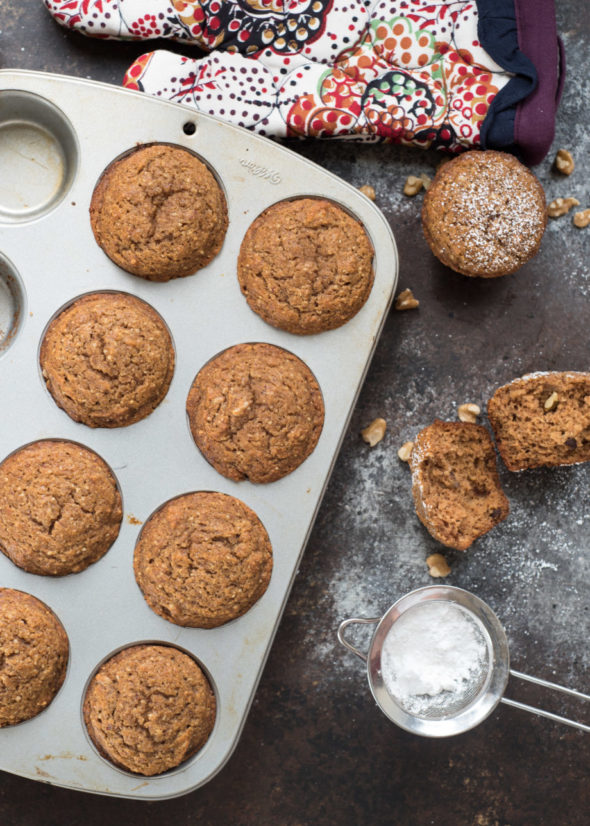 I think my favorite part of this recipe is that it can be whipped up in less than 10 minutes. Trust me on that, I had to make them quite a few times. My third try, I was even able to make them before school!
I used a combo of whole grain white wheat flour and almond meal (aka almond flour). I like baking with almond flour but in order to not weigh the muffins down with too many calories, I limited it to 1/2 cup. This adds a little extra protein, healthy fat and Vitamin E to the recipe.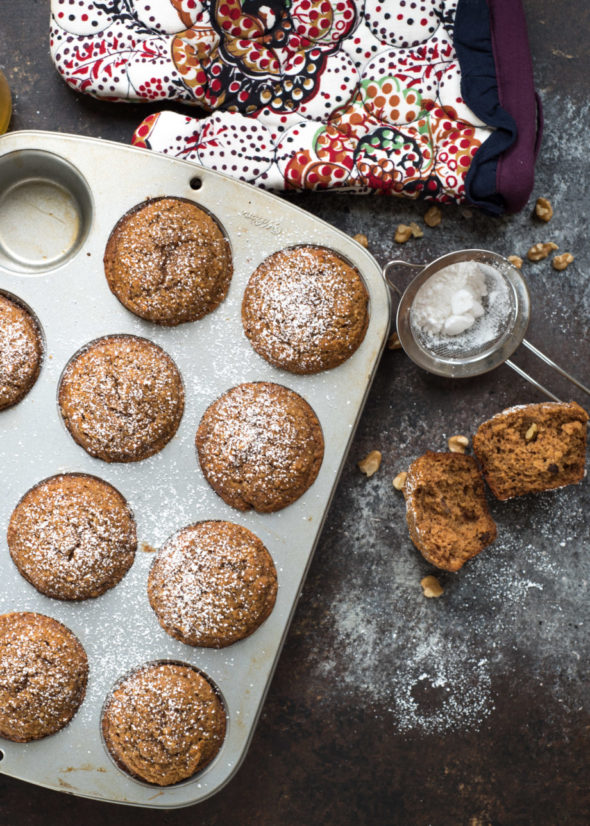 If this is not something you have on hand, just sub additional wheat or all-purpose flour. My kid's loved these! Feel free to add extra nuts or other add-ins, but for a simple and tasty (on a scale of 1 to 10, I give them a 20 for moisture) muffin, they are great!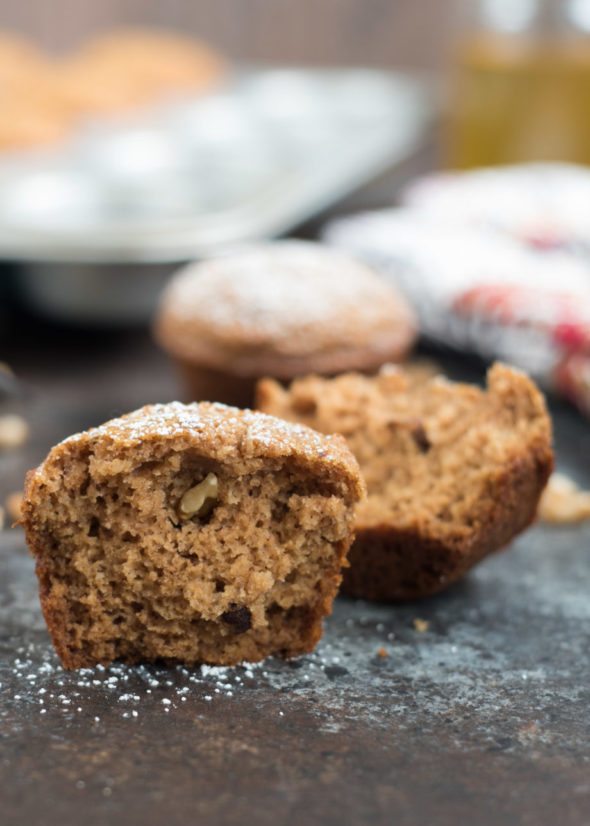 It's hard to beat freshly baked muffins for breakfast and snacks. I would add a hard boiled egg to this for a more balanced meal.
Applesauce Muffins
Author:
Melanie F. | Nutritious Eats
Ingredients
1¾ cup white wheat flour or whole wheat pastry flour preferred
½ cup almond flour
2 teaspoons baking soda
½ teaspoon salt
2½ teaspoons cinnamon
¼ teaspoon nutmeg
2 cups unsweetened applesauce (often labeled "natural")
½ cup honey or brown sugar
½ cup vegetable or melted coconut oil
2 eggs
1 tablespoon vanilla extract
½ cup chopped walnuts
powdered sugar (optional)
Instructions
Preheat oven to 350 degrees. Spray a muffin tray with cooking spray or line with paper liners. In a small bowl mix together dry ingredients- flour, almond meal, baking soda, salt, cinnamon and nutmeg. In a large bowl mix all the wet ingredients- applesauce through eggs. Stir dry ingredients into wet ingredients and whisk together to combine. Stir in chopped walnuts. Divide batter evenly in the muffin tray. Bake at 350 degrees for 18-20 minutes. Dust with powdered sugar before serving, if desired. It is recommended to store in the refrigerator after day 1, due to the high moisture content.
Notes
These muffins are not overly sweet. You can go up to ⅔ cup of brown sugar if you'd like them sweeter.