Asian Chicken Quinoa Bowl can be enjoyed cold or hot and is a great meal prep addition!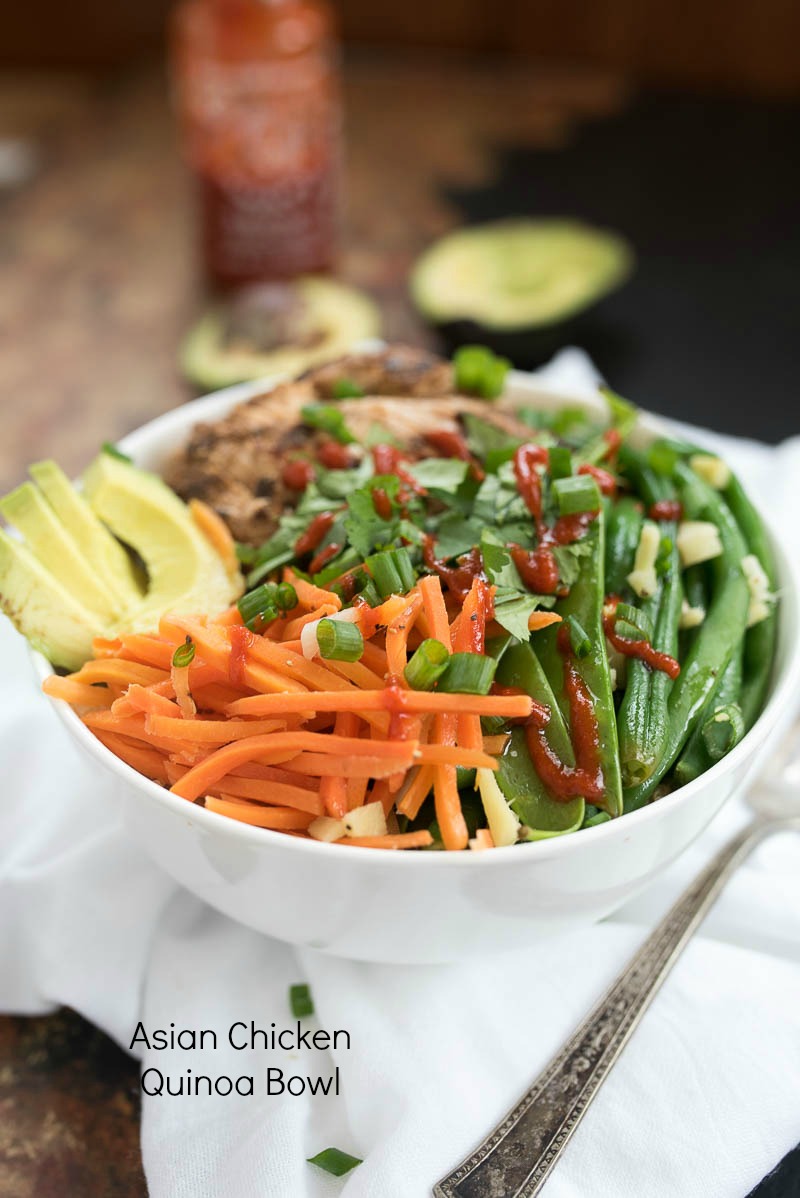 Aloha friends, today is the day! The day before vacation starts! I am beyond excited that tomorrow afternoon I will be in Hawaii for a month with my extended family. Stay tuned on my Instagram page where I will share pics! I will keep posting here, although probably only once a week, hope you understand.
Raise your hand if you love "bowl" meals? I love a little of everything packed into one dish. Plus they are just so pretty, aren't they?
I have been making quinoa as a staple to incorporate into my meals, but I definitely need some flavor to go with it. This Asian marinaded chicken with all the veggies, avocado and Sriracha is a bright, fresh and healthy combo. I love a simple steamed vegetable loaded with garlic and ginger!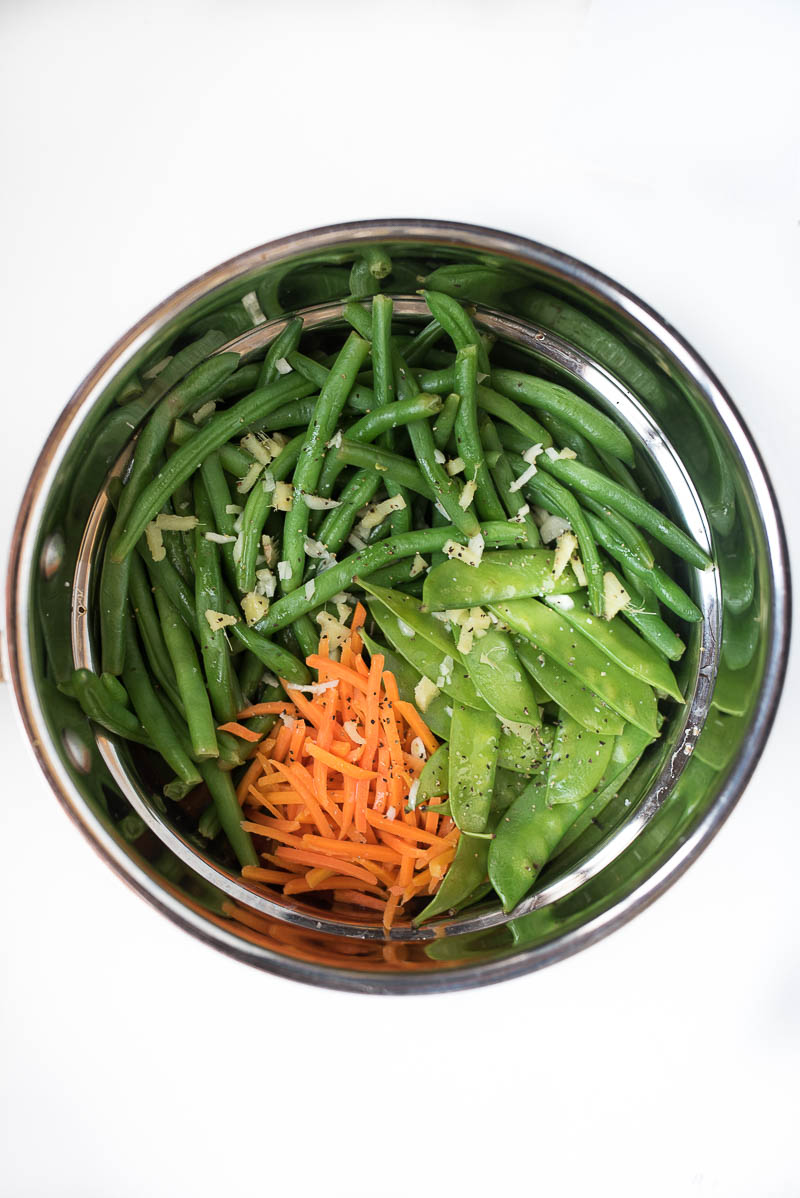 You can easily double this to feed a larger family. I actually prefer this dish cold so I make it all ahead of time and then it's ready to go for dinner. You can serve it warm too, totally up to you.
And I love knowing I am getting a super balanced meal in one dish- you've got a whole grain, lots of protein, healthy fat and a good portion of veggies! Of course you can customize this to whatever veggies you have on hand.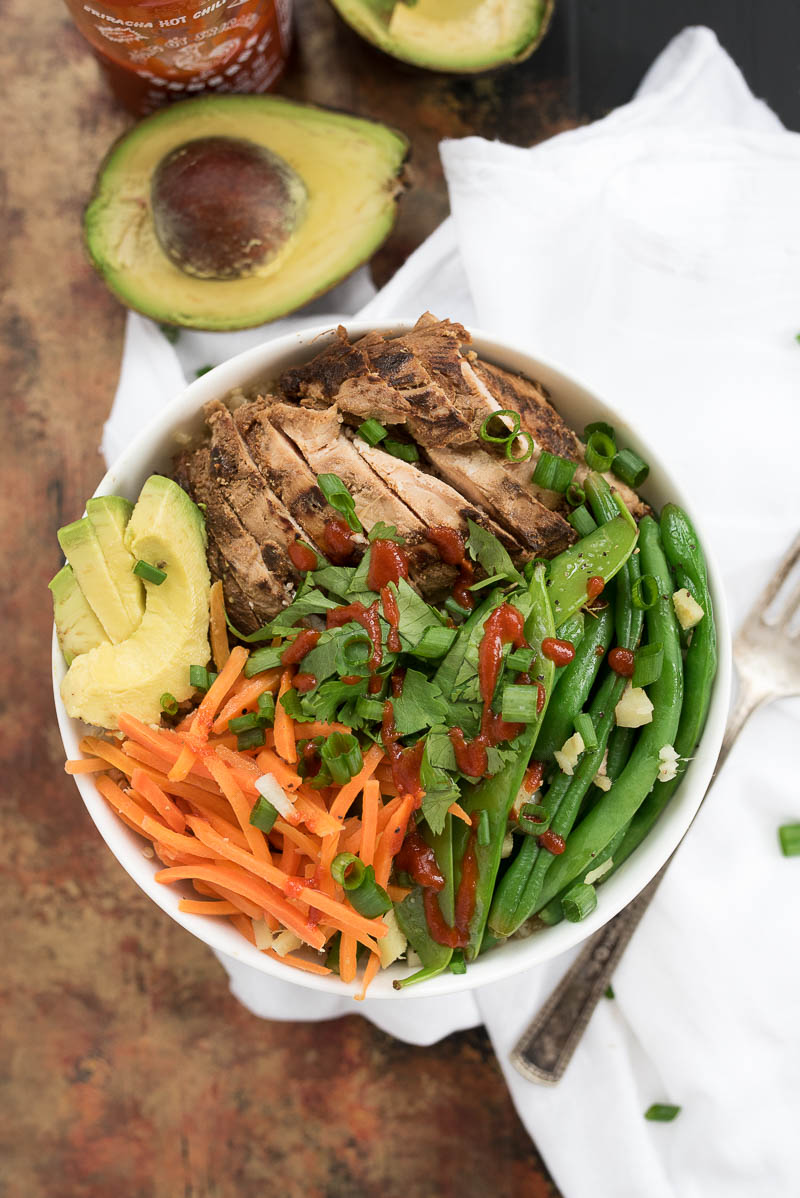 If you are into meal prepping, which I highly recommend, this makes a great make-ahead meal because it can be eaten cold or hot and will stay fresh for a few days. All of these things separately can keep well in tupperware if you decide to assemble it last minute or go ahead and make the bowls and cover them with plastic wrap.
If you haven't gotten into the meal prep bandwagon, it helps to take baby steps. Maybe focus on one meal prep meal a week and expand from there. I know if I have something my husband and I will enjoy, it's easier for me to whip up something simple like eggs, fruit and toast for the kids if I'm serving something they won't like.
This Quinoa and Sweet Potato with Chimichurri is another great bowl meal option if you don't like the flavors here.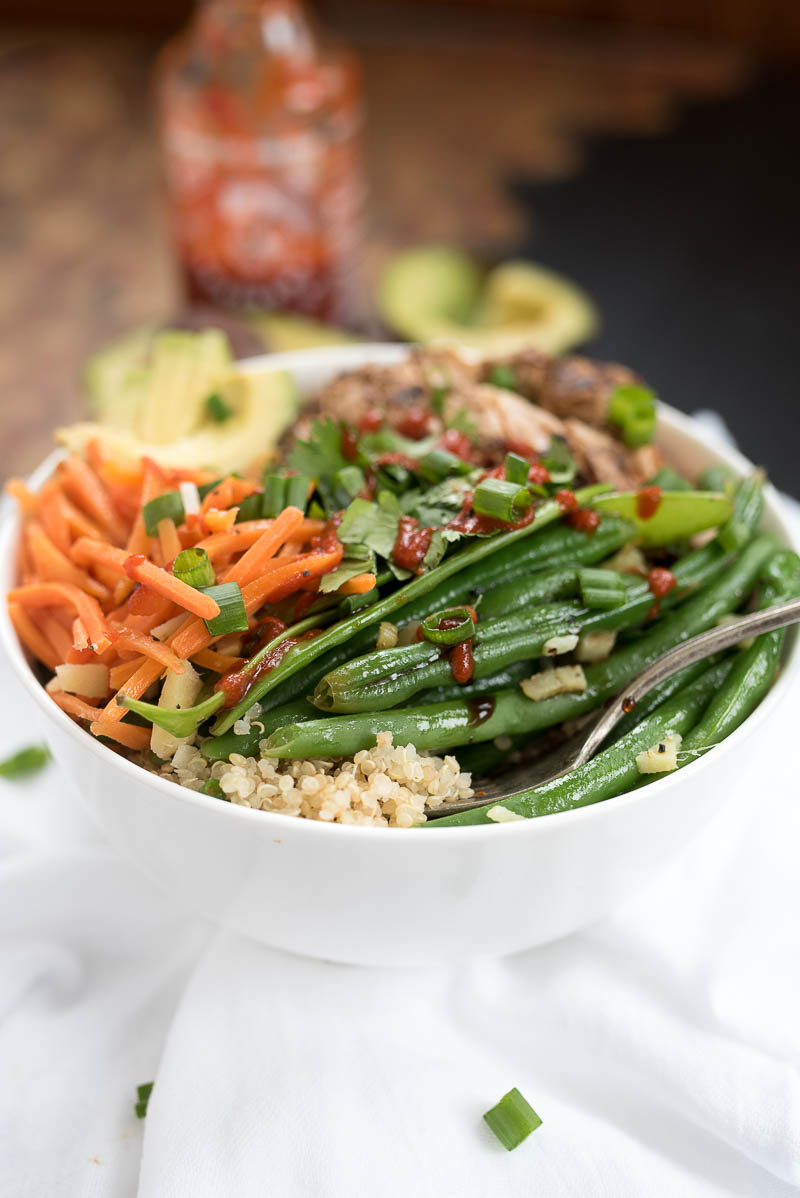 Enjoy this healthy, filling Asian Chicken Quinoa Bowl!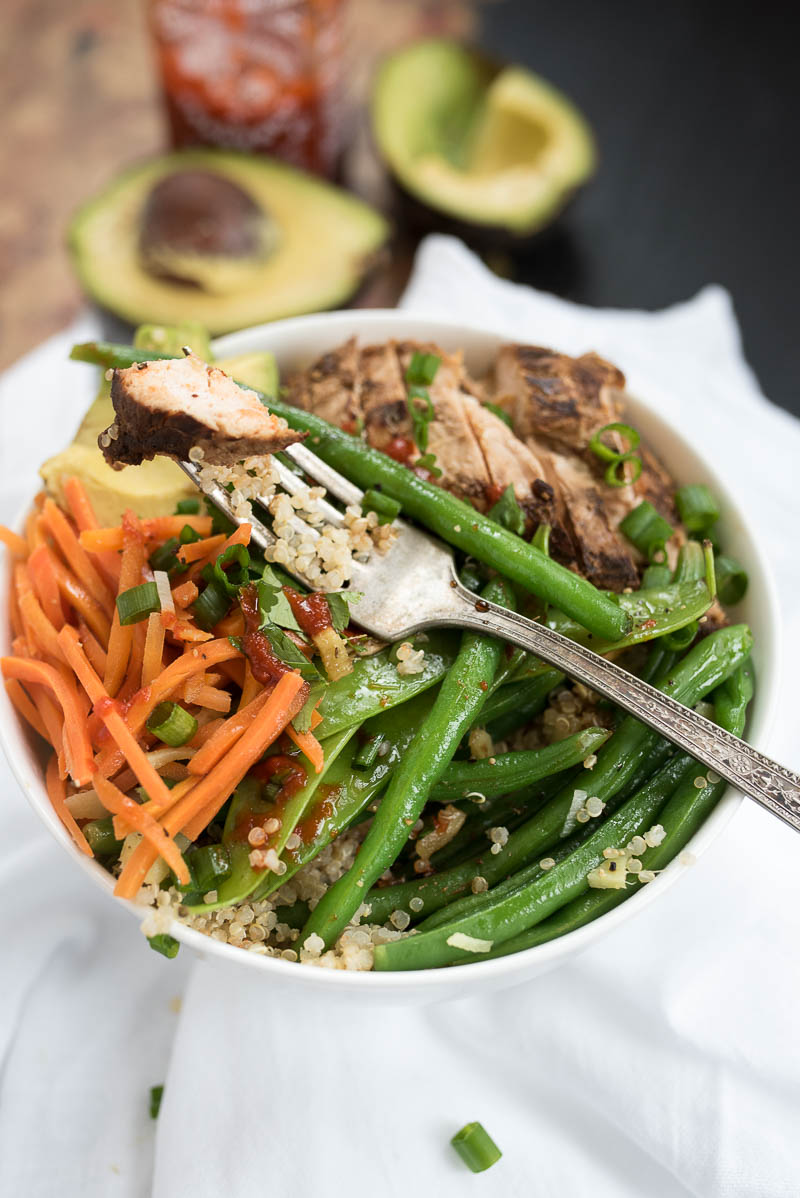 Asian Chicken Quinoa Bowl
an easy make-ahead meal that works great hot or cold!
Author:
Melanie F. | Nutritious Eats
Ingredients
2 chicken breasts
1 tablespoon soy sauce
1 tablespoon orange juice
1 teaspoon honey
1 teaspoon minced garlic
1 teaspoon rice wine vinegar
1 teaspoon oil for sautéing (olive, sesame, grape seed)
6 ounces green beans
1 cup shredded carrots
1 cup snow peas
1 large clove garlic, minced
1 tablespoon minced ginger
1 tablespoon olive oil
pinch of salt and pepper
½ avocado, sliced
2 cups cooked quinoa (or desired amount)
Instructions
Preheat oven to 375 degrees. Marinade the chicken for 30 minutes if possible. Preheat an oven safe skillet on medium heat. Add 1 teaspoon oil. Add chicken breasts and a a couple tablespoons of the marinade. Cook for 3-4 minutes, flip then place skillet in oven to finish cooking, ~10-15 minutes depending on thickness. Use a thermometer to test for doneness to 165 degrees.
Meanwhile, steam green beans for 5 minutes, add the carrots and snow peas, fresh garlic and 1 tablespoon ginger and steam for another 3 minutes. Vegetables should be crisp, but tender. Remove lid, drizzle with olive oil and season with a pinch of salt and pepper. To assemble, place a scoop of quinoa in each bowl. Top with sliced chicken, a heaping portion of vegetables, ¼ of an avocado, 1 tablespoon of minced cilantro and 1 tablespoon chopped green onions. Serve with additional soy sauce and Sriracha.