A spin off of Avocado Egg Toast, just substitute a waffle for the bread and top it with veggie and egg goodness. 
This is a sponsored post written by me on behalf of Van's Foods. All opinions are entirely my own.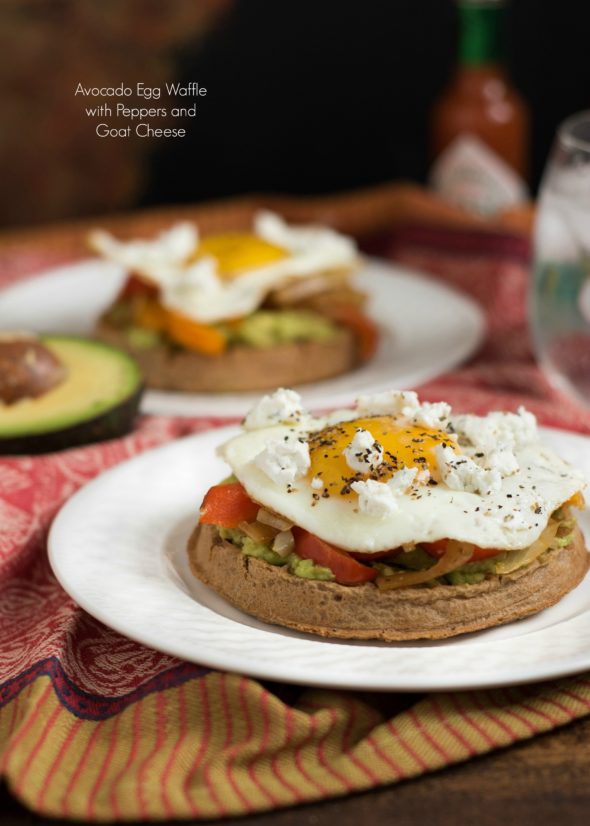 Most days I wonder when I will ever have true "me time" again. Life revolves around caring for my 4 kids and although I wouldn't trade it for anything, it's more time consuming than I ever could've imagined. The days pass by with me picking up after them, changing diapers, making meals and cleaning up. It's truly amazing how much time goes into caring for little people.
But parenting is even harder if I don't eat right. For example if I don't make it to the store, we simply don't have healthy food choices in the house. Or if I'm too busy in the morning and forget to eat breakfast, I end up super crabby and not very patient with my kids. I felt like that might have happened more than once during the end of the year when life got too busy.
But just like that, 2016 is here. The great part about starting a new year is that it's a chance to do things over. That means different things to everyone, but a lot of people use it as a time to refocus on their diets and exercise. Some of my basic priorities are 1) prepare meals from home so that I am not tempted to eat out 2) incorporate fruits or veggies into every meal 3) limit high-sugar foods.
Getting the grocery shopping done and food prep is the main task that keeps me on track to eat at home. Bottom line is if you haven't purchased the right foods from the grocery store, you probably aren't going to be as likely to eat them! As soon as I slack off on doing that, it all goes down hill. So don't underestimate the importance of setting a simple goal like: make a weekly shopping list and shop from it.
One of our family favorite weekend breakfasts is homemade whole grain Belgium waffles with fruit, but let's be real, that isn't going to happen during our crazy weekdays. The kids have to be ready for school by 6:35am, which calls for a super speedy breakfast. I feel like I have succeeded if I just get them out of the house fed!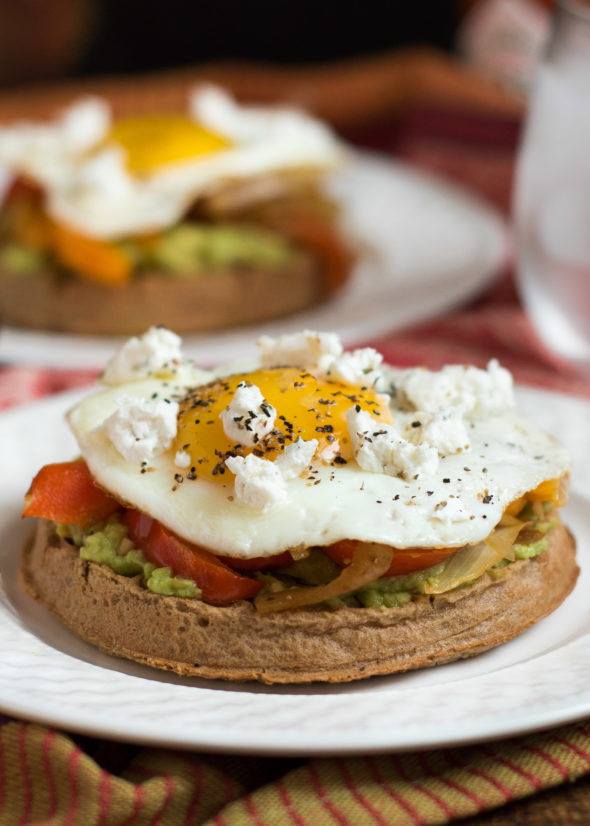 When I found out that Van's waffles contain no artificial flavors and are non-GMO verified, I was super excited. I hadn't looked at frozen waffles in a long time and assumed they were all too processed for my liking. They make a wholesome and tasty breakfast or better-for-you snack option to help start the New Year off right.
When I was ready to make my breakfast I noticed I was out of bread but had a variety pack of waffles to enjoy, I decided to make my beloved avocado egg toast on a waffle instead. Van's offers a nice variety of waffles including Gluten Free Original, Gluten Free Blueberry, Multigrain, Power Grain and more.
I chose the ones with the lowest amount of sugar, the 8 Whole Grain Multigrain which only have 1 gram per waffle, to create my savory dish. Van's multigrain waffles are a tasty combination of hearty whole wheat, oats, barely, brown rice, rye, quinoa, amaranth and millet. These grains give them a depth of flavor that I love!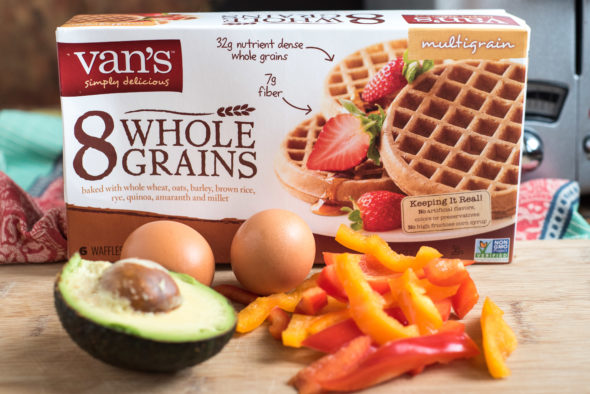 I wanted to show you that you can transform some basic freezer foods like waffles into a complete meal. Don't get me wrong, the waffles are delicious on their own so whether you want to try something different like this Avocado Egg Waffle or just keep it simple and slather some nut butter on top, I hope this inspires you to eat from home and start your new year off right.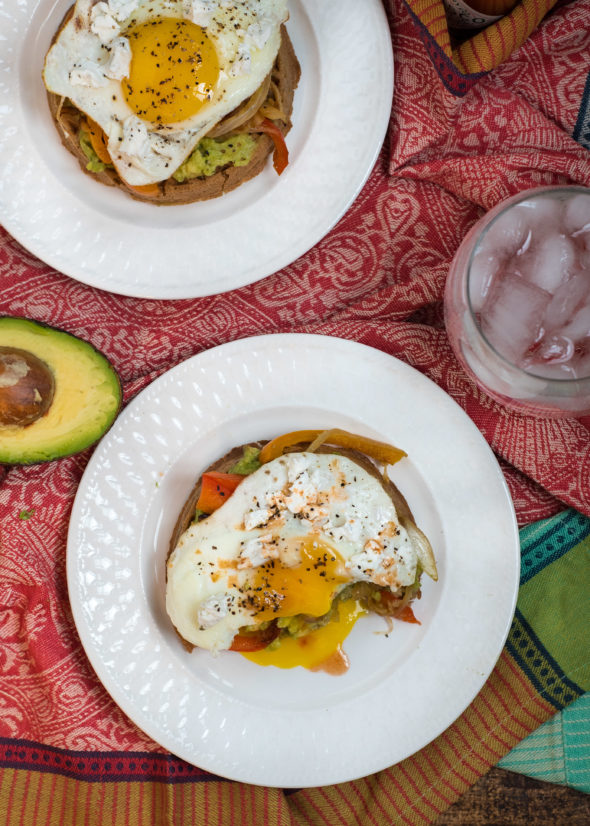 Before you go, Van's wants one of you to receive some goodies. They are giving away 4 coupons for free boxes of waffles (a $3.99 value each) and a Van's branded water bottle and tote bag
Just enter the rafflecopter below to win!
Van's waffles are available at grocery stores, natural food retailers nationwide and mass merchandisers. To find them in a store near you visit http://www.vansfoods.com/store-locator
Avocado Egg Waffle With Peppers and Goat Cheese
Author:
Melanie F. | Nutritious Eats
Ingredients
2 Van's waffles, recommend two toast cycles on low to get the perfect result
2 eggs, cooked sunny side up or over easy
1 teaspoon olive oil
1½ cup sliced bell pepper (1 bell pepper)
1 cup sliced onion (~ ½ onion)
1 minced garlic
1 teaspoon Worcestershire
1 medium avocado
salt and pepper
garlic powder
2 Tablespoons goat cheese
Instructions
In a medium skillet, heat one teaspoon of olive oil. Add onions and peppers, let cook for ~8-9 minutes, half way through cooking time add minced garlic. Season with Worcestershire sauce, a pinch of salt and pepper. Stir and transfer to a small bowl.
Wipe skillet clean. Return skillet to medium heat. Spray with cooking spray. Add an egg and cook to desired degree of doneness. Remove from pan and repeat with remaining egg. To assemble: mash half avocado (can do this right in the avocado shell), spread over a toasted waffle, season with salt, pepper and garlic powder. Top this a heaping spoon of the onion and pepper mixture. Top with one cooked egg, sprinkle with 1 tablespoon of goat cheese. season with extra black pepper. Enjoy!