Once you get a chance to make those yummy nuts I previously posted, you can throw this simple salad together in no time. I had very little vegetables on hand when I made it, but I kind of like the simplicity of the 4 ingredients. Even a fancy salad can come together in minutes.
Why am I salad obsessed? Well for one I love the taste, the crunch and the satisfaction I get from eating them. Eating a salad a day has numerous health benefits and is a super-convenient way to work in a serving or two of vegetables. It's high in fiber & nutrients and low in calories. There are powerful antioxidants in salads and studies have shown that folks that eat more plant based foods, including salads, have lower rates of heart disease and cancer. How much should you be eating? The bottom line is you can never eat too many salad greens and raw vegetables. Have one at the start of a meal and you will likely consume less calories overall. Raw vegetable consumption is one of our strongest defense against cancer over any other food. Just watch the high fat and/or processed dressings!
Feel free to substitute other fruit or cheese in this salad (goat cheese or shaved parmesan would be nice), as well as add in any extra veggie you have. You'll only be bumping up the nutritional value! Same with the dressing- the apricot preserves flavor is very subtle so you could substitute another preserves you have on hand. Although apricot preserves if delicious for your toast or english muffins if you are looking for a change in flavor!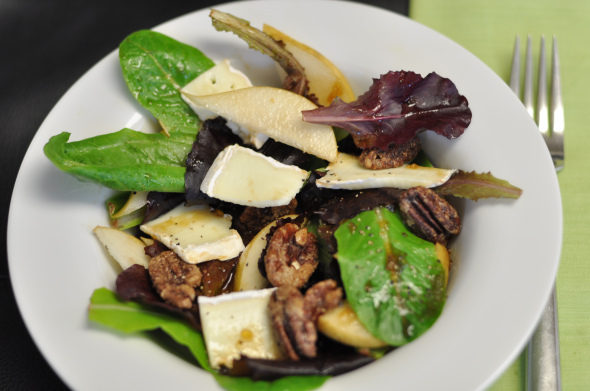 Baby Greens with Pear & Brie and an Apricot Balsamic Dressing
INGREDIENTS:
4-5 cups organic spring mix (baby romaine, red leaf lettuce, arugula, radicchio)
1 small pear, cored and thinly sliced
1 oz brie, thinly sliced
1/2 cup candied nuts
FOR THE DRESSING:
1 Tablespoon apricot preserves
1 Tablespoon water
1  Tablespoon balsamic vinegar
1  Tablespoon olive oil
pinch of salt & pepper
DIRECTIONS:
1. Assemble salad in a bowl, set aside.
2. Heat apricot preserves in a microwave safe bowl for 10 seconds. stir well. Whisk in remaining ingredients until well combined. Yield: 2 servings.
Nutritious Eats Benefits: Vitamin A, Vitamin C, Vitamin K, fiber
Happy Friday Everyone!