These easy baked chicken flautas will totally satisfy your Mexican craving with less calories! Serve with rice, beans and/or salad for a complete meal.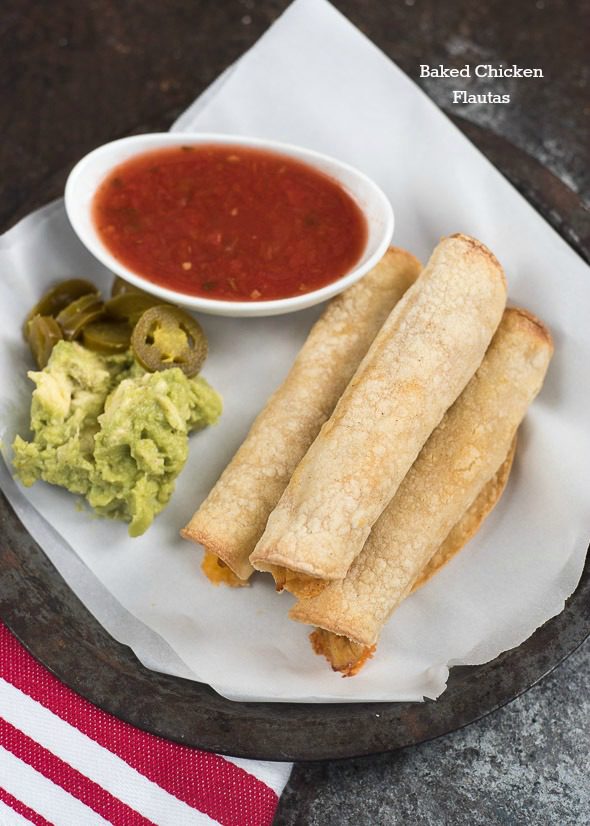 Hi friends! We had a nice, relaxing weekend recovering from Easter and spring break in San Antonio. I was thrilled that our kids have a later spring break and that it fell right after Easter so we could enjoy the holiday without having to rush back on Sunday. Unfortunately I had a cold/sinus infection so I didn't get much work done….headache and drainage for days. I did get a lot of relaxing done though- no alarm set all week!
One thing I did satisfy was my San Antonio food cravings. Greek food, Mexican food and more Mexican food.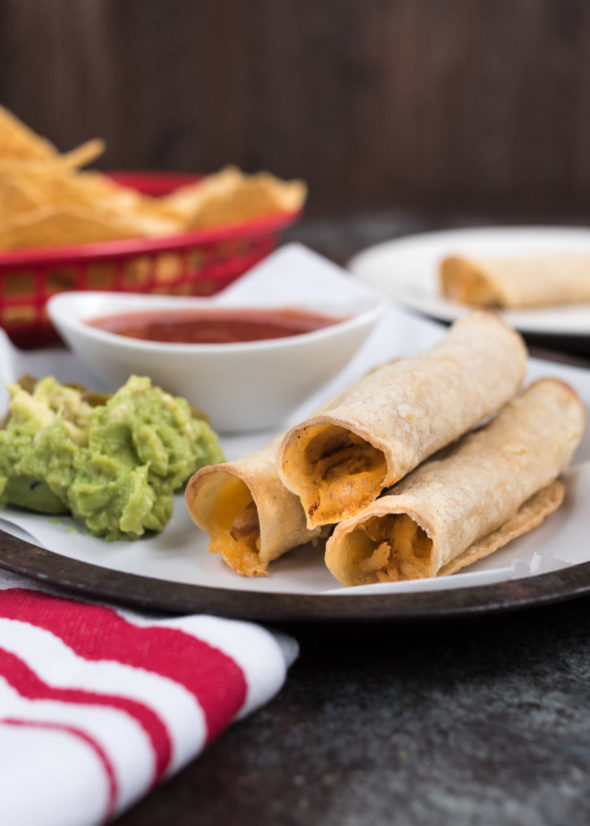 Typically when I go out to eat, I order the same 1 or 2 dishes of the menu. Once I like something it's hard to branch out! So this particular Mexican restaurant back home in San Antonio has my favorite flautas, not something I'd usually order but somehow I did and it stuck. The plate comes with beans, rice and a small bowl of tortilla soup. I love it.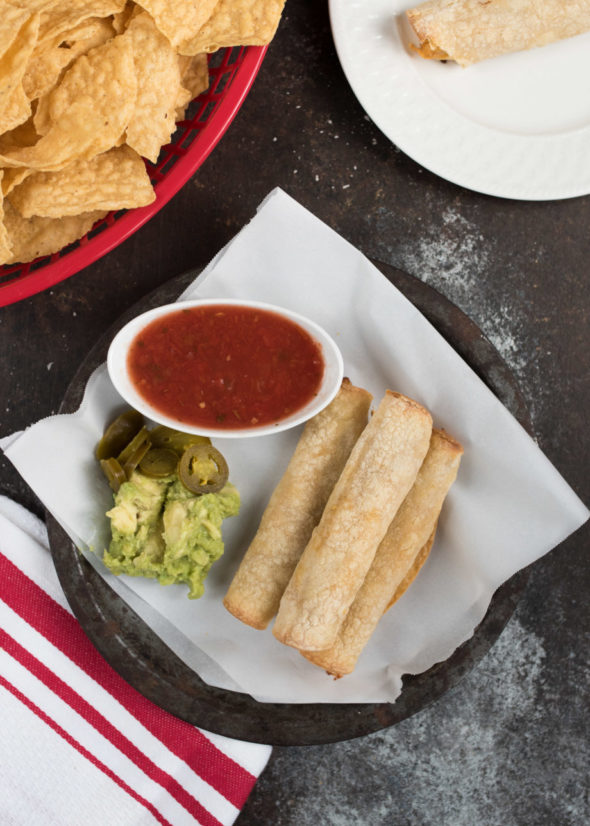 The ones I order are filled with shredded chicken so really they are quite simple. I discovered making them in the oven, instead of deep frying them like they do at the restaurants, works quite well. You really get the same general flavor and experience without the added grease. You can make the chicken filling using your slow cooker during your weekend meal prep and then when it's time to make your flautas, it's a quick assembly. I added a little cheese too, but you could skip that if you dairy-free (or use a vegan cheese).
Baking the flautas turns this into a simple weeknight meal. My husband and I even devoured the leftovers cold!
One corn tortilla only has around 50-60 calories, 7 grams of carbs, no fat or sodium. Add your lean crock pot shredded chicken breasts full of protein and brush that tortilla with oil to replicate a crisp Mexican restaurant style flauta, oven baked.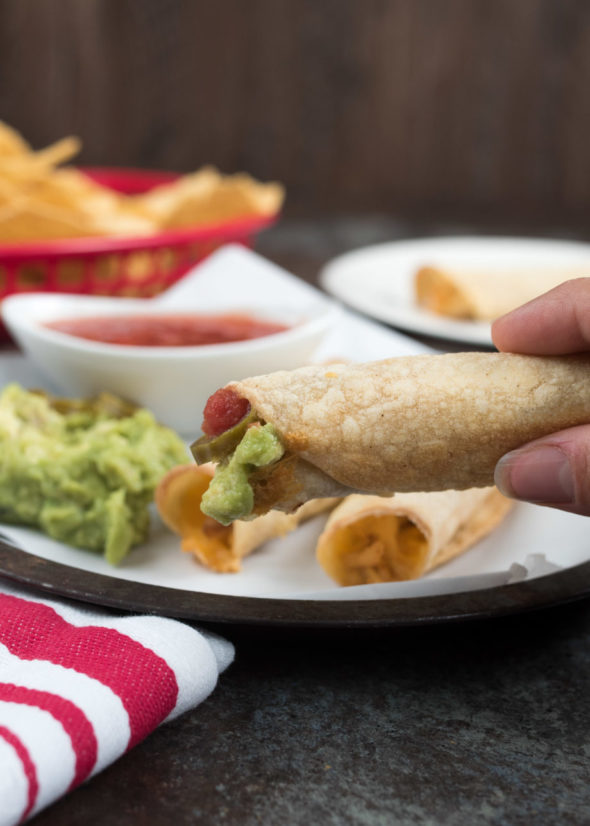 Then comes the dipping sauces- a good guacamole and salsa and you are all set.
Mexican food is my favorite and growing up in San Antonio there was no shortage of places to chose from, but I do make my own at home because most of it is pretty easy to figure out and a lot healthier typically.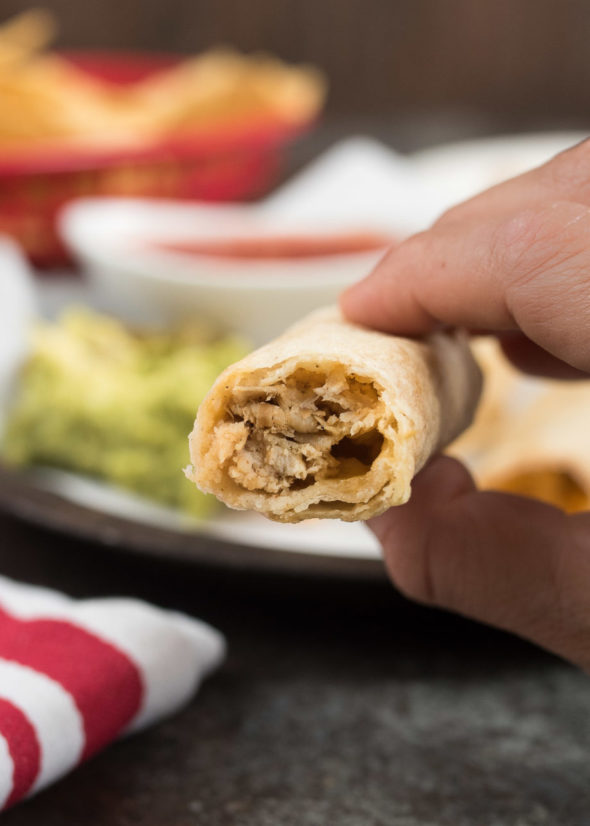 Have a great week!

Baked Chicken Flautas
Author:
Melanie F. | Nutritious Eats
Ingredients
For shredded chicken:
2 chicken breasts, boneless, skinless
1 teaspoon cumin
1 teaspoon chili powder
½ teaspoon salt
½ teaspoon garlic powder
½ cup chicken broth
For Flautas:
corn tortillas
shredded chicken
shredded cheddar or colby jack cheese
2-3 tablespoons oil depending on how many you're making (I use avocado or olive oil)
Instructions
Start by making your chicken filling. Place chicken breasts, spices and broth in a slow cooker and let it cook on high for 2-3 hours or until tender and easy to shred. One it's shredded, store to use in a variety of recipes.
To assemble flautas, preheat oven to 400 degrees. Line a baking sheet with foil. Drizzle a little oil over the foil (~2-3 teaspoons) and use your hands or a brush to spread around.
Microwave 2 tortillas at a time, for ~10 seconds or until soft and pliable. Fill each tortilla with 1-2 tablespoons of shredded chicken, then top with 2 teaspoons of shredded cheese and roll very tightly, placing seam side down on the foil. If they don't want to stay put you might need to stick a toothpick in them. Continue the process until you have made desired number of flautas. Brush them all over with oil. Bake for 15-20 minute or until crisp (you can flip them at the last 5 minutes to ensure even crispness).