This Beef and Grain Kofta bowl takes Middle Eastern inspired meatballs and pairs them with a hearty flavorful grain and some veggies for a nutrition packed meal!
Disclosure: I was asked to participate in the #NewGrainNewYou18 campaign as a member of the Healthy Aperture Blogger Network. I was compensated for my time. 
It's a New Year and we're cooking with some new grains. And by "new" I mean new to a lot of people since the grains I've cooked with have been around for thousands of years! I am a big fan of whole grains because they add bulk to the meal, plus additional fiber, protein and a variety of nutrients like iron. One of my favorite uses of whole grains is one-bowl meals.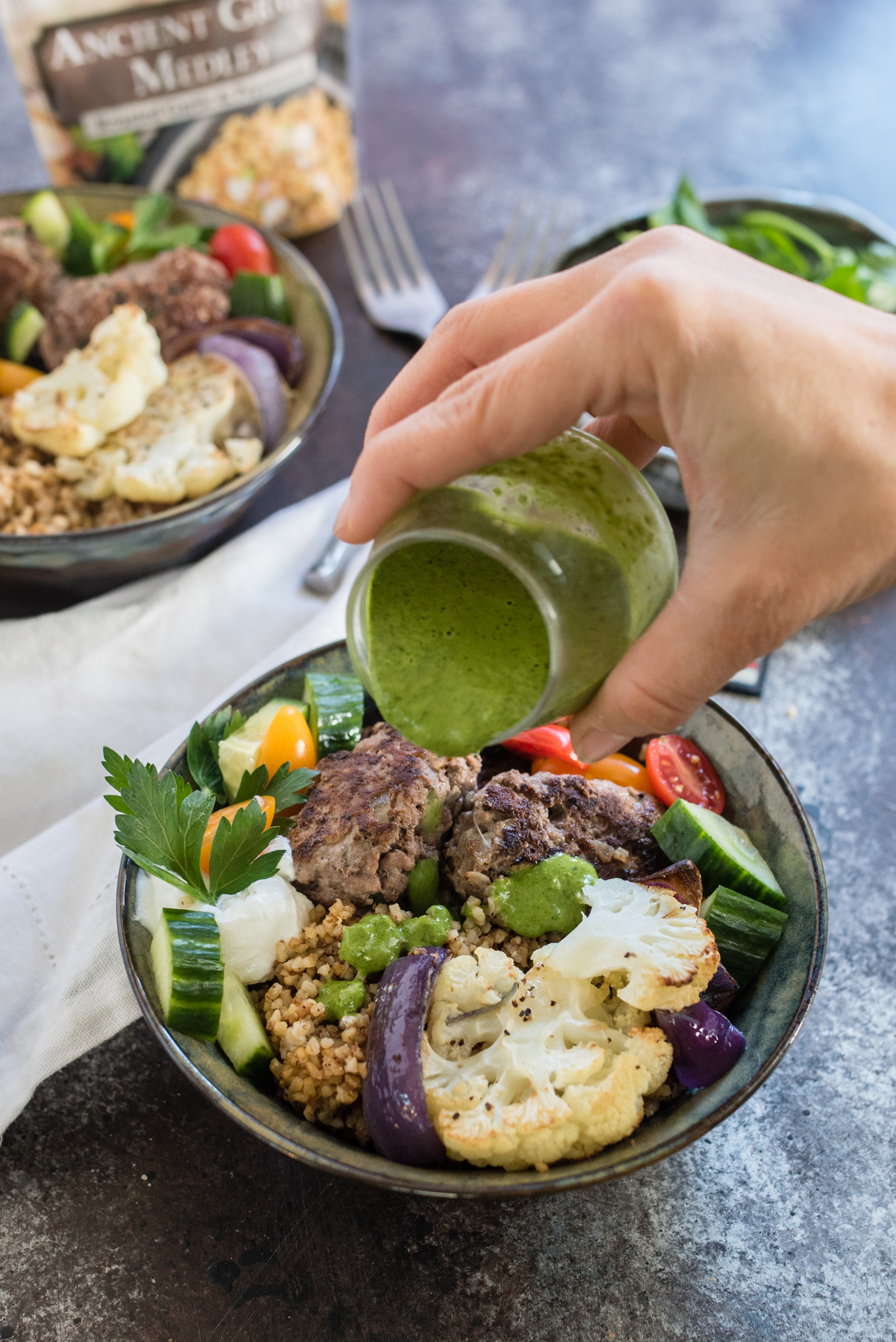 If you're looking for a little twist on a traditional meatball, you should try this recipe. I love the bold flavors you can find in Kofta, which is basically a spiced meatball, which can be made with ground lamb, beef or even turkey.
Just like Italian meatballs, you can do a lot with Kofta meatballs- like turning them into a pita sandwich or serving them over a whole grain, like this fabulous new Roasted Garlic and Peppercorn blend from Hodgson Mill. This blend combines whole grain KAMUT® wheat with cracked Sorghum and tangy Teff and is soooo yummy! Not familiar with them?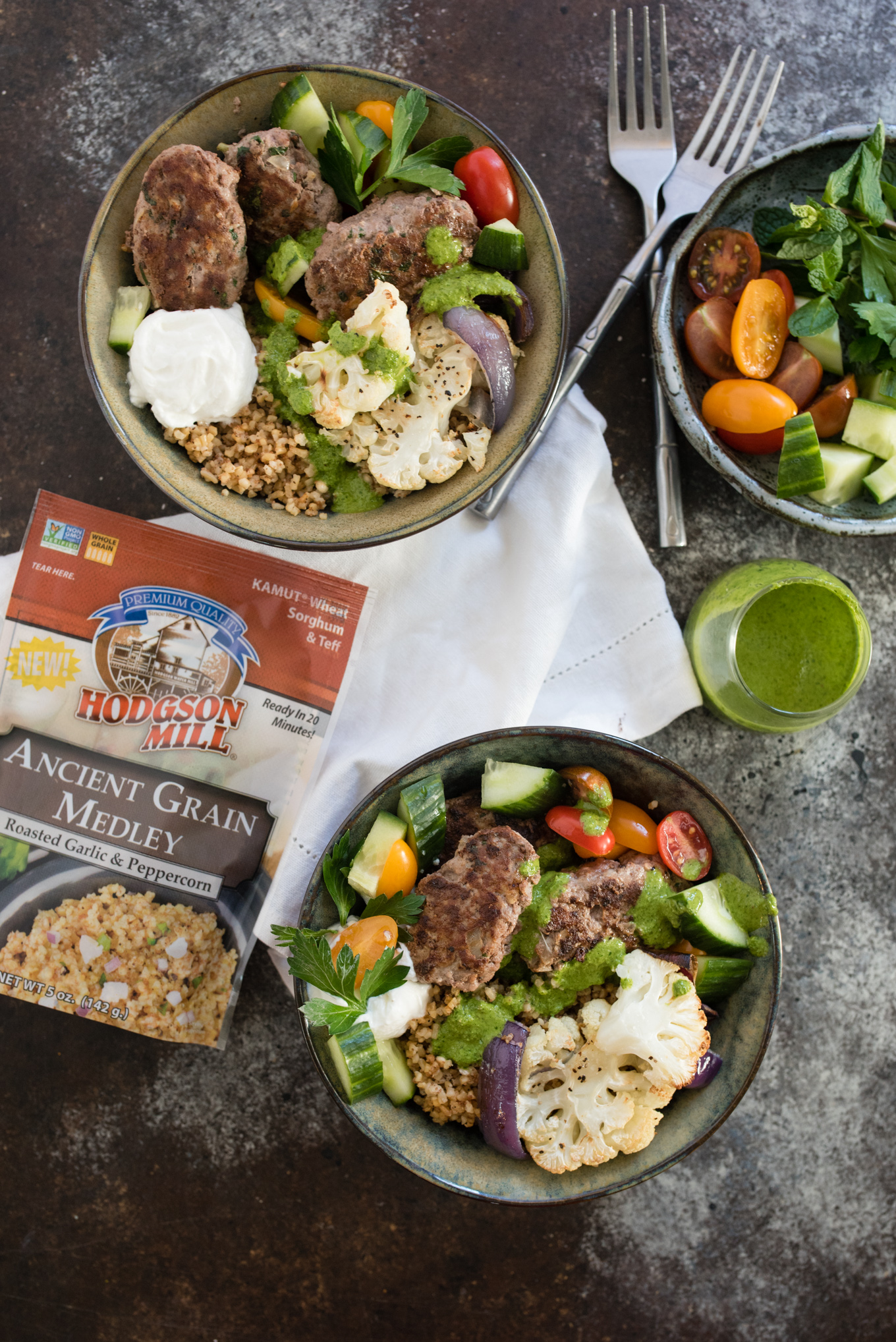 KAMUT® Khorasan wheat is a protein-packed ancient form of wheat with a rich buttery flavor; some people find it more digestible than modern wheat. Sorghum is the new star on the ancient grain stage – naturally gluten free and grown widely in the US, and deliciously mild and tender. Teff is the world's tiniest grain, and it is packed with vitamins and minerals!
Don't be discouraged if they are unfamiliar to you- they taste delicious and add amazing nutrition to your meal. Plus, they cook up like any other grain by simply adding water and heating on the stove top.
Consider substituting Hodgson Mill whole grain side dishes in place of mashed potatoes or white rice for a whole grain nutrition boost–and lots of flavor!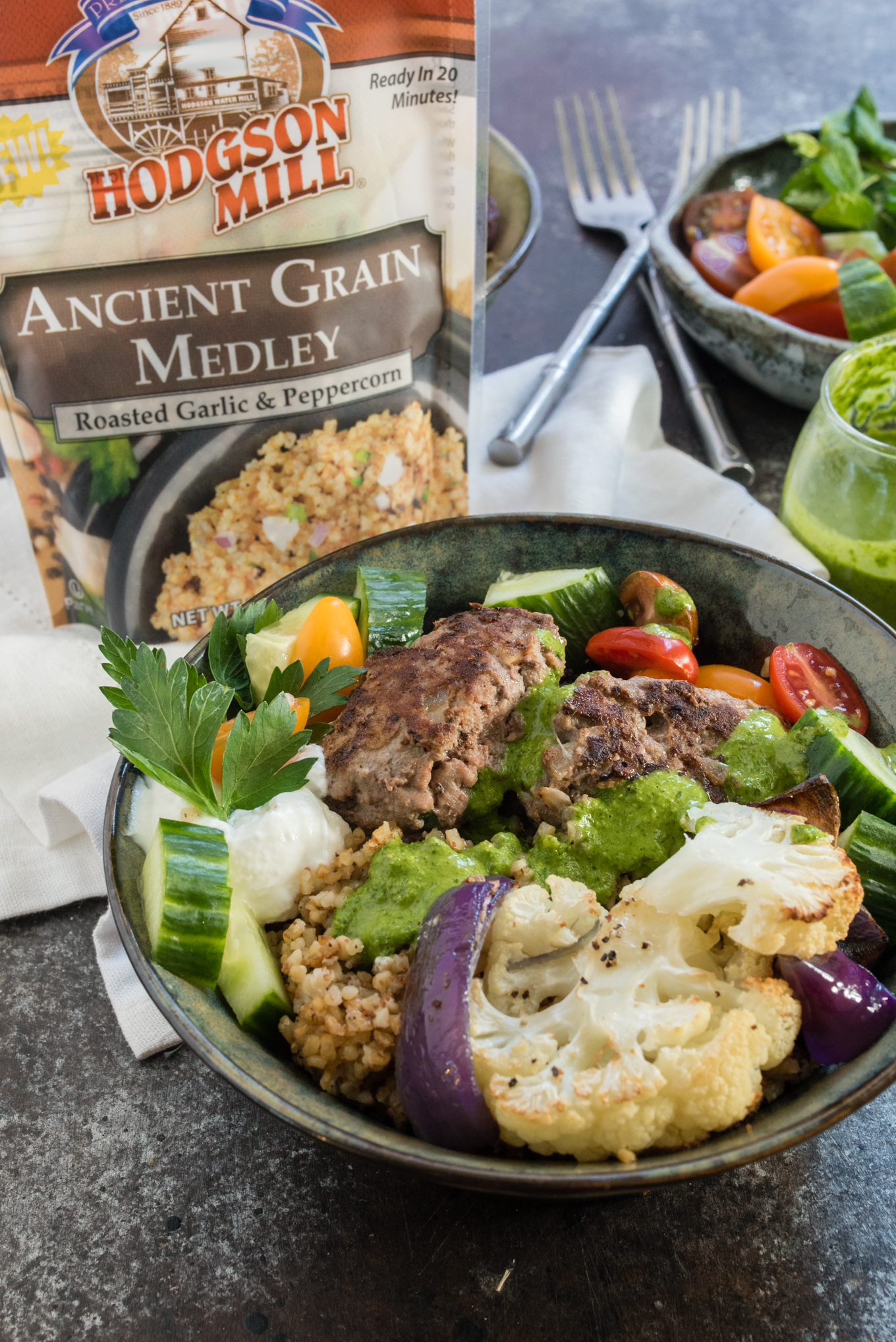 Why do the health professionals, like myself recommend whole grains? Whole Grains are specially produced to retain all parts of the grain – often grains are refined to remove the nutritious bran and germ, which are packed with fiber, vitamins, and minerals.
If you are finding your grains on the bland side, check out these great flavors from Hodgson Mill- they come seasoned can be made on in 15-20 minutes and are the perfect side to round out your meal. In addition to their three new Ancient Grain Medley flavors they have Sorghum sides that also include some quinoa and brown rice.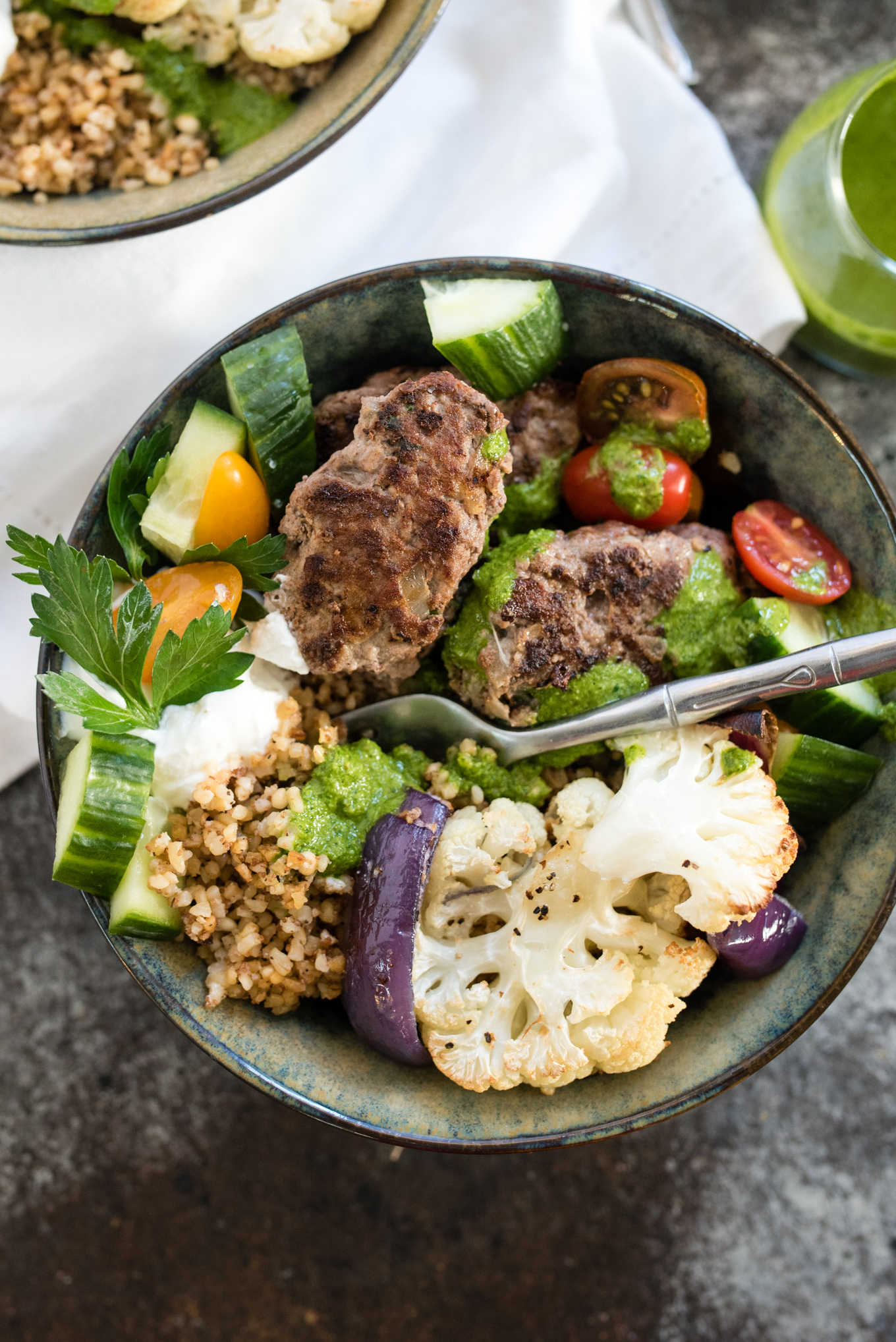 Hodgson Mill side dishes are new, and can be found in-store in select areas, but can also be purchased online at www.hodgsonmill.com or on Amazon.
Be sure to follow Hodgson Mill on Facebook, Twitter, Instagram & Pinterest for more delicious, healthy recipes!

Kofta Bowl
This Beef and Grain Kofta bowl takes Middle Eastern inspired meatballs and pairs them with a hearty flavorful grain and some veggies for a nutrition packed meal!
Author:
Melanie F. | Nutritious Eats
Ingredients
2 (5-ounce) bags of Hodgson Mill Roasted Garlic & Peppercorn Ancient Grain blend
1 tablespoon olive oil
For the Kofta:
1 lb lean ground beef (or lamb, turkey or a blend)
1 egg beaten
2 cloves garlic, minced
3 tablespoons finely minced onion
3 tablespoons finely diced mint leaves
1 tablespoon finely diced fresh parsley
¾ teaspoon salt
1 teaspoon cumin
½ teaspoon coriander
¼ teaspoon allspice
¼ teaspoon cinnamon
¼ teaspoon cayenne pepper
¼ teaspoon black pepper
Additional ingredients for the bowl: diced tomato, diced cucumber
Roasted vegetables like cauliflower and onion, plain Greek yogurt
For the herb sauce (optional):
½ fresh parsley leaves
½ cup mint
1½ tablespoons lemon juice
1 tablespoon water
2 tablespoons olive oil
½ tablespoon soy sauce
1 clove garlic
a pinch of salt
Instructions
Combine the Kofta ingredients (beef through black pepper) in a medium size bowl. Gently combine with hands or a spoon. Take 2 tablespoons of the mixture and form into an oval patty. Repeat until all meatballs have been formed. Set aside, covered in refrigerator until ready to cook.
Cook grain according to package instructions. Meanwhile in a blender, add all the sauce ingredients, blend until pureed and transfer to a small bowl.
To cook meatballs, add 1 tablespoon of oil to a non-stick skillet over medium hight heat. Add meat mixture and cook for ~3 minutes, flip and cook an additional 3-4 minutes.
To assemble, in a bowl add a scoop of Ancient Grain Medley, 3 meatballs, fresh cucumber, tomatoes, roasted vegetables, a dollop of plain Greek yogurt and a drizzle of herb sauce.
Notes
For the Kofta bowl, all add-in ingredients are optional:
Pictured is: fresh diced tomato and cucumber, fresh parsley, a dollop of plain Greek yogurt, roasted vegetables (cauliflower and onion that was cooked at 400 degrees for 20 minutes with olive oil, salt, pepper), Herb sauce.
Tzatziki sauce would also be great in place of the herb sauce