Berry Lavender Baked Oatmeal is a simple, gluten-free nourishing breakfast to help you start your day off right.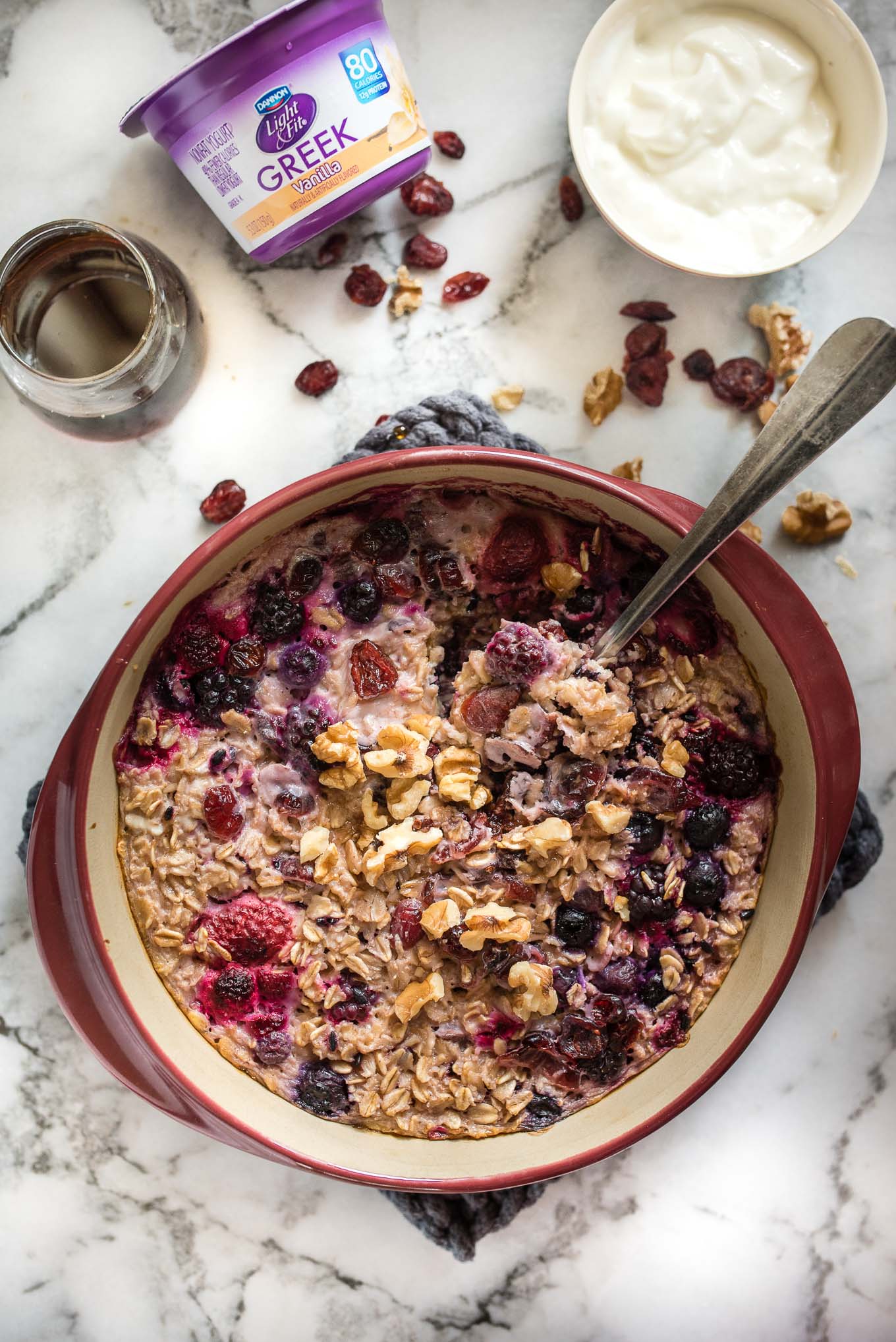 I have partnered with Dannon to help promote Light & Fit. I have been compensated for my time commitment. However, my opinions are entirely my own and I have not been paid to publish positive comments.
Who's ready to change up their breakfast? It's easy to get in the habit of eating the same thing over and over again, but if you want to sustain those healthy habits, sometimes you need to change it up and focus on enjoying your food. This Berry Lavender Baked Oatmeal couldn't be easier!
Dannon believes in a "Do What Fits You" philosophy. Making easy, realistic changes to your daily life, such as adding Light & Fit to your routine using new and unique recipes, can make lasting effects.
Yogurt is a great staple to have in your refrigerator; it can be added to sauces, dips, smoothies, dressings, baked goods, plus things like chicken salad or this oatmeal breakfast bake.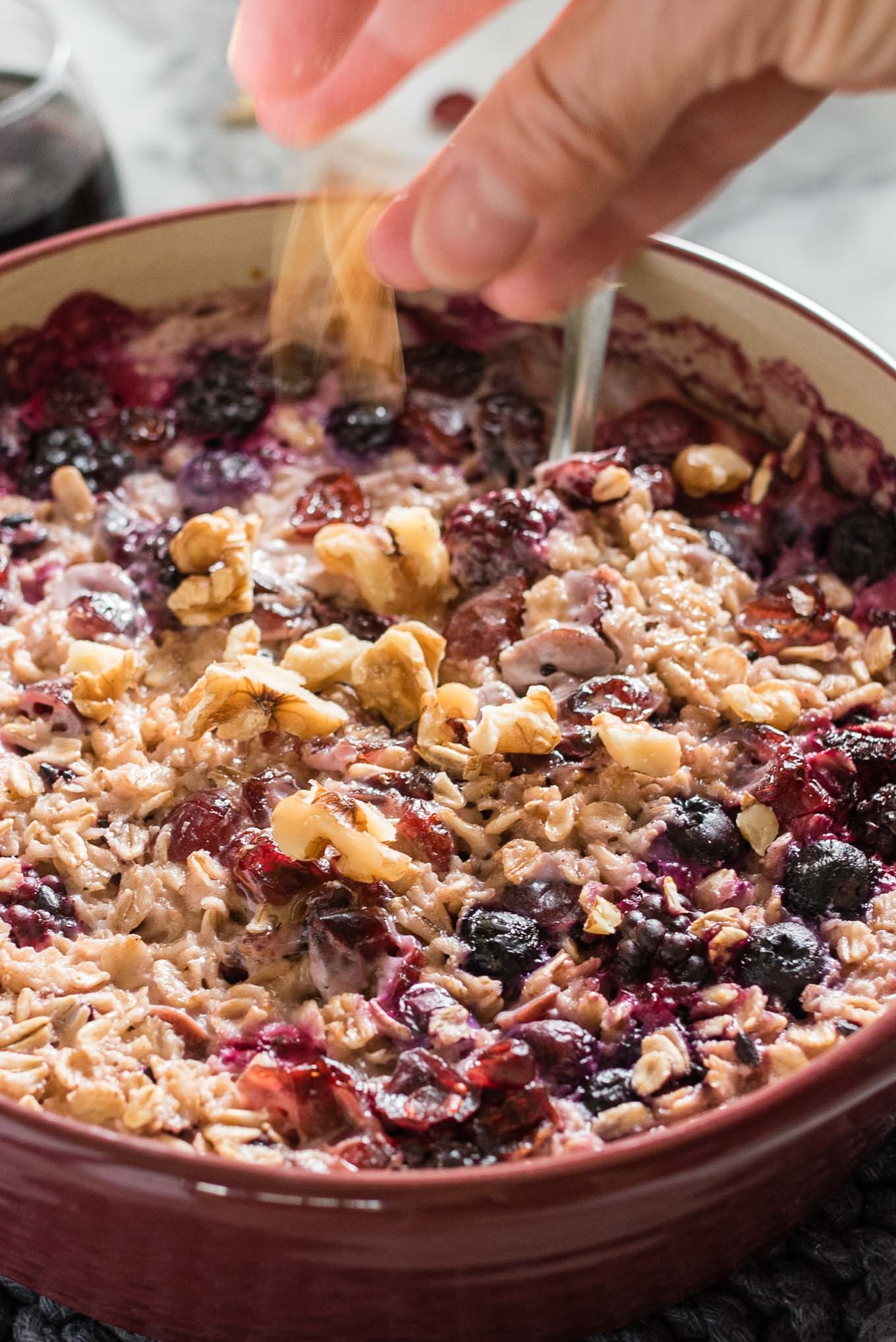 I make sure to keep plain, as well as flavored yogurt in my refrigerator at all times. Which means when I got a box of surprise ingredients from the folks at Dannon I would put that yogurt to good use in this secret ingredient challenge.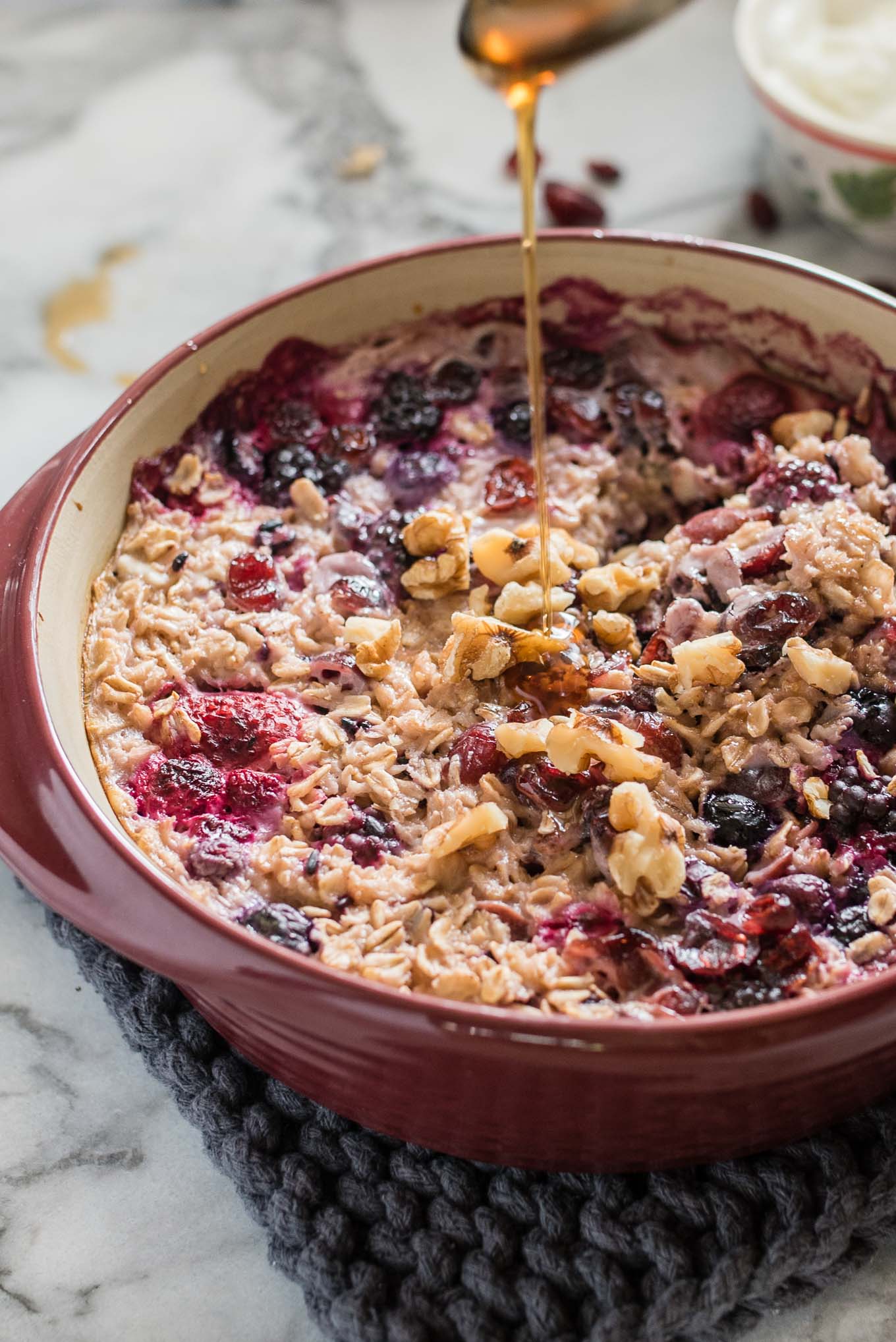 I couldn't help think of my favorite cooking show Chopped as I brainstormed how to incorporate a few of the ingredients into my recipe (the items were: roasted red peppers, cannelloni beans, black rice, dried cranberries and natural lavender extract). Thankfully yogurt is so versatile!
I was inspired to make baked oatmeal with some of that black rice baked right in. Lavender and berries sounded like a nice match too. With some walnuts and a drizzle of maple syrup, this is a low fat, yet balanced and nutritious breakfast.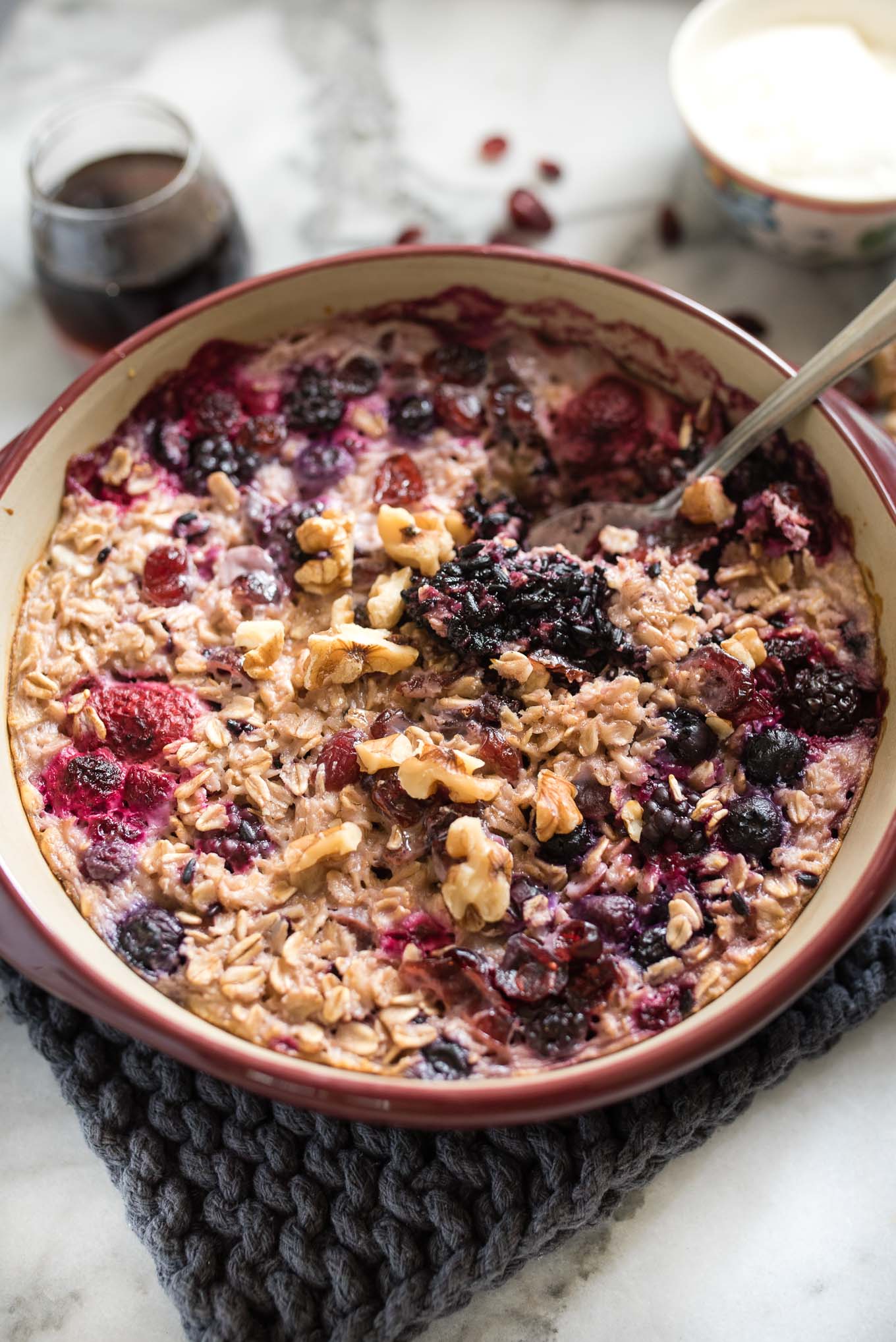 Using a frozen berry mix with strawberries, blueberries, black berries and raspberries provided the best pop of flavor and makes the recipe super simple (no washing or cutting, thank you very much). Everything gets mixed in one bowl too for extra convenience.
In addition to plain yogurt, vanilla is my next "go to" flavor as it works so nicely in a variety of dishes. I knew it would taste perfect in place of some of the milk in my oatmeal bake.
The richer flavor that it brings to the table does not correlate with extra fat or calories. On the contrary, the Light & Fit Greek Nonfat Yogurt contains 80 calories and 12 grams of protein per 5.3 oz and let me tell you it tastes super rich and creamy! Light & Fit offers a delicious variety of products to fit any eating occasion!
You can feel good about eating your daily yogurt as the 2015 Dietary Guidelines for Americans recommend increasing intake of nutrient-dense foods, such as fat-free or low-fat dairy products, like yogurt. Yogurt is nutrient-dense and many yogurts are a good source of protein, calcium and Vitamin D.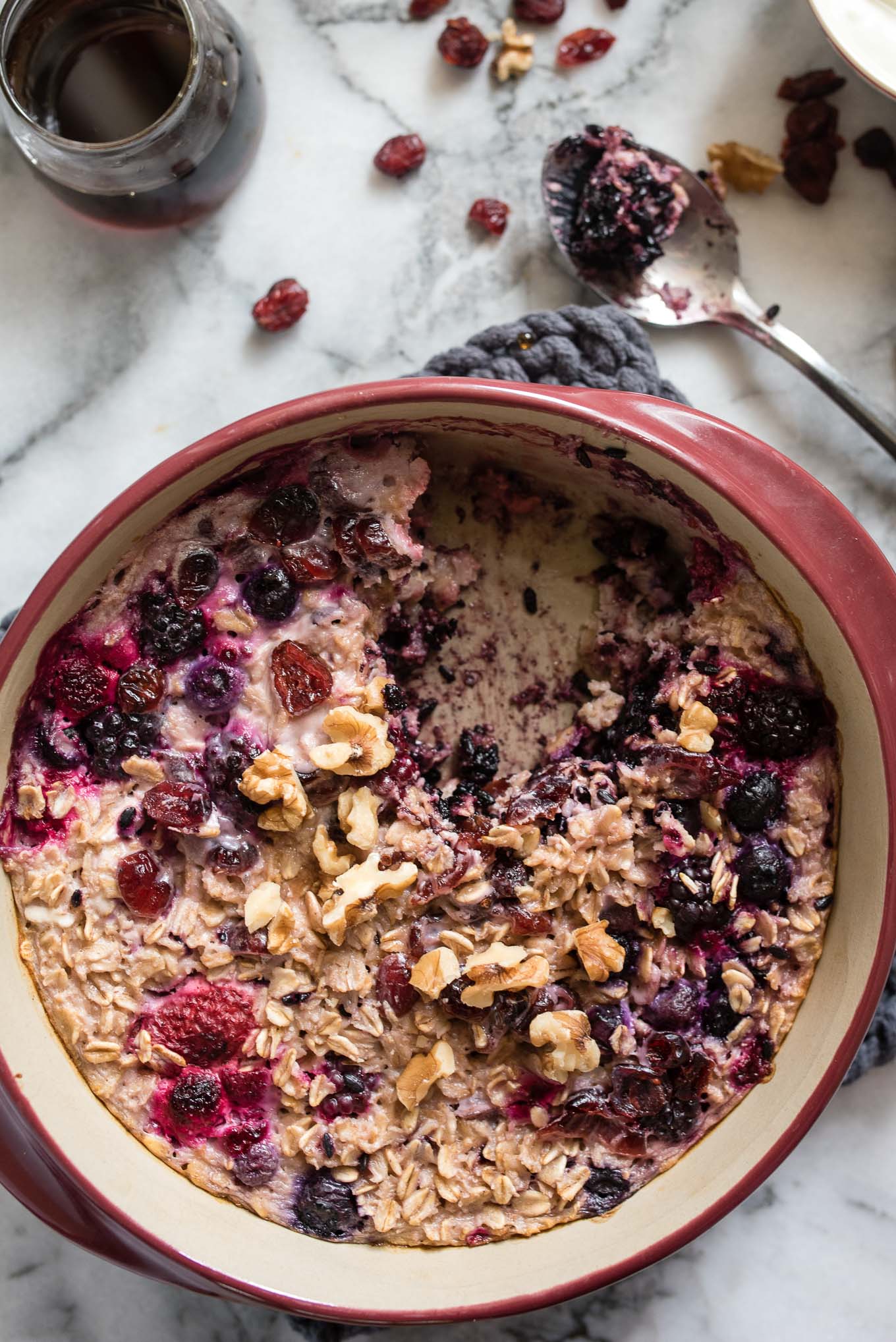 I love creating recipes using staples around my kitchen. Things like frozen berries, dried fruit, yogurt, milk and oatmeal make a great breakfast.
I don't expect many of you to have lavender extract, but it compliments the berries so well. Don't worry if you don't have it though just substitute some vanilla extract.
Whether you chose to enjoy yogurt as a smart snack, convenient breakfast, delicious cooking ingredient, or dessert, it's always a great choice. With a creamy texture, variety of flavors, versatility of use, what more could you want? Tell me, how do you incorporate yogurt into your meals?
For more inspiration and creative, easy-to-prepare recipes made with Dannon® Light & Fit® please visit www.LightandFit.com and make sure to follow Light & Fit on Instagram .
Berry Lavender Baked Oatmeal
Author:
Melanie F. | Nutritious Eats
Ingredients
1 cup rolled oats
⅓ cup black rice, uncooked
¼ teaspoon baking powder
1 5.3 oz cup of Light & Fit vanilla greek nonfat yogurt
1½ cup milk
¼ teaspoon lavender extract
1 cup frozen berries (strawberries, blackberries, blueberries, raspberries)
¼ cup dried cranberries
Chopped walnuts and maple syrup for topping
Instructions
Preheat oven to 350 degrees. Mix all ingredients in a large bowl and stir well to combine. Grease a pie plate with a teaspoon of oil. Pour the oatmeal mixture into the pie plate and bake for 32-35 min.