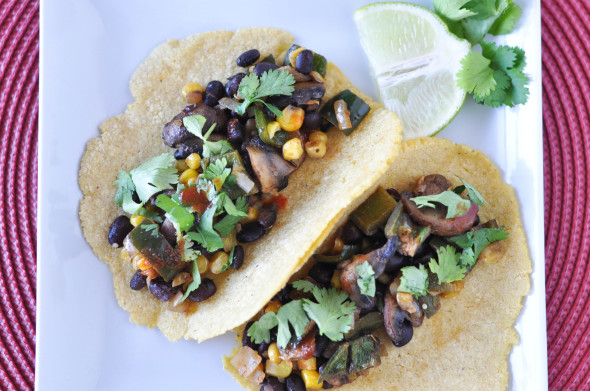 I'm a chicken taco kind of girl. Always have been. I don't think a recipe like this would have appealed to me as much if I wasn't eating vegan for the month, but I made it a couple weeks ago and it will definitely stick around in my meal rotation. This can be vegan or vegetarian depending on whether you want the cheese and sour cream. Either way, it's a great vegetarian taco recipe to have on hand.
I made the salsa verde and corn tortillas (more on that later) from scratch and cooked a big pot of dried black beans a few days prior so used those. Of course canned beans work well too. It made quite a bit of filling too so I just kept it in a bowl in the fridge and used it for lunches for a couple days. If you are trying to go meatless more often, you should definitely try these.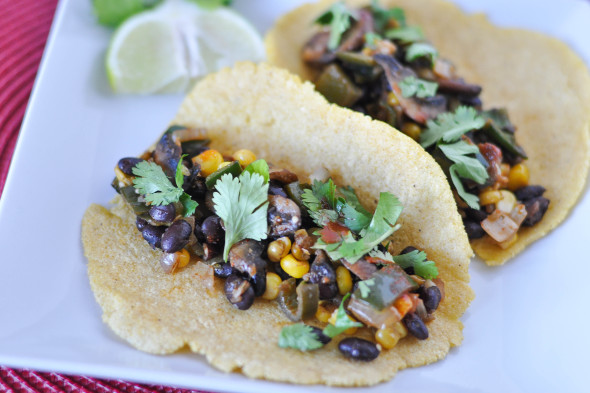 I think part of the reason why these tacos were so awesome was because of the homemade corn tortillas. They had that delicious, fresh corn flavor and were a cinche to make. I'll be back soon with a post on those tortillas which you don't want to miss! Until then, feel free to use your favorite brand of corn or flour tortillas for this recipe. The filling would even be delicious stuffed in a quesadilla.
Don't forget to join us for Meal Planning every week on Nutritious Eats' facebook page. Come get some ideas (and leave some) on what to make for dinner!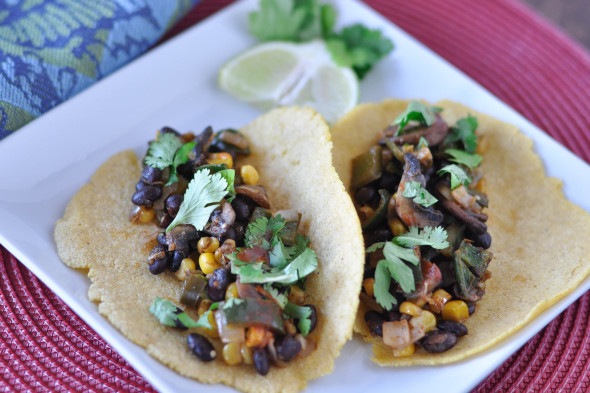 [print_this]
Black Bean, Corn & Poblano Tacos
INGREDIENTS:
2 Tablespoons olive oil
1 (8 ounce) package of baby portabella mushrooms, sliced (or can sub package of regular sliced mushrooms)
1 cup chopped onion
1 garlic clove, minced
1 teaspoon dried oregano
3/4 teaspoon chili powder
3/4 teaspoon cumin
1 poblano chili, chopped
1 1/2 cup frozen corn
1 1/2 cups cooked black beans OR 1 can (no added salt or lower sodium) black beans, rinsed and drained
1/4 cup salsa verde, plus more for serving
1 Tablespoon fresh lime juice
1 teaspoon hot sauce (such as Tapatio)
1/2 teaspoon salt
8 corn tortillas
Toppings:
1/3 cup chopped fresh cilantro
crumbled feta or queso fresco (optional)
light sour cream (optional)
lime wedges
DIRECTIONS:
1. Heat a large nonstick skillet over medium-high heat. Add oil to pan, add mushrooms to pan; cook 4 minutes. Stir in onion and next 5 ingredients (through poblano); cook 4 minutes stirring occasionally. Add corn and beans to pan and continue to cook 4 more minutes. Remove pan from heat, stir in salsa, lime juice, hot sauce and salt.
2. Warm tortillas in microwave. Divide mixture evenly among tortillas and top with cilantro (optional cheese and sour cream). Serve with lime wedge.
[/print_this]
Recipe adapted from Cooking Light, November 2011

Pin It