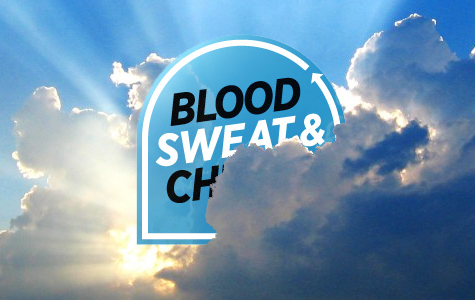 I was recently introduced to Blood, Sweat & Cheers, a free daily email that shares the most fun and active stuff to do with friends.
I was drawn to the newsletter because it involves fitness and I love having a quick place I can look to find the latest fun events in my area, for example a local mud run or 5k race. It's a fun and funny email spotlighting the latest crazy obstacle courses, local beers and bar games, workouts that don't feel like work and the sweetest new gear we all crave. It is guaranteed to put a smile on your face!
There is a play, cheer, sweat and gear section on the website so you get a little bit of everything. It's really a great source for new ideas on how to stay in shape and do active things with the people you love.
Just enter your email here to start receiving the daily email!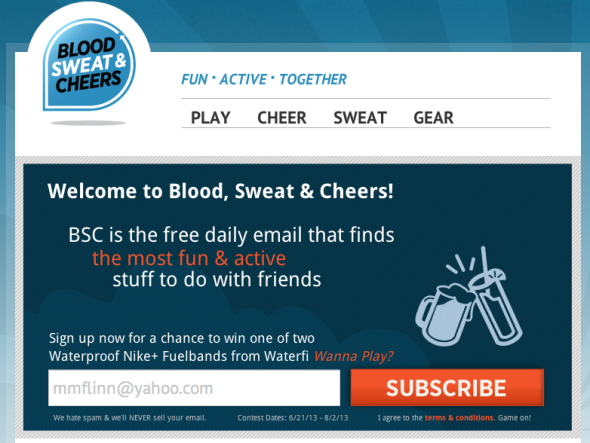 Some things that caught my eye from the past week of emails: I found out about the "Run or Dye 5 K" from the play section, a fun run where you'll end up covered in colorful paint. I've always wanted to do one of these and I found out via the email that there is one coming to the Seattle area soon. Whether I will be too pregnant to do it is yet to be determined, but at least I know where to look for one in the future.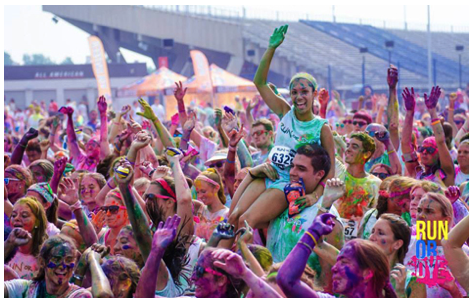 another super cool thing I learned about in the sweat section is a new-to-me training app called the TimeWheel that you will definitely want to download on your phone. It makes solo interval training so much easier. You can program the number of exercises you plan on doing, the number of rounds and the periods of rest and activity and the app will provide customizable sounds to tell you when you've finished one workout, when rest time is over and when your whole session is done. That way you don't have to keep messing with your phone or watch timer while you are trying to knock out those interval training exercises. Plus it also keeps track of your progress.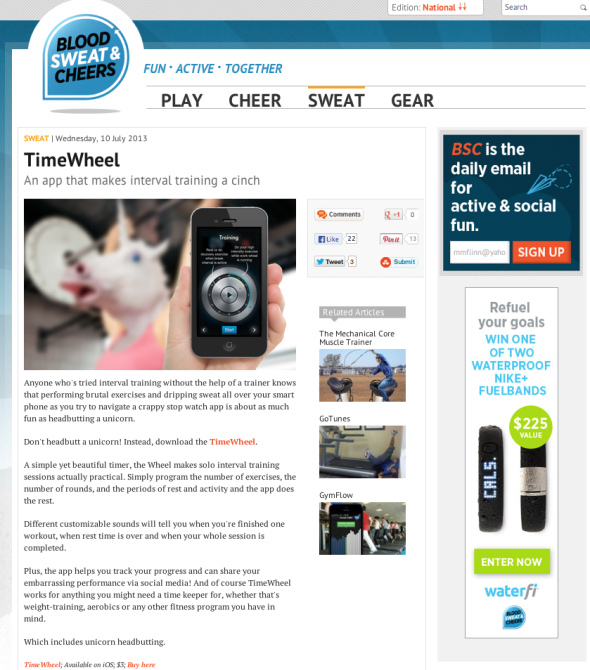 The Blood, Sweat & Cheers email has a Motivational Monday series, found in the Cheer section. I love this poster and it had to add it to my Pinterest board. Each week the email will provide a new poster, a new message on the worst day of the week…MONDAY!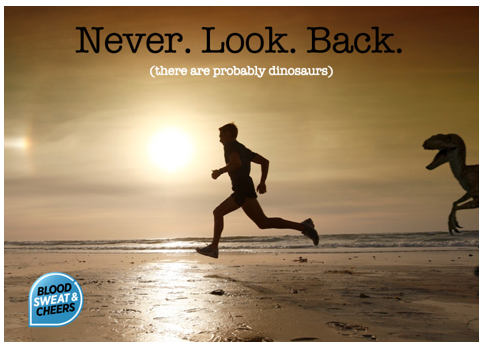 I read about the growler bike under the gear section and although it's not for sale quite yet I can't help but think of my husband riding home from the local pub with his growler of fresh beer. Haha, love it.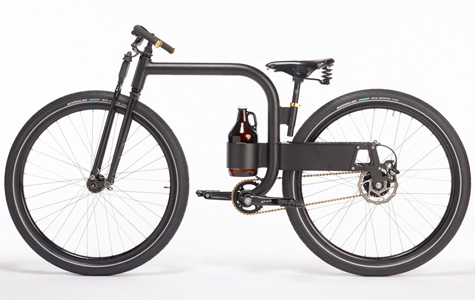 As you can see, the daily email offers fun, active and motivational things to do- great for you and your friends who are looking for local events in your area.
Sign up today and you could win a free waterproof Nike+ FuelBand. The fuel bands tracks your all-day activity and helps you do more. The fuel band is a $225 value so you definitely want to enter this giveaway!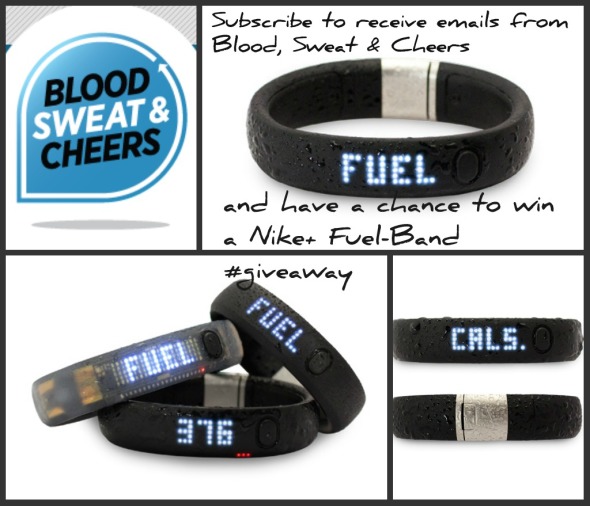 You can follow Blood, Sweat and Cheers on facebook, twitter, instagram and/or on Pinterest.
This post is sponsored by Blood, Sweat & Cheers. All opinions are my own.