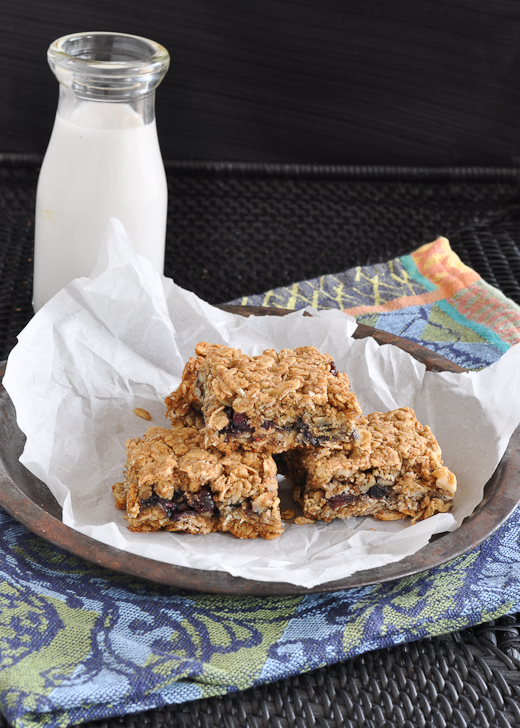 Who doesn't love a good care package? My mom sends the best ones and her most recent included some of these granola bars for the kids.
There are few store-bought granola bars that I like. Most of them are filled with preservatives and junk so whenever I get a chance to make them I do. After we gobbled up the ones my mom sent, I got the recipe from her so we could make another batch.
She originally made them because she wanted to recreate a oatmeal bar I had made when she came to visit us, but it turns out hers were different enough that I needed her recipe too!
It calls for quite a bit of oats which makes them a pretty thick bar. Of course you could always do a slightly larger dish but you might need some more fruit spread. Make sure to press down the oat mixture using a spoon or your fingers.

You're going to layer oat mixture, fruit spread with dried fruit and another layer of the oat mixture. Even though there are three kinds of dried fruits in there, the blueberry flavor stands out the most because of the jam/fruit spread. Love the blueberries!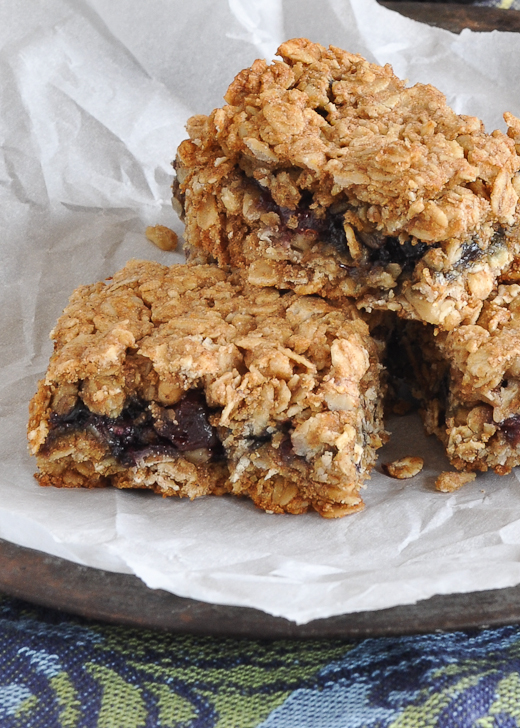 One of my best friends from high school is in town for work so she spent the night with us Sunday night and we had to have a Mexican feast. We stayed up late drinking wine and chatting. So fun! I need to get my act together to share this enchilada recipe someday- it's a real treat!
Sunday
Sour Cream Enchiladas, Slow Cooker Black Beans, Cilantro-Lime Slaw
Monday
Leftovers
Tuesday
Beans & Green Rice (recipe coming!), Salad
Wednesday
Chicken Thighs with Lemon & Onions, Mixed Salad
Thursday
Bulgur and Roasted Veggie Salad, Leftover Chicken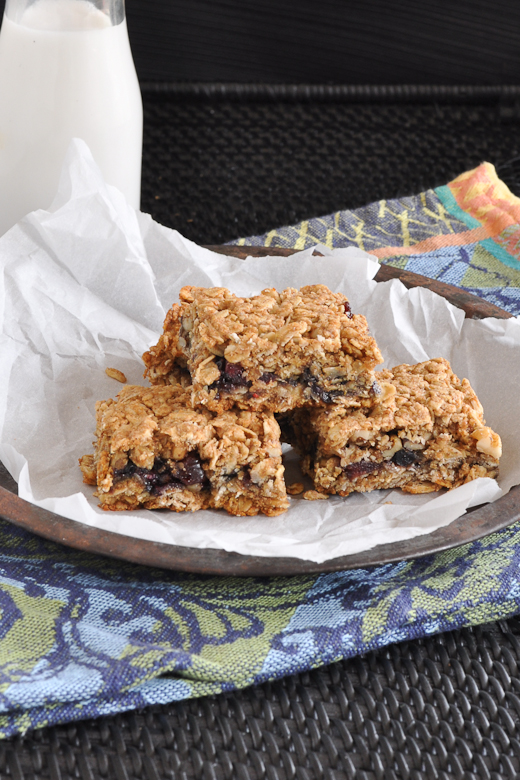 Blueberry Granola Bars
Ingredients
Wet ingredients:
1 stick butter softened
⅓ cup brown sugar
½ cup honey
2 Tablespoons maple syrup
¼ cup applesauce
1 teaspoon vanilla extract
Dry ingredients:
4 cups rolled oats
1 cup whole wheat flour
½ cup wheat germ
1 teaspoon baking soda
½ cup chopped walnuts
1 teaspoon cinnamon
For the filling:
¼ heaping cup blueberry fruit spread or jam
¾ cup mix of dried blueberries, cranberries, cherries
Instructions
Preheat oven to 325 degrees and line a 9x9 pan with foil coated in cooking spray.
In a large bowl, cream together wet ingredients until smooth (some lumps are ok).
In another bowl combine dry ingredients. Add dried ingredients to wet ingredients (except for fruit spread and dried fruit) and mix until combined.
Spread half of oat mixture into prepared pan, flatten with an oiled spoon or fingertips. Cover with fruit spread/jam and then sprinkle on dried fruit. Spread rest of dough on top and flatten with a spoon.
Bake for 20-23 minutes, let cool and cut into squares or bars.
Notes
Bars will be a little soft when you take them out of the oven but will firm up after they cool.
Question: What's on your meal plan this week? Do you have a favorite granola bar recipe? Feel free to link up in the comments section- I love trying new ones!