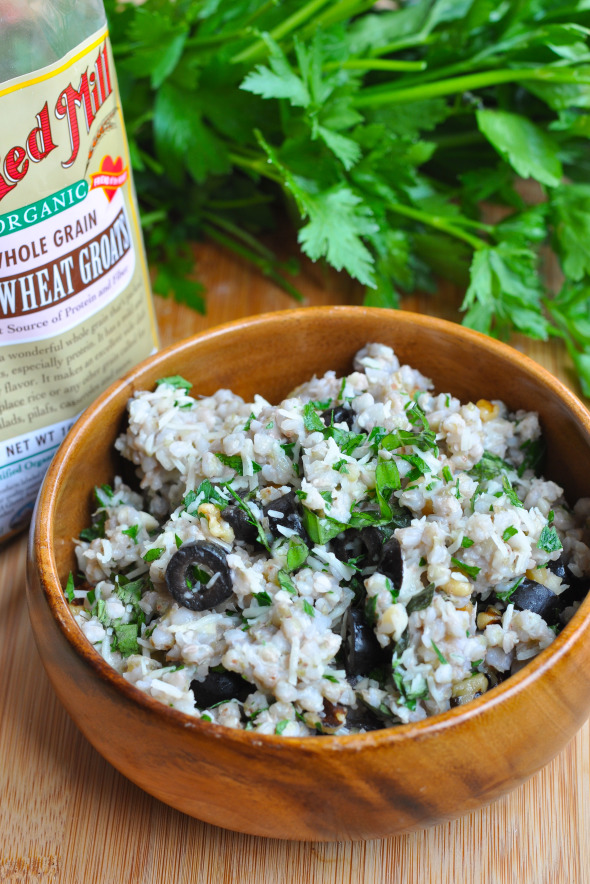 When I think of my favorite food brands there are a few that really stand out- they're ones that I recommend over and over again.  In my opinion Bob's Red Mill is one of those brands that is one of a kind. They offer one of the largest lines of organic, whole grains in the country. I am sure you've seen some of their products in the health section of your local grocer, but if you check them out online you will see they have such a huge variety of unusual, high quality items- granola, oats, grains, beans, seeds, cereals, "baking aids" and more! I have been a long time fan so was so excited to see that they were one of the sponsors of this years BlogHer Food Conference. I was thrilled to visit their booth and learn a little more about their products and the man behind the business Bob Moore. What I also love about this company is that they are a leader in gluten free products and make sure to package them using separate machinery in a separate division. It's so nice to be able to recommend one company that fits so many different people's dietary needs.
When I was asked if I wanted to try out a few of their products I jumped at the chance. It took me two days to peruse their website to figure out what I wanted to try. All of the grocery stores carry Bob's Red Mill, however they do not have variety that their online store has. If you are interested in eating more whole grains (and I mean true whole grains- sure they sell brown rice and quinioa but they also sell millet, amaranth, kamut berries) you've got to check them out. If you have no clue what some of these grains are (and I didn't know all of them either!), the website tells you about each product and provides you with recipes both online and on the package so you can get started cooking as soon as you buy!
Why are whole grains such an important part of the diet? They provide the body with complex carbohydrates, vitamins, minerals, fiber, fatty acids and antioxidants. Eating at least 2 to 3 servings of whole grains per day can substantially lower cholesterol, triglycerides and insulin levels and as a result decrease risk of heart disease and Type II Diabetes. Whole grains are far more nutritious than the processed grains you find all over the grocery store.
I was able to pick out four items that were of interest to me. Here is what I tried: Organic Buckwheat Groats, Organic Hot Cereal, Organic Coconut Flour and Flageolet Beans,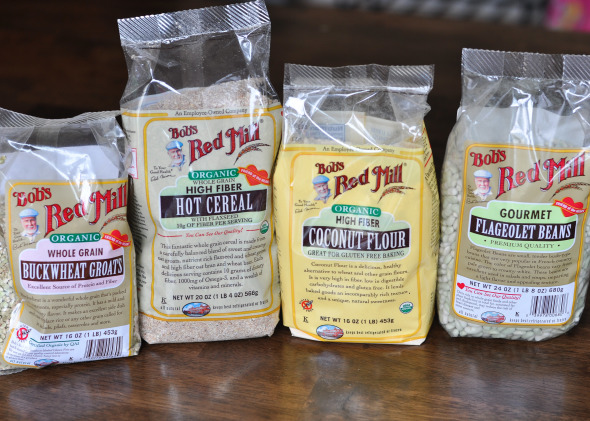 Instead of trying to come up with new recipes using these products I thought it would be fun to try the healthy recipes provided on the packages. I made slight modifications based on what I had on hand. Everything turned out great! Stay tuned over the next week and I will share the other recipes I made.
Using the instructions from the package, I cooked up the hot cereal for breakfast and topped it simply with berries, cinnamon and agave syrup. Let me say first that my husband and I are hot cereal junkies. This one was thick and dense like a porridge, but with a nice nutty flavor from the great combo of ground oat groats, flaxseeds, wheat germ and oat bran. It was a nice change from oatmeal. I am also eager to try the "wholesome cookies" from the package which sounded great. I'm thinking they'll make a great snack for the kids and I like that you can do more with the cereal than just eating it as "cereal".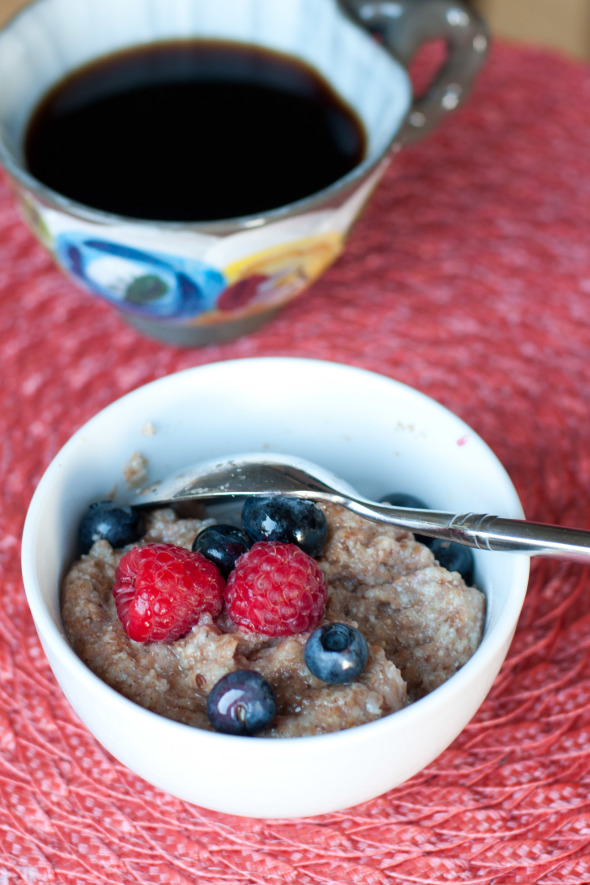 And today I will share the recipe using the Buckwheat groats. There were two great recipes on the buckwheat groats package so I went with one and plan to make the other one next time (the other one is vegan). I love everything going into this recipe- cheese, olives, herbs, garlic. You can't go wrong there.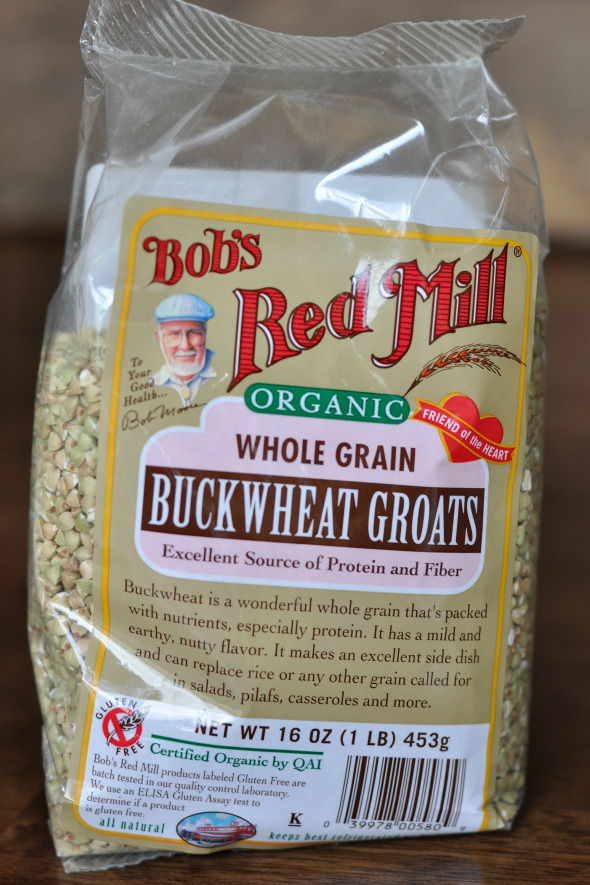 Aren't they a pretty little grain?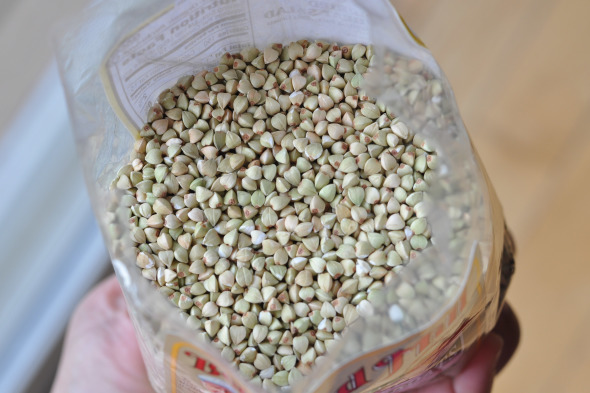 Although I really loved the buckwheat you could definitely sub another whole grain.
 
[print_this]
Buckwheat Pesto Salad
INGREDIENTS: 
1 cup buckwheat groats
2 1/2 cup water
1/4 teaspoon salt
2 Tablespoons olive oil
1 Tablespoon butter, softened
4 cloves garlic, minced
1/2 cup walnuts, chopped
1/2 cup black olives, sliced
1 cup fresh parsley leaves, finely chopped
2 teaspoons fresh basil, minced (I used ~2 Tablespoons)
1 cup parmesan cheese (I used 3/4 cup)
DIRECTIONS:
1. Boil water with salt. Add groats, cover and simmer for 20 minutes or until water is absorbed. Removed from heat and let sit in pan for 5 minutes, then fluff with a fork.
2. In a small bowl, mix butter, olive oil, garlic and walnuts together.
3. In a separate small bowl, combine black olives, chopped parsley, basil and parmesan cheese.
4. Add butter mixture to groats, then stir in parsley mixture. Salt to taste. Stir and serve. Yield: 6 servings.
COOK'S NOTES: this is delicious warmed-up the next day as the cheese melts into the groats.
 Recipe from Bob's Red Mill
[/print_this]
What did I do with the other products? Well I made coconut buttermilk pancakes with the coconut flour (delicious) and I incorporated the Flageolet beans into a cold salad which was also a huge hit!
Stay tuned over the next few days when I'll share the recipes for those! I loved them so how could I not share?!
Oh and onto the fun news. The nice folks over at Bob's Red Mill want to give one reader these same 4 products to try! Awesome, right?! The great thing is now you know exactly what to do with them!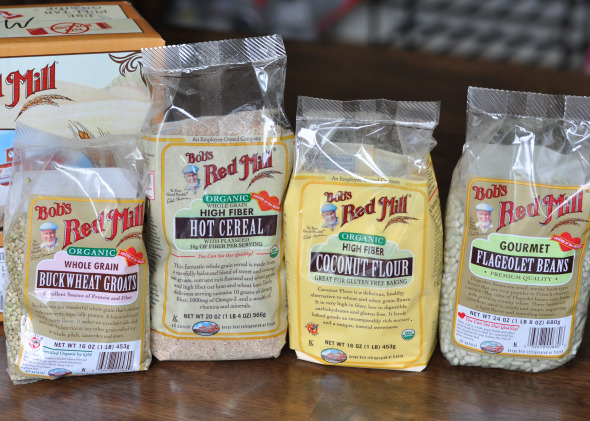 BOB'S RED MILL GIVEAWAY!
4 full size packages: Organic Buckwheat Groats, Organic Hot Cereal, Organic Coconut Flour and Gourmet Flageolet Beans
The giveaway will start today Friday, April 27th and end Wednesday August 1st at 12:00pm CST
TO ENTER GIVEAWAY
MANDATORY ENTRY: Leave a comment telling us if you've ever tried any of these products!
OPTIONAL ENTRIES: You can earn additional entries by doing one, or all, of the following (leave a separate comment after you complete each item; each comment will count as an entry)
1. Follow Bob's Red Mill on Twitter ( If you already follow them just let me know and that counts as an entry!)
2. Follow Nutritious Eats on Twitter  and tweet " @nutritiouseats is giving away Bob's Red Mill products! http://wp.me/p150Ow-1Oe" ( if you already follow just let me know and that counts as an entry!)
3. Subscribe to Nutritious Eats Email Service (box to the right) OR Follow via RSS ( if you already do just let me know and that counts as an entry!)
GIVEAWAY DETAILS:
Sorry, giveaway open to US readers only. Winner will be chosen randomly using random.org and will be notified by email and have 48 hours to claim prize or another winner will be selected.
GOOD LUCK!
Disclaimer: Bob's Red Mill sent me one box of samples to review and is providing one box to the winner of the giveaway. I was not compensated for this post; all the opinions and thoughts expressed are 100% my own.