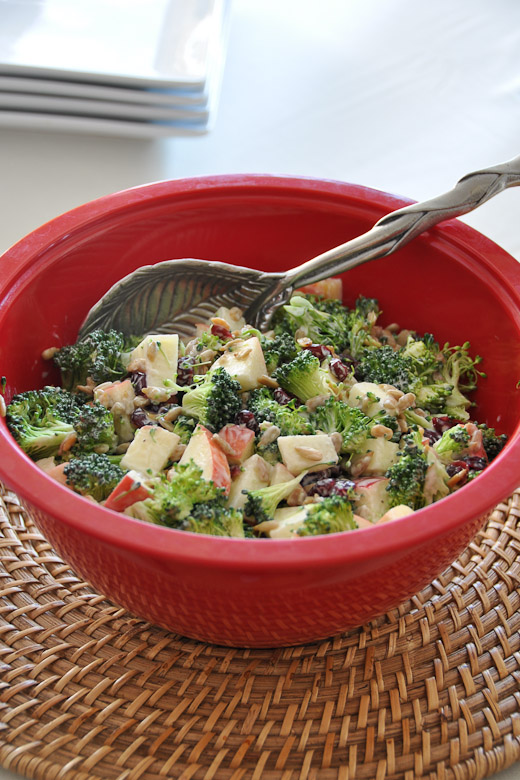 Broccoli apple salad. This is a recipe my mother-in-law often makes so she shared her version with me. I was in the mood for a different way to eat my broccoli- normally it's just raw with dip, steamed or roasted then topped with lemon, but this is a nice cold salad that keeps for several days so it's perfect for lunches or snack. When we were in Hawaii this past summer for our family reunion we served it for brunch with an egg casserole and fruit salad. It's a very versatile dish.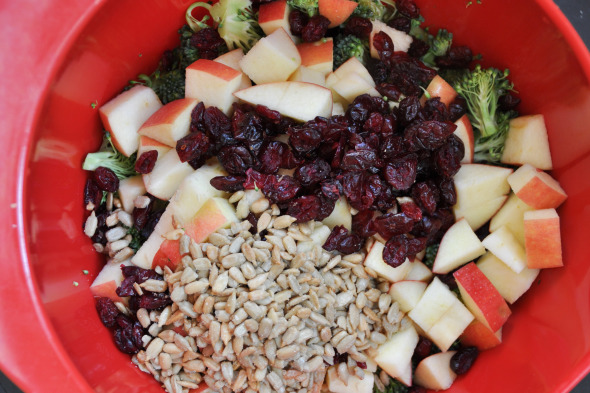 Broccoli frequently earns a spot in the "top superfoods" list- it's low in calories, high in fiber, Vitamin A, Vitamin C and antioxidants- it is classified under the cruciferous food group and this particular group (broccoli, cauliflower, cabbage, brussels sprouts, kale, etc.) have been shown to help reduce rates of cancer. So should you eat it raw or cooked? To absorb the highest amounts of the cancer-fighting compound sulforaphane, eat it raw. With that being said, if you will only eat it cooked try to cook it to the point where it is still a bit crunchy so that you don't destroy all those healthy properties.
The addition of the dried cranberries, apples and sunflowers satisfy the whole sweet-salty and crunchy all in one bite.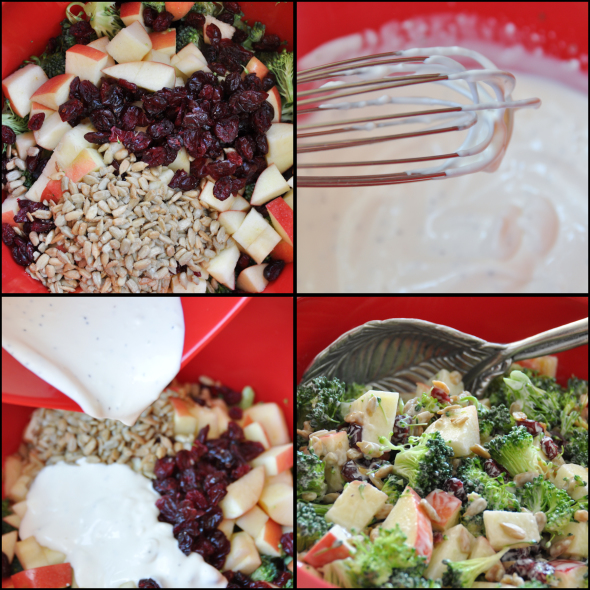 Ok moving on to the exciting updates over at the Flinn house. My oldest son turns SIX tomorrow! I can hardly believe it- he is still so tiny and sweet. He still likes me, wants me to play with him and was thrilled that I joined his class on the pumpkin patch field trip last week! I am saying that because there is a day (probably soon) where he won't want anything to do with me! I kind of thought by the time he turned 6 he wouldn't be such a mama's boy. Love this kid.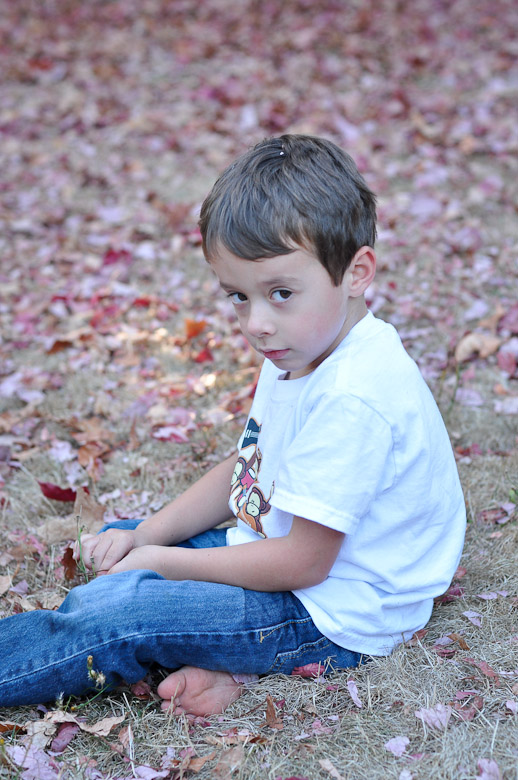 Lucky for me, I talked him out of having a party this year. It all boiled down to the fact that we don't have as much money to spend and with the addition of the baby last year we now have birthdays to celebrate in Oct, Nov & Dec. Also since we just moved here in May and he started school in August he doesn't have super close friends so I'd either have to invite the whole class or just the few neighbors he plays with. He was fine with the idea of skipping a party this year BUT he really wants to go to Chuck-E-Cheese since he has never been and only seen great things from the TV. Gotta love commercials. It should be interesting to see what that place is like since I haven't been since I was a kid!
We also decided that during our trip to San Diego in December we will surprise the kids with Disney Land as part of their birthday gift.  I think that is WAAAAY better than a party don't you?
So I am off to make some birthday cake/cupcakes but am so much more relaxed knowing that I don't have to put on my creative party hat this year.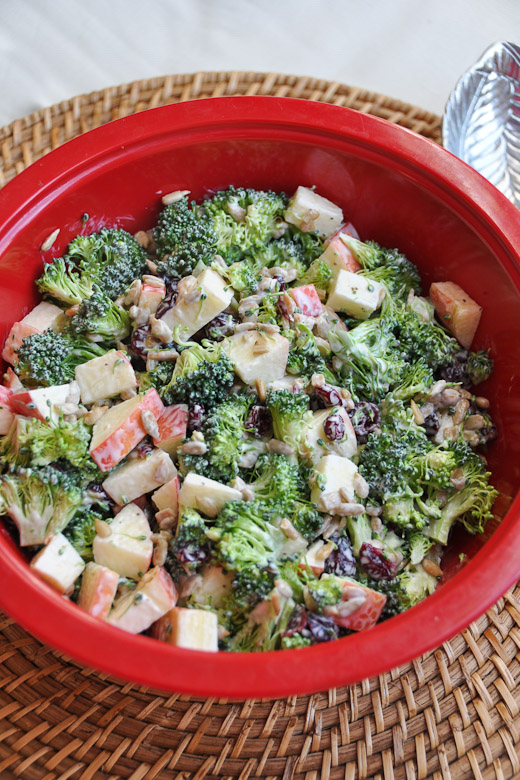 Broccoli Apple Salad
Ingredients
4 broccoli crowns (~2½ lbs or ~8-9 cups)
3 Gala or Honey Crisp apples, chopped into bite-sized pieces
1 package Craisins
½ (8.5 ounce) package sunflower seeds
For the dressing (you can substitute any coleslaw dressing):
1 cup mayonaise (I use half low fat, half regular)
¼ cup plain Greek yogurt
3 Tablespoons apple cider vinegar
¼ teaspoon celery seed
2 packets stevia (or 4 teaspoons sugar)
Instructions
Cut crowns into florets and finely chop into very small bite-sized pieces (may also finely chop some of stems if desired). Make sure pieces of broccoli are very small for this salad. Place in a large bowl. Stir in apple, craisins and sunflower seeds.
Add dressing and toss well to coat. Refrigerate until serving.
Notes
I prefer my mayo based salads on the light side so I had a little leftover dressing. If you like it more heavily dressed, make extra and add as much as desired. This salad makes a ton so if it's just for you and a couple other people I suggest halving the recipe.
Also note this recipe is best made a few hours before serving to let the broccoli soften up a bit.




Let's chat: have you ever skipped throwing a birthday party for your kid? Do you usually eat your broccoli raw or cooked?
Don't want to miss a post? Make sure to sign up to receive emails from Nutritious Eats. I love hearing from you! Please leave a comment, ask a question or just say hi. And if you've enjoyed this post, please pin, share, tweet or stumble away so that others can enjoy eating healthy with us! Thanks for reading!