Turkey Caesar BLT Sandwiches are simple to prepare and great to pack for a dinner at the pool or a family picnic.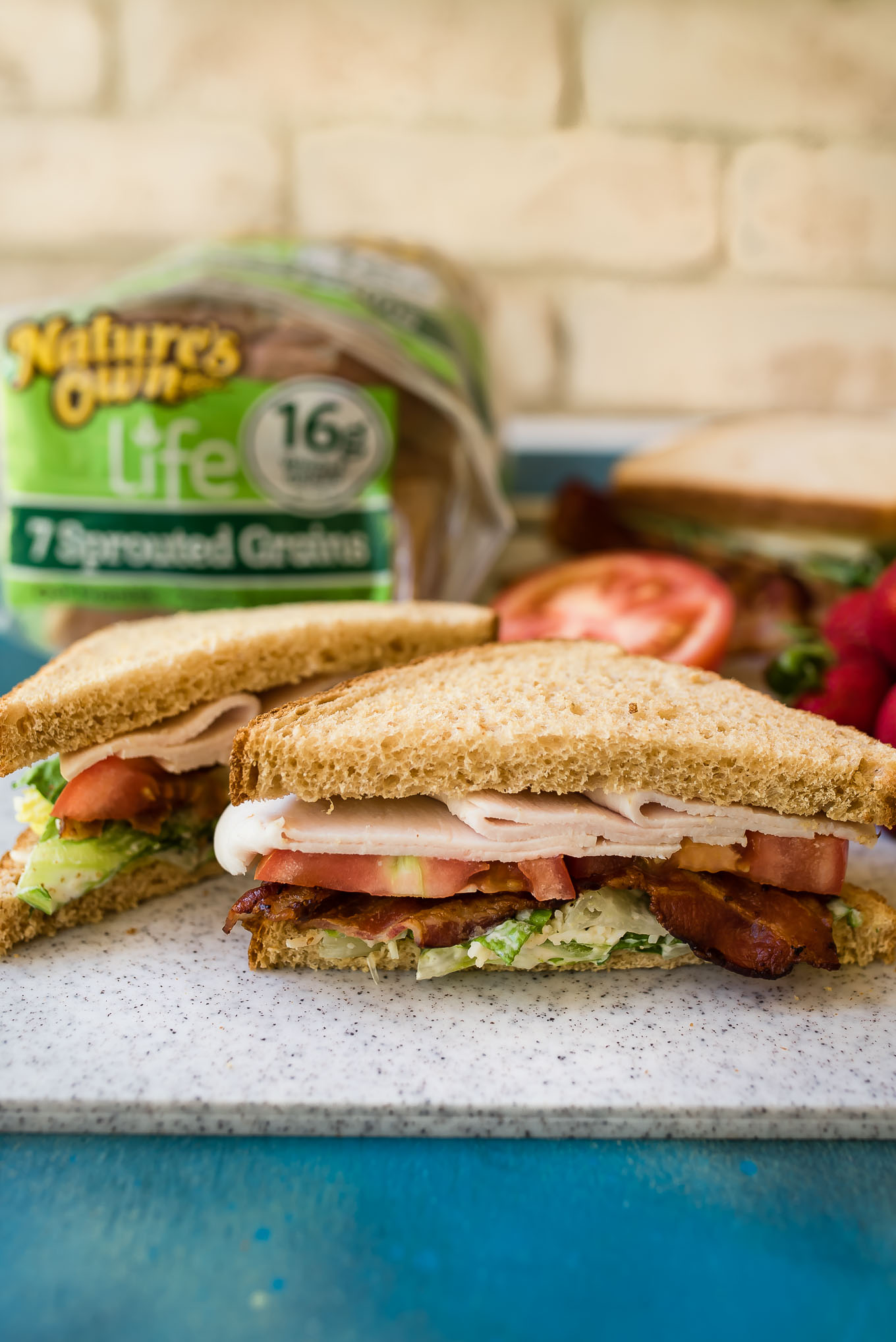 I have partnered with Nature's Own Life® in creating this post. I have been compensated for my time commitment. However, my opinions are entirely my own and I have not been paid to publish positive comments.
 Turkey Caesar BLT Sandwiches takes your regular turkey and cheese to the next level- they're packed with flavor and crunch!
I never thought I would be at the pool so much, but three of my kids started swim team for the first time so we are there for several hours every day. I am thrilled to see them improving as swimmers and could think of worse places to be!
The biggest challenge that I am faced with is how to cook dinner when it involves being out of the house for so long. When summer officially hits we will be there daily around lunchtime. Packing simple foods is the best and only option.
When I think of the pool and easy to prepare food, I think of sandwiches. Luckily my family loves them and has fun trying new varieties as well as sticking with the old favorites. The options are endless so when you are feeling bored of the same ol' ham and cheese, try a new combo!
I am pretty picky about the bread as it has to meet my flavor and nutrition requirements. A good bread can make or break your sandwich, wouldn't you agree?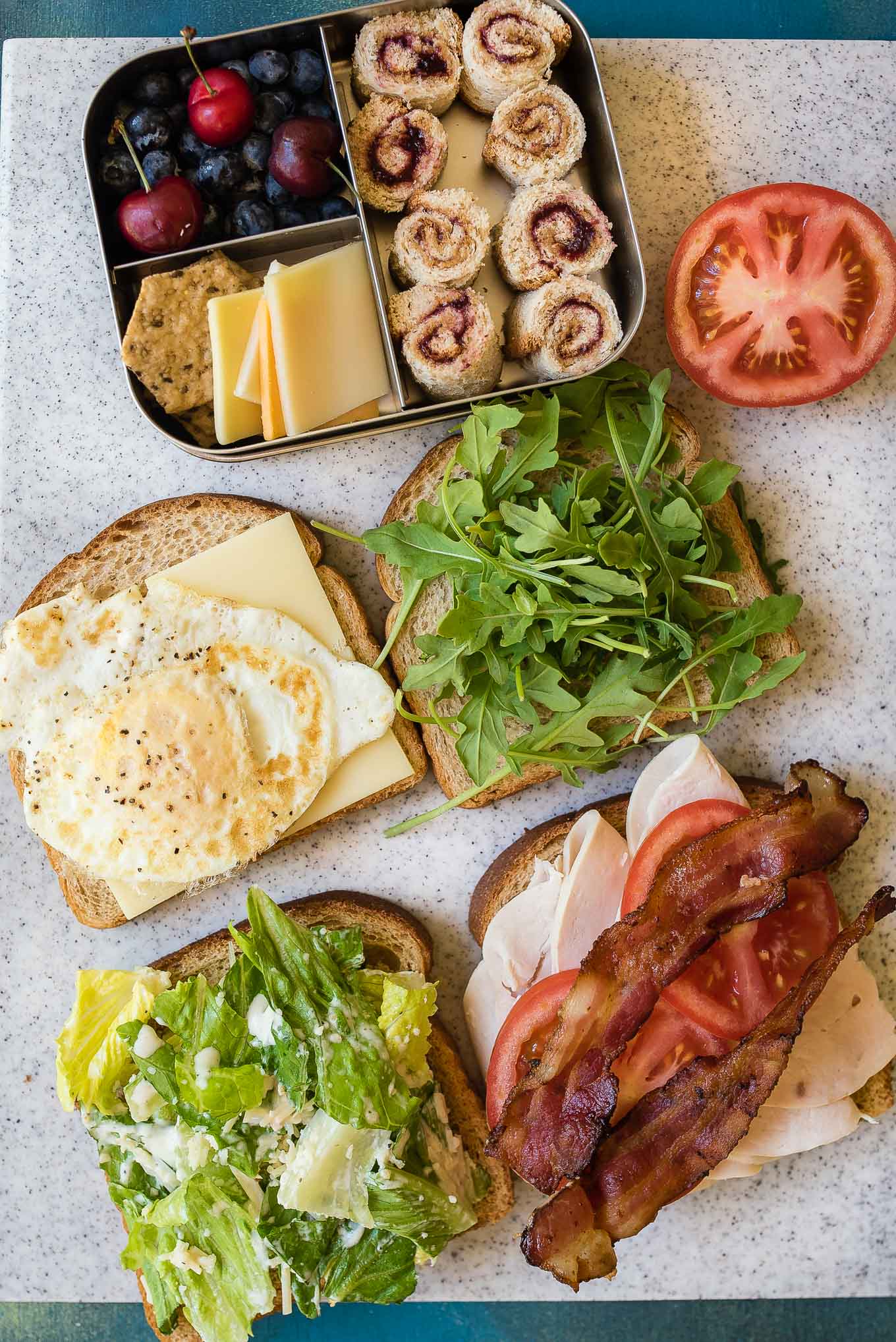 You may have noticed, but Nature's Own Life® is a new line of breads now available now in the grocery retailers across the country. I spotted them immediately with the new packaging and when I saw the 7 Sprouted Grains, one of the six Life® varieties. The new line also includes: Wheat+Protein, Double Fiber Wheat, 100% Whole Grain Sugar Free, 40 Calories Honey Wheat and 40 Calories Wheat.
I used Nature's Own Life® 7 Sprouted Grains bread in creating this recipe because I love the heartiness of the whole grains with 16 grams of whole grain per slice. The "lucky 7" sprouted grains in this loaf include: whole wheat flour, sorghum, rye, millet, oats, barley and brown rice. It is the perfect mix of a soft bread with a hearty flavor. You could also use 7 Sprouted Grains to make easy and always delicious PB&J Roll Ups. I love it!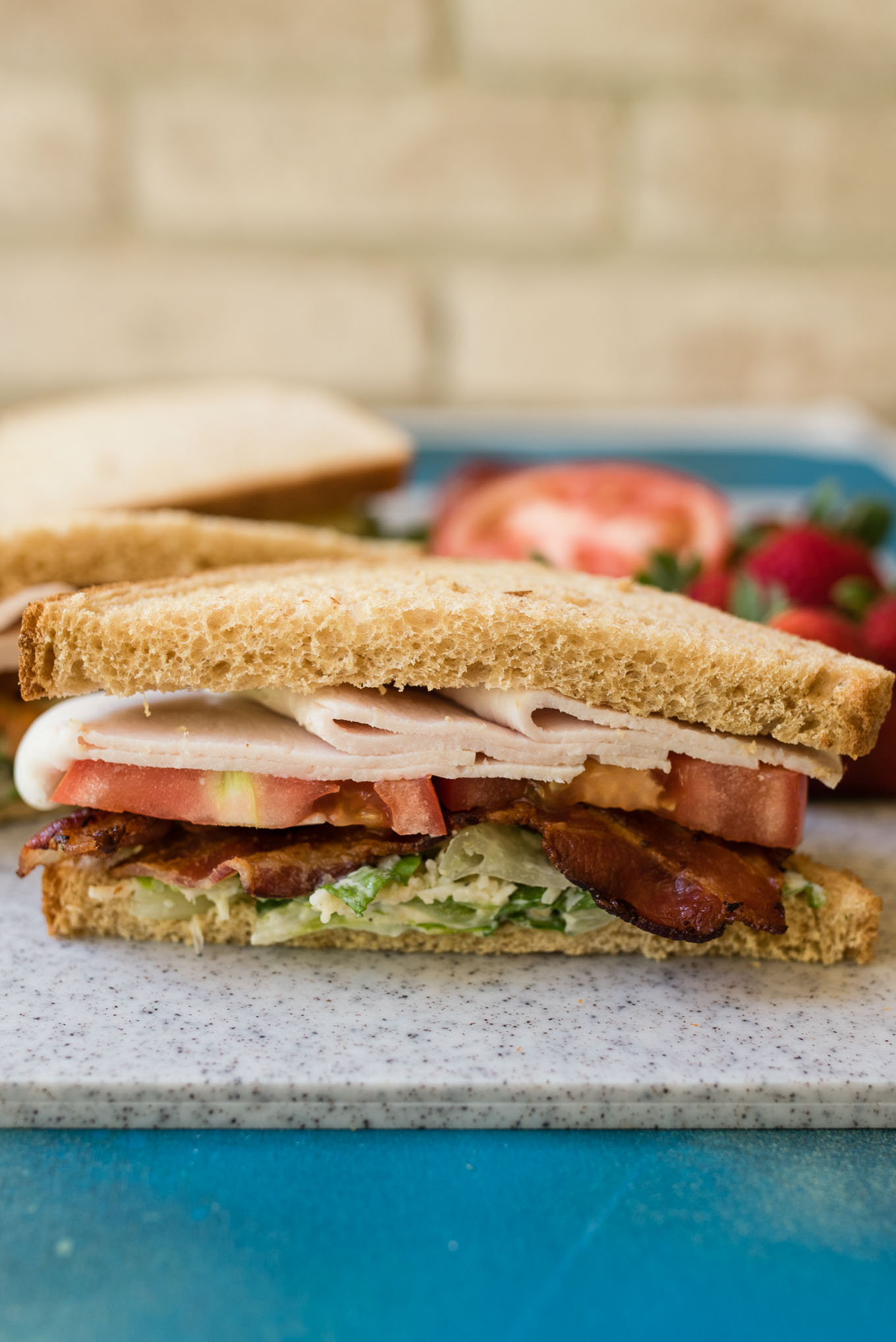 Like all Nature's Own breads, the new Life® varieties have NO artificial preservatives, colors or flavors and no high fructose corn syrup. These are the first things I check when looking at food labels.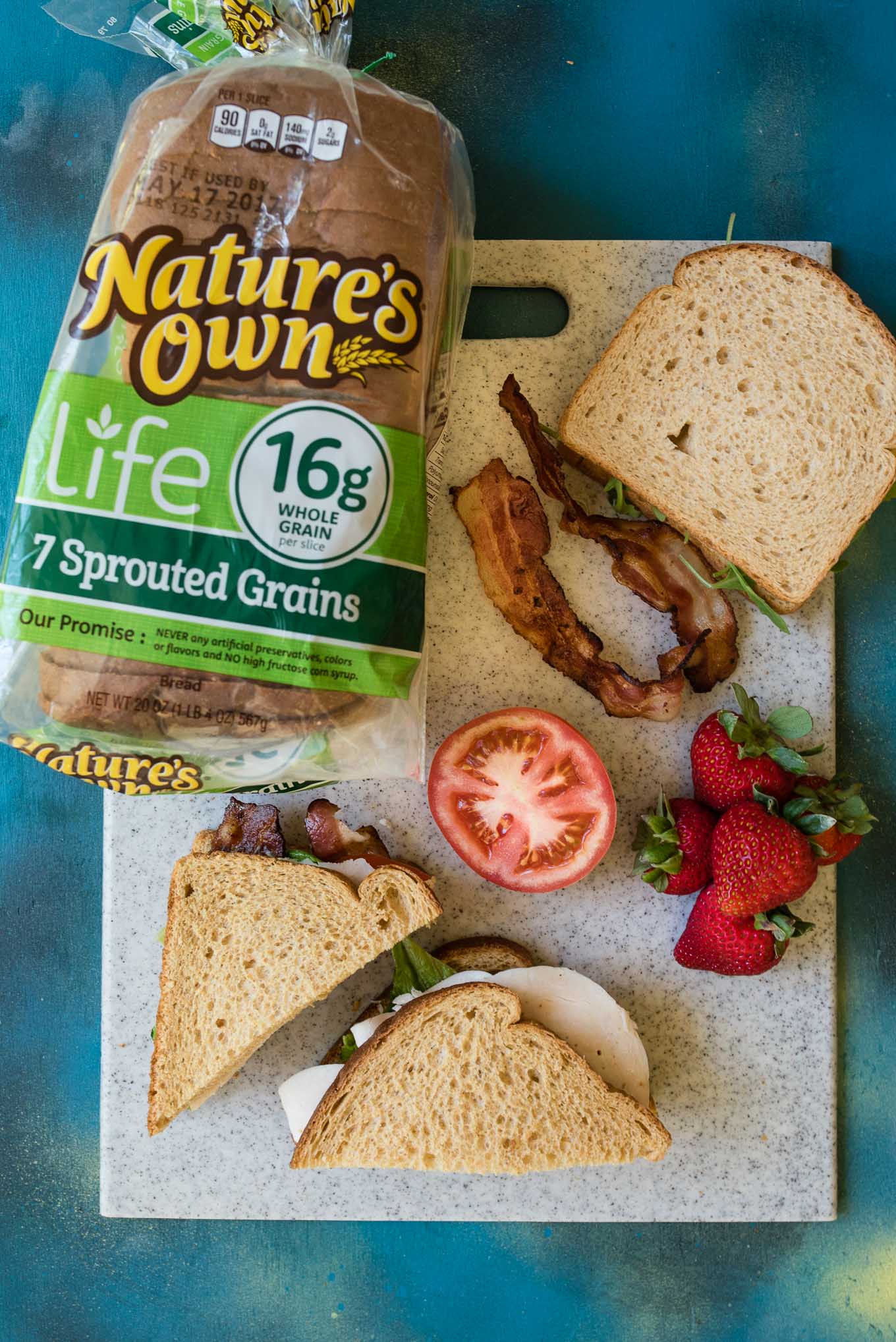 This makes  me feel good about feeding the kiddos sandwiches for dinner like these Turkey Caesar BLT Sandwiches! Plus, they are great to take to the pool because they are simple to pack- I stick with foil or our stainless containers and place them all in a mini cooler with a couple ice packs.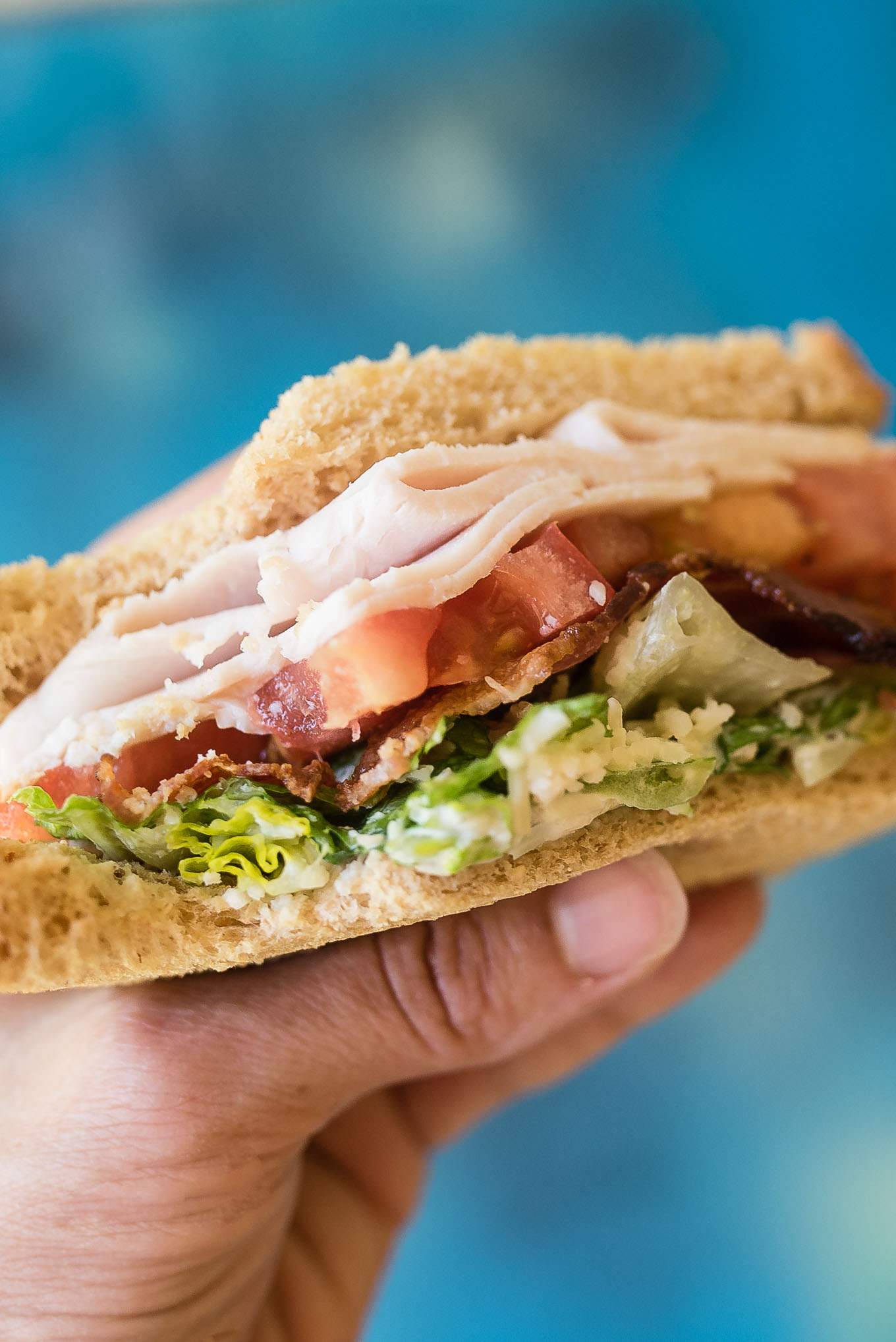 If you are looking for packable sandwiches to pack for the pool try one of these combos:
Turkey Pesto with Lettuce and Tomato Sandwich
Fried Egg, Swiss and Arugula Sandwich
Peanut Butter Jelly Roll Ups
Grilled Cheese with Cheddar and Havarti
Roast Beef With Horseradish, Lettuce and Tomato
Hummus with Veggies and Alfalfa Sprouts
Peanut Butter With Banana and Honey
Salami, Ham, Provolone and Olive Spread
Egg Salad With Romaine
Roasted Chicken and Avocado
Steak and Arugula with Lettuce, Onion and Tomato
Roasted Turkey, Apple and Cheddar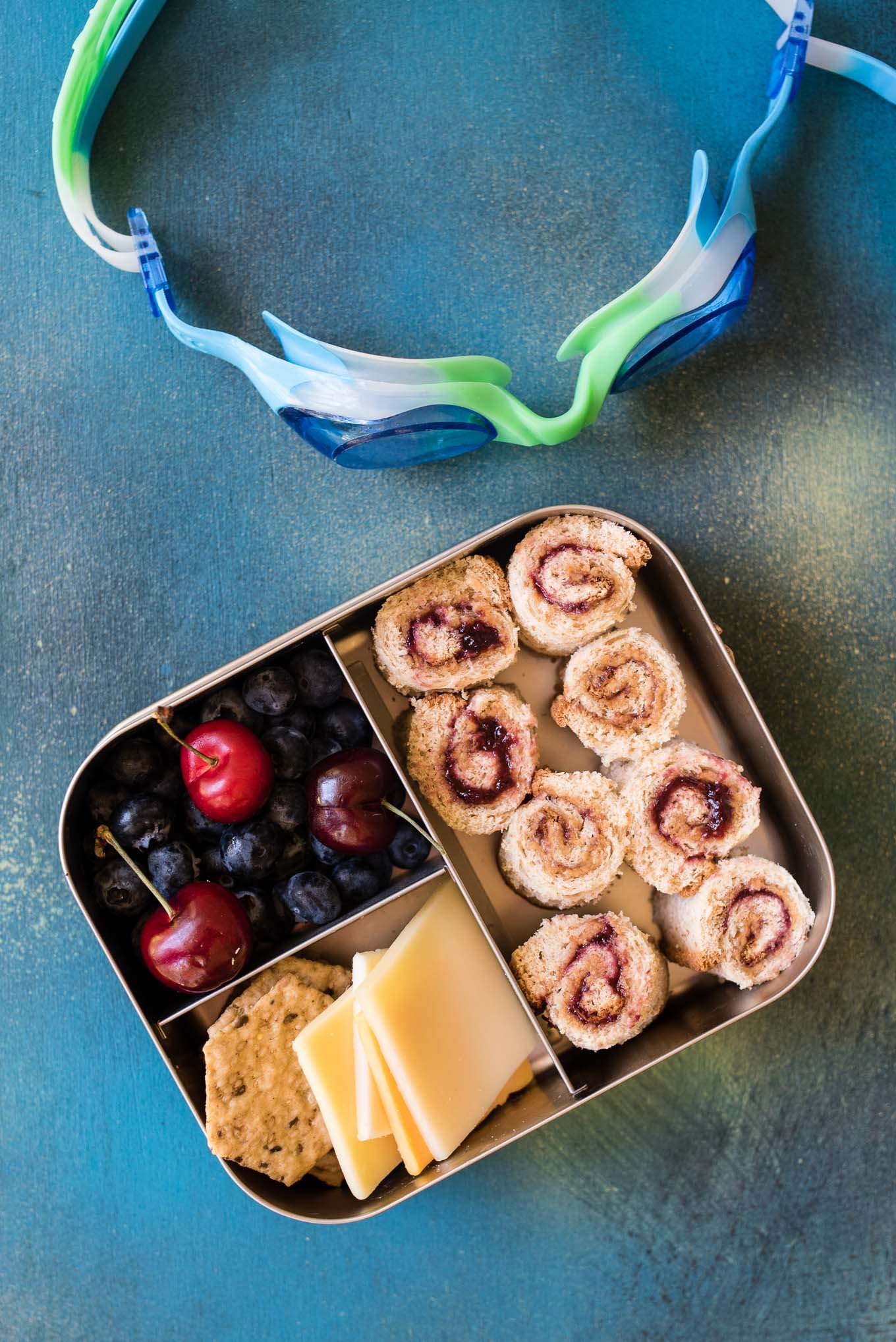 What are some of your favorite sandwich combinations? I'd love to hear them!
To learn more about Life® breads, visit www.naturesownbread.com/life and you can use their product locator to find stores near you. Stay connected with Nature's Own for more recipe ideas and product information:
Nature's Own Bread on Instagram,
Caesar BLT with Turkey
Caesar BLT Turkey Sandwiches are simple to prepare and great to pack for a dinner at the pool or a family picnic.
Author:
Melanie F. | Nutritious Eats
Ingredients
4 slices Nature's Own Life® 7 Sprouted Grains bread
4 ounces (4 slices) Organic, nitrate free Turkey breast
4 slices nitrate free bacon
4 tomato slices
1½ cups Caesar Salad (a salad kit is great)
Instructions
In a medium skillet cook bacon until crispy. Meanwhile prepare desired amount of Caesar salad. To assemble sandwich: Layer 2 slices of turkey, 2 tomato slices, 2 slices of bacon and ~3/4 cup Caesar salad on one slice of bread. Top with other slice of bread. Repeat with other bread and enjoy!