You guys, it is the 14th of January and I have totally been sticking to my goals. I got in a couple of runs already, did some yoga, got the kids ready early for school, got some post drafts going. It sure feels good to be productive, but of course it's so much easier when there isn't a holiday or a billion birthdays going on.
Speaking of birthdays, we're having a belated 6th birthday party this weekend for my daughter since her birthday falls 2 days after Christmas. We are having a "girls only" (as decided my the birthday girl) painting party where the kids get to paint a little figure or plate or something similar. She only invited 4 friends. There are no decorations involved, the little studio even has it's own ice cream counter so all I have to do is bring the "cake" and well the birthday girl doesn't want cake, she requested blueberry muffins so that will fill in for cupcakes. How excited am I that I basically have nothing to do? Treat bags and muffins? That definitely makes up for having 4 babies born around the Holidays.
So for today's recipe I'm cooking from my most favorite magazines, Cooking Light. I am one of the members of their Bloggers' Connection group and I love to share the Cooking Light love (and no I don't get paid to say that, but if the right person is reading this, I'd totally be down with that!).
Tacos. Man, I am most definitely on a Mexican kick. Well it's nothing new; I tend to cook Mexican food at least once a week. I actually made these a while back, but realized after going through photo files that I forgot to share them.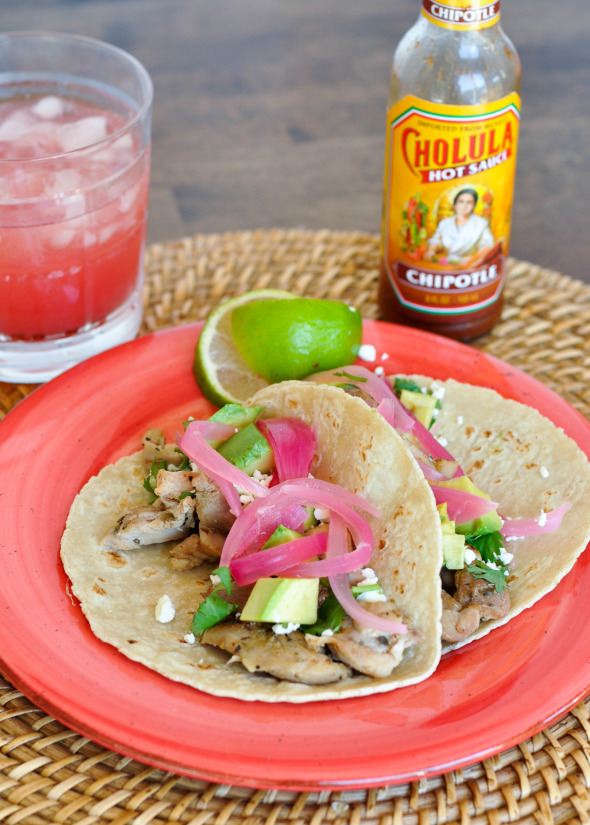 The pickled red onions were super fun and easy to make. The color, crunch and tang were such a unique twist to our regular tacos. I made a few changes to the recipe overall, but nothing too drastic.
If you wanted to go a vegetarian route you could just bake some tofu with the cumin and Mexican spices and load it with the avocado, cilantro, feta and pickled onions. Or if you are into those soy-crumbles or soyrizo crumbles you could sub that.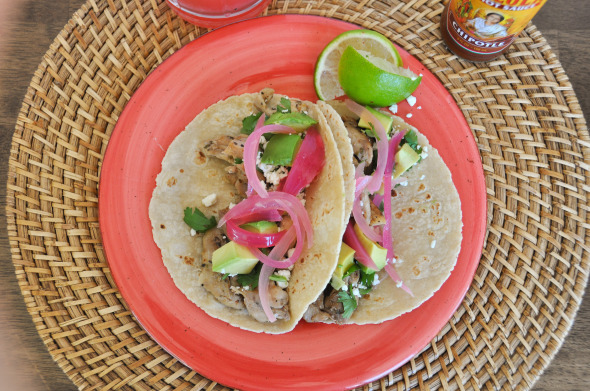 Oh and before you go and totally off subject, I post my rocksbox goodies to my Instagram feed often. If you like jewelry you might be interested in this. They are offering a free month to try it out using the code: melaniexoxo.
If you're not familiar with it, it's a jewelry service where they send you 3 designer pieces at a time (based on  style profile you fill out) and you wear them as much and for as long as you want; then when you are ready, you send them back for a new set. You keep this going for as long as you like and if you chose to keep anything they will just charge you for it, but otherwise it's just like borrowing jewelry.
They gifted me a few month subscription and some pieces I barely wore, while others I wore all the time until I it was time to swap them out for new stuff. I have bought 3 items with my own money because I liked them so much that I wanted to keep them. Anyway, if you want to try it, nows the time to do it for free!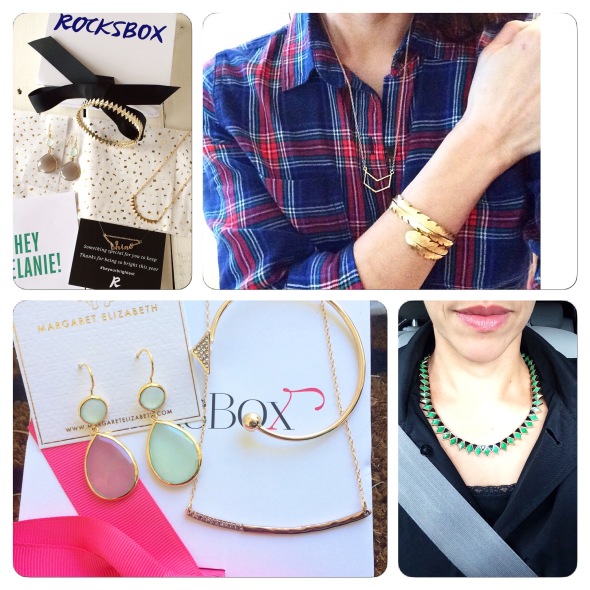 It is definitely fun mail and I always look forward to seeing what they'll send me. Note I put my preferences in at earrings, bracelets and necklaces (no rings) with more of a focus on dainty items. Although I think next box I am ready to borrow a fun statement necklace.
Ok, so enjoy your taco and your jewelry!
Chicken Tacos with Pickled Onions and Feta
pickled red onions and feta give these chicken tacos a unique twist!
Author:
Melanie F. | Nutritious Eats
Ingredients
½ cup fresh orange juice (about 1 orange)
⅓ cup fresh lime juice (about 2 limes)
1 teaspoon sugar
1 teaspoon cumin seeds
1 medium red onion, thinly vertically sliced
1½ pounds skinless, boneless chicken thighs, trimmed and cut into thin strips
1 teaspoon dried oregano
1 teaspoon ground cumin
½ teaspoon garlic powder
¾ teaspoon salt
¾ teaspoon freshly ground black pepper
2 teaspoons olive oil
8 (6-inch) corn tortillas
1 avocado, peeled and diced
½ cup crumbled Feta cheese (or can use Mexican Cotija)
⅓ cup chopped cilantro
Lime wedges
Instructions
Combine first 4 ingredients in a medium bowl, stirring until sugar dissolves. Place onion in a small saucepan; cover with water. Bring to a boil; drain and plunge onion in ice water. Drain onion; add to juice mixture in the bowl. Chill until ready to serve.
Heat a oil in a large cast-iron skillet over high heat. Sprinkle chicken with oregano, cumin, garlic powder, salt, and pepper; toss to coat. Add chicken to pan; cook ~5 minutes or until browned and done, stirring occasionally.
Heat tortillas according to package directions. Divide chicken evenly among tortillas. Drain onion; divide evenly among tortillas. Top each tortilla with 2 tablespoons avocado and 1 tablespoon cheese, chopped cilantro. Serve with lime wedges, if desired.