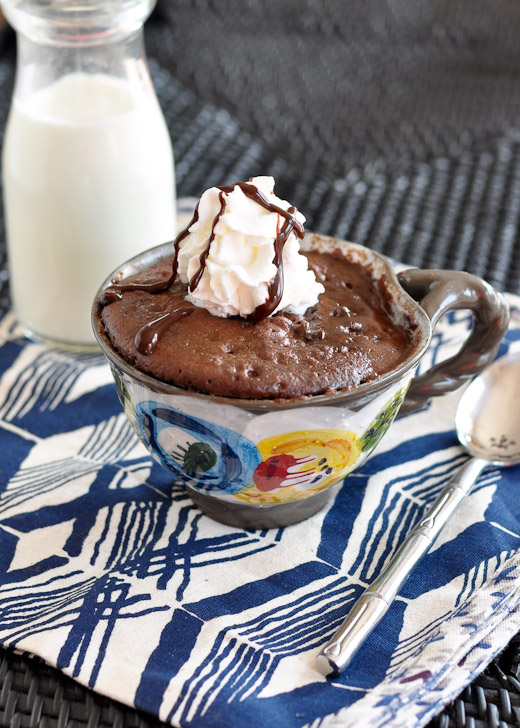 So I saw some lady on Martha Stewart, or maybe it was Oprah, like 10 years ago (I think, I don't really know when it was but it was a long time ago) and she was making individual microwave mug cakes. I thought the idea was kind of silly and figured the cake would taste pretty bad. Fast forward all these years, I don't know what possessed me to revisit the idea but I looked up recipes online and decided to make my own adaptation. Oh.My.Goodness. Why did I wait so long to try this?
Several of the ones I looked at had 3 Tablespoons of butter (per cake). Yikes! And I am in no way implying that is is a low fat cake. It is not. It is meant to be rich and yummy (and super easy) and would be perfect to share with a friend. I think you all know me by now and from my history of recipes shared, that I love healthy food, but am totally ok with splurges. I don't try to make everything super light because typically those dessert fake-outs don't fake out my taste buds. That's just me though.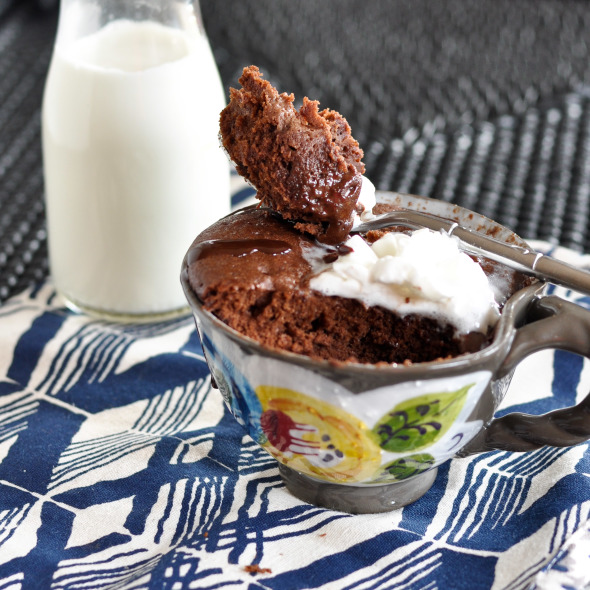 Instead of using butter I substituted some of the fat with the healthy kind from natural almond butter and kept around 2 teaspoons of vegetable oil to keep it moist and rich, but again, this is not meant to be one of those crazy healthy make-overs. It's still a cake and has plenty of fat in it. Just want to make sure we are all clear on that because when the Dietitian recommends a cake, I don't want to mislead anyone! Haha.
This is what you need to make it (minus the mini chocolate chips)!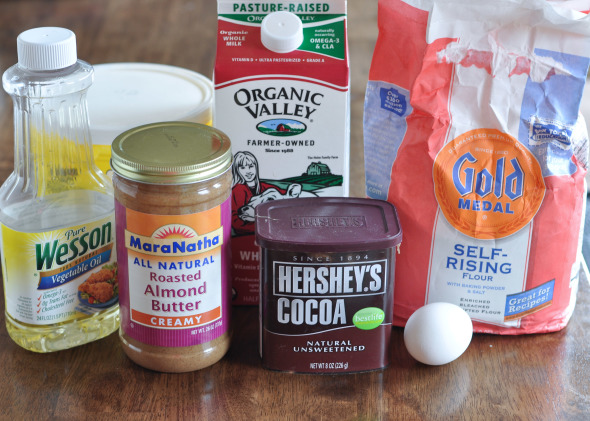 If you don't have almond butter you could try Nutella! If you have nut allergies, you could omit the ingredient altogether (note: I haven't tried it that way but have seen other recipes).
(This is the second cake I made, the first one I pressed the chocolate chips into the batter, this one I did not. Didn't matter much but I kind of liked the chocolatey coating when the chips were just sprinkled on top)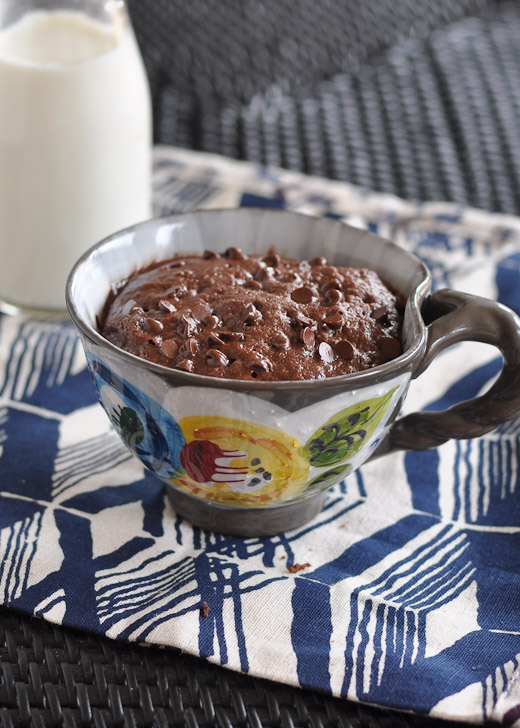 What is just amazing is that this cake is ready in under 5 minutes! Oh and the fact that it's rich and delicious is crazy too. I NEVER would've believed! I had to make it 4 times to get the recipe the way I wanted it and I was very pleased with the final version. The key in my opinion is not microwaving it too long. The first three times I did 1 minute and although it was tasty, it was a tad bit too dry. You'll think it should look dry like cake does, but don't make that mistake. I ended up preferring 45 seconds (can you believe this cooked it under 1 minute?!). You want it to look just slightly undercooked (think chocolate lava cake).
I will have to experiment with making a healthier version of this but I'm not making any promises, lol! Enjoy this as a treat, when you have a hankering for chocolate pronto, especially when you don't feel like baking a big ol' cake which is great because then you won't be tempted by leftovers. Make sure to eat it warm and share with a loved one to cut back on some calories!
Make this soon, and please when you do, come back here and tell me how good it was and how you will love (and hate) me forever for encouraging you to make cake.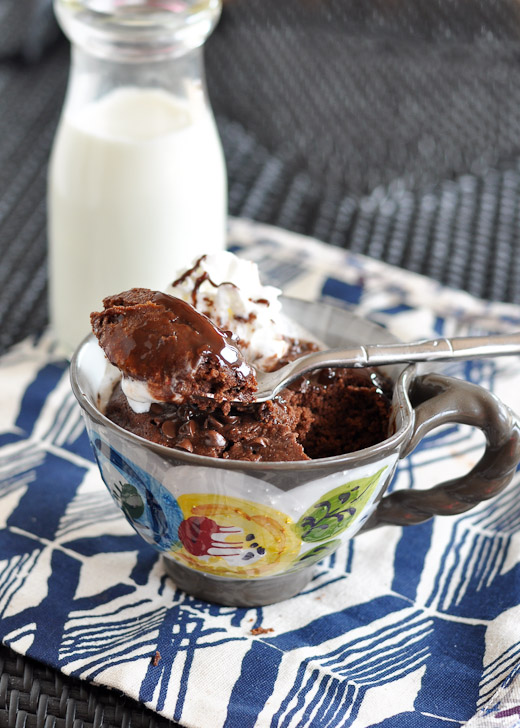 A reminder to those who missed this post about ZipList's online recipe box, see that save recipe button on my recipe below? If you click that you can save the recipe to an online recipe box powered by ZipList (if you look up in the top menu, the far right says "Recipe Box" and that is where you can access ALL your saved recipes. Look for it on your favorite blogs and websites because once you create your box you can access it from any blog or website that uses ZipList.
It's a great feature for those of you who want to save recipes in one handy accessible space. I am still working on getting all my old recipes set up in the new format so you might come across some that don't have it. I am sorry, I will try to get to all of them.
I also like the "save recipe" feature because if I ever update a recipe you will always have the most up-to-date version versus if you were to print off the recipes. Check it out!
Chocolate Almond Mug Cake
Serves:
plenty for 2 to share
Ingredients
2 Tablespoons self rising flour
2 Tablespoons sugar
1½ Tablespoons cocoa powder
1½ Tablespoons natural almond butter
2 Tablespoons milk
2 teaspoons vegetable or olive oil
½ extra-large egg or 1 medium (beat in a separate bowl and add to mixture)
2 teaspoons mini chocolate chips
Instructions
Combine all ingredients (except chocolate chips) in a small bowl. Pour half of batter into mug, sprinkle with 1 teaspoon mini chocolate chips. Pour remaining batter on top and sprinkle with another teaspoon of chocolate chips.
Microwave for 45 seconds (more or less depending on the strength of your microwave).
Serve with a dollop of whipped cream and drizzle of chocolate syrup and/or a scoop of ice cream.
Notes
Re cooking time, obviously all microwaves have different strengths. I imagine the low end cooking time would be 30 seconds and the high end would be ~1 minute 30 seconds. Just keep checking every 10-15 seconds or so until you figure out what works for you. Mine cooked perfectly in 45 seconds. The more you microwave it, the drier you're cake will be. You want it to look a little glossy on top- think chocolate lava cake. You could even add some frosting to the top of this if you want!

If you don't have almond butter, you could sub Nutella. For those with nut allergies, you could omit the almond butter.

Self-rising flour is just all-purpose flour mixed with salt and baking powder. If you don't have any (but I highly suggest keeping some in your pantry) I will update this recipe in the next couple weeks with the ratio of all-purpose flour to salt and baking powder. Check back!
Please
PIN

and share this recipe! Spreading the word about Nutritious Eats helps me to continue creating recipes to share with you! Thank you!
Question: Have you ever tried the microwave mug cake? Are you skeptical like I was? Have you ever used Zip List to save your recipes?