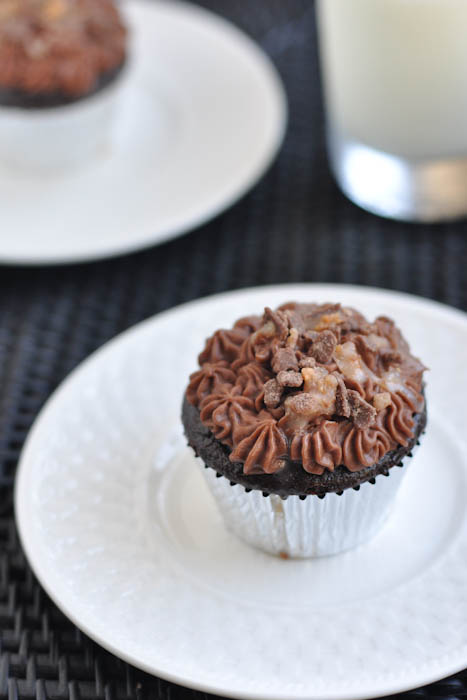 When it comes time to birthdays in this family, we all seem to prefer chocolate (although carrot cake and Italian cream are my husband's other favorites). I have made this recipe several times and am always pleased with how moist and light these cupcakes turn out. If you are new to my blog, welcome! If you didn't get a chance to read my "about" page and a little bit about my philosophy on nutrition, then you're probably wondering why the Dietitian is posting a cupcake recipe. You will quickly learn that I am all about moderation. I love healthy food, am a firm believer in cooking from scratch and love to enjoy homemade baked goods on occasion. Since I have posted lots of healthy dishes lately, I thought I'd share a cupcake recipe. And although I am 6 months pregnant and would love to eat a cupcake like this everyday, I don't. These were actually from my husband's birthday a couple months ago. I thought the Heath Bar bits would be a nice grown-up touch instead of sprinkles. The added an extra bit of flavor and crunch.
I love to bake and although my college years were full of boxed cakes, I now really find satisfaction in baking from scratch, especially once I realized how easy it is. Seriously, just follow the measurements and you can't go wrong. Although if you under or over bake your baked goods perhaps something can go wrong. I was inspired to post this since we've been sad to miss the recent birthdays of two of our little friends- my son's BFF from Austin who just turned FIVE and my daughter's BFF from Hawaii who just turned 3.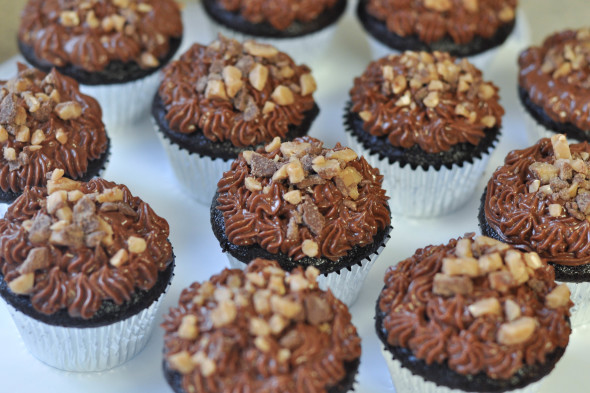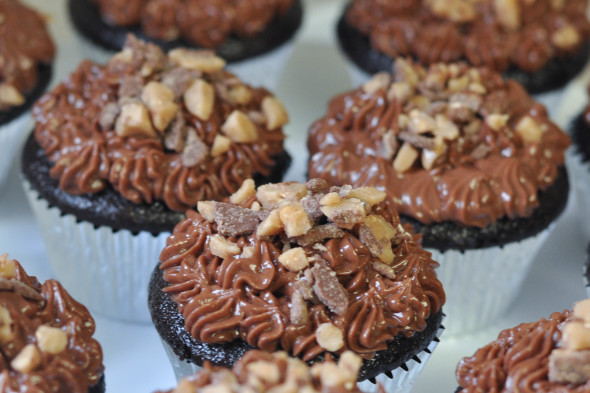 The unfortunate part of the military is leaving behind great friends, but they are always with us in spirit. Hope you enjoy this tried and tested recipe, especially you chocolate fans. Sending out this virtual cupcake to friends and family whose birthdays we've missed!
[print_this]
Chocolate Cupcakes with Chocolate Buttercream Frosting & Heath Bar Sprinkles
INGREDIENTS:
1 1/2 cups all-purpose flour
3/4 cup unsweetened Dutch-process cocoa powder
1 1/2 cups sugar
1 1/2 teaspoons baking soda
3/4 teaspoon baking powder
3/4 teaspoon salt
2 large eggs
3/4 cup warm water
3/4 cup buttermilk
3 tablespoons vegetable oil
1 tablespoon pure vanilla extract
Heath Bar Bits (can find in the baking section)
DIRECTIONS:
1. Preheat oven to 350 degrees. Line 2 standard muffin tins with paper liners. Whisk together flour, cocoa powder, sugar, baking soda, baking powder, and salt in a medium bowl.
Mix in eggs, water, buttermilk, oil, and vanilla until smooth, about 3 minutes.
2. Divide batter evenly among prepared muffin tins. Bake, rotating tins halfway through, until tops spring back when lightly touched, about 20 minutes. Let cool in tins on wire racks. Yield: 18 cupcakes.
Chocolate Buttercream Frosting
INGREDIENTS:
3 3/4 cup confectioners sugar, sifted
1 stick butter, softened
3 Tablespoons milk
1 teaspoon vanilla
2 ounces unsweetened chocolate, melted and cooled
DIRECTIONS:
1. In a large bowl, combine confectioners sugar, butter, milk and vanilla.
2. Beat at medium speed 1-2 minutes or until creamy. Add chocolate and beat until well blended. If necessary, add 1 Tablespoon at a time to reach desired spreading consistency. Yield: 12 cupcakes. Frost cupcakes, sprinkle each cupcake with heath bar bits.
COOK'S NOTES: I made 1 1/2 times the recipe for the frosting because I like to have enough to pipe on there.
[/print_this]