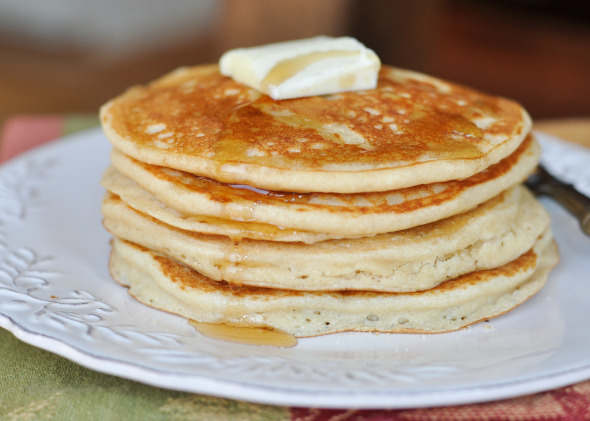 Happy Monday y'all! Don't forget to enter my Bob's Red Mill Giveaway! There are lots of great products to try and as promised, today I will share the recipe for the delicious pancakes using Bob's Coconut flour (one of the items in the giveaway pack). I can't believe I have never experimented with coconut flour, but boy am I in love! The recipe only uses 1/3 cup of it, yet I was shocked at how the coconut really stands out. Since I don't have a problem with gluten I substituted white whole wheat flour for the rice flour. The first thing out of the kids mouths after taking a bite "Mmmmmm!!"
Coconut flour is great for gluten free baking. It is very high in fiber, lower in carbohydrates and provides a rich flavor and texture to baked goods. You can replace up to 20% of the flour in any recipe with coconut flour, as well as adding an additional amount of liquid because coconut flour is very absorbent (therefore will be a much thicker batter if you don't add a little extra liquid).
I wonder if this would be as good using the vegan pancake recipe? It's worth a try for the coconutty flavor is heavenly. Make sure to read the cook's notes on how to make these gluten free.
There is also a gluten free vanilla almond sugar cookie recipe on the package which is probably amazing. I hope if you don't win the giveaway, you make sure to buys some of this delicious flour!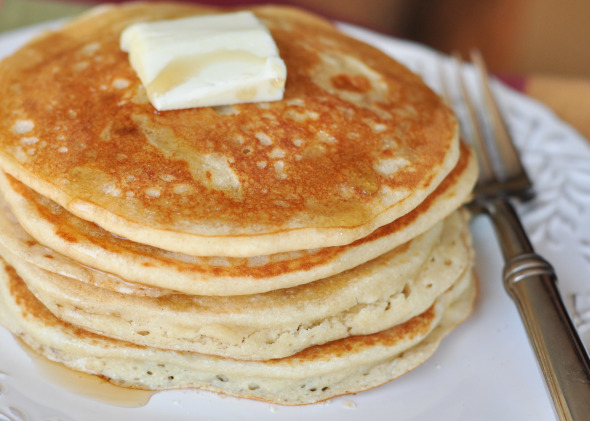 [print_this]
Buttermilk Pancakes with Coconut Flour
INGREDIENTS: 
1 cup white whole wheat flour
1/3 cup coconut flour
1 Tablespoon baking powder
1 Tablespoon sugar
2 Tablespoons oil
2 eggs
1 1/2 cups low fat buttermilk
Few splash of regular milk (~1/4 cup)
DIRECTIONS: 
1. Mix dry ingredients in a medium bowl.
2. Add oil, eggs and buttermilk blending with a whisk until just blended. Add a few splashes of regular milk to thin it out (batter will still be thicker than normal even after adding extra milk).
3. Pour pancake batter onto a hot griddle sprayed with cooking spray. Cook until bubbles have formed and underside is nicely browned. flip and brown other side.
COOK'S NOTES: The batter will be thicker than regular pancake batter but that is ok, they will cook up perfect and fluffy. To make gluten free: substitute rice flour for the wheat flour, add 2 Tablespoons potato starch (this was original recipe from the package)
Recipe adapted from Bob's Red Mill
[/print_this]
After taking a couple weeks off of posting my meal planning, I am giving it another go. (Is this helpful to anyone? Should I stop?)
Sunday
Greek-seasoned Salmon on the Grill, Fresh Pasta with Pesto, Broccoli Slaw
Monday
Something already prepared from Trader Joe's (probably salad and some sort of dip)
Tuesday
Cilantro-Jalapeno Hummus Quesadillas and Slaw
Wednesday
Eating dinner at the Farmer's Market
Thursday
Coconut Chicken Tenders, Zucchini Fries 
Friday
Pizza night!
Saturday
? 
Now click here or scroll down to the previous post to enter the GIVEAWAY! But before you go, what are you meal planning this week?!