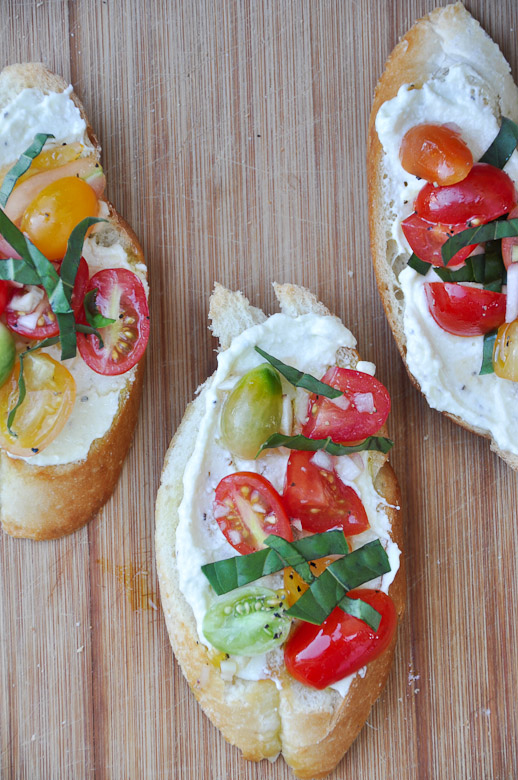 This is hands down one of my favorite appetizers ever. I made it for the first time a while back when my mom was in town and we ate it several nights for dinner. Wine and crostini. What more do you need? By the way, have you ever wondered the difference between crostini and bruschetta? I had to look it up but it's really just a difference of the bread used. Bruschetta, form the Italian word "bruscare" is to roast over coals and is made from Italian or sourdough bread. Crostini are toasted from a finer-textured bread like a baguette. They are both topped with a variety of delicious toppings such as olives, cheeses, sun-dried tomatoes, fresh tomatoes, even a simple olive oil, garlic and salt is considered a topping. The twist on this crostini is the lemony feta cheese spread. Oh my goodness. Get ready for an immense amount of flavor.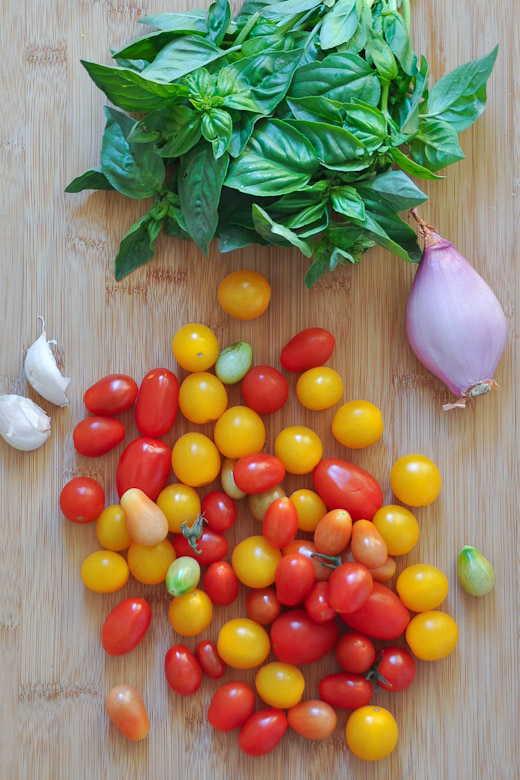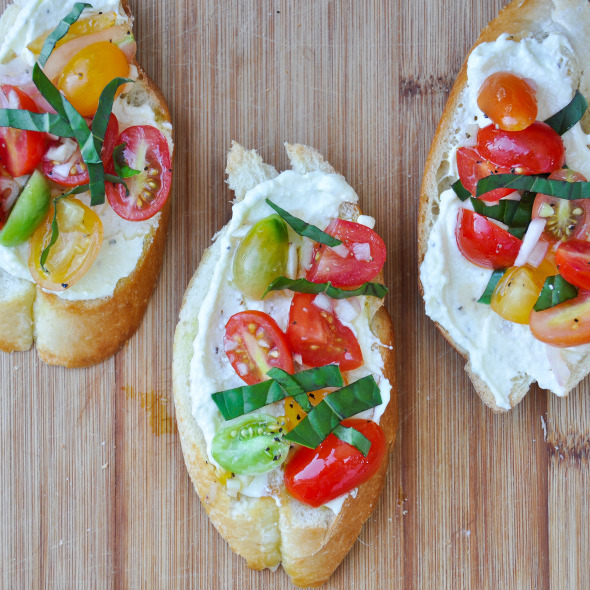 I made a few changes to the original recipe- I cut down on both the oil and drastically cut down on the salt. Feta is salty enough so I can't imagine why you would need a bunch of salt in the cheese mixture so I omitted it altogether. I also omitted the toasted pine nuts. In my opinion they are an expensive item that wouldn't have added much flavor and you get such a nice crunch from the bread that texturally you are all set.  If you are having parties around the Thanksgiving and Christmas Holidays these will be a perfect compliment. You can make the feta spread a day in advance which I love. I can't say enough good things about this recipe and just thinking about these makes me drool. I am making them this week since I just stocked up on my large container of feta from Costco. We love appetizers for dinner!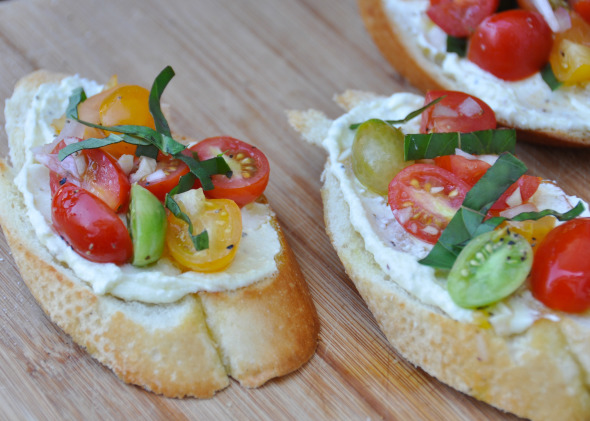 It's Sunday and you know what that means…meal planning time! I am hoping to end up with leftovers for lunches but we shall see. I will also start Thanksgiving food planning this week- time to get organized!
Sunday 
Chicken Burgers, Roasted Potatoes, Slaw
Monday
Creamy Tomato Soup
Tuesday
Baked Falafel, Homemade Pita Bread, Power Green Salad with Kale, Turnip Greens & Spinach
Wednesday
Stuffing (possible TG recipe), Acorn squash, any other leftovers
Thursday
Vegetable Soup, Crusty Bread
Friday
Pizza Friday- this time out to our favorite Pizzeria 
Saturday 
Crostini with Tomatoes and Whipped Feta and other simple appetizers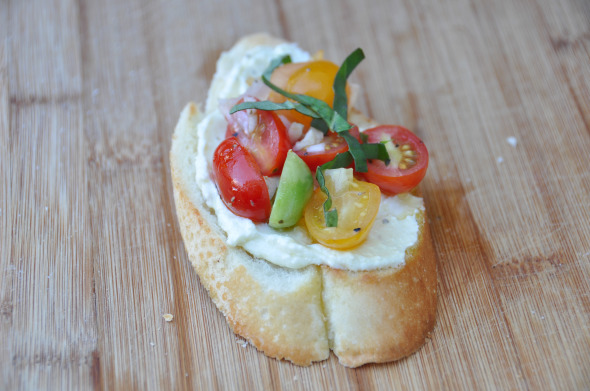 Let me know if you make this appetizer. It is fabulous!!!
Crostini with Tomatoes and Whipped Feta
Ingredients
6 ounces good feta cheese , crumbled
2 ounces cream cheese, room temperature
½ cup olive oil, divided
2 Tablespoons freshly squeezed lemon juice
Kosher salt
Freshly ground pepper
2 Tablespoons minced shallot (~1 large)
2 teaspoons minced garlic (2 cloves)
2 Tablespoons red wine vinegar
2 pounds heirloom tomatoes, ½ inch diced
3 Tablespoons julienned fresh basil leaves, plus more for serving
20-25 diagonal baguette slices (1/2 inch thick), toasted (see notes)
Instructions
Place feta and cream cheese in the bowl of a food processor fitted with a steel blade. Pulse until cheeses are mixed.
Add ¼ cup olive oil, lemon juice and ¼ teaspoon black pepper and process until smooth. Refrigerate until ready to serve.
For the tomato topping (up to an hour before serving) combine shallots, garlic and vinegar in a medium bowl. Set aside 5 minutes to allow shallots to absorb vinegar.
Whisk in remaining ¼ cup olive oil, ½ teaspoon salt and ½ teaspoon pepper. Add tomatoes and stir gently. Stir in basil and taste for seasoning.
To assemble: spread each baguette slice with a generous amount of whipped feta. With a slotted spoon, place some tomatoes on top. Garnish with additional chopped basil and serve.
Notes
For the crostini, I just cut a baguette in ½ inch slices, brush with olive oil and toast on a cookie sheet for ~7-9 minutes at 350 degrees or until lightly browned around the edges but still soft in the center. Easy recipe to cut in half if you are not serving for a large crowd.



Recipe source: adapted from Ina Garten via Oprah Magazine
Let's chat:
What is YOUR favorite appetizer?
Have you started Thanksgiving food planning? What are you cooking this week?  Partial meal plans are great! Just leave them in the comment section so we can all get new ideas!