A little Greek yogurt added in to the mayonnaise based dressing, reduces the overall fat but still gives it that creamy texture. A pop of flavor from the curry is a great addition.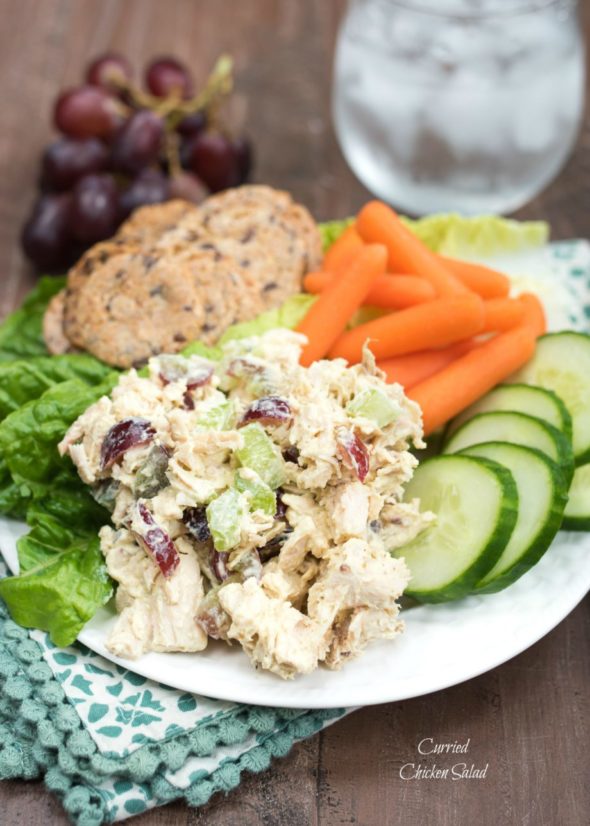 There are many times I wish that the first three years of my blog would just vanish from existence. I had no clue what I was doing other than cook, snap photo, hit publish. There was no social media sharing, no blogging community, no knowledge of photography other than attempt to shoot near natural light. Man, things were bad. Anyway, this is one of those posts that I couldn't stand to see. It's a simple curried chicken salad, but it's hard to share something that looks so terrible in a picture! I reshot it, feel better and am moving on to attack all horrid old posts, one by one (well a lot of them at least).
But since I am nostalgic and like reading about what I was doing 5 years ago (and since we were living in Hawaii when I wrote it) I want to leave the original text. So feel free to scroll right on down to the recipe! I must note in paragraph 2, I am no longer making lunches for my husband! lol. That stopped when we had our 3rd and 4th kids!
———————————————————————————————————————————————————–
This was originally posted Jan. 17th, 2011!
How was everyone's weekend? We had a great one; always enjoy the hubby being home an extra day! We had a friend visiting from California so we took him out on a pontoon boat on Kaneohe Bay- enjoyed snorkeling and saw a bunch of manta rays (like sting rays only bigger and not venomous). They were incredible- probably 6 to 7 feet wide, some as large as the width of the boat! They didn't mind us swimming next to them (well I didn't swim with them. I am a wimp). So cool!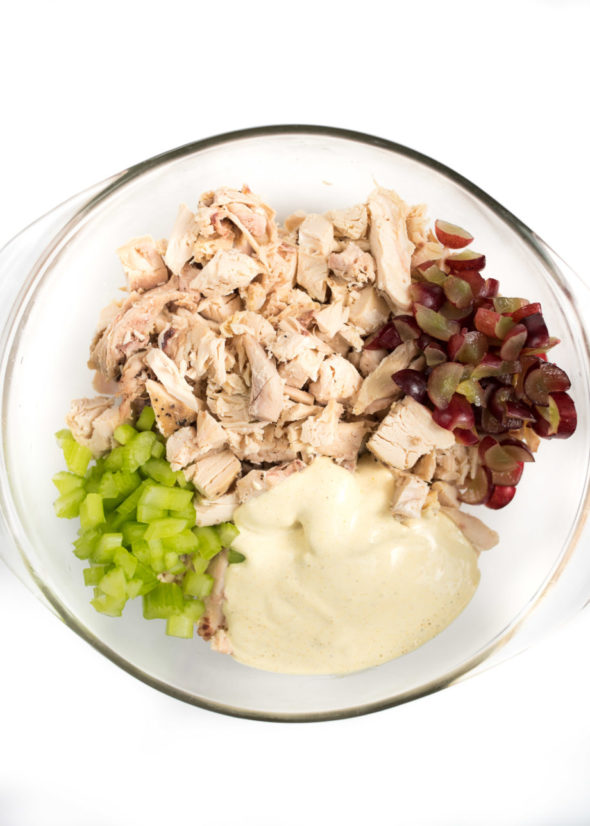 Back to the work week tomorrow and thought I'd share my chicken salad recipe with you. However, let me say that sharing a chicken salad recipe is hard because a lot of it is taste and adjust.
I have been packing lunches for my husband for almost 7 years. Every. Single. Night. He either gets left-overs or the typical "brown bag" lunch- sandwich, fruit, yogurt, some sort of crunchy cracker, sometimes a hard-boiled egg and/or raw veggies. I get so tired of making sandwiches which is when this chicken salad is a great addition.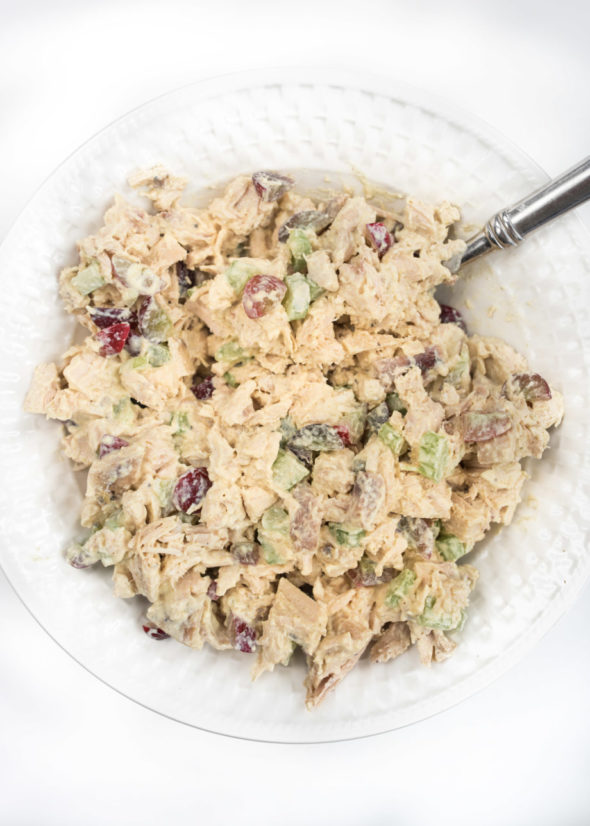 What I love about chicken salad is that you can serve it on top of greens for a salad, eat it with crackers or wrap it in lettuce. When you buy chicken salad from a restaurant, it is almost always loaded with regular mayo. It is not the best choice to make when dining out, but when you make it at home you can control the fat by using light mayo, a less amount or you can mix it with other ingredients like Greek yogurt, avocado, etc.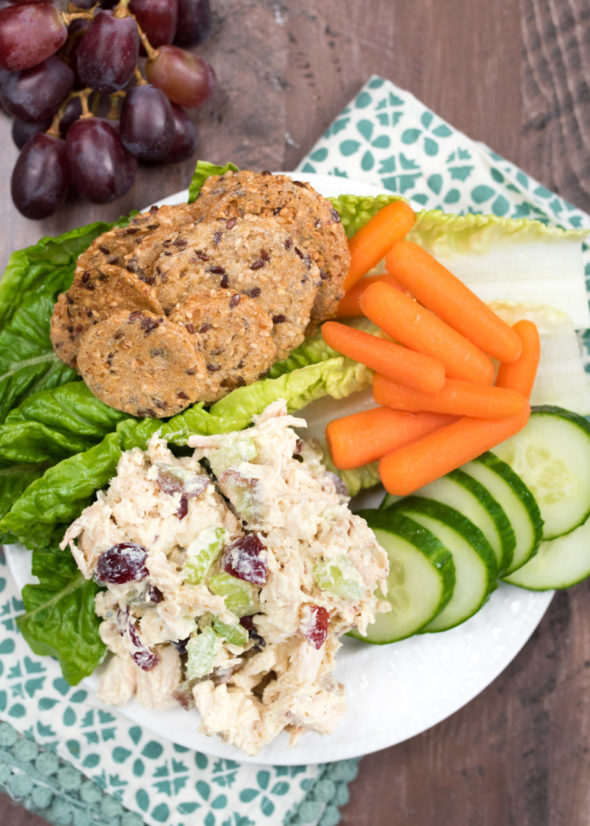 To make this even easier to throw together, sometimes I buy rotisserie chicken (especially when I lived close to a Costco- can't beat those $4.99 chickens!). Otherwise, I just bake a few bone-in chicken breasts with olive oil, salt and pepper or my new trick is to make this slow cooker chicken.
It's not too heavy on the mayo, which is how I like it. I love the subtle hint of curry and grapes are a must for me, but apple would be good too! My favorite way to eat it is wrapped is piled on a green salad with some crackers!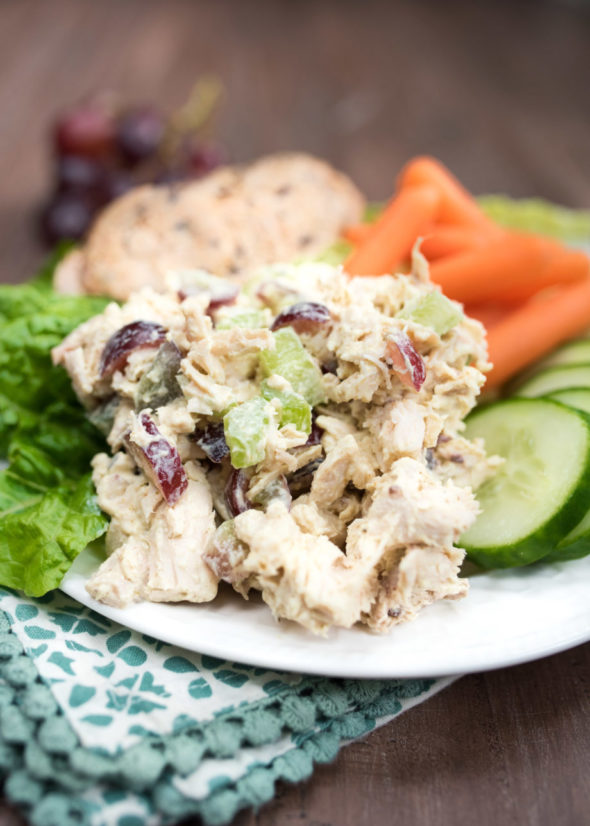 Remember, taste and adjust. Need more salt, another squirt of mayo or Greek yogurt? It never seems to be an exact science. Hope you enjoy!

Curried Chicken Salad
Author:
Melanie F. | Nutritious Eats
Ingredients
4 cups cooked, shredded chicken (use rotisserie or make your own like with this recipe)
½ cup chopped red grapes
¼ cup chopped celery
¼ cup + 1 Tablespoon mayonnaise
3 Tablespoons Plain Greek yogurt
1 teaspoon mustard
½ teaspoon curry
2 teaspoon red wine or tarragon vinegar
1 teaspoon honey
salt and pepper to taste
Instructions
Shred chicken to equal about 4 cups. Add chopped grapes and celery. In a small bowl whisk together the mayonnaise through honey. Stir to combine, season with a couple pinches of salt and a pinch of pepper. Taste and adjust seasoning. Serve with crackers, lettuce for wrapping or bread for a sandwich.
 Looking for more lunch ideas?
Cobb Pasta Salad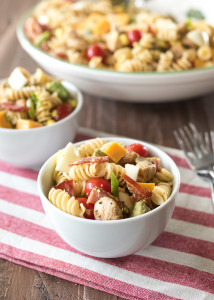 Salmon Salad BLT