DIY Salt Scrub with coconut oil takes minutes to make and will leave your skin feeling exfoliated and super soft!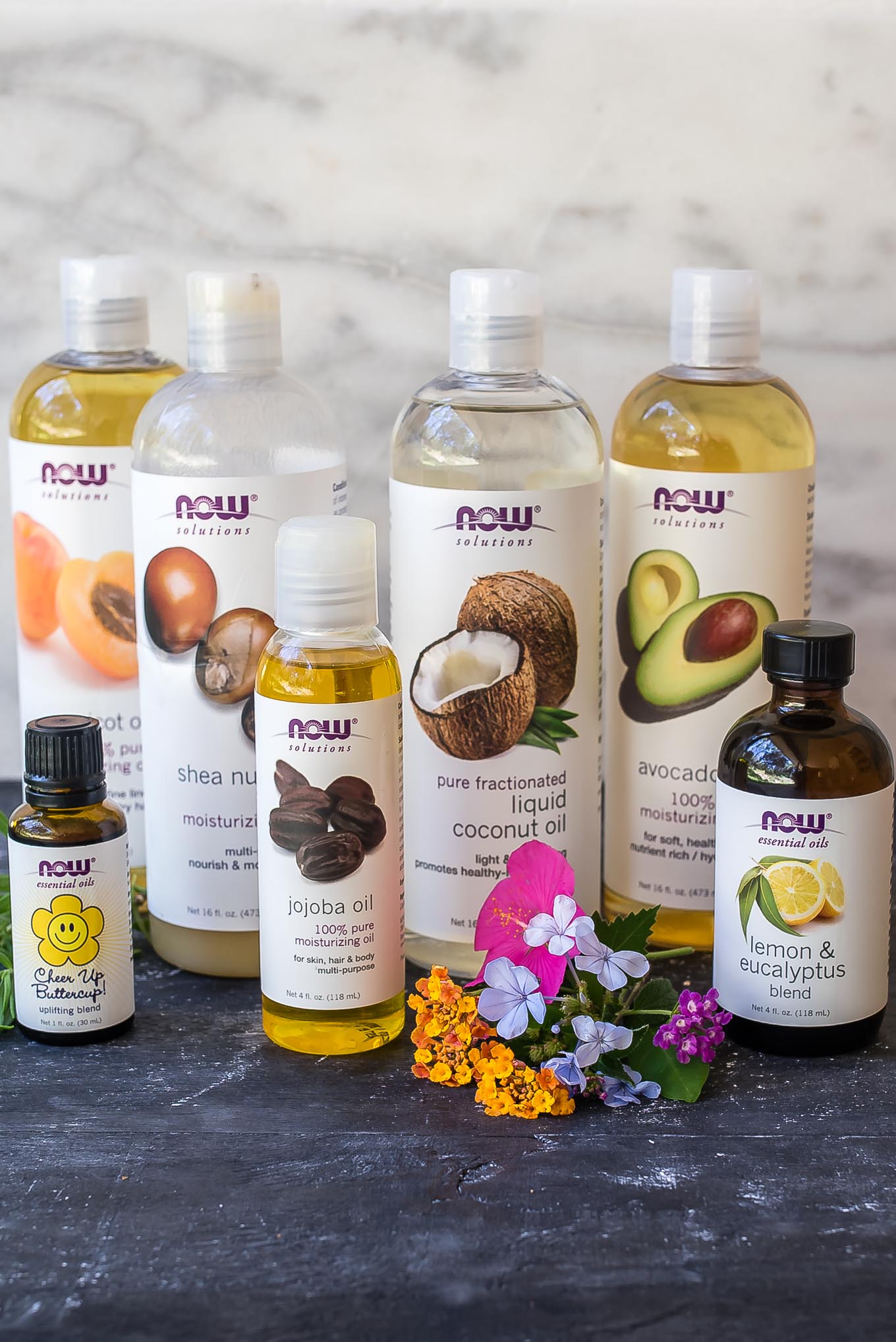 This post in sponsored by NOW Foods. Free product and compensation was provide, however all opinions are my own.
It is important to be mindful of what you put on your body such as lotion, sunscreen and other beauty products in addition to what you put in your body. I discovered the NOW beauty line when I went to visit the company last year. I wrote about my experience in this post.
I was thrilled to discover all of their natural products aside from food- from bug spray to essential oils to hair care products like shampoo and conditioner. I started using their Shea Nut Oil at that time and have fallen in love with several of their oils. I thought I would share several of the ways I use them with you plus share this simple DIY Salt Scrub made with coconut oil that will make your skin feel amazing.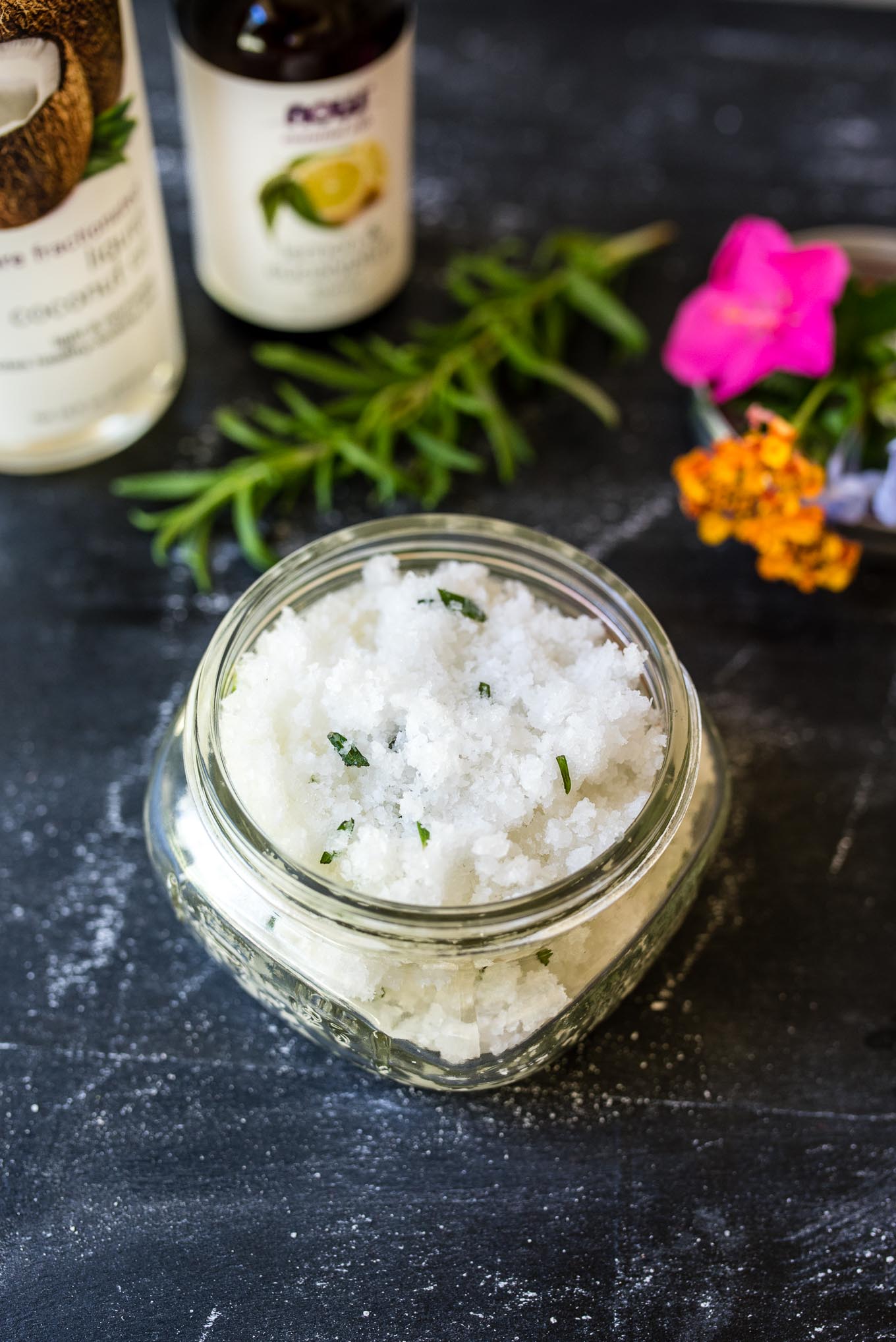 But before I get to that, I want to share the different ways I use their carrier oils….and make sure to stick around to the end and grab the recipe for the DIY Salt Scrub and enter the giveaway where someone will win some NOW solutions oils!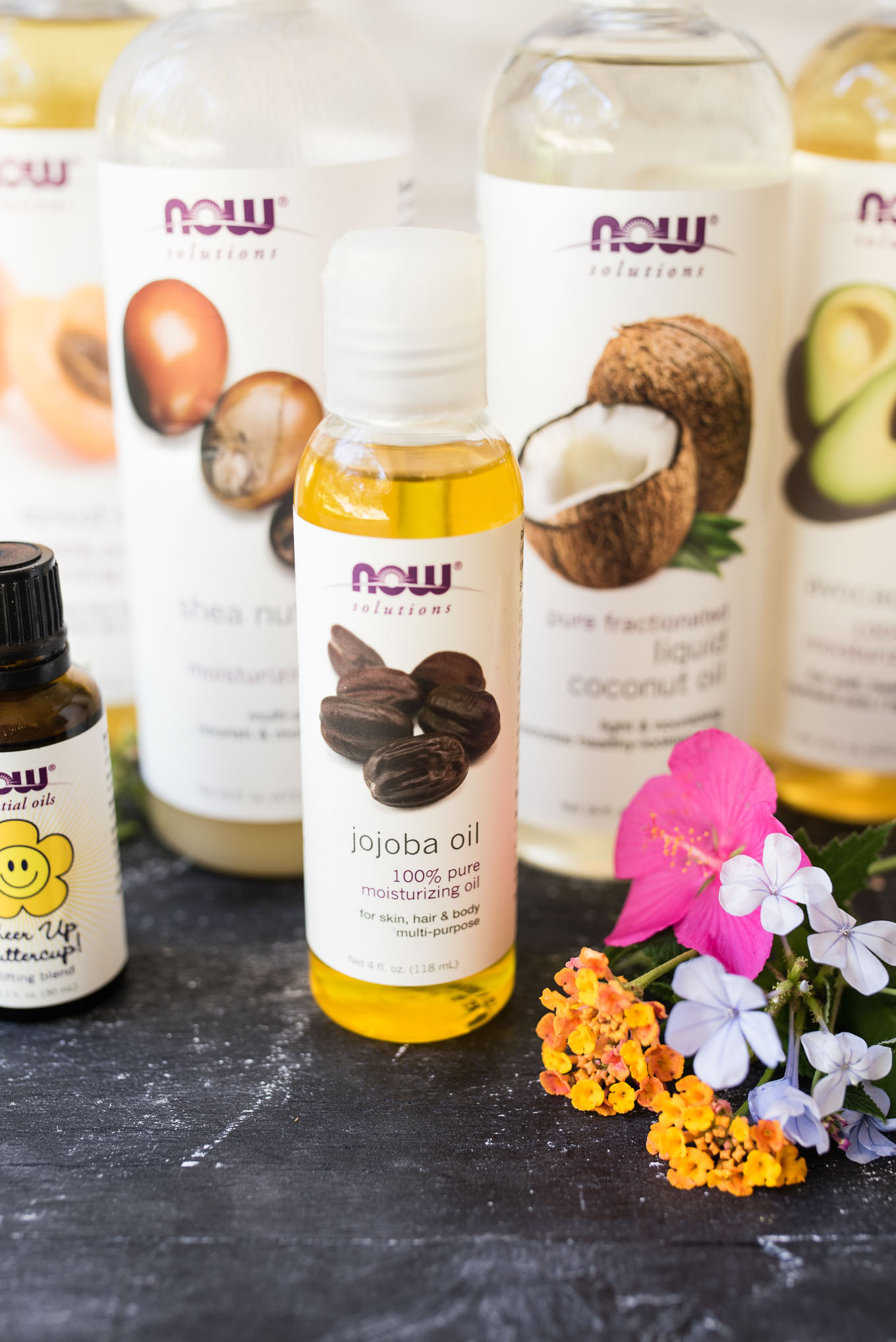 5 Ways To Use Carrier Oils (Carrier Oils- "base oil or vegetable oil, used to dilute essential oils and absolutes before they are applied to the skin in massage and aromatherapy. They are so names because they carry the essential oil into the skin". Wikipedia)
Moisturizer 
This might be the most obvious, but I always assumed applying oil would leave my skin so greasy. I have come to find out that is not the case at all! It absorbs in no time and really keeps the skin moisturized well. Using the oil right out of the shower especially helps your skin from drying out. Several of the oils are odorless, a benefit in my opinion as opposed to harsh smelling fragrant lotion. However, a drop off your favorite essential oil mixed in will allow you to customize the fragrance if you prefer.
Deep Conditioner
Several of the oils are amazing for dry, damaged hair. I especially like Jojoba, Coconut oil and Shea Nut oil which can be used two ways. 1) as a deep hair moisturizer- apply a generous amount until dry ends are coated and leave in a loose bun or clip for the day or even overnight if possible. When you shower just rinse well, shampoo and condition as usual. 2) apply in the shower mixed into your shampoo- about 1 tablespoon of oil mixed with a dollop of shampoo will leave your hair feeling softer immediately.
Skin Lightener
This is a personal experience, but I have found the use of oil on a regular basis can help lighten dark spots on the skin, especially after exfoliation. Castor oil seems to be especially good for this.
Bug Repellant 
Living in mosquito populated Texas, bug spray is essential, but I can't stand the aroma or the ingredients for that matter. On a whim I tried mixing some Shea Nut oil with a few drops of essential oil, I used this blend made from a combo of Bergamot, Orange, Lime, Grapefruit and Lemon Oil and it worked for me! I still had to reapply after about 1 1/2 hours but this is coming from someone who averages a dozen bites every 10 minutes. I don't think the mosquitos like the essential oils. Yay!
Exfoliator 
Sugar salt scrubs are easy to make and act as a natural exfoliator for your skin. I find the older I get, the dryer and more scaly my skin becomes. I love making this DYI Sugar Salt Scrub with NOW Solutions Coconut Oil and Lemon Eucalyptus essential oil. Grab the recipe below!
As you can see there are so many great benefits to using oils, but the one I love the most is that you aren't absorbing any of the junk that they add to the majority of store-bought products. I am talking about potentially toxic chemicals, color dyes- stuff you don't want in your body.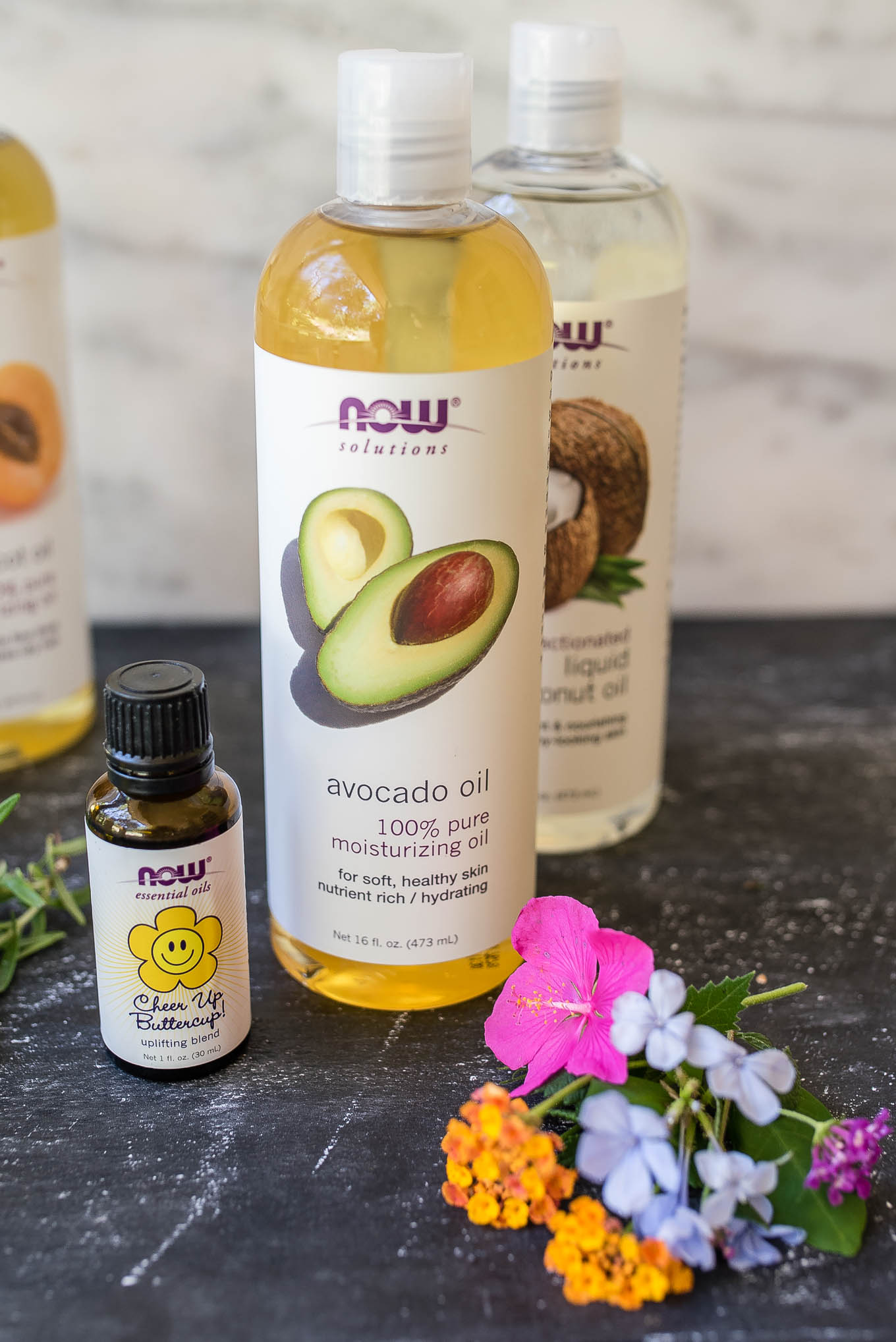 Let me quickly give you an overview of the carrier oils I've tried and love:
As you can see they all have similar benefits and are all multipurpose so the I recommend trying one or two and figuring out your favorite. I am sort of obsessed with them all so don't think I could just recommend one!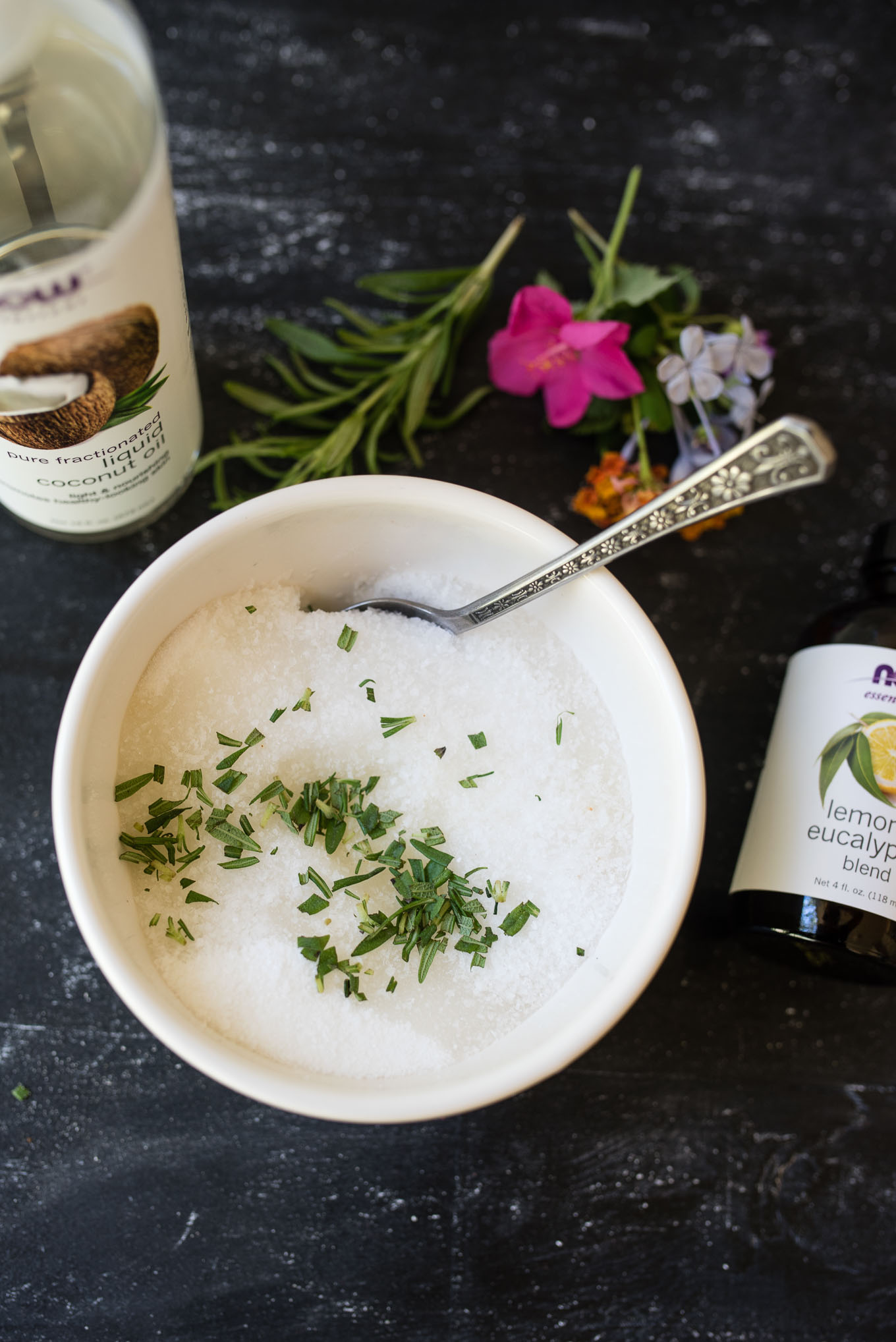 Before you go, let me tell you briefly about this DIY Salt Scrub- 5 simple ingredients- salt, sugar, coconut oil, fresh rosemary and essential oil. You take it in the shower or bath, rub it all over your skin and feel the silky aftereffect. It makes a great gift too!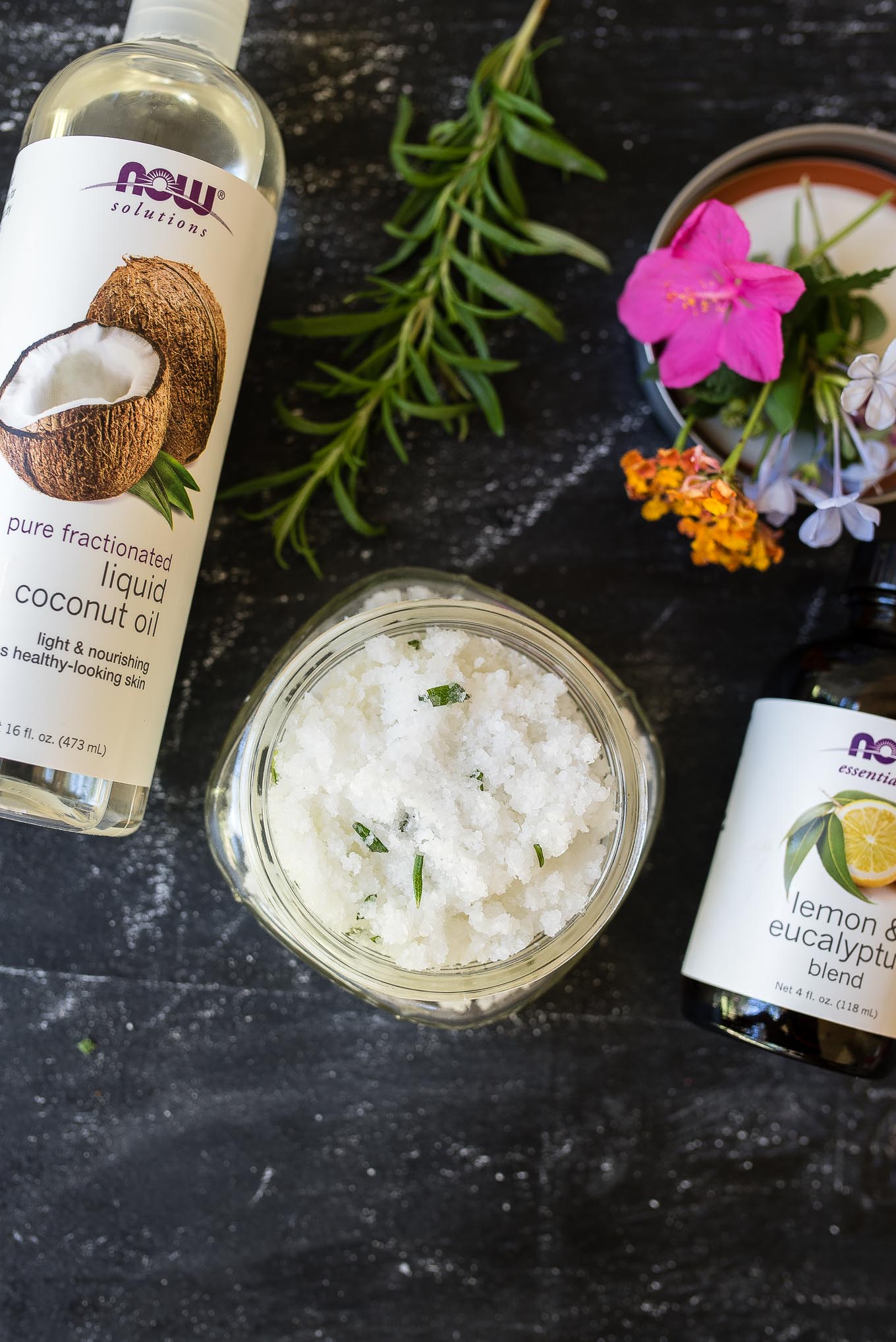 Interested in trying them? Enter to win my giveaway which will include a variety of NOW Oils (Avocado oil, Coconut Oil, Shea Nut Oil, Jojoba Oil, 2 Essential Oils- all subject to substitutions based on available):
a Rafflecopter giveaway

DIY Salt Scrub with Rosemary, Lemon and Eucalyptus
Author:
Melanie F. | Nutritious Eats
Ingredients
½ cup sea salt or kosher salt
½ cup sugar
½ cup coconut oil
1 tablespoon fresh rosemary, minced
5-7 drops of NOW Lemon Eucalyptus essential oil
Instructions
Mix all ingredients in a bowl. Transfer to jars with tight fitting lids. To use: apply to skin in the bath or shower, rubbing gently to exfoliate. Rinse clean.

Caution: NOW® Essential Oils are highly concentrated and can be irritating to the skin. Avoid direct contact with skin and always dilute essential oils before topical use. Discontinue if rash appears after skin contact. Not for internal use. Avoid contact with eyes. Consult healthcare practitioner before using if pregnant/nursing