Hi friend, it's recipe redux time and the theme is "Back to the Dinner Table". After the hustle and bustle of the holiday/vacation season, August is the time many families get 'back to routine.' Show us your favorite recipe to help families get 'back to the dinner table.' It might be a favorite family recipe from your childhood that you've ReDuxed; or maybe it's your family's current favorite. Let's all gather back at the table!
Guys, back-to-school time is crazy. Mine have been in for 2 weeks now. However, getting back to the routine, setting alarms, doing homework, chaffering to activities, has taken some getting used to. I, like many of you, are completely exhausted at the end of the day. But it is definitely an important time to sit together at the table as a family so that you can discuss your day and have a moment of togetherness. If you don't currently sit together as a family, I highly encourage you to do so, read this article.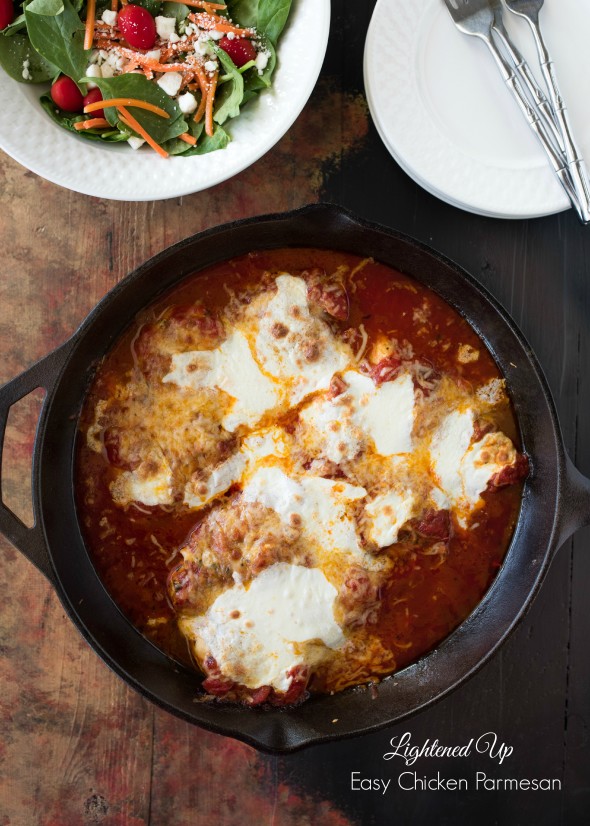 Wondering how to do it all though? Let me tell  you, meal prep is essential. This means over the weekend, or in the evenings before bed, you need to plan a little or even better prep some of your food. Waiting until 5pm and trying to figure out what to feed the family isn't the most relaxing and often not the healthiest (as this is when most people grab for convenience food). I have to admit I have been in the that boat more often lately and I have committed to meal planning again, because when 4 kids running around me at 4:30pm, I simply can't think of what to make for dinner.
This is a make-over of one of my favorites, Chicken Parmesan. Although I do eat the real chicken parmesan from time to time, I decided to completely skip the step of breading the chicken. 1) itsaves time 2) it save calories.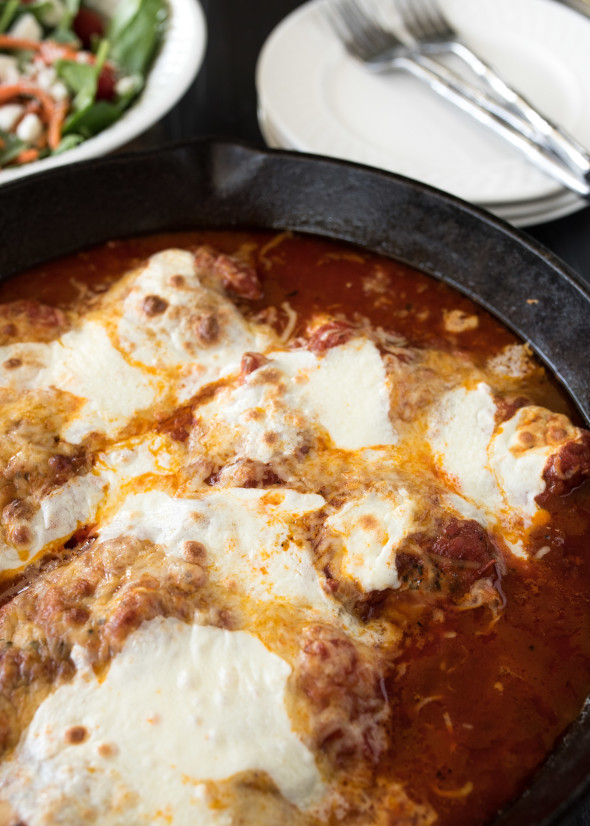 To make this dish move along a little quicker, I slice them in half crosswise (or butterfly them). Pounding chicken takes a little more time so the butterflying of the breasts really works great. I don't like a big fat piece of chicken because you don't get a good ration of sauce/cheese per bite. Once you have this thinner chicken, just sauté them in some garlic, top with some Italian seasoning. Pour your sauce directly in the pan, top it with cheese and throw the whole pan in the oven to bake while you attend to other matters (or make the salad). This is a really easy meal because you are simply searing the breasts on the skillet then letting them finish up in the oven.
One key part of making this delicious is using a tomato sauce you love- either homemade or store-bought, just make sure it's a good one. I can't stress that enough guys. The cheapo jarred tomato sauce isn't going to cut it so spend the extra dollar or two on a good quality sauce! This is the one I use and it's amazing.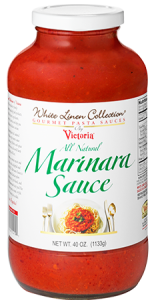 For those picky eater kids, make some pasta….and  you've got a meal the whole family will like. I wish I would've had time to take a picture cutting into the perfectly yummy and tender chicken, but I was called away from my camera to attend to other matters, but trust me that you really won't miss the breading on this!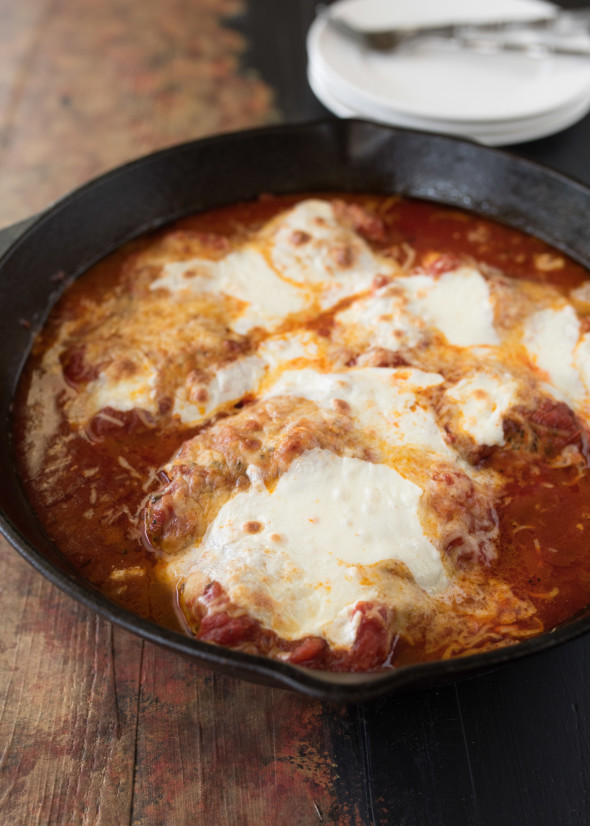 This is also a great leftover meal which is important to consider for a busy work/school week.
Healthy Chicken Parmesan
easy and delicious, lightened chicken parmesan without the breading!
Author:
Melanie F. | Nutritious Eats
Ingredients
1 Tablespoon olive oil
2¼ lb chicken breasts (~3 breasts), butterflied
2-3 cloves garlic, minced
1 teaspoon Italian seasoning (or sub dried basil, parsley and/or oregano)
2½ cups good quality marinara sauce
1 cup shredded Italian cheese blend or mozzarella
3 ounces fresh mozzarella
Instructions
Preheat oven to 350 degrees. In a large skillet, heat 1 tablespoon olive oil. Add chicken breasts, season with black pepper and 1 teaspoon Italian seasoning. Add garlic to the pan. Cook ~4-5 minutes, flip chicken breasts and cook another ~4-5 minutes or until you see a little browning.
Transfer chicken breasts to a casserole dish (they will still be raw in the center) or leave them in the skillet if it's an oven-safe skillet, pour marinara sauce on top. Add shredded and fresh mozzarella and bake for 25 minutes. While chicken is baking, boil some pasta.
Notes
To butterfly your chicken breast, put your chicken breast on a cutting board and place your hand on top. Use a sharp knife to slice into one of the breasts, starting at the thickest end to open up the breast like a butterfly. Essentially you are creating an additional piece.
Since marinara sauce has plenty of sodium, it isn't necessary to salt your chicken breasts.

Check out the other back to the table meals…..