A simple but flavorful salmon dish, made from basic pantry ingredients.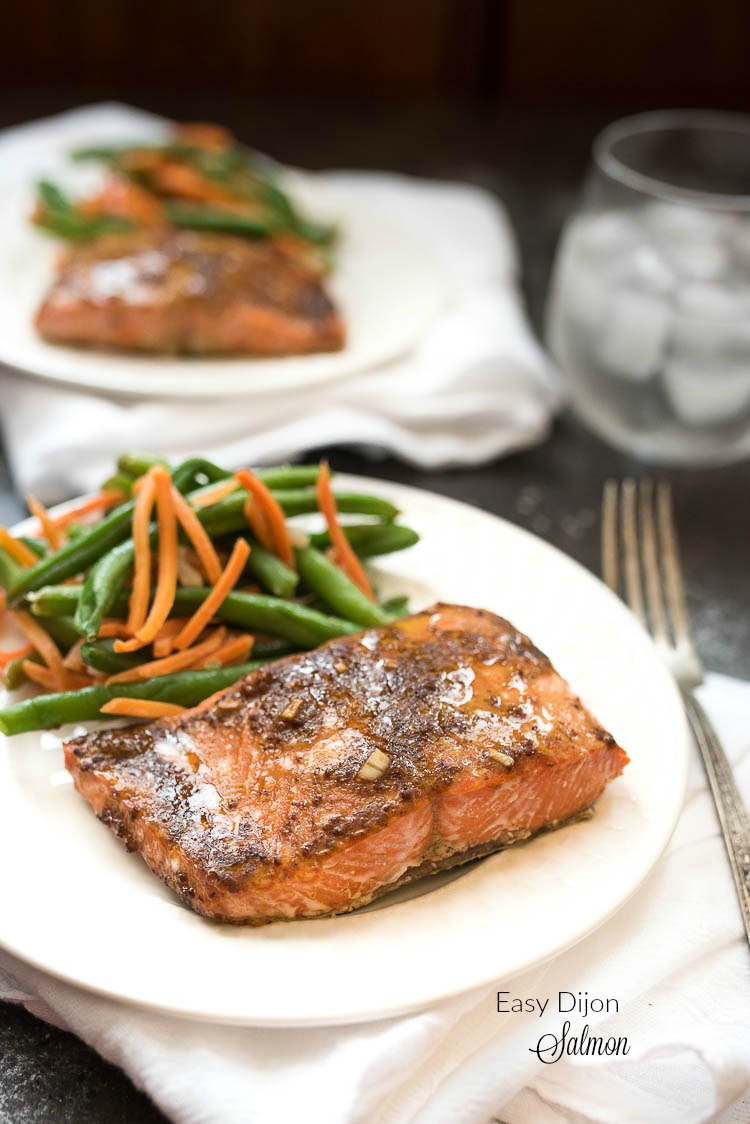 Hi friends! I am on my last week of vacation in Hawaii. It's been a fabulous trip, relaxing and bonding with family and enjoying the aloha spirit. This place is magical for me and I am so thankful I get to come back every couple years to visit.
My sisters-in-law and I were joking about creating a cookbook on how to rock cooking for a large crowd (18 of us) on an extended vacation. We've had some pretty great meals I have to say! Maybe one of these days.
So this is an old salmon recipe that I posted years ago (November of 2010 to be exact!) with horrible photos so I  decided to reshoot it.
Salmon is one of my favorites, but I get bored with the same preparation.
It is one of those foods that that you should be eating on a regular basis due to it's awesome nutritional profile.
It is low in calories, saturated fat and high in protein and the health-promoting fat, Omega 3 fatty acids. The body can't make essential fatty acids (yet they are essential to the body) so we must get it from food.
It is also a great source of selenium and B Vitamins and Vitamin D (sockeye salmon has the highest amount).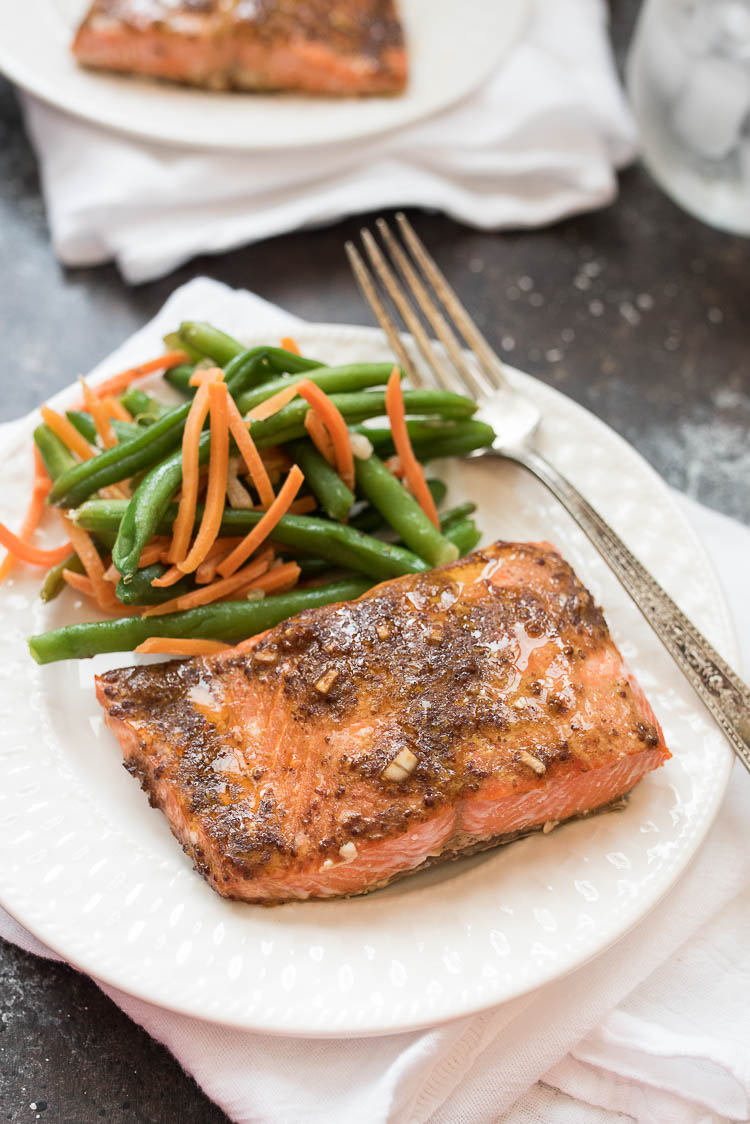 The American Heart Association recommends eating salmon twice a week (10 ounces a week) for optimal cardiovascular benefits.
The reason why? A diet high in Omega 3s, especially from fish, can improve cholesterol ratio, lower triglycerides and has an anti-inflammatory effect in the body, which helps improve blood flow.
The benefits go on: high consumption is linked to lowering blood pressure, decreasing risk of prostate and colorectal cancer, macular degeneration and is also linked to reducing depression and Alzheimers. Can we say POWER food?
I prefer wild salmon versus farm raised, since farm raised can be high in a toxic contaminant linked to cancer. The fish, whether fresh or frozen, is usually labeled pretty well. You can even chose canned salmon and use it in something like this salmon salad stuffed avocado or this salmon salad BLT recipe.
If you are allergic to fish or are vegan, but still want the benefits of Omega 3 fatty acids, you can take the Omega 3 DHA supplements made from algae.
This is one of my favorite "go to" salmon recipes. It is a cinch to make and so flavorful. Plus, I love any dinner that can bake so I don't have to stand around the hot stove top.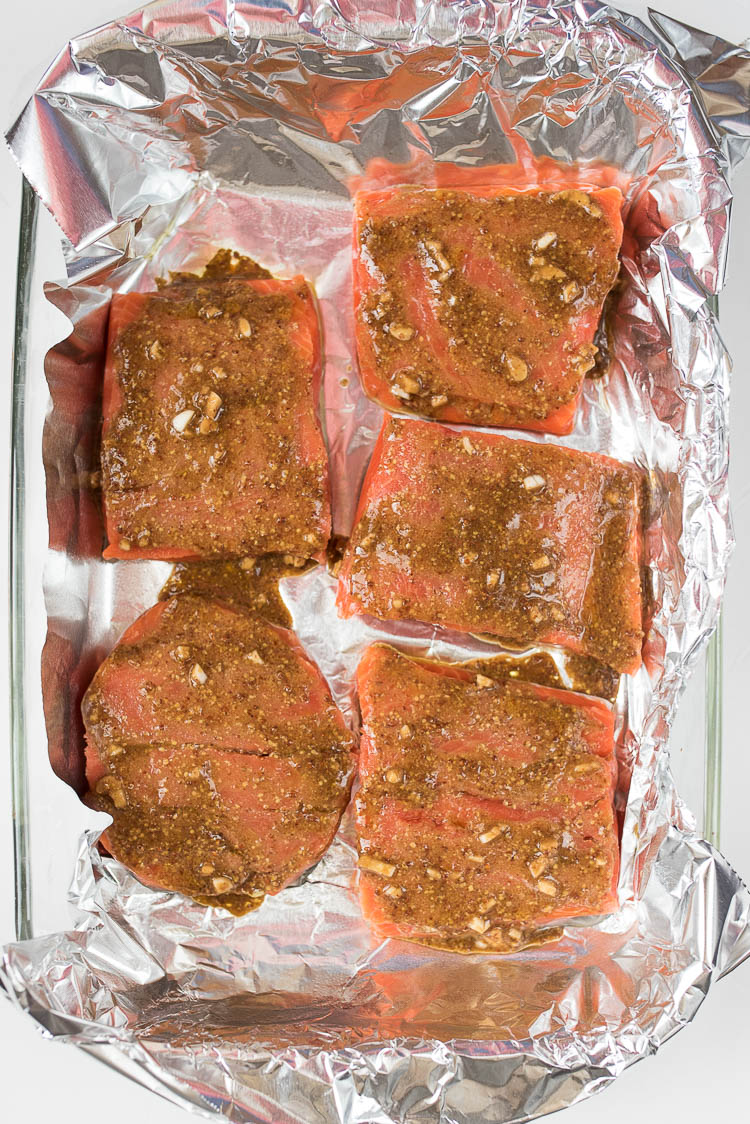 You can mix all the ingredients in a small bowl and then pour it right the salmon. The foil lined pan makes clean up a breeze!
Make sure the salmon is coated well in the marinade before going in the refrigerator. Oh and make sure to use a coarse seedy mustard to give it the most flavor.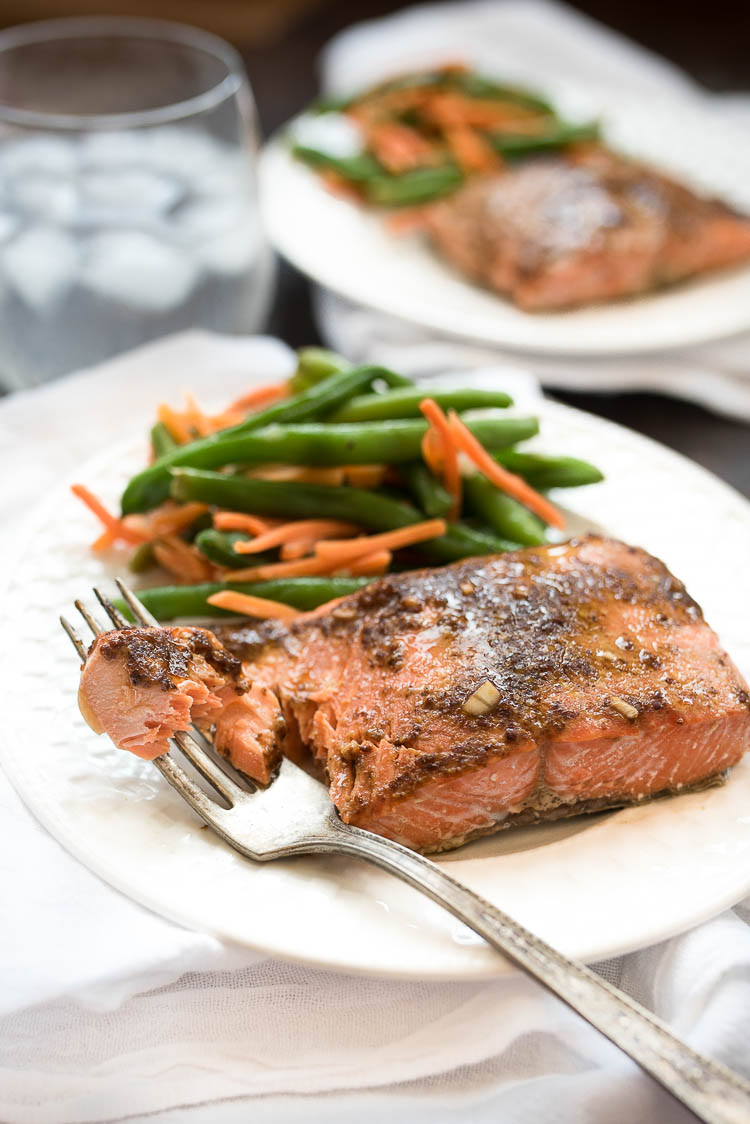 Let this marinate for 30 minutes or longer if possible. The salmon can bake while you prepare the rest of your dinner! I love it with sautéed spinach and mashed potatoes!
It's delicious and easy.

Easy Dijon Salmon
this easy garlic soy dijon salmon is a cinch to make and full of flavor!
Author:
Melanie F. | Nutritious Eats
Ingredients
1½ to 2 lb salmon
2 Tablespoons coarse ground mustard with whole seeds (or Creole mustard)
2 Tablespoons soy sauce
2 Tablespoons olive oil
2 large garlic cloves, minced
¼ teaspoon ground ginger powder
Instructions
Line baking dish with foil. Coat with cooking spray. Place salmon on foil. Mix mustard through ginger powder in a small bowl. Pour marinade over salmon. Marinate in refrigerator for 30 minutes.
Preheat oven 375 degrees. Bake for 20-25 minutes.