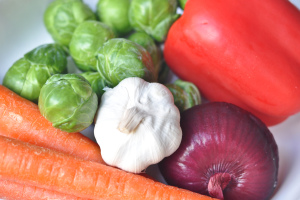 It seems like everyone I talk to these days is on a new diet/eating plan. Atkins, Paleo (caveman diet), DASH, Vegan, Gluten-free…..and what do all these ways of eating have in common? They encourage vegetables!
Research may be inconsistent among different dietary trends, but one thing that always remains constant….VEGETABLES are good for you! The only mistake you can make is by not eating them.
If nothing else this year, work to get more vegetables into your diet. Things you should know:
ALL vegetables are healthy (yes, even white ones!) so include a variety of the rainbow
Experiment with new ways of cooking them. Sauteing veggies in a stir-fry will taste a lot different than roasting or steaming. Find out how you like them!
Frozen vegetables are indeed healthy. In fact, they are often have the advantage over fresh vegetables. Frozen vegetables are frozen at their freshest, therefore nutrients are maintained at the highest level. Depending on how long fresh produce sits around, nutrients can be leached out.
Vegetables are naturally low in sodium.
Canned do contain more more sodium and sugar, but still contribute to your overall vegetable consumption. Plus they have an advantage of being available year-round.
Recommended serving amounts depend on sex, age and level of physical activity, but the range is from 2 1/2 to 3 cups a day for men and women above the age of 19.
Try these ways to increase your vegetable consumption:
Roast them: dress them with olive oil, salt, pepper, garlic and dried herbs and you'll have your house smelling like pizza according to my 5 year old!
Eat them raw: snack on crudite with dip or hummus; add kale, spinach or other leafy greens to your smoothies; pile them on your tacos and sandwiches.
Puree them: think carrot or butternut squash soup. Velvety, rich and delicious!
Saute them: stir-fries, spinach, collard greens, the list goes on.
My favorite way to eat vegetables is to incorporate them into the main entree rather than a stand alone side dish. I look for recipes full of vegetables and this really helps to increase my overall consumption. Add a side salad to your meal and you are good to go!
Experiment, experiment, experiment. What you don't try can hurt you!!
Join me on Nutritious Eats' facebook page for more day to day nutrition and health info!