It's Friday and it's been one heck of week. Here's a recap: soccer, dance, gymnastics, hubby out of town, water in house turned off because some irresponsible housewife forgot to pay the bill (ahem), had my 6 year old son's first tooth pulled yesterday (long story but it's been loose for a very long time)……I am SO ready for the weekend.
The positive of this week is that it has been successful for my running. I think I have narrowed down some choices for the half marathon that I will run hopefully sooner than later. This week I did a 4 miler, 5 miler, 4 miler and will do 10 miles on Saturday. I am feeling stronger each week on my long runs and am watching my time improve for the shorter runs. I even averaged 8:25 minute mile for my 5 mile run which is a pretty big improvement for me!
Today I am talking nutrition in honor of National Nutrition Month.
Most people know that it's important to eat fruits and vegetables as part of a healthy diet, but did you know that it's important to eat the colors of the rainbow? Each different color of fruits and vegetables offers unique nutritional benefits that are favorable to our health.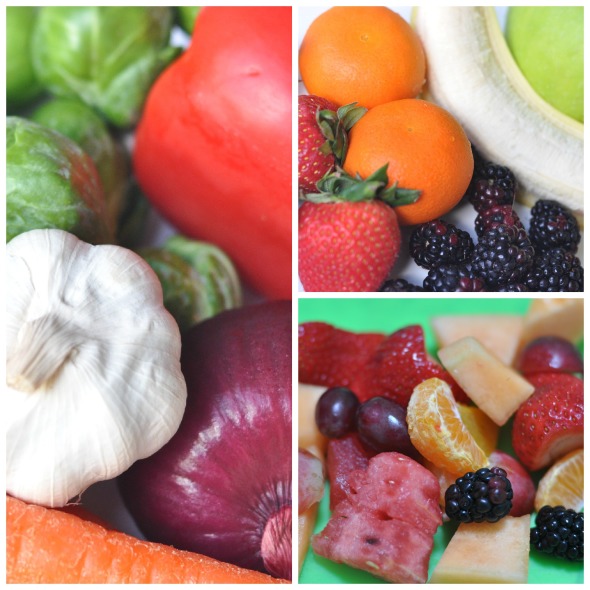 Although you don't need to know this all by memory, it is helpful to learn why variety is key.
Why Eat the Colors of the Rainbow:
Red (red apples, watermelon, strawberries, red grapes, raspberries, beets, red potatoes, radishes)– are colored by a natural plant pigment called "lycopene" or "anthocyanins". Lycopene has been found to reduce risk of some cancers and heart disease, by protecting our cells from damage. Anthocyanins are powerful antioxidants that also protect our cells for damage. Several of these fruits and vegetables are high in Vitamin C, which aids in the prevention of illness and boosts our immune system. Overall foods from this group are disease fighters!
Orange/Yellow (carrots, sweet potatoes, orange bell pepper, oranges, lemons, squash, peaches, pineapple)– colored by plant pigments called "carotenoids". Scientists have found that carotenoid-rich foods can reduce risk of certain cancers, heart disease and improve the function of our immune system. Several of these foods are rich in Vitamin A, which is important for the health of our eyes, skin, hair and mucous membranes. Foods in this group can improve the ability to learn and remember.
Blue/Purple (purple grapes, plums, blackberries, blueberries, raisins, figs, eggplant, red onion) – colored by plant pigments called "anthocyanins" which help protect our cells from damage, keep our brain healthy and offer us some protection from Alzheimer's disease. These powerful antioxidants have anti-inflammatory properties, can help us feel younger and aid in our thinking and learning.
White (bananas, cauliflower, garlic, mushrooms, onions, potatoes, parsnips)– colored by the pigments "anthoxanthins" and may contain health promoting "allicins" by helping to lower cholesterol, blood pressure and decrease risk of heart disease and stomach cancer. Some foods in this group like potatoes and bananas are very high in potassium.
Green (green apples, green grapes, kiwi, green bell pepper, zucchini, lettuce, spinach, avocados)– colored by the plant pigment called "chlorophyll", foods from this group contain high amounts of phytochemicals which are good for eye sight and a healthy heart. A compound called "indoles" found in broccoli and cabbage may protect against cancer.
You might wonder how to include such a variety in your diet. Start by stocking up during your weekly shopping trip, visit a farmer's market, buy large quantity of frozen fruits and veggies that might not be in season. Don't be afraid to pick up something new and unusual to try. You might find a new favorite!
Quick and easy ways to increase fruits and vegetables in your diet:
Add 1/2 cup defrosted frozen berries to your oatmeal
Snack on 1 cup of grapes in the mid-morning
Add sliced avocado, lettuce, tomato and onion to your sandwich
Dip apple slices or a banana in peanut butter for an afternoon snack
Make a tasty side salad with a homemade dressing, such as Apple, Feta Salad with a Garlicky Vinaigrette.
For dessert, munch on blueberries and strawberries topped with light whipped cream
Make a smoothie for breakfast, lunch or snack- full of fresh or frozen fruits and vegetables
Have a vegetarian meal at least once a week where the main focus is on vegetables
How much should you be eating when it comes to fruits and veggies? People need different amounts depending on their age, weight, gender and activity level but it will fall somewhere between 3 ½ and 5 cups combined. To learn your daily recommendation visit ChoseMyPlate.Gov.
People who eat more fruits and vegetables as part of a healthy diet have reduced risk of chronic diseases, such as stroke, certain cancers, type II Diabetes, heart disease and high blood pressure. Not to mention, they are low calorie, high in fiber and great for weight management. Oh and they taste good too!!
Do you need any better reasons than those?