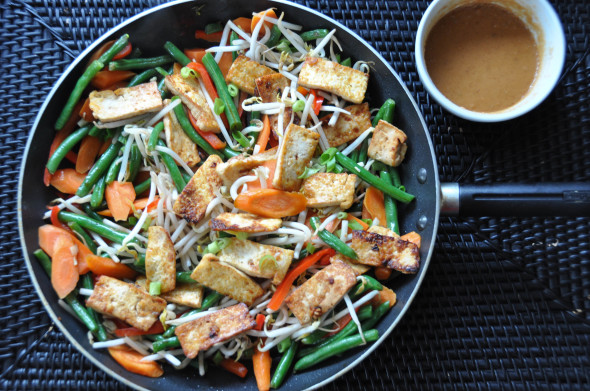 I hope everyone had a wonderful Holiday! We had a nice quite Christmas and then were later joined by my parents for a few days. Our week also included a variety of illnesses so it's nice to have everyone feeling better!
As the New Year approaches, I am eager to get rid of the remaining 10 pounds of baby weight and I'm ready to eat some super healthy foods after all the rich, dessert-laden meals we've had over the last 2 months (including Halloween, 4 birthdays and Christmas).
If you aren't already a fan of my facebook page, I encourage you to join it. I post more frequently there- random health tips, what we're having for dinner, quick recipes that I don't post here and other riveting stuff. What I mentioned over there was that I was ready to change up my diet in order to start the year off right. I decided that I will follow a vegan diet for the month of January which will help me increase my vegetable intake as well as hopefully cut down on my overall calories. Now remember vegan means no animal products (like eggs, dairy, honey, seafood, meat, etc) which is more restrictive than eating vegetarian (vegetarians exclude meat, poultry and seafood, but typically include dairy and eggs).
Now a couple things I want to discuss. First, it's a lifestyle change, not a "diet". I am not counting calories or measuring portions. I am simply avoiding animal products and eating more fruits and vegetables.
If you'd like to join me or just want to try to eat more vegetarian meals in general, join me on my facebook page. We'll exchange meal ideas and I'll also plan on posting more vegetarian/vegan options for the month of January.
Like I mentioned on a post over at facebook, I personally don't have anything against eating animal products, but there is a lot of poor quality, unhealthy options at our local grocery stores. What I do know is that research has shown that people following a vegan diet typically have lower cholesterol, lower blood pressure, decreased risk for heart disease and cancer. On the other hand, a vegan diet doesn't always equates to a better diet. You could live off peanut butter and jelly sandwiches, pasta, oil and loads of white crusty bread and eat very few fruits and vegetables and that certainly wouldn't be any healthier than a diet full of fish, eggs and other lean meats along with your fruits and vegetables. You still need to make a conscious effort to eat more fruits and vegetables even when eating vegan for the first time.
I need to sum up that I love food way too much to avoid eating entire food groups forever. Like feta in my salad, the delicious herb crusted lamb I just made and I can't forget the cinnamon rolls (which I made over the holidays with butter)! Oh YUM! I truly believe that a healthy diet can include all foods in moderation. The typical American diet does not follow the motto "all foods in moderation". I plan on doing this for a month and I know I will discover even more vegetarian/vegan meals that I love and want to include in our regular diets.
Want to join me?
You'll need to stock your pantry and fridge full of some staples:
Pantry:
Canned beans (black, pinto, garbanzo, etc)
Dry beans
Nuts
Nut butters- almond, peanut, soy
Canned tomatoes
Olives
Rice
Pasta
Quinoa
Coucsous
Tortillas
Bread (check label for eggs and milk)
Vegetable Stock/Broth
Oatmeal
Oil- olive, grapeseed, coconut, etc.
Coconut milk
Green chilies
Sun-dried tomatoes
Refrigerator:
Soy, Almond or Rice milk
Herbs (basil, cilantro, parsley, etc.)
Ginger
Garlic
Green Onions
Vegetables- all the colors of the rainbow
Fruit- " "
Tofu
Seiten
Tempeh
Salsa
Peppers- serrano, jalapenos
Lemons & Limes
Freezer:
And I will conclude with one of my favorite vegan meals that I discovered when I experimented back with the vegan lifestyle a few months ago. It is SO yummy. The peanut sauce is delicious and really makes the meal. It would be awesome on anything really. I plan on making this next week as we kick off vegan month! I eat it just as is, but if extremely hungry or wanting to stretch it out to feed more mouths, you could serve it with some rice.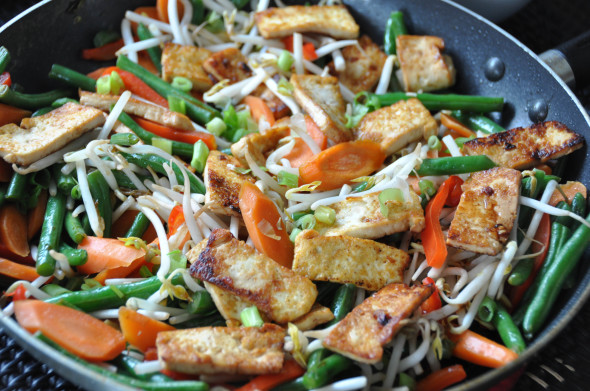 [print_this]
Tofu and Green Bean Stir-Fry with Peanut Sauce
Stir-fry:
2 teaspoons brown sugar
2 Tablespoons lower-sodium soy sauce
1 teaspoon sriracha
4 garlic cloves, chopped
2 Tablespoons sesame oil, divided
1/2 package extra firm tofu (~8 ounces), cut into 2 inch strips, pressed dry with paper towels or kitchen towel (to remove moisture)
2 cups thinly sliced carrots on the diagonal
1 cup red bell pepper strips
12 ounces green beans, trimmed
1/2 cup water
3/4 cup thinly sliced green onions, divided
6 ounces mung bean sprouts
Peanut Sauce
1/4 cup water
1 Tablespoon brown sugar
3 Tablespoons natural-style, chunky peanut butter (such as Smucker's)
1 teaspoon Sriracha (hot sauce)
1 teaspoon lower-sodium soy sauce
1. Prepare peanut sauce: combine water, brown sugar, peanut butter, sriracha and soy-sauce in a small bowl, stirring well with a whisk. Set aside.
2. For stir fry: combine 2 teaspoons sugar, 2 Tablespoons soy sauce, 1 teaspoon Sriracha and garlic in a small bowl, stir well. Set aside.
3. Heat a large heavy skillet over medium-high heat. Add 1 Tablespoon sesame oil, tofu and half of soy sauce mixture. Stir fry for 10 minutes or until tofu is browned and slightly crisp (flip once or twice to get an even color). Remove, cover to keep warm.
4. Return pan to stove, add remaining sesame oil. Add carrots, bell pepper and green beans to pan and stir fry for 4-5 minutes. Reduce heat to medium low, add 1/2 cup water and cover for 5 minutes or until beans are crisp-tender.
5. Stir in remaining soy sauce mixture, tofu, half of green onions and bean sprouts and cook for additional 2 minutes. Serve with peanut sauce and remaining green onion slices.
Yield: 4 servings.
Recipe adapted from Cooking Light
[/print_this]
Do you want to include more vegetarian meals into your diet? Leave me a comment!!
Have a safe and Happy New Year!