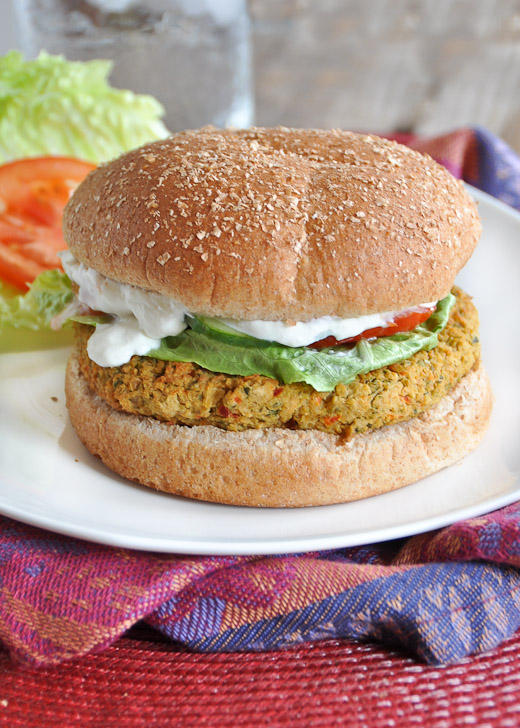 I really enjoy a good veggie burger and love that there is such a variety on how to prepare them- some are made with rice, some with lentils, some full of vegetables. One thing they have in common though- no meat! This version is a little different than your typical veggie burger- it's got a Mediterranean flair, almost like a big falafel veggie burger. I have wanted to to make a falafel burger for some time now, ever since I went to this burger restaurant in downtown Olympia that has one on the menu.
For this recipe I got a head start by making the mixture the day before I baked them simply because I knew I wouldn't have much time Sunday with church, grocery shopping and cleaning up after 3 very messy children. I think it probably helped the mixture stay together better, but it's not a necessity.
I went back and forth on whether or not to put feta cheese in the patty but decided I'd incorporate it into the sauce with Greek yogurt. I'm not going to lie, I think the feta sauce is a must. It really ties everything together. I decided to freeze a few of them for later on in the week.
Here are the patties before going into the oven, baking them keeps the fat content down. I might try brushing them with olive oil next time to make them a little more moist, but my husband and I both liked the flavor. Top them with some veggies and the feta sauce and you've got  a healthy, high fiber sandwich!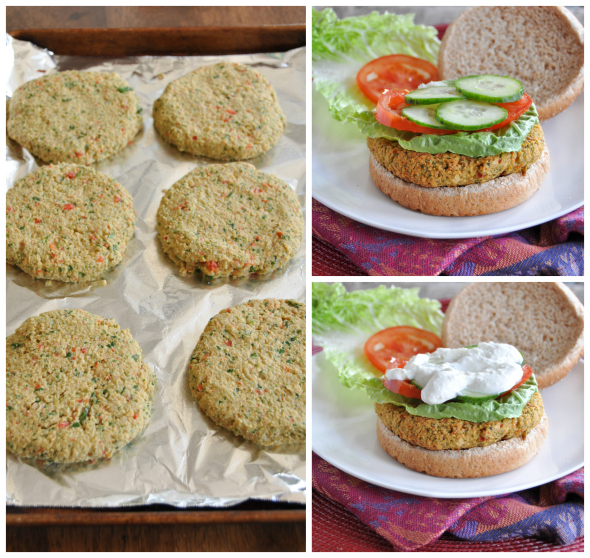 Hope you all had a great weekend! I Know that for a lot of you it's the end of spring break where ours isn't until the first week in April. I never knew that some schools had spring break so late since in Texas it's always been early-mid March.
It was a pretty typical weekend over here. I did my 11 mile run on Friday instead of Saturday since the kids's soccer games were earlier on Saturday. This was a tough week of running for me. Motivation was low, low, low. I just didn't want to get on my treadmill and had no chance to get outside expect for the long run which I ran half of in the rain..that's how desperate I was for outdoor running! I know it's totally normal to go through an exercise rut and for me a lot has to do with the need to change things up…whether it be my pace, location, etc. I get bored easily. Hoping this week is a little more fun!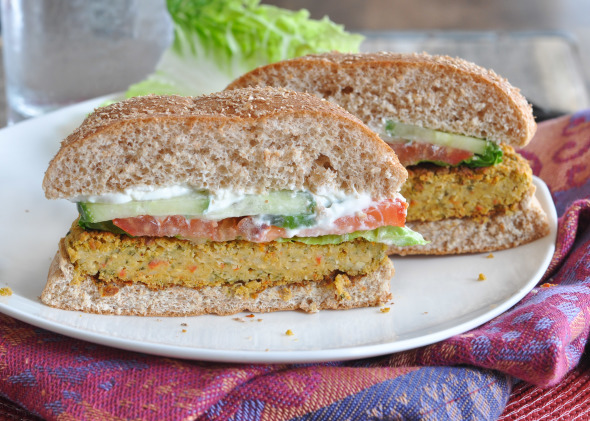 I did some tentative meal planning on Sunday. I didn't get to the butternut kale lasagna a couple weeks ago but it sounds so good to me so I've got to make it this week. What are you planning?
Sunday
Veggie and Quinoa Stuffed Poblano Peppers, Leftover Pesto Pasta
Monday
Butternut Kale Lasagna, Salad
Tuesday
Turkey Chili, Cornbread
Wednesday
Leftovers
Thursday
Veggie & Cheddar Omelets with Toast
Friday
Leftover Falafel Veggie Burgers, Sweet Potato Fries, Asaparagus
Saturday
Out to dinner!
Like falafel? Then you'll probably like this healthier no-fried alternative, falafel veggie burger!
Falafel Veggie Burger with Feta Yogurt Sauce
Ingredients
2 (15 ounce) cans low sodium garbanzo beans, drained
⅓ cup tahini
⅓ cup chopped fresh cilantro
⅓ cup sliced green onions
1 cup packed fresh spinach
½ cup chopped roasted red peppers
2 garlic cloves minced
1 cup panko
1 large egg
2 Tablespoons olive oil
2 Tablespoons fresh lemon juice
1 teaspoon cumin
½ teaspoon coriander
1½ teaspoon kosher salt
For the fete yogurt sauce
½ cup crumbed feta cheese
½ cup plain Greek yogurt
1 small garlic clove, minced
1 Tablespoon lemon juice
Instructions
Preheat oven to 400 degrees. Line a cookie sheet with foil and coat it well with cooking spray or olive oil.
In a food processor, combine garbanzo beans, tahini, cilantro, green onions, spinach, red bell peppers, garlic, panko, egg, olive oil, lemon juice, cumin, coriander and salt.
Pulse until garbanzo beans are smooth, but not overprocessed (some chunks are fine). Transfer mixture to a bowl; shape the mix into 6 equally sized patties, flattening slightly. Place on cookie sheet and bake for 15 minutes, flip with a spatula and bake additional 15-20 minutes or until golden brown.
Serve with lettuce, tomato, cucumber slices and feta yogurt sauce.
For the feta yogurt sauce:
In a mini food prep, combine feta, Greek yogurt, garlic and lemon juice. Puree until blended.
Notes
You can substitute sour cream for the Greek yogurt if desired.
Questions: did you do anything fun this weekend? What's on your meal plan?