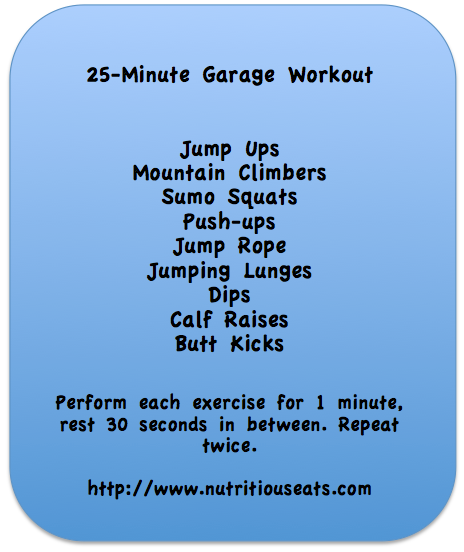 I have been doing a lot of quick workouts around here lately. Baby R still takes two naps and I try my best to let him take them at home which means I usually skip the morning gym for a treadmill run or at-home workout. I do miss the good ol' days of kid-free workout sessions, but I'll take what I can get!
I have been enjoying this one lately. It takes ~ 25 minutes and I call it my garage workout because that is where I do it, but it's great for hotel rooms, inside, outside, the gym, etc. Sometimes I'll do a quick 1 mile run on the treadmill and then just one round of these exercises. Feel free to google anything you don't know- it should lead you straight to a few youtube video options. Pay attention to form so you don't injure yourself. The jump ups can be particularly hard on the lower back so if you tend to have pain there just substitute another exercise.
I also wanted to mention that my recipe files are all up-to-date so feel free to look through those (see the "recipe" category in the top bar menu?). Hope you find something you like!
When I posted my split pea soup recipe I also linked up to a bunch of the other soup recipes I have on the blog. Now I need to remind you that it's chili season!
My all-time FAVORITE turkey chili recipe (which is in need of a photo makeover). I just made it last night- it really is such an easy recipe and has so much flavor.  Make this one for Halloween with some cornbread. YUM!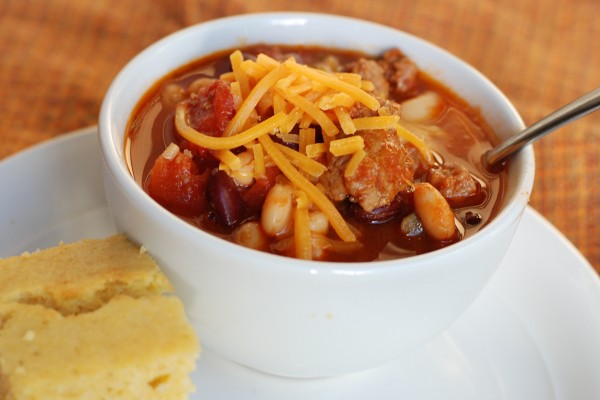 For you vegetarians, make sure to try this vegetarian chili. I love it too and how can you not feel good about eating a bowl full of vegetables?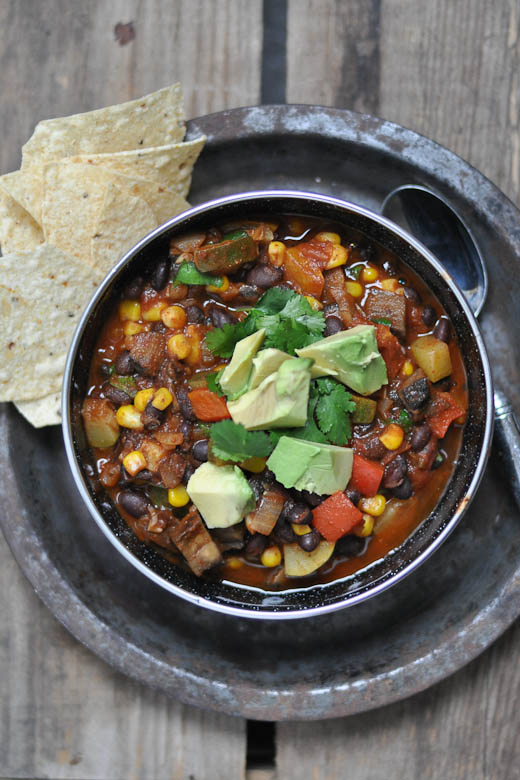 Question: are you ready for chili season? Do you workout at home or the gym? 
Don't want to miss a post? Make sure to sign up to receive emails from Nutritious Eats. I love hearing from you! Please leave a comment, ask a question or just say hi. And if you've enjoyed this post, please pin, share, tweet or stumble away so that others can enjoy eating healthy with us! Thanks for reading!
A note about following any workouts posted to my blog: please make sure to obtain clearance from your physician if you have any medical conditions and are starting a exercise program.