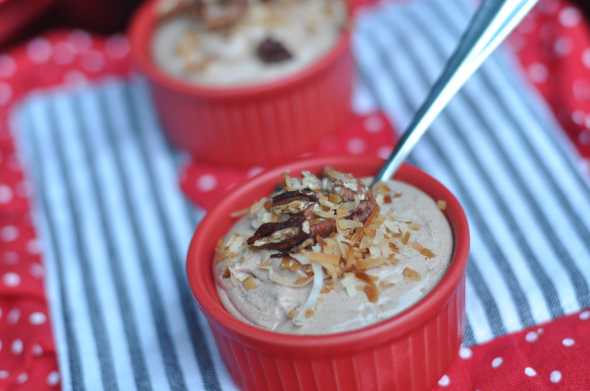 Nothing says Valentine's Day like chocolate. I mean seriously, I'd like to meet the person who says they don't like it. For some reason, I crave chocolate even more during Valentine's day. I have trained my husband to include a box of chocolates as part of the gift exchange. Non-negotiable. I love picking through the flavors and end up throwing away a half eaten box, but there is always the excitement of knowing the whole box is for me!
Since we had kids 4 years ago, we stopped going out to dinner on Valentine's day and instead cook at home after the kids go to bed. For me it's just as nice and romantic to create a special menu, avoid the crowds and enjoy my hubby. This year my parents will be visiting us from Texas so we might actually have the chance to go out. I won't be posting any "perfect Valentines meals" but in my opinion anything homemade can be romantic as long as the kids are in bed! Whether it be something fancy and expensive like lobster or something casual like a homemade pizza, the point is not what you eat, but setting the right ambiance.
Oh and there MUST be dessert. Whether you go out to dinner, order take-out or cook at home, this is a special, decedent dessert that will definitely please the chocolate lover…..and it's the perfect dessert because it needs to be made ahead of time in order to set. Your significant other will love you even more when they taste this.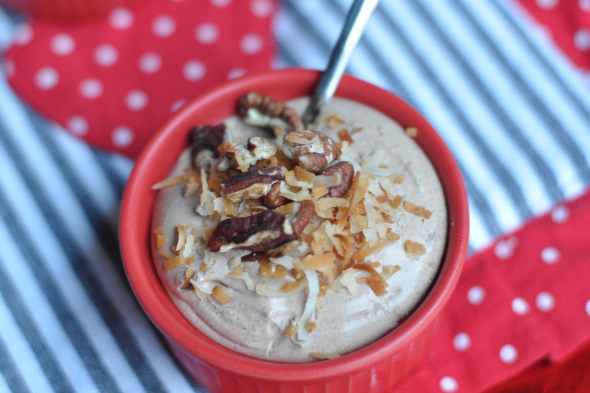 I actually found this chocolate mousse recipe in Cooking Light magazine. Although it uses low fat milk and light whipped cream, it's still a dessert. It is creamy, rich and delicious and worth every calorie.
If you're not into chocolate for some insane reason….you could always have fun in the kitchen with some roll out cookies. Christmas and Valentines are the only times I feel compelled to make sugar cookies. Home baked treats are the best!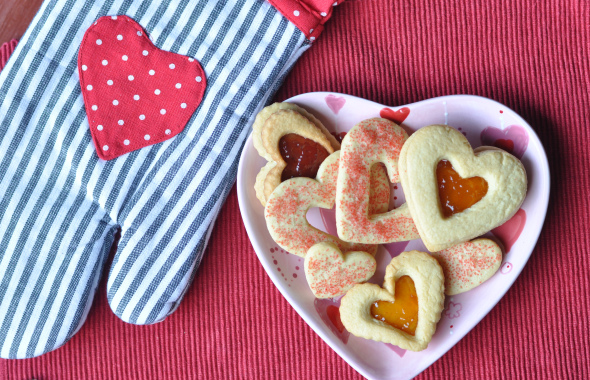 This was my first time making them with the preserve filling and boy were they good. I never knew how much I liked apricot preserves. I think the trickiest part of making these is rolling them out thin enough so you are not stacking two thick cookies on top of each other. Although there are worse things that could happen in life. 🙂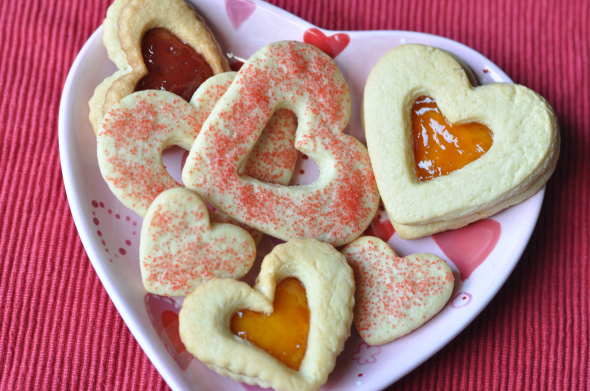 Do you need an even easier classroom treat for your child's school party? I originally wanted to make these cookies for L's preschool, but then decided against sending any sweets. It's likely they will already have cupcakes or cookies at school, plus the treats the other kids give to him. I am totally ok with the occasional dessert for the kids but we all know it can quickly get out of hand. So we decided to keep a small amount of cookies for us and we froze half of the dough for another occasion. What we came up with instead, these great $1 notepads that I found at Ben Franklins, along with some Valentine's stickers and a pencil. What child doesn't love stickers and paper? I know the parents will appreciate the lack of candy/cookies; I know I would!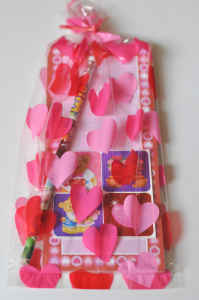 German Chocolate Mousse

Ingredients

1⅓ cups 1% low fat milk
2 teaspoons unflavored gelatin (can be found near the jello or baking isle)
1 teaspoon vanilla extract
8 ounces dark chocolate chips (I used Ghirardelli 60% Cacao Bittersweet Chocolate chips)
4 cups (a little less than one container) frozen light whipped topping, thawed
¼ cup flaked sweetened coconut, toasted
¼ cup chopped pecans, toasted
DIRECTIONS:
Combine first 3 ingredients in a heavy saucepan; let stand 2 minutes. Cook over medium-high heat to 180 degrees or until tiny bubbles form around edge (do not boil).
Remove from heat, add chocolate and stir; cover pan and let sit for 5 minutes. Stir again until all chocolate is melted.
Pour chocolate mixture into a medium bowl; cover and chill 30 minutes or until set.
Gently fold in whipped topping and spoon about ⅔ cup mousse into 8 individual serving bowls. Cover and chill 2 hours or until set.
Top each portion with 1½ teaspoons coconut and 1½ teaspoons pecans.

Notes

To make toasted coconut just spread some coconut on a cookie sheet and bake at 350 for 5 to 10 minutes or until golden brown. Stir often (i.e. every minute)- it can burn quickly! Same process for the pecans. Another option is to toast them in a skillet over medium heat, stirring frequently until coconut is mostly golden browned. Same for pecans.

Recipe from Cooking Light, December 2009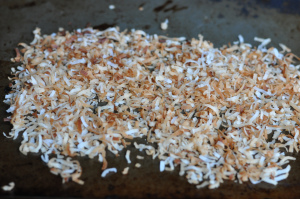 Valentine's Sugar Cookies
Serves:
several dozen depending on size of cookie cutter used
Ingredients
1 stick unsalted butter
1 cup sugar
1 large egg
2⅓ cups all-purpose flour, plus more for dusting
½ teaspoon baking soda
⅛ teaspoon salt
⅛ cup buttermilk
½ teaspoon vanilla
sprinkles
⅔ cup apricot or strawberry jam, slightly warmed (optional)
Instructions
In a large bowl beat butter and sugar until fluffy, about 4 minutes. Add egg and vanilla; beat well.
Sift flour, baking soda, and salt into large bowl. On low speed, gradually add flour mixture to mixer bowl, alternating with buttermilk, until combined.
Wrap dough in plastic; chill until firm, 1 hour or overnight.
Heat oven with two racks centered to 350 degrees. Line 2 baking sheets with parchment paper. On lightly floured surface, roll chilled dough ⅛ inch thick. Cut out hearts using any 1- to 3½-inch heart cookie cutters. If desired, cut centers out of some hearts. Transfer with spatula to baking sheets. Sprinkle with decorative sugar or sprinkles, if using. Bake until just golden but not too brown, about 10 minutes. Transfer cookies to rack. Continue with dough; re-roll scraps.
To make sandwich hearts: Brush bottom heart lightly with jam; cover with a second heart with center cut out; jam will adhere hearts. Fill cut-out area with more jam. Cookies will keep, in an airtight container, at room temperature for 1 week.
Notes
Recipe slightly modified from Martha Stewart
Happy Valentine's Day!