I love exercising at home, mainly because it saves time and also because I can look like a crazy woman who just rolled out of bed when I workout! Ever since I had my third child, it's been much harder to manage gym outings. My kids are always with me, with the exception of my oldest son who is gone for 3 hours a day for kindergarten. The gym here offers childcare but charges $4 per hour PER child which just doesn't fit into our budget. None of this stops me from working out though. I do almost everything at home from treadmill runs, weight training to workout DVDs and when the hubs is home and can watch the kids I go out for my longer runs.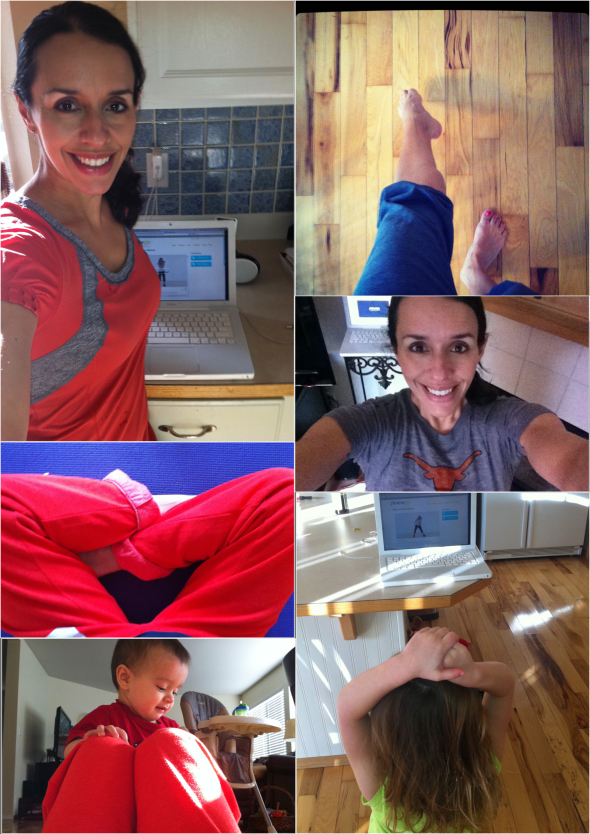 When I was asked to try FitnessGlo, online exercise classes, I couldn't be more excited. I like variety in my workouts so I am always looking for something new and I really thought this was such a fabulous idea. You pay a monthly membership subscription of $12 a month (which is totally afforable, heck it's the price of me taking all the kids to the gym for only 1 hour!), log in from any computer, any time of the day and exercise! You can even watch the videos on your smartphone if you have one or even connect an iPad to the TV. I was quite content using my laptop though as you can see from the pics above!
Since the classes can be accessed online you can chose to do a class anywhere you have internet access. Traveling for work and want to do a workout in your hotel room? Easy, just log in and pick one. I found myself carrying my laptop to different areas of my house to do my workouts depending on which wasn't overtaken by the kids. Haha.
One day I split up my workouts and did a quick 15 minute strength workout in the morning and then another 20 minute cardio workout around lunchtime. I love the convenience, variety and most of all the classes! I did a few dance classes which were fun (my 4 year old daughter even did some moves with me- see bottom right picture above) and the bootcamp was great. One of my favorites was the barre class though. It really made me want to enroll in ballet class (which is on my to do list!).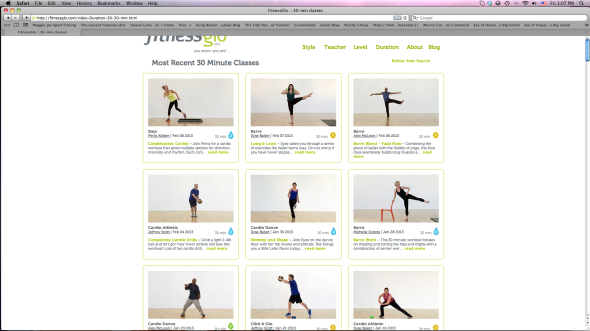 FitnessGlo was created for women, by women. With that being said, there are some great male instructors too. The teachers are all certified and experienced. They offer a great variety of classes such as cardio, balance, strength training, barre and more. I love that you can search for classes a few different ways- by the teacher, level or type of class you are looking for…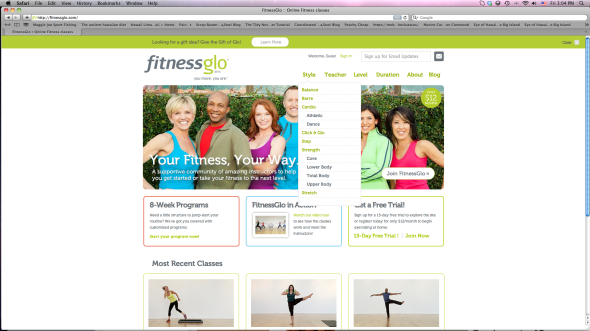 or by class duration and since they are designed for busy women looking to fit exercise into their busy schedule, they are shorter in duration (from 10 minutes to 45 minutes). Of course if you have more time you can combine workouts to make a longer session. Like I said, totally flexible and convenient! They add new classes to the schedule 3 times a week and you can choose from hundreds of classes on the site! You will never get bored!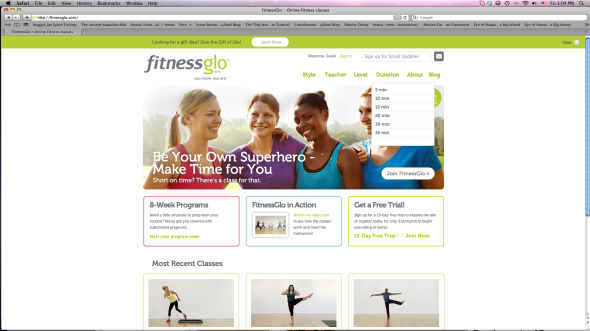 In terms of intensity, I found that the workouts I tried were at a moderate intensity for me, but I still got a good workout with the level 2 and 3 classes. With that being said, we are all at different levels of fitness and I could easily change up the intensity even more by using heavier free weights (note only some of the classes require a set of free weights or a medicine ball but there are so many classes that don't require equipment). If you are at a beginning stage of fitness the "getting started" or level 1 classes would be perfect. They are also perfect for supplementing what ever it is you are doing now.
Another cool thing about their site is that they have a balance tracker where you can track your workouts and see if you are maintaining balance among the cardio, stretch and strength workouts each week. It's a great reminder that we need all types of exercise for a healthy body.
FitnessGlo is such an awesome resource and they want to give one lucky reader a chance to experience their great online classes too! The giveaway is for a 90 day free membership! That is 3 months to enjoy the classes at your convenience. Once the winner is selected, the team from FitnessGlo will set up your free account and email you directly.
I am so thankful for being able to try these classes and I was actually excited to pick out my workouts for the day. How many people can say that about exercise? Enter the giveaway via the Rafflecopter below!
FitFluential LLC compensated me for this campaign. All opinions are my own.