Congratulations to Gretchen H. the winner of the Lululemon & Magazine Subscription to Vegetarian Times (her choice). Thank you so much to all who entered!
Hello friends! I've missed you! How was everyone's Thanksgiving? I didn't intend to take off this long but I was a little under the weather on Sunday/Monday. I am all better though. My family left yesterday and although it's always sad to see them go especially since they live so far away, it will be good to get back on track and ready for our next adventure- our trip to San Diego!
We had a lovely visit though- a delicious Thanksgiving meal was prepared by me and my mom, we put up the Christmas tree and did a little sight seeing (children's museum, tour of the post, neighboring town and the beautiful Puget Sound, mall shopping and the movies).  It's not often the kids get to spend a whole week with their grandparents and great-grandmother so they were content just playing at home. We had a few days of rain but overall pretty decent weather considering November is supposed to be the wettest month here in Washington!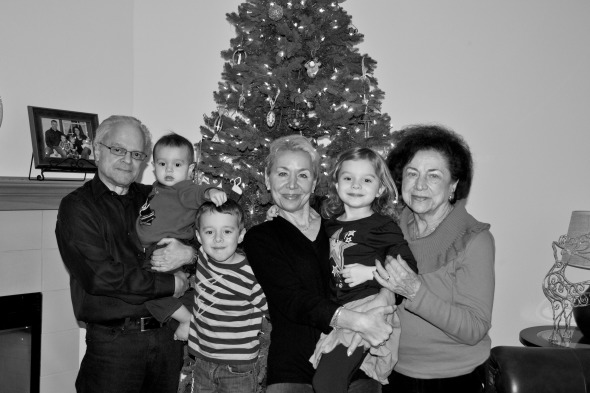 I really wanted to get a post up today but wasn't too prepared so where did I turn? To some fabulous bloggers to help me out! Here are some great reads from them and I will be back soon with some more yummy recipes!
P.S. Pictured is my dad, mom & grandma with my three kiddos! Isn't it awesome that my grandma traveled from Texas to Washington to visit us?! She'd kill me if I even hinted at her age but we are all very glad she made the trip. She's got that Greek blood working for her.
Link love…..
From some fabulous fitness bloggers:
10 Cold Weather Running Tips from Happy Fit Mama – I am going to read this one over and over until I can learn to love (or like) running in the cold. Great tips!
Kettlebells or Medicine Balls When Training for a Marathon from Fun and Fit – I love both these exercise tools, but only own kettlebells. Good info re the two and now I think I am going to put a medicine ball on my Christmas list.
Healthy Holiday Eating Without Over-Thinking from Best Body Fitness – who doesn't need this info this time of year? Just because it's almost December doesn't mean we need to be unhealthy.
Giant Treadmill Hill Workout from Food, Fitness & Family  – I am still getting used to juggling the schedules of my 3 children so I turn to my trusty treadmill for lots of workouts. I love changing up the routine though so it doesn't get too boring- don't forget about the incline button! Time to get that bum in shape with a great hill workout!
From a few fellow food bloggers: 
Green Pea Salad (A Recipe Redux) from the Spicy RD – What doesn't Greek yogurt make better? I'd take it over mayo any day. This would be a great addition to a salad bar style lunch or dinner.
Eggplant Parmigiana from Flavia's Flavors – This is comfort food and great for entertaining during the Holiday season. It bakes while you chat and have appetizers and the cook gets off easy.
Apple Pecan Pie from Chasing Delicious – Pecan and pumpkin are the priority during Thanksgiving but Christmas it's time for the fruit pies. Pecans in the dough? How can that not be fabulous?
Hot Mexican Layer Dip from The Lean Green Bean – I love anything with the name "Mexican" in it. Seriously. This is a healthy version of the ol' layer dip.
Crispy Lemon-Garlic Fingerling Potatoes – I adore fingerling potatoes. Really I do. I have never made them using coconut oil though, yummy!
Cheesy Vegetable Chowder from Taste and Tell – made with basic ingredients you probably have on hand. This would be a fun one to lighten up. Cut back on the butter and use low fat milk to decrease the saturated fat. I love soup in the fall/winter.
Now it's time to start Christmas planning. I'd love to have my gift shopping done before we leave for California. I also want to think about a tentative Christmas menu and finish shopping for my daughter's birthday. Always a ton to do this time of the year! Before I go I have to say since we had such a intimate family dinner for Thanksgiving, we left the kitchen a mess and enjoyed our meal without setting up a large buffet. As I result I was not motivated to take any pictures, but my favorite dishes of the year were the cranberry-apple sauce and turkey gravy. Random I know but those really completed the meal to me.
See you at the end of the week! I've got some healthy recipes on the brain plus another fun giveaway coming up in the next week.
 Let's chat: Are you getting ready for Christmas? What was your favorite part of your Thanksgiving meal?