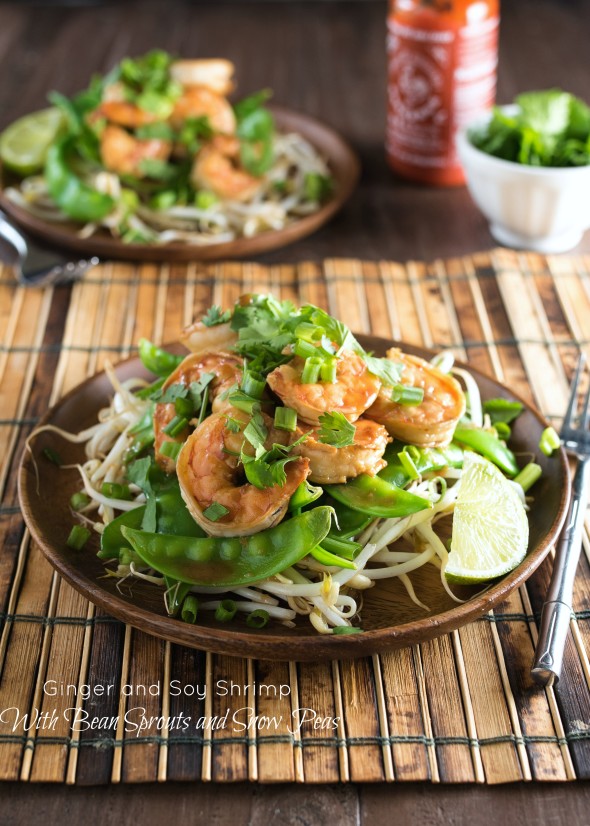 Hello and happy Monday! How was your weekend? I am making a little more progress in the house which feels great. We just need to replace some things that were damaged in the move, have another hanging session and take a few loads to Goodwill. But we are settling into our new home.
The kids are still loving it and having their daily playdates with the neighbors and I am finding a tiny bit more time to work on blogging now that 1) the bus takes and picks up kids from school and 2) I don't really have anywhere to go! Ha. Benefits of no shopping.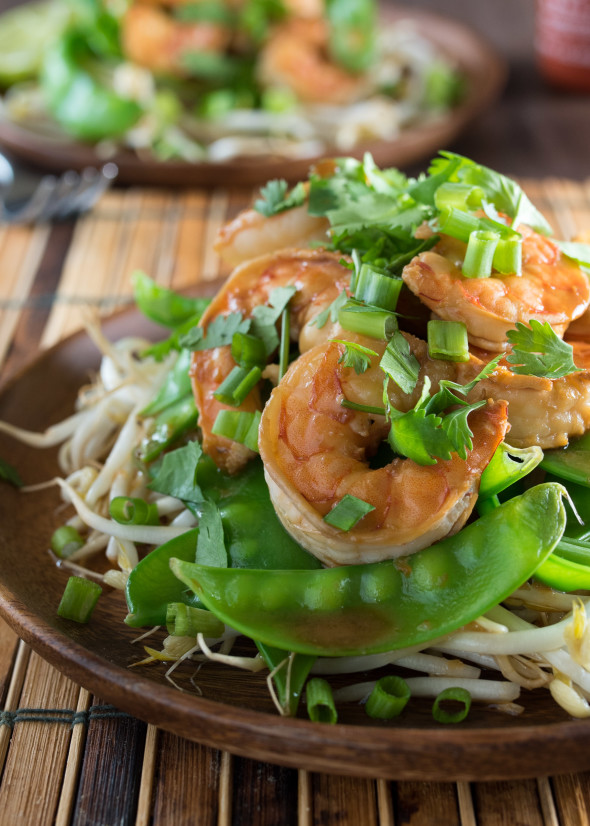 But jumping right into this dish, I saw a similar shrimp recipe from Bobby Flay which he put on the grill. I modified the marinade a little, made it in the skillet and poured it over some bean sprouts and snow peas. It sure was tasty and I am already looking forward to making it again! My hubby was actually out of town when I made this so I saved the second plate for my dinner the following night and it made delicious leftovers. I am super excited to make it again for him.
Shrimp really are a convenient protein to keep in your freezer. They defrost in like 5 minutes and cook in even less. I marinaded these for an hour but I am sure you could get by with less. I need to remember to cook with them more often.
They are low calorie and are excellent sources of Vitamin B12 and selenium, and important antioxidant that fights against free radicals (which damage cells). They are also very good sources of phosphorous, cooper and iodine.
Shrimp naturally contain some sodium and especially since you using soy sauce here you don't need to season them with additional salt.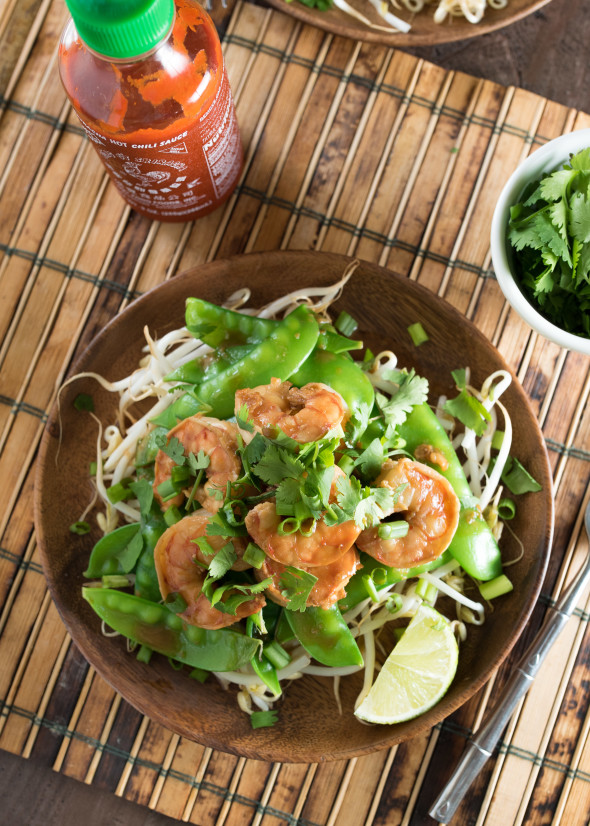 This is a great, light and satisfying dish perfect those low carb lovers. Let me know if you try it!
Ginger Shrimp With Bean Sprouts and Snap Peas
Author:
Melanie F. | Nutritious Eats
Ingredients
12 ounces wild jumbo shrimp, peeled and deveined
¼ cup soy sauce
2 Tablespoon fresh lime juice
1 Tablespoon sesame oil
1 Tablespoon freshly grated ginger
2 cloves garlic minced
¼ teaspoon red pepper flakes
3 cups bean sprouts
2 cups snow peas
2 Tablespoons chopped green onions
2 Tablespoons chopped cilantro
Sriracha sauce (optional)
Instructions
Combine soy sauce through red pepper flakes in a bowl. Add shrimp and marinate for at 1 hour. Meanwhile bring a pot of water to a boil. Add snap peas for no more than 2 minutes. Drain and place snow peas in a bowl of ice water until no longer hot. Place 1 1 /2 cups of bean sprouts on each plate. Top with half of the snap peas.
To cook shrimp: in a skillet over medium heat, add 1 teaspoon olive oil. Add shrimp and 2 Tablespoons of the marinade and cook ~2 minutes per side or until opaque (do not overcook or they will be rubbery). Divide shrimp, along with a spoon of the sauce, evenly between 2 plates (you might have leftovers). Top with chopped green onion and cilantro. Serve with sriracha sauce.
Notes
You could make this into 3 servings by using 4 ounce portions of shrimp per person instead of 6 ounces. If so, increase the amount of bean sprouts, snow peas, green onion and cilantro used.