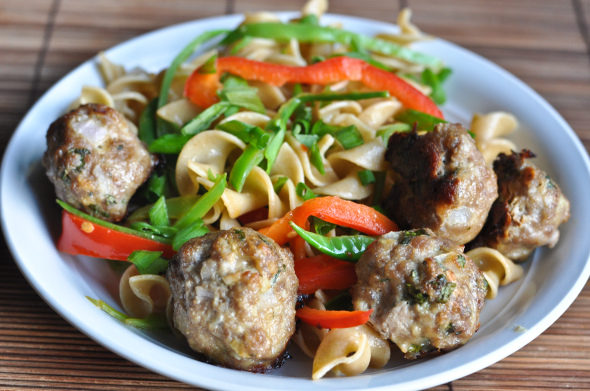 Sometimes I get sick of looking at all the chicken and turkey products I buy. Sometimes I need a change. When I saw this recipe using ground pork I immediately knew I had to try it. It was delicious. So flavorful, easy to make and spicy (just how I like it!). If you wanted to make this gluten free just serve it with rice or gluten free pasta and use gluten free breadcrumbs in the meatballs.
Since I almost always make dinner in stages (due to the little ones hanging off my legs during actual dinnertime), I made the meatball mixture in the morning and then proceeded with baking the meatballs during the kid's naptime. Then I just sauteed the veggies and boiled the pasta before dinner and warmed up the meatballs.
Same goes for those with busy working schedules. If you don't have time to cook all at once, then find ways to split it up. Pre-chop your veggies or meat, make a salad dressing the day before, but you have to think about dinner BEFORE it's actually dinner time. I'm good aren't I?
If you can't find lean ground pork, ask someone in the meat department. If you still can't find it, lean ground beef would be a good substitute. If you don't eat beef, try ground turkey. How bad can it be? The recipe has cilantro, garlic and ginger in it. Yum.
Gingery Pork Meatballs
Recipe slightly modified from Cooking Light
INGREDIENTS:
For meatballs:
1/2 cup cilantro, chopped
1/4 cup dry breadcrumbs
1/4 cup red onion, chopped
2 Tablespoons lower sodium soy sauce
2 teaspoons fresh ginger, minced or grated
3 garlic cloves, minced
1 pound lean ground pork
1 large egg, lightly beaten
Noodles:
8 ounce (uncooked) whole wheat egg noodles or wide rice noodles
1 Tablespoon dark sesame oil
1 cup red bell pepper strips
1 cup julienne-cut snow peas
1/2 teaspoon salt
1/2 teaspoon crushed red pepper
1/2 cup thinly sliced green onions
DIRECTIONS:
1. Combine the first 8 ingredients in a large bowl, stir gently until combined. Cover and chill 30 minutes.
2. Heat oven to 450 degrees. Divide pork mixture into 20 equal portions, roll into a ball and place on a baking sheet coated with cooking spray (can cover with foil for easier clean up). Bake at 450 degrees for 20 minutes or until meatballs are done.
3. Cook noodles according to package, drain and toss with a drizzle of olive oil to prevent sticking. Heat sesame oil in a large nonstick skillet over medium heat. Add bell peppers, peas, salt and red pepper and cook for about 5 minutes, stirring occasionally. Stir cooked noodles into skillet. Place 1 3/4 cup noodle mixture onto plate and top with 5 meatballs. Sprinkle each serving with 2 Tablespoons of green onion. Yield: 4 servings.
NOTES: I boiled about 12 ounces of whole wheat egg noodle pasta (Ronzoni brand) and reserved some of the plain pasta for the kids to be eaten with the meatballs. This recipe calls for a hefty portion of red pepper flakes which I though was perfect. If you don't like things too spicy, you can cut back.
Soooooo good. Put this on the menu for dinner next week.
Nutritious Eats Benefits: high in protein, fiber, good source of iron, vit C and A