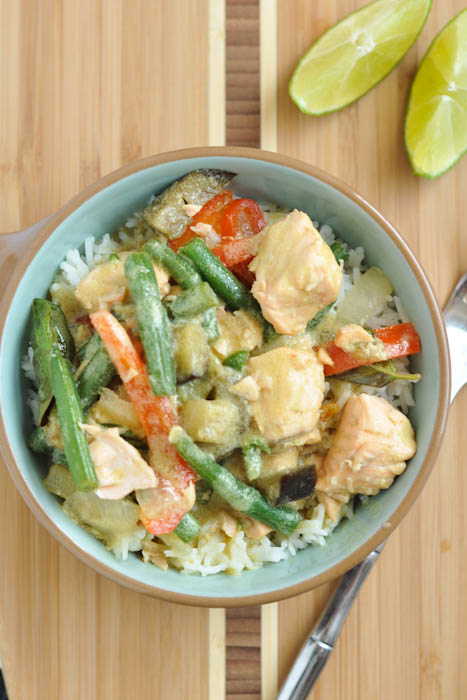 My husband and I used to go to this amazing Thai restaurant in San Diego, Siamese Basil. Please go if you ever have the opportunity for you will be sure to get some of the best Thai food. Their green curry was unbeatable and that is when we really fell in love with the dish.
I have never really wanted to get into Thai cooking. I kind of stay away from certain ethnic cuisine just assuming it's too complicated. Some things I just like to leave up to the restaurants. We were having a craving for curry and I thought I could at least try to use the prepared paste from the grocery store. It turned out surprisingly well. Of course not nearly as fabulous as our favorite restaurant, but considering I used the low fat coconut milk and fish to bump up the nutrition, we both really enjoyed it. Plus it was a snap to make. Bonus!
I used salmon because 1) we try to eat it weekly 2) we don't have an elaborate fresh fish counter with white fish. Feel free to sub chicken, shrimp, beef or a different type of fish (a white fish would be nice). The sauce really masked the flavor of the normally strong-flavored salmon so it was actually a great and different way for us to enjoy our salmon.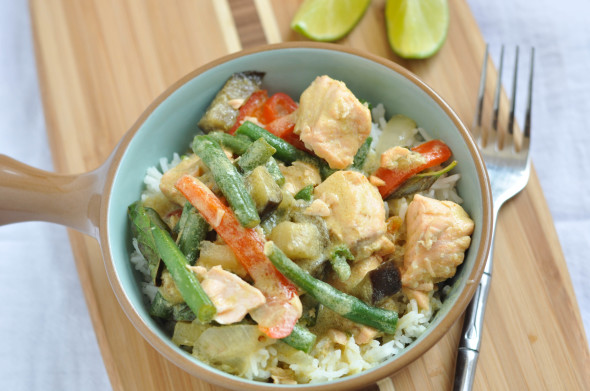 What we loved about our ol' favorite Thai restaurant was their amazing scale of spiciness. They had a 10 point scale so you really could pick what you wanted. They also ran on the spicy side where a 5-6 was ridiculously spicy. We never made it higher than that.  I added two serrano peppers to this dish with seeds and membranes it was still not spicy enough to my liking. Feel free to adjust the pepper and/or substitute jalapenos if you need too.
Green curry paste, coconut milk and fish sauce are all ingredients you can find at your local grocery store in their "Asian food" isle. They are all very affordable so this makes a fun dish to experiment with. Feel free to use any vegetables you like!
So here is my meal plan for the week. I am trying to save my strength for our party Saturday. I am finding that being almost 9 months pregnant, it's hard to find the stamina to stand and cook long periods of time.
What are you planning this week? Leave me a comment- I'd love to hear!
Menu for the Week of September 25th
Sunday
Turkey Meatball Subs, Mixed Greens with Beets and Feta
Monday
Chicken Enchiladas with Homemade Sauce, Cilantro-Lime Slaw
Tuesday
Leftovers
Wednesday
Pasta Dish ??
Thursday
Hoisin Salmon, Coucous Salad, Asian Slaw
Friday
Take out
Saturday
Texas BBQ- Brisket, Pinto Beans, Coleslaw, Potato Salad, Pecan Pie (hosting a party for husband's work)
[print_this]
Green Curry in a Hurry
INGREDIENTS:
2 teaspoons vegetable oil
1/2 cup diced onion
1/2 to 1 cup diced eggplant
1 lb salmon (chicken, shrimp, beef or other white fish), removed from skin and cut into bite sized chunks
1 1/2 cup fresh green beans, trimmed and cut into 2 inch pieces
1 cup red bell pepper, cut into 2 inch strips
2 serrano peppers, diced
1 (14 ounce) can light coconut milk
2 Tablespoons prepared green curry paste
1/2 cup vegetable broth
1 teaspoon brown sugar
1 1/2 Tablespoons fish sauce
1 Tablespoons lime juice
1/4 cup fresh basil leaves, chopped
1/4 cup cilantro leaves, chopped
DIRECTIONS:
1. Add 2 teaspoons vegetable oil to large saute pan over medium heat. Saute onion & eggplant for 4 to 5 minutes. Transfer to a bowl.
2. Return pan to heat, add coconut milk, green curry paste, vegetable broth, sugar and fish sauce, stir well and bring to a boil. Reduce heat to medium-low. Add salmon (or what ever protein you are using), green beans, bell peppers and serrano peppers. Simmer for 7 to 8 minutes. Salmon will be cooked through and vegetables crisp-tender.
3.  Add the eggplant/onion mixture back to the pot and continue simmering for 2 more minutes. Stir in basil, cilantro leaves and lime juice. Serve over jasmine rice. Yield: 4 servings.
Recipe from Nutritious Eats
[/print_this]