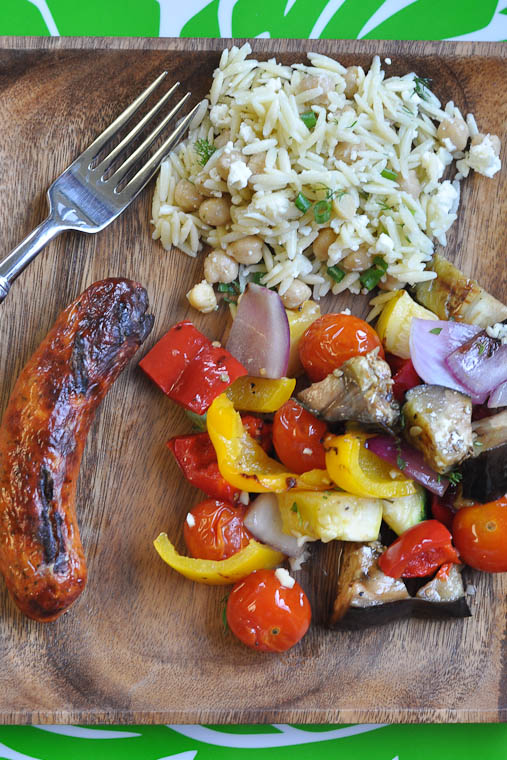 Seen the movie Ratatouille? Ever since the first time I saw it I wanted to make the dish. Ratatouille is a traditional French Provencal stewed vegetable dish, but it there is much debate on how to make a traditional ratatouille. It can be done in the saute pan, oven or grill, but the typical cast of characters are tomatoes, garlic, onions, zucchini, eggplant, bell peppers and a mixture of herbs.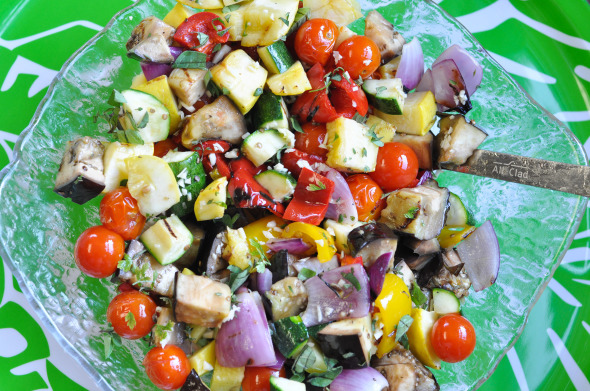 I just love a simple meal of grilled veggies and some sort of protein. Throw in a grain side dish and you've got a well-balanced meal. This veggie dish is great because you can really use any fresh herbs you have on hand. Speaking of fresh herbs, I've got to get my garden planted soon. Come to find out the last people who lived in this house started a garden so we have TONS of strawberry plants, a potato plant, huge thing of Italian parsley and the rest is unknown. I am so excited there is stuff already planted, but we have a lot more we want in there.
Back to this dish, I love having leftover grilled veggies on hand to add to pasta or sandwiches. This makes plenty!
All you need is some delicious vegetables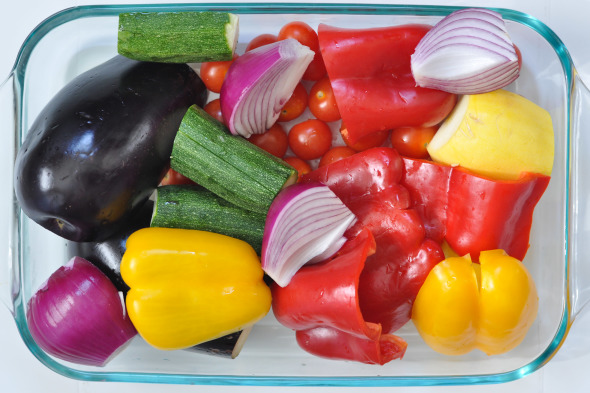 a grill and some grillin' weather!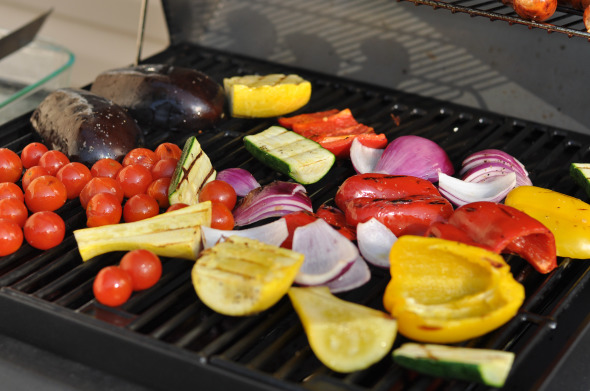 Can you spot the difference in this photo!?  Sorry, I've been reading too many of those kid's activity books with my son.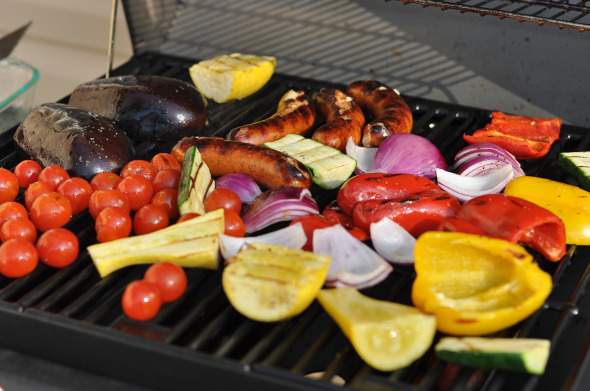 If you leave the vegetables in large pieces, they won't fall through the grill. Then you can transfer them to a cutting board to coarsely chop.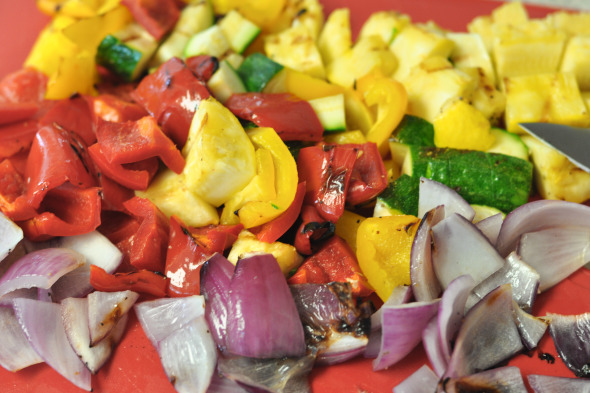 Mmm….gorgeous grilled veggies!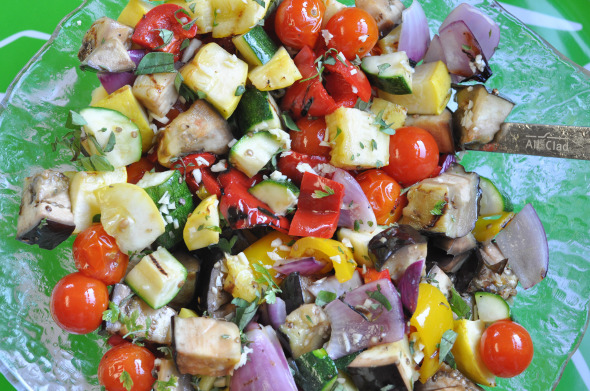 Things to do with ratatouille:
Serve over fish, chicken or steak
Top crusty bread slices like bruschetta
Toss with marinara for a veggie pasta sauce
Serve over rice for an easy vegetarian meal
Puree half of mixture with some vegetable broth for a quick soup
This looks like a perfect summer meal to me! If you want the recipe to the orzo pasta salad featured in the first photo just click here.
Here is my meal plan for the week. Anyone ready to start meal planning with me? It helps tremendously I promise. You'll have more delicious dinners and more time to relax, spend time with your kids, work, etc. because you will be organized. Try it this week! Leave me a comment of your plan!
Sunday
Slow Cooker BBQ Chicken- served in Whole Wheat Hot Dog Buns with Pickles and Onions, Coleslaw
Monday
Leftovers
Tuesday
Southwestern Egg Rolls (leftover in the freezer), Salad with Fresh Mozzarella, Tomatoes and Balsamic Vinegar Dressing
Wednesday
Taco night
Thursday
Teriyaki Tofu with Broccoli, Carrots, Snap Peas and Brown Rice
Friday
Blog Her Food Conference for me (Woo Hoo!!)
Saturday
Blog Her Food Conference Continues
Grilled Vegetable Ratatouille & Meal Planning
Ingredients
2 zucchini, cut into quarters lengthwise
2 yellow squash, cut into quarters lengthwise
1 small eggplant, halved lengthwise
2 red bell peppers, stemmed, seeded and quartered
2 yellow bell peppers, stemmed, seeded and quartered
2 red onions, quartered
1 pint cherry tomatoes
5 Tablespoons olive oil, divided
Salt and freshly ground pepper
3 cloves garlic, finely chopped
2 Tablespoons finely chopped fresh oregano leaves
2 Tablespoons chopped fresh basil leaves
2 Tablespoons finely chopped flat-leaf parsley leaves
I
Instructions
1. Preheat grill to medium-high. Place all cut vegetables and the tomatoes in a large shallow baking dish, add 3 Tablespoons of olive oil and toss to coat. Season with salt and pepper, to taste.
2. Place the vegetables on the grill and cook for 5 to 6 minutes, turning halfway through the cooking time. Remove the tomatoes, cover grill, and cook the remaining vegetables for 2 minutes, or until almost cooked through. Transfer vegetables to a cutting board and coarsely chop (leave tomatoes whole). Place the chopped vegetables and tomatoes in a large bowl, add 2 tablespoons of olive oil, garlic, oregano, basil and parsley and season with salt and pepper, to taste. Serve at room temperature.
Notes
f you don't love fresh garlic, just add to veggies before grilling and it won't be such a strong garlicky taste. You can substitute different amounts of fresh herbs depending on what you have on hand. You can also substitute fresh thyme for any of the herbs listed.