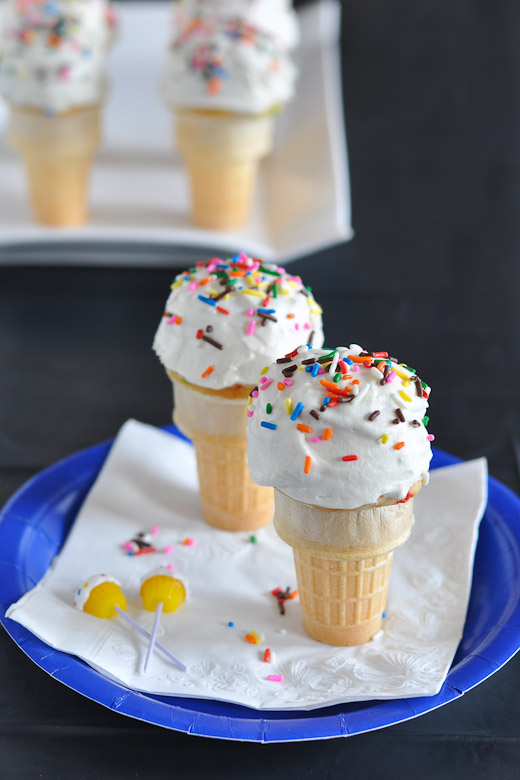 Nutritious Eats turned TWO last month. I meant to celebrate earlier but I've already mentioned how crazy October is for our family. I can't believe that I have only been blogging for 2 years yet I can't believe how fast the time has flown. I dreamed of starting this blog years before I actually did. I would sit at work (on my breaks of course) and look for available domain names. Of course all the potential blog names from my original list were already taken. It literally took over a year to find a free name and one that I really liked. Come to think of it now, it would be fun to look back at that list to see what I hoped for in a name because of course now I can't imagine anything but Nutritious Eats.
Why did I want to start a food blog? I've always loved to eat but my passion for cooking was really ignited when I was newly married and living in San Diego. I didn't have kids yet and would spend any extra time watching the Food Network. I couldn't get enough. I was working as a Dietitian at the time (in the wellness/weight management/corporate sector) and I wanted a place to send my clients for great recipes. I remember trying to describe healthy meals I had made for me and the hubs, but it wasn't enough, I wanted to show them.
Fast forward a couple years, I had my second child and had to cut down on my work hours. Being a stay-at-home mom was more important and just made more sense financially. Then we moved to Hawaii and I still hadn't gotten around to starting the blog yet but I figured it would be the perfect time (being a stay-at-home mom) and I could start doing some online consulting too. That never happened because I simply never had the time. It would take hiring a babysitter to get any hours free for consulting. In the end, I was home with the kids and needed, I mean really needed, a creative outlet. I finally got organized, found a name that I liked and started a food blog. I knew I wanted to share healthy, scratch-made recipes, but also some delicious splurge-worthy recipes too. If you have read my about page you know that I love food way too much to omit food groups from my diet.
I want my readers and clients to have a healthy relationship with food and have the desire and inspiration to make healthy eating and cooking a priority in their life. That is why I focus on recipes rather than nutrition articles. They say a picture is worth a thousand words so to me sharing healthy recipes speaks volumes. You might find it challenging at times, but you won't regret the effort you make trying to cook food at home. It will nurture you inside and out and living a healthy lifestyle will fall into place.  I hope I have inspired some of you to cook more, eat healthfully and be a little more adventurous in the kitchen.
What have a learned from blogging? It's hard yet very rewarding! Cooking, taking pretty pictures, creating recipes from scratch and writing  is definitely time consuming, but I am thankful for some of the job opportunities it has provided me with. I am also so very thankful for the friends I have made blogging. I have contacts all over the world through blogging and it is such a wonderful supportive community. That is truly something I never imagined! It's so easy to compare yourself to other more successful bloggers but in the end I am doing this for me. I come here just as much as a loyal reader might to look up my favorite recipes and meal plan….and for that alone I am content.
I do hope you feel welcome to grow with me by commenting, keeping in touch, letting me know what you'd like to see more of or what you don't like. I love my readers but if I don't ever hear from you it's hard to know where to go with future content. It might not seem like it to you when you read blogs, but blogging is definitely meant to be a two-way street. I was once that person that only stalked read blogs until finally I learned how much more fun it was when I got to know the blogger and that was by interacting with them….whether it's through twitter, facebook, blog comments or instagram. Don't be shy…just say hi!! (ok I did not mean for that to rhythm but it does and now it will be stuck in my head).
My goals for the next year:
double my readership (yikes!)
be consistent with 3 posts a week (recipes and increase my fitness posts)
start online nutrition consults
study food photography and styling
improve open communication and dialogue with my readers
Now onto the good stuff! the recipe and giveaway! 
P.S. Before I forget, please make sure to visit my
last post
 where I will send you some love mail if you leave a comment: a recipe for roasted acorn squash sent on a Thanksgiving card from Cardstore! Very fun idea I think.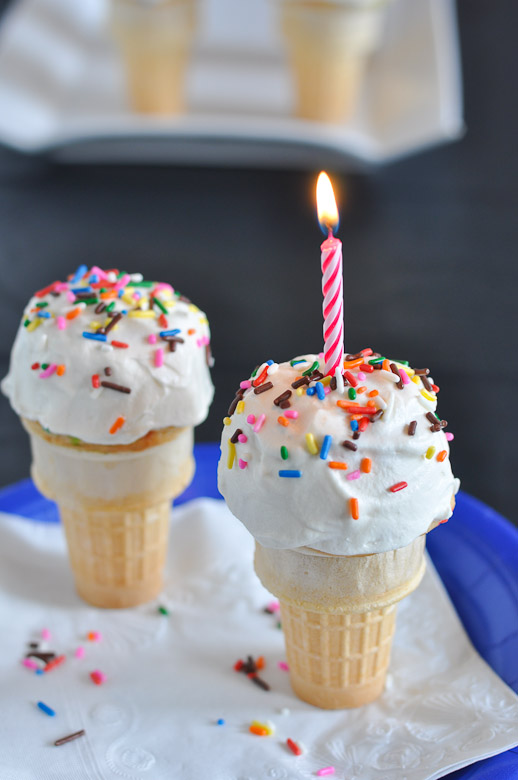 I baked these cupcakes for my oldest son's 6th birthday last month along with the dinosaur cake I shared with you. I know a lot of you have seen these on Pinterest or have made them yourselves but if you haven't, keep them in mind for your next party! The kids went crazy for them.  My tradition is that I made the kids' birthday cakes from scratch for all birthdays- they don't have to be fancy or impressive but they do have to taste good. Since these were just extras made for the neighbors (and I wasn't even sure we'd use them since we didn't really organize a party this year) I threw them together with a boxed cake and an easy homemade cream cheese frosting that was delicious. Doesn't it look like ice cream? I totally tricked the kids.
Use any cake recipe of your choice to make them! Oh and I will warn you now because nobody warned me….these suckers are UNSTABLE so if you plan on moving them around they will fall straight onto the floor causing loads of unnecessary cursing. I tried sticking them through foil to help secure them to the tray but in the end they were still very top heavy. Try to: 1) secure them to a tray using frosting or something that will stick 2) not to move them from place to place!
Ice Cream Cupcakes with Cream Cheese Frosting
Ingredients
1 box cake mix, I used Betty Crocker Rainbow Chip
Vegetable oil, water and eggs per directions on box
24 flat bottom ice cream cones
For the Cream Cheese Frosting
1 8-ounce package cream cheese, softened
¼ cup (1/2 stick) unsalted butter, softened
1 cup confectioners' sugar
½ teaspoon pure vanilla extract
Instructions
Make cake batter recipe of choice. Place paper baking cups in 24 regular size muffin pan. Divide batter evenly among cups (two-thirds full).
Place ice cream cone upside down on batter in each cup. Bake according to recipe directions or until toothpick comes out clean.
Let cool for 30 minutes, remove paper cups, generously frost and decorate as desired.
For the frosting
Combine the cream cheese and butter in a large mixing bowl. With an electric mixer beat on medium-high speed until the mixture is light and fluffy, about 3-4 minutes, scraping down the sides of the bowl as needed.
With the mixer on low, add the confectioners' sugar slowly until all the sugar is combined, scraping down the sides of the bowl as needed. Stir in the vanilla and beat the mixture on high until very smooth, 3 to 4 minutes. Use immediately or refrigerate, wrapped in plastic for up to 1 week and let the frosting come to room temperature before using.
Notes
Cones may tilt on batter during cooking- they will still look fine once frosted.




Recipe Source: Cake recipe from Betty Crocker website, Frosting recipe from Mom's Big Book of Baking
and to those of you who have stuck around to this far….you can't have a birthday celebration without presents! I wish I could send all my loyal readers a treat but that's not possible so one of you lucky people will win the giveway….a $50 Lululemon gift card (one of my absolute favorite fitness clothing stores) and your choice of magazine subscription:  Eating Well or Vegetarian Times.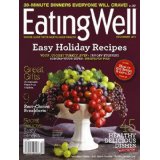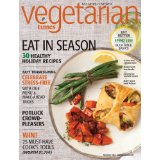 If you are not familiar with Lululemon get ready to fall in love! It's pricey but super high quality. Below are some things in the $50 range (I think the leggings are more) just to give you an idea. How cool are those arm warmers for the cool weather? Those are definitely going on my wish list. Also the bra, Ta Ta Tamer is one of my very favorites. I am sure you will find something you like. They also have men's clothes and always offer FREE SHIPPING!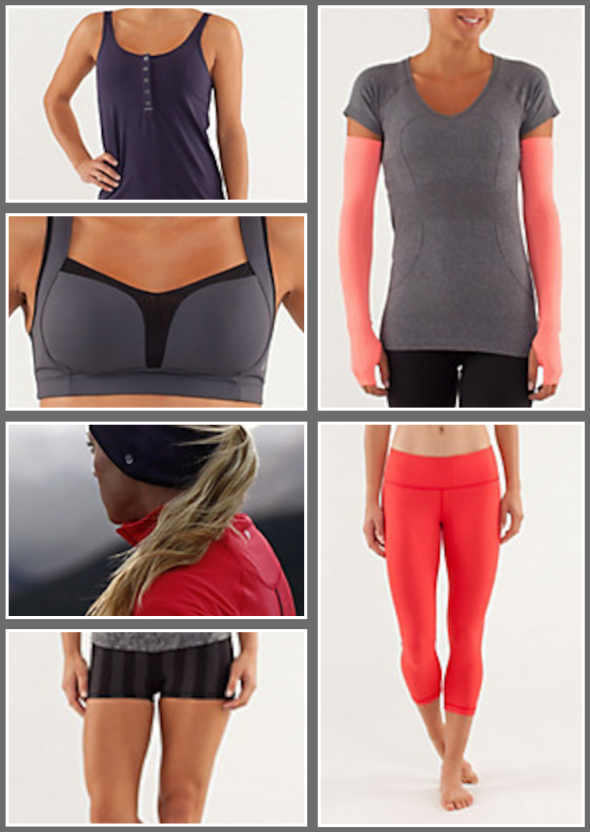 The giveaway will start today Friday, November 16th and ends Wednesday November 21st at 12:00pm CST
Giveaaway Details: $50 giftcard to Lululemon and subscription to your choice of magazine:  Eating Well or Vegetarian Times
MANDATORY ENTRY: Leave a comment telling me what your Thanksgiving plans are!
OPTIONAL ENTRIES: You can earn additional entries by doing one, or all, of the following (leave a separate comment after you complete each item; each comment will count as an entry). If you already follow via any of the ways listed, just leave me a comment telling me so and that will count as an entry.
1. Follow Nutritious Eats on Twitter  AND tweet  the following: " I want to win a $50 Lululemon gift card and a magazine subscription from @nutritiouseats http://wp.me/p150Ow-25d #giveaway "
2. Follow Nutritious Eats- either by subscribing to receive emails (box at the top right side of my blog) OR Follow via RSS ( if you already do just let me know and that counts as an entry!)
3. Follow Nutritious Eats on Instagram 
4. Follow Nutritious Eats on Pinterest
5. Share this post on any social media platform
GIVEAWAY DETAILS:
Giveaway open to US and Canada residents. One winner will be chosen at random and will be notified by email and have 48 hours to claim prize or another winner will be selected.
GOOD LUCK!
Last but certainly not least, a huge thank you to all of my supporters, blogging friends and fans who share my blog and recipes with others and come back for more! You have made these 2 years of blogging so very rewarding. XOXO
 Items provided in giveaway were purchased with my own money. I have no affiliation with Lululemon, Eating Well or Vegetarian Times Magazine.