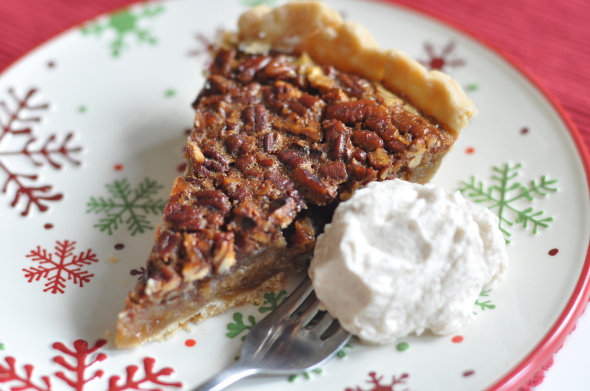 Best ever. Ever. Maybe it's because we really wanted pecan pie or maybe it's because I made the crust from scratch or because there is booze in it, but whatever the case my hubby and I thought this was the best pecan pie we'd ever had. I am making this again for Christmas and I can't wait.
Now let's talk about the nutritional benefits of pecan pie. Ok, let's not.
Just kidding, take away the sugar and butter, you've got heart-heathy serving of nuts in there. Ok, I'll stop.
In all seriousness, I do believe that a small taste of a "real" dessert is much more satisfying that a big piece of low fat dessert. Don't get me wrong, if you have a low fat dessert you love, then by all means enjoy.
For me though and many others based on the findings of documented studies, if you don't treat yourself to what you really want you will likely consume more calories just "trying" to become satisfied somehow. You might start out with 2 low-fat cookies, then move onto some pretzel mix, then the next thing you know you've consumed the same number of calories as that one deliciously satisfying piece of pecan pie.
As you move forward in the next and final week before Christmas and are presented with tons of cookies, fudge, candy and other Holiday treats, think about what you really want, what really reminds you most of the Holiday season and decide what you want to spend your calories on. For everyone it's different.
For me, it's pecan pie.
Before I get to the recipe, a few things.
Do you know this trick for covering the edges of the pie crust so they don't brown? I can't tell you how much easier this made my life. Rewind back in the day, I used to fight with strips of foil trying to stay on the edges of the pie, until I discovered that if you cover the whole pie, cut a hole in the center and peel back, that sucker isn't falling off.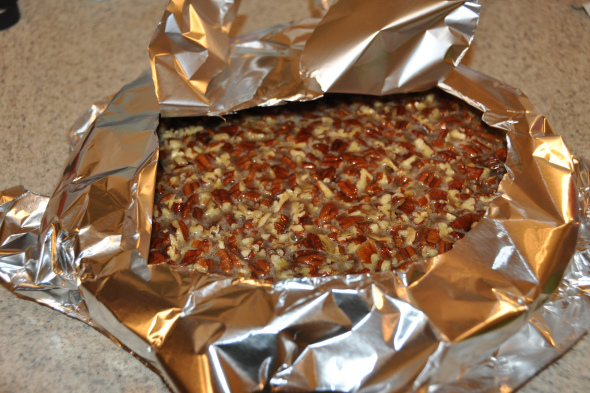 Changed my life I tell you.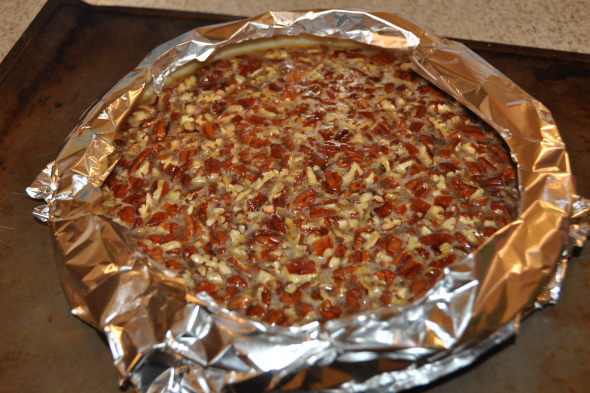 Re the crust, mine was delicious and flakey, but to the point of being so flakey that the crust did not stay intact on top. My husband assured me that all pie crusts break, but I am all about presentation. I know baking in this humid weather has caused some problems with my baked goods so that might be the case, but seeing as though I only want the best for you, will not post the crust recipe. Feel free to google. Store-bought frozen pie shell is perfectly delicious if you are not up for the extra step.
There is a small amount of bourbon in here, but I think it must be the magic ingredient. I highly suggest borrowing some or just buying one of those tiny individual portions. You only need 2 Tablespoons.
Oh and I can't forget the "icing on the cake" so to speak. The cinnamon whipped cream I created that really sealed the deal on this being the best pie. I wanted to something to make it special and I succeeded. Enjoy!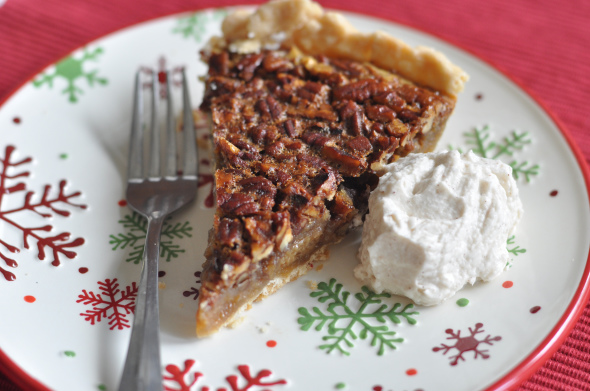 Bourbon Pecan Pie with Cinnamon Whipped Cream
Ingredients
1- 9" prepared pie crust (do not pre-bake)
3 large eggs
¾ cup light corn syrup
4 Tablespoons butter, melted
¾ cup light brown sugar, firmly packed
2 Tablespoons bourbon
2 Tablespoons all-purpose flour
2.5 teaspoons vanilla
1¼ cup pecans, chopped
Cinnamon Whipped Cream
1 cup cream
⅓ cup sugar
½ teaspoon cinnamon
½ teaspoon vanilla
Instructions
Preheat oven to 425 degrees. In a large mixing bowl, combine eggs, corn syrup, butter, light brown sugar, bourbon, flour and vanilla until well combined.
Add the chopped pecans and mix well.Pour into the prepared pie crust.
Cover edges of pie with foil. Bake pie on the bottom rack at 425 degrees for 15 minutes.Then reduce heat to 350 degrees and bake for another 45 minutes. Pie should not be overly-jiggly. Let pie cool for at least 1 hour.
For the whipped cream
Using cold cream, add to a medium bowl along with sugar, cinnamon and vanilla. Using an electric mixer whip the cream until the proper whipped cream consistency forms. Makes 2 cups.
Notes
If you prefer your crust a little more brown, just remove the foil towards the end. If pie is too jiggly, increase bake time by 5 to 10 minutes. This is a great pie to make the day before. Just pull it out of the refrigerator at least 30 minutes before serving.
Holiday appetizer recipes headed your way! 10 more days!