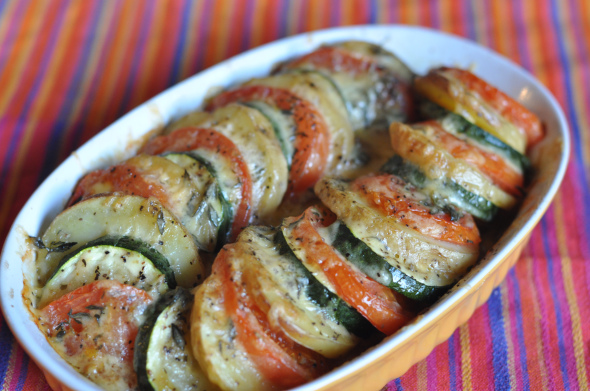 This side a perfect match for the lamb I posted here yesterday. I love that it is red and green- how festive! It couldn't be any easier. I actually saw Barefoot Contessa do this on her show. I couldn't find the actual recipe but it looked so easy that I was able to remember the recipe pretty well (at least I think I did!). Although I think she used a different cheese.
I made half of the recipe to feed my family, but the recipe below will be enough for about 6 good portions. If you are having another side you could stretch it even further, but we just had the lamb and this dish.
This is what you'll need (more or less).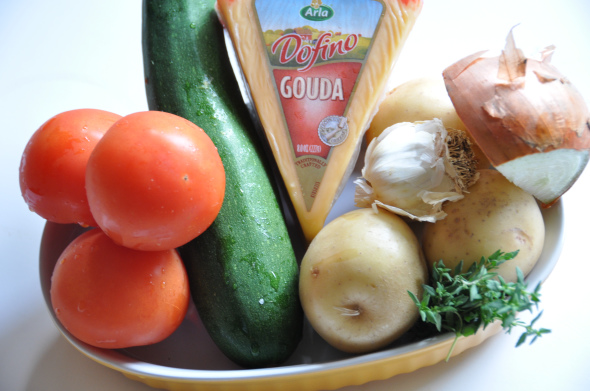 Slice your veggies into 1/4 inch rounds. You want them to be as uniform in diameter as possible so that they cook evenly.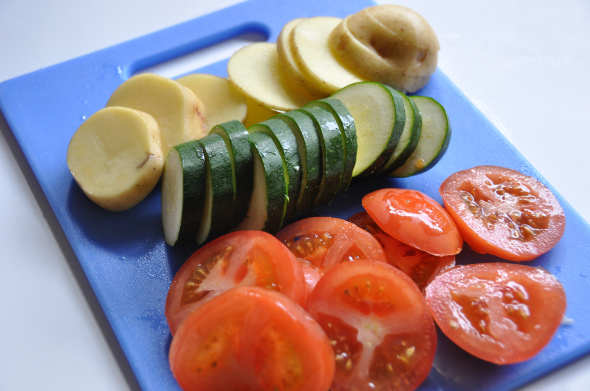 Once your sauteed onions and garlic come out of the skillet, dump them into a baking dish.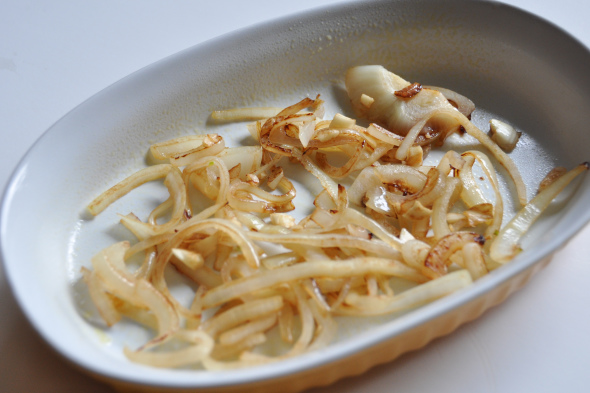 Layer the veggies. Sprinkle on the fresh thyme and Italian seasoning; cover and bake.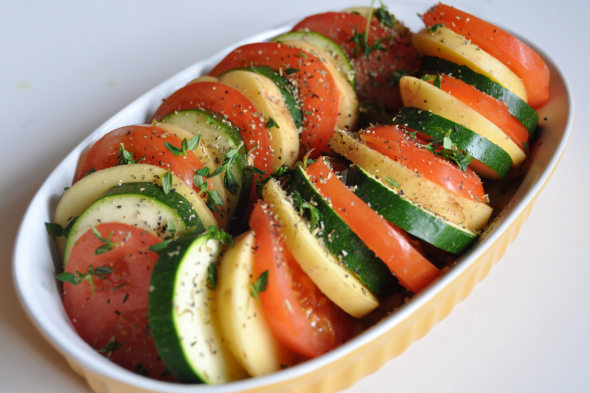 Top with cheese half way through the baking and this is the finished dish!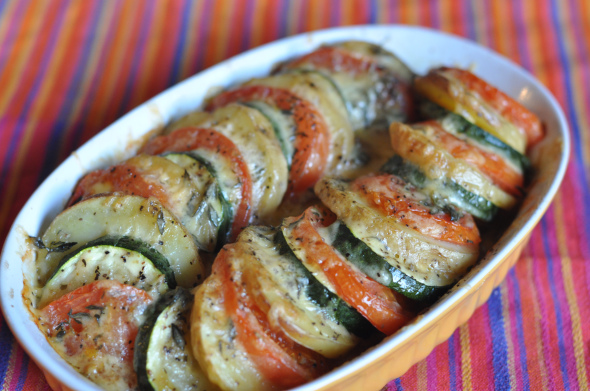 The juices from the veggies meddle together with the onions, cheese and herbs and the result is so good! It almost tastes like french onion soup when you get to the bottom. Delicious!
Vegetable Gratin
Recipe modified from Barefoot Contessa
INGREDIENTS :
5-6 small tomatoes (~2.5 inch diameter), cut into 1/4 inch rounds
6 small to medium unpeeled gold potatoes, cut into 1/4 inch rounds
2 large zucchini (discard ends if too narrow), cut into 1/4 inch rounds
1 large onion, thinly sliced
2 garlic cloves
1 teaspoon Italian seasoning
1 Tablespoon thyme, chopped
2 Tablespoons olive oil
1 to 1 1/4 cup gouda cheese, shredded
Salt and pepper
DIRECTIONS:
1. Preheat oven to 375 degrees. Saute the onions in skillet in ~1 of olive oil on medium heat for about 6-7 minutes, add chopped garlic and cook 1 more minute.
2. While onions are cooking, wash and cut your vegetables.
3. Place onions in the bottom of your baking dish coated with cooking spray. Make a stack of zuchinni, potato, tomato, layer the stacks all around the dish. Make sure to use one layer only.
4. Sprinkle with Italian herbs, thyme, generously salt and pepper the dish. Drizzle with olive oil, ~1-2 Tablespoon.
5. Cover tightly with foil and bake for 35 minutes. Add grated Gouda cheese. Bake uncovered additional 25 to 30 minutes until bubbly and lightly brown.
NOTE: If you are buying by weight, I'd say you'd need about 1 pound of each vegetable. You might have extra slices depending on what size dish you use. Make sure to find the vegetables with the same diameter so that the cooking is even and the dish looks nice and uniform. An oval baking dish works well for this (9x13x2). The potatoes remain a little firm even after the hour of cooking, but I think it was a nice contrast to the soft tomato and zucchini.
Nutritious Eats Benefits: potassium, vitamin C, vitamin A, fiber
Enjoy!