Howdy! Hope you got a chance to check out my last post of my Lightened Up Chicken Parmesan. It's a gluten free, simple dish that can be made during the week and it makes a great freezer meal! Check it out if you missed it over the weekend.
Today I will tell you about these tortillas I have been making for sometime. I don't make them ALL the time because they are obviously more time consuming, but I hate store-bought tortillas which are all loaded with preservatives! The only ones I will buy are the raw ones, but I can't always find them in a store now that I can't shop at Costco so lately I just haven't been buying any.
But tortillas…I need in my life. They are just the perfect vehicle for so many things- eggs, meat, chicken, pork, tofu, veggies. You can make pizzas out of them or any wrap you like. They usually run you less carbs than bread too.
And one of the best parts of making these (apart from the fresh from the griddle warm tortilla you get to eat) is that they are super simple! The rolling of the dough and individual cooking time is the only pain, but seriously they couldn't be any easier.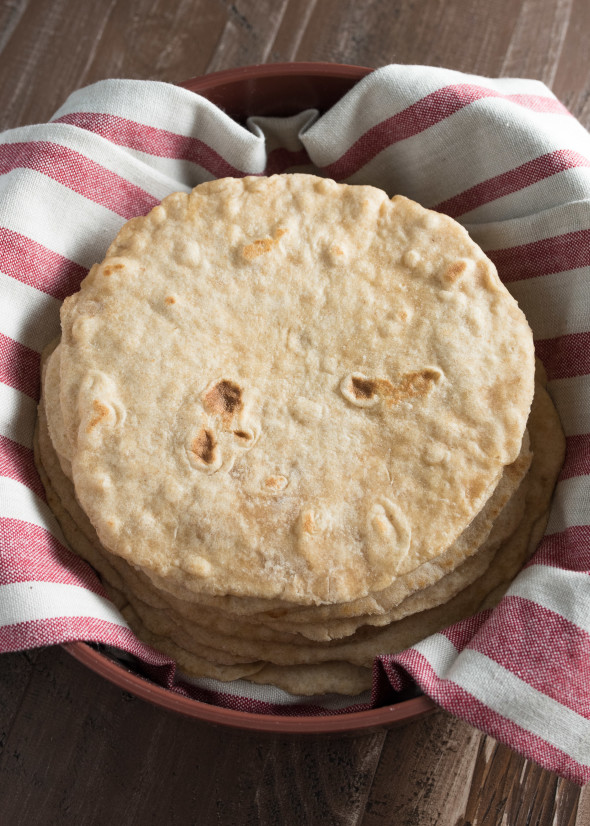 This recipe makes a dozen, but if you want to have a larger tortilla divide it into 8 portions. Just store them in an airtight zip lock bag on the counter for a couple days or in the refrigerator for a little longer and reheat when needed.
Oh and I don't really have much to say about my lack of photos other than there is SO much that goes into food styling. You probably don't realize it, but I just didn't feel like it. I couldn't get myself to put one other thing on the table so there you have it, probably the simplest photo I have on my blog. Ha.
Here are some things you can make using your tortillas, found on the Cooking Light website! Click Links to find the recipes!
Roasted Red Pepper Hummus Veggie Wrap
We started soccer this week for 2 of the kids so things are about to get crazy. I foresee packing a lot of tacos and wraps to take to the practice field for everyone to eat a healthy dinner on the go.
What's going on in your life? Are your kids back to school yet?
Homemade White Wheat Tortillas
Super simple flour tortillas for wraps, tacos, quesadillas and more!
Author:
Melanie F. | Nutritious Eats
Ingredients
1 cup all-purpose flour
1 cup white whole wheat flour
1 teaspoon salt
1 teaspoon baking powder
1 heaping Tablespoon butter (can substitute vegan butter)
1 Tablespoon olive oil
½ cup to ¾ cup water
Instructions
In a bowl combine dry ingredients. Add one piece of butter cut into small pieces and the olive oil and using your hands mix together until the mixture is crumbly. Start by adding ½ cup of water working it into the dough until a ball forms. You will have to knead this gently in the bowl until it comes together and add a splash more water if needed (but the ½ cup usually works for me). When the dough comes together, turn onto a floured surface and knead for a minute or until smooth. Divide dough into four quarters and each quarter into 3 pieces, creating 12 pieces total. Roll each piece into a ball. Cover balls with a damp town and let rest for 20+ minutes.
When ready to cook, roll dough out with a rolling pin (will need a little additional flour for this), roll as thin as you can. Turn the griddle on to medium high heat and let it get really hot. Spray with cooking spray or a little oil and cook tortillas one at a time for 1-2 minutes per side or until lightly browned (you will see some bubbles starting to form as you cook). Keep cooked tortillas wrapped in damp cloth until ready to serve.
Notes
You could use all white wheat flour or all all-purpose too.
If you want 8 inch tortillas, divide the dough into 8 portions instead.