Ever wonder exactly what nutrition supplements you should be taking? You are not alone! When working with folks on their nutrition I always focus on their eating habits and exercise first, but I do believe in taking certain supplements.
IDLife, is the first company to offer individually designed customized nutritional supplements based on each unique person's life. It's truly a one of a kind concept.
If you are puzzled over an endless vitamin section in the store, then you have to check this out.
ID Nutrition from IDLife is a personalized nutrition program designed just for you. All you have to do is take the simple yet thorough assessment  (click on "take free assessment" , then enter mflinn and you'll have to create a quick login to continue). In just a few minutes the assessment gathers info on your eating habits, where you live, hereditary conditions that may exist in your family, etc and returns a complete set of recommendations on which supplements YOU should be taking.
No one size fits all supplements.
The assessment is HIPAA compliant so no one but you will have access to your answers and recommendations.
The recommendations are based on science, not outdated government standards. It pulls in over 7,000 clinincal studies to provide you with it's recommendations. It also takes into account any over-the-counter or prescription medications you use to help avoid known drug interactions.
Plus the assessment will tell you WHY you should take the recommended supplements and what information you answered in the assessment triggered the recommendation. This is all a free assessment. Then to make things even easier you can order the recommended vitamins/supplements and they come delivered monthly to your door in pre-packaged portions which makes them super convenient and easy to take.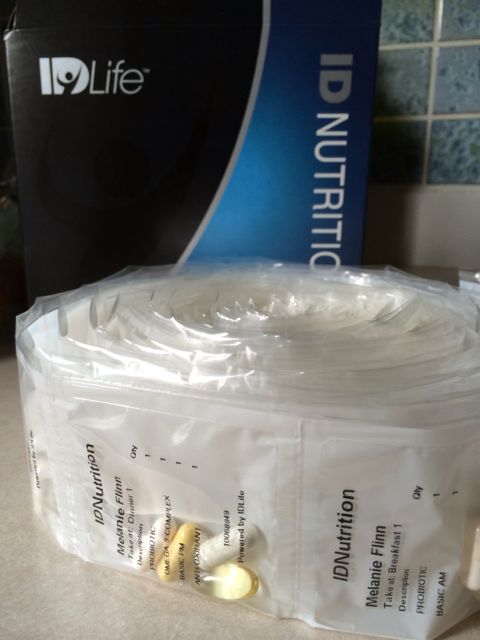 They don't have a bad after taste like most vitamins do and there are no synthetic filler in these, all veggie based. Plus they are non-GMO, vegan, gluten and casein-free and ranked 12 out of a scale of 1-12 (with 12 being the highest quality). You will actual absorb these vitamins versus some of the ones of unquestionable quality that you find at the store.
The cost will vary from person to person, but likely less than a fancy coffee a day or even an expensive protein bar.
Here is a quick video about IDLife
If you are interested in the a business opportunity with IDLife just leave me a message or email me at melanie at nutritiouseats dot com. I can send you a packet and the business presentation to look at.
You don't have to have a sales background or have any special skills to sell IDLife products so if you are interested in the health and wellness field this can be a great part-time opportunity.
Go learn more about your recommendations.
1. Create a quick login here
2. Click "take free assessment" up top
3. Answer assessment questions, read your recommendations