What a fabulous weekend! I returned late Sunday afternoon from the IFBC, a 2 1/2 day food blogging conference in Seattle that was full of sessions, socializing and eating. It was a great to say the least!
I will have a couple posts about the conference but today I wanted to talk a little about the keynote speaker and the food.
Dorie Greenspan (you can read more about her here) was the keynote speaker, has written 10 cookbooks and won 6 James Beard and IACP awards for them. She has trained extensively in Paris, even spent some time training with Julia Childs. There are two online cooking clubs, you might have seen on some blogs: one called Tuesdays with Dorie and one called French Fridays with Dorie that started with one blogger who wanted to bake their way through her cookbook. The membership has done nothing but grown.
I thoroughly enjoyed her keynote speech but the real treat came Saturday night when I got to dine with her! More on that in a minute.
Friday night was when I got a true taste of what was to come in regards to the food. It was truly a foodies dream. After moving to Washington a year ago I have learned that Seattle has quite the food scene and although I don't live close enough to enjoy it on a regular basis, when ever I do go to a restaurant downtown I am pleasantly surprised. The first night, called a Taste of Seattle allowed some of Seattle's best chefs and restaurants to come in and serve us some of their delicious food. I thought it would be a few appetizers and then I'd go out to dinner afterwards but it ended up being a ton of food. EVERYTHING (at least everything I tried) was outstanding. I really appreciated that there was a big emphasis on local, fresh ingredients, what you would expect from the best restaurants in the area.
Please take note my old iphone is dying (time for an upgrade!) so these pics are less than beautiful.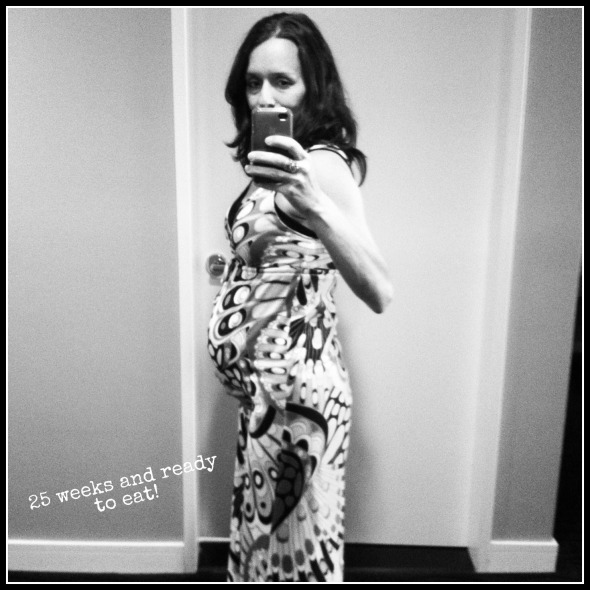 There was honestly so much food Friday night and I was so hungry that I could hardly stop to take photos (so this is just a tiny example of what was served). The sushi was a huge hit with everyone and lucky for me their vegetarian roll really hit the spot. The bottom pic is a tamale and some ceviche.

Then came Saturday morning, a simple yet delicious breakfast hosted by Pasty Smart. It was simple but perfect, a European style breakfast. You would think it would be a pastry bar, right? Not so much. There was yogurt, fruit and gluten free granola. There was an assortment of meats, freshly carved ham, hard boiled eggs, baked brie, jams and homemade pastry. I made  a yogurt bowl and simple ham sandwich.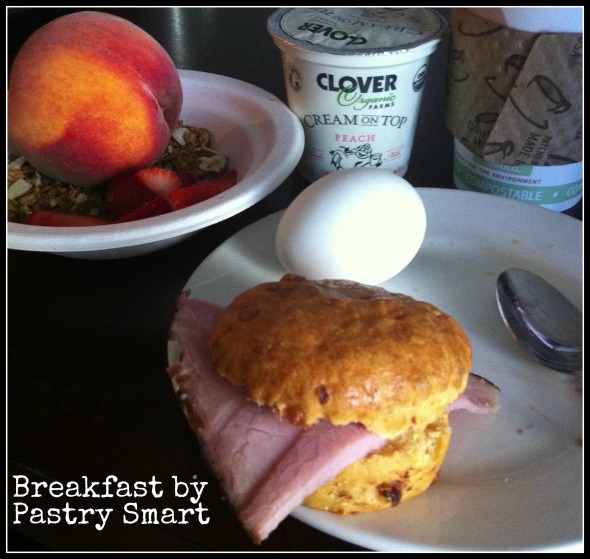 After Saturday's sessions Alaska Seafood hosted the reception, on the menu: Alaska Halibut Corn Dogs, Buffalo Alaska Cod Quesadillas, Sockeye Salmon Bites and Bacon Wrapped Scallop Sliders. It was all very tempting, but I only had two bites and decided I would feel ill if I ate everything. Too bad because what I did have was delicious.
Saturday night was a surprise dinner hosted by Urbanspoon. They split up the 345 conference attendees among 25 of Seattle's top restaurants (of course there were some people that opted out of attending so I think each restaurant accommodated approximately 8-15 people).  At the beginning of the conference we received a card in our name tag that said what time our dinner was and what neighborhood group we were assigned to….the rest, including who was in our group and where we were going, was left a surprise. They did a wonderful job pre-planning to accommodate those with dietary restrictions (i.e. all the vegetarians went to the same restaurant that could accommodate them).
I was a little nervous heading into the dinner. I hadn't met that many people yet and hadn't heard of anyone in my group. The bus I got on seemed to have very few people in my group, but it turns out I had one of the most perfect evenings. Not only did we get assigned one of the best restaurants, Crush in Madison Park, but Dorie Greenspan and her husband were in my group so I got to sit next to her at dinner! There were 8 of us in total and the night was amazing.
The host/server immediately asked if we had any dietary restrictions and since I noticed a few of the courses were raw beef/fish I mentioned that I was pregnant. They without hesitation say they make accommodations all the time and not to worry.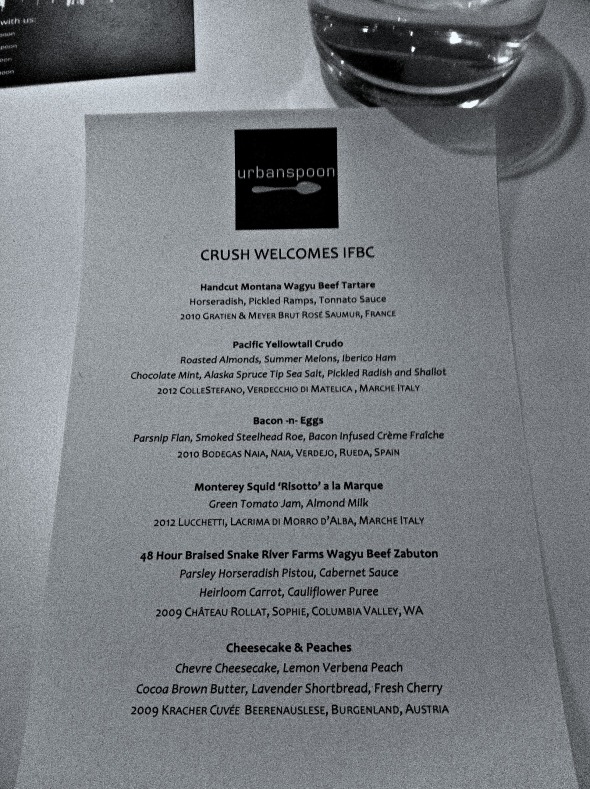 We received around 11 dishes with wine pairing for the 6 main dishes, I even got a special non-alcoholic pairing to go along with my dishes- some examples: ginger beer with cranberry juice and lime, sparkling rose water, peach nectar mixed with tonic and lemon, etc. They were all fabulous drinks! They also made the most amazing food substitutions for me when needed. Here is an example of our tasting menu (we had many of these courses- plus/minus a few dishes).
Now here is when you will need to adjust your eyes and pretend this pictures aren't as yellow and green as they appear to be.
The upper right pic features one of my favorite items of the night, a smoked squid ink macaroon with chèvre. It was such a interesting flavor combo. The organic nantes carrot soup with lime leaf (lower left) was amazing too.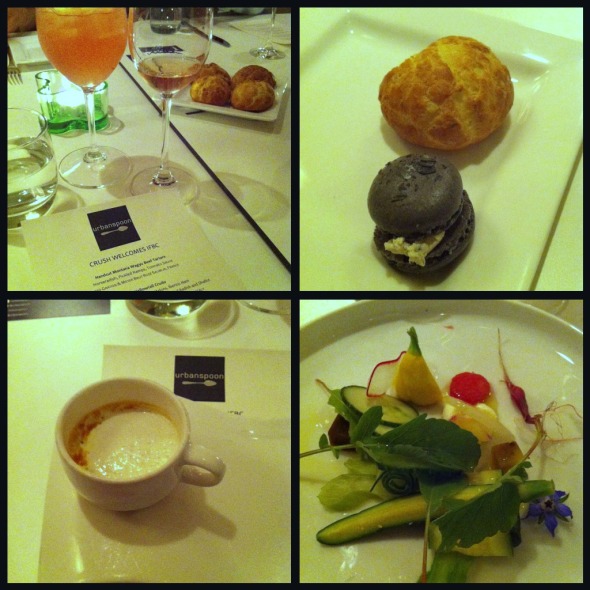 I can't remember all the details, but there was a seared scallop and seared halibut which were substitutions for the beef tartar and yellowtail crudo that the rest of the table had. They really outdid themselves with the amazing substitutions. I felt pretty darn lucky. The bottom right was the very unique and tasty squid dish.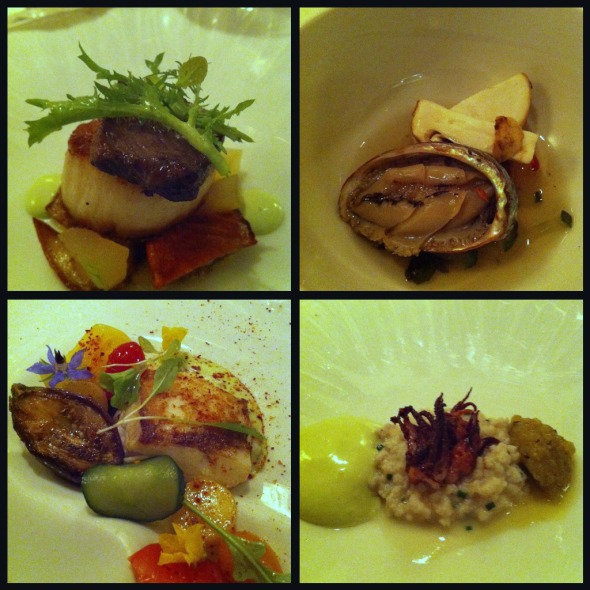 on the left, some of my non-alchoholic drink pairings, on the right, the 48 hour braised Idaho Wagyu beef. For someone that rarely eats red meat (and never orders it from a restaurant), I happily gobbled this up. It was ridiculous in a good way.
Then a sorbet palate cleanser and the goat cheese cheesecake (followed by some handmade candies and chocolate caramels not pictured).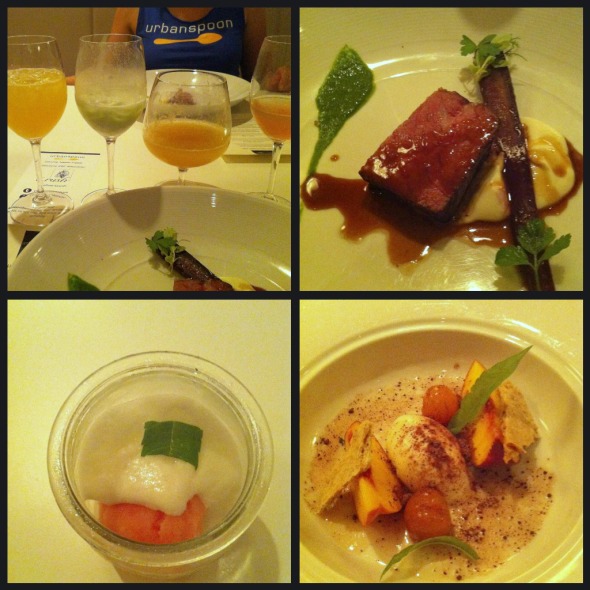 Our awesome table of bloggers and me and Dorie Greenspan! She is such sweet, sweet woman and I enjoyed the chance to chat with her. I now am going to buy every cookbook she has written.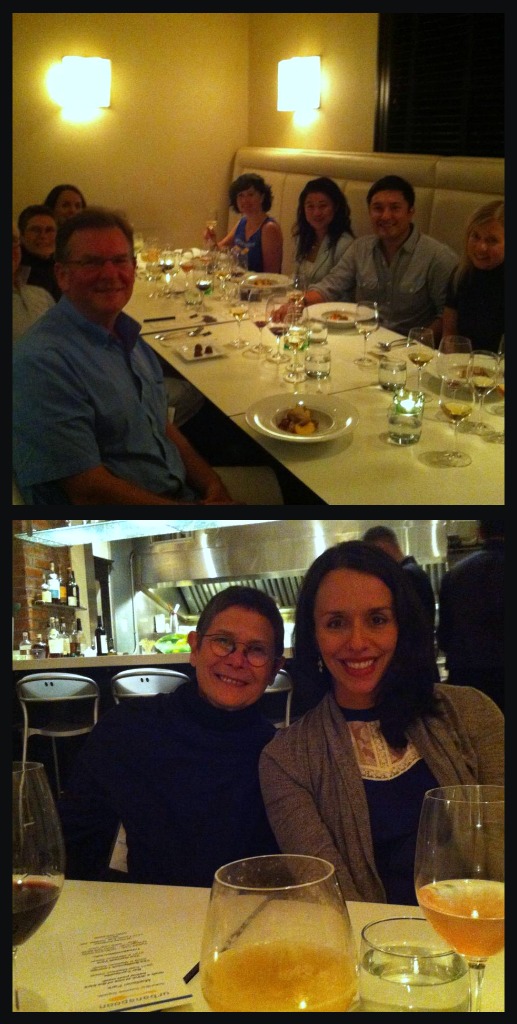 I couldn't believe the night that Urban Spoon organized and although I only went to one of the twenty-five participating restaurants, I can't believe that it gets much better than this! A huge thank you to the participating Seattle restaurants, Crush restaurant and the amazing Chef Jason Wilson and Urbanspoon!
It was a night we'll never forget!