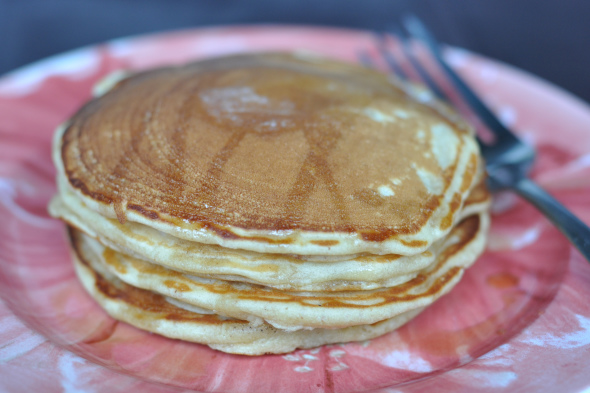 I love breakfast. If I could or had the time, I'd sit down to a big breakfast every morning. I already mentioned my love for eggs, but today I want to talk about pancakes. It is National Pancake Day after all! When we lived in San Diego there were all these wonderful brunch spots and 'd always order some sort of pancake (usually with berries or bananas) and eggs on the side. I'll admit that growing up all I ate was freezer pancakes or the boxed mixes at best and it wasn't until I was in my 20s that I realized how easy it is to make homemade pancakes.
Pancakes are so easy to whip up- you basically measure and dump ingredients in a bowl. They do take a little time so they are great for weekends or any day you have the extra time. Since a recipe usually makes a bunch of pancakes they can often last for several days (especially if you have little kids who don't eat big portions). Sometimes I have enough left over to freeze and then I have a super fast weekday breakfast ready for the kids.
Buttermilk, pumpkin, wheat, chocolate chip, banana, blueberry….I love them all. These peanut butter pancakes are my new favorite. They are SO good and you can really taste the peanut butter. Serve them with a little berry flavored-syrup or even spread them with jam. I just used a tiny bit of plain syrup for my kids and they loved them. If you limit the amount of butter and syrup you use, there is nothing wrong with pancakes nutritionally speaking. You can use whole wheat flour and low fat milk to make them healthier, but the pancake itself is low in sugar.
Try my new favorite pancake over the weekend!! YUM!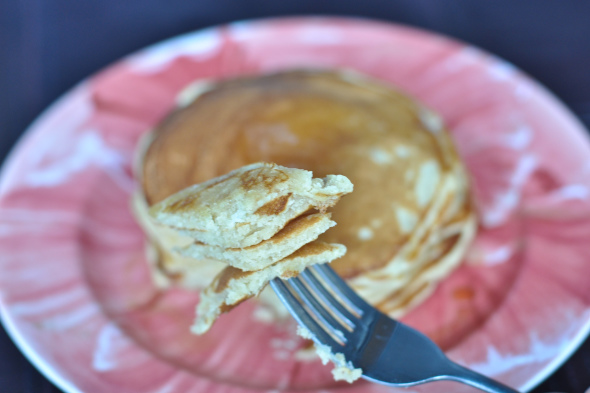 [print_this]
Peanut Butter Pancakes
INGREDIENTS:
1 cup all purpose-flour
1 Tablespoon baking powder
1/2 teaspoon salt
2 Tablespoons sugar
1 egg
1 cup plus 2 Tablespoons low fat milk, plus extra if needed to thin
1/2 cup creamy peanut butter, melted (15 to 30 seconds in microwave)
2 Tablespoons vegetable oil
DIRECTIONS:
1. Preheat griddle on medium heat. In a large bowl, whisk together dry ingredients. Slowly add egg, milk, peanut butter and oil until combined. Let stand 5 minutes.
2. Coat heated griddle with a little butter, veg oil or pam cooking spray. Pour 1/4 cup batter per pancake. Flip when bubbles have formed and a quick peak on the underside reveals a golden color. Serve with regular or berry-flavored syrup or spread pancakes with jam or preserves. Yield: 12 pancakes.
Recipe from Sunny Anderson, Food Network
[/print_this]