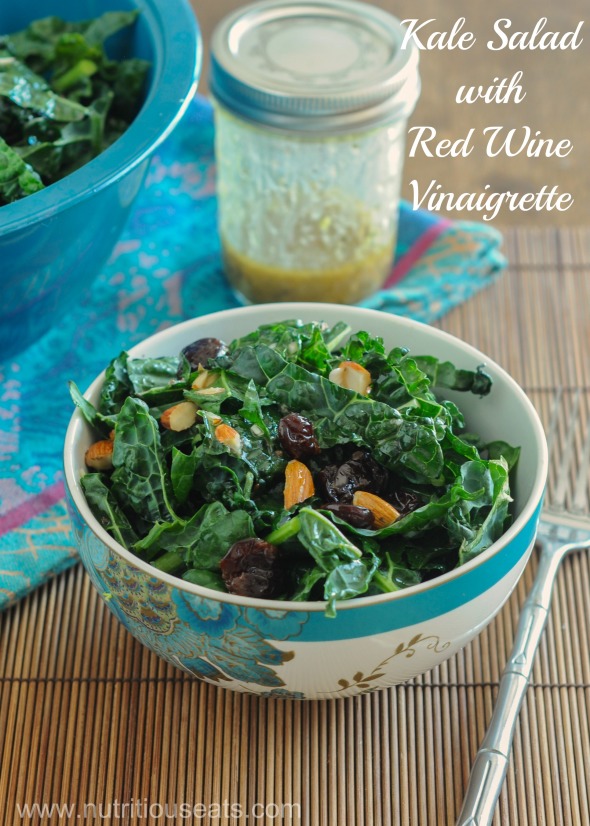 Is anyone tired of kale yet? I'm not!
It's one of my weekly staples in my CSA box and I love it! I usually sauté it, use it in smoothies or chop it thinly and enjoy it as a salad. Occasionally I'll look for a good recipe incorporating kale just to change things up- it's such a versatile veggie. Not to mention it's a nutritional powerhouse. I'd need a whole separate post just to talk about the benefits, but here are some: full of cancer-fighting compounds, crazy high amounts of Vitamin K (careful if you're on an anticoagulant medication), Vitamin C, Vitamin A and Iron. High in fiber…..just to name a few.
The great thing, because it's so hearty, is you can dress it hours before you're going to eat and it's not going to get soggy. In fact even as leftovers it will hold up nicely, which makes it a great make-ahead lunch idea if you pack your lunch.
I make my own dressings or if I am lazy just do a simple oil and vinegar and/or lemon juice on our salads but this red wine vinaigrette with shallots and garlic is the prefect accompaniment to this salad. And if you don't like kale, just make this dressing and put it on anything and everything! I will warn you the raw garlic has a strong presence which I LOVE but if you aren't a fan, cut down on the amount used.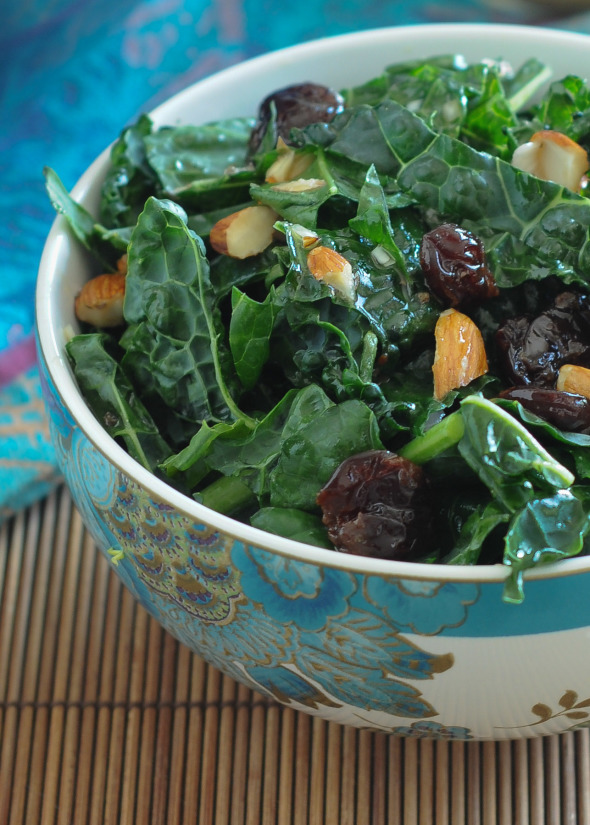 You really don't need a lot of ingredients to make a salad a good one which is why I limited this one to 3 ingredients. Feel free to add in whatever else you like!
I even have a tentative meal plan to share this week and as much as I'd just like to wing it, I know I need to plan. School starts for us this week plus soccer for both of the oldest kids so that means twice a week practice plus games on Saturday (x 2). I definitely had to think about this week and I am going to try and get some leftovers stocked up as well as having the slow cooker help me out.
Sunday
Clean the fridge veggie night- Potato Salad, Pasta Salad, Caprese salad, plus hotdogs for the kids
Monday
Grilled Chicken with Cilantro Pesto, Leftover Sides, Green Salad
Tuesday
Chickpea Curry, Basmati Rice, Peas/Carrots & Avocado
Wednesday
Leftovers
Thursday
Carnitas (slow cooker), Beans, Corn Tortillas, Fixings- Slaw, Pico, Salsa
Friday
Pizza on the Grill
Ok hopefully this helps us have a smooth week.
What are you planning to eat this week? Do you like kale or are you sick of seeing it everywhere?
Kale Salad with Red Wine Vinaigrette
Ingredients
6 ounces kale, thinly chopped
½ cup dried tart cherries
¼ cup chopped almonds
Dressing:
3 Tablespoons red wine vinegar
1 teaspoon Dijon mustard
½ teaspoon agave syrup
2 Tablespoons minced shallots, finely minced
2 cloves garlic, minced
½ teaspoon dried basil
¼ teaspoon salt
½ teaspoon coarse black pepper
¼ cup olive oil
Instructions
Mix kale with dried cherries and chopped almonds in a large bowl.
For dressing combine vinegar through black pepper and whisk together. Slowly whisk in olive oil. Store in an jar and shake before using to emulsify. Pour ~4 Tablespoons of dressing onto kale. Toss well and refrigerate for a few hours or serve immediately.
Notes
You should have a little dressing leftover- use as needed.