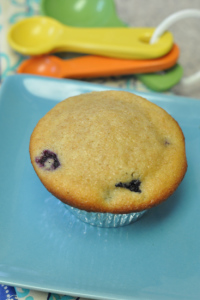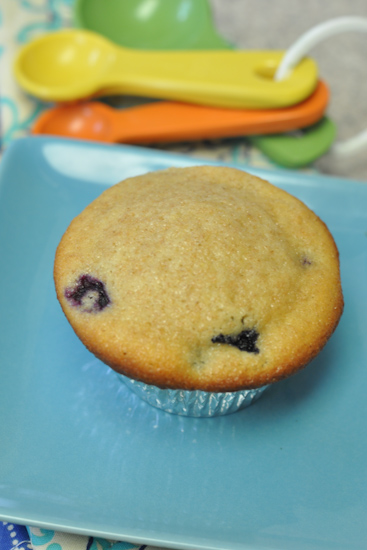 Due to all the rain we've had recently, I have been searching for crafts and things to do with the kids around the house. I can always count on them wanting to bake with me so I knew this would be the perfect activity for one rainy morning. If you haven't cooked with your kids, I highly recommend it. Getting them involved in the cooking/baking can really help prevent them from being picky eaters. They take pride in helping- stirring, pouring, tasting and my 4 year old is now old enough to crack the eggs. What fun! Of course it can be a great learning lesson- simple addition (i.e. counting eggs), measuring item, teaching them about the ingredients you are using and why they are good for you. If you aren't a big baker/cook, start with something simple- maybe some boxed bran or corn muffins. Have fun with your kids- don't worry if they make more of a mess or if it takes twice as long to make the food. The important thing to remember is that kids are learning from a young age to responsible for their food and will hopefully not grow up having to rely on drive-throughs and frozen foods.
I have experimented with "low-fat" blueberry muffins for some time and I've never found one that is moist and delicious. Nowadays, I don't worry so much about finding low fat baking recipes. I always use low fat dairy products in exchange for regular and look for ways to bump up the nutrition through the use of whole wheat flour, flax, fruit, etc. I have no issues with baking with butter or oil (as long as it's not in crazy excess) and focus more on eating the baked goods in moderation. Trust me, often the "low fat" baked items contain just as many calories and more sugar than the others and just aren't as satisfying.
This is one of the Barefoot Contessa's recipe I found online. I made a couple changes, but it is a delicious, moist muffin that you and your kids will love!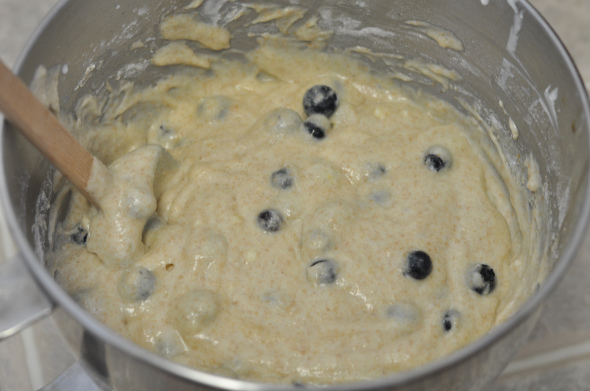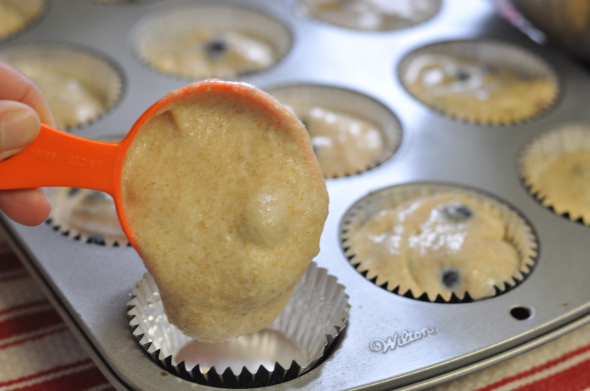 Here is a great little trick- rub your muffin pan with butter to prevent the muffin overflow from sticking. Makes clean up a cinch. Note: it's best to do this before putting in the muffin tins and filling them. So ignore the picture-(it's not a very good picture anyway). I did it after the fact like a dummy.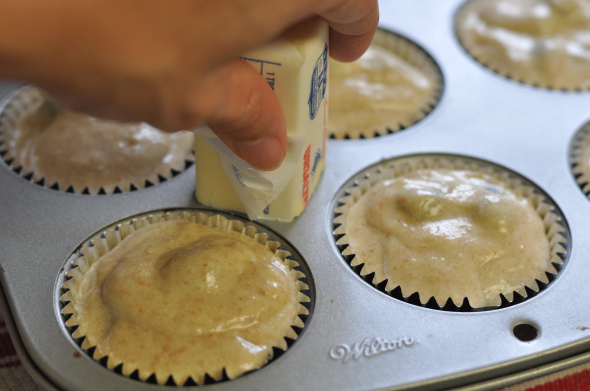 In the oven they go! Now, the hard part- waiting (and cleaning up).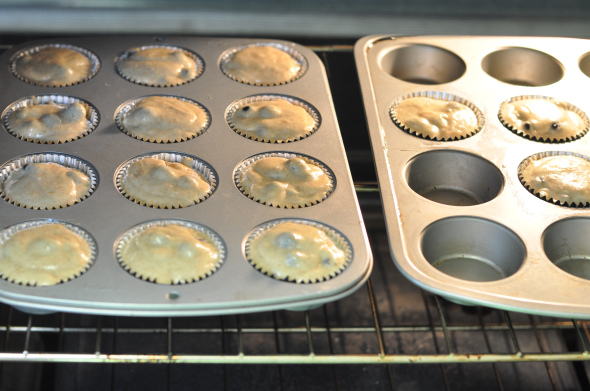 I literally turned my back for 2 seconds to put the bowl in the sink and my daughter had already helped herself to the batter. She's a natural!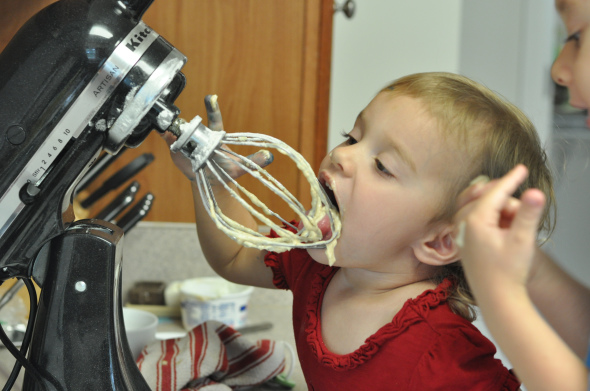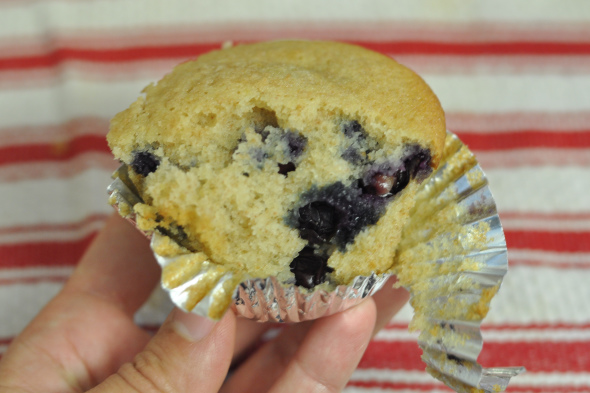 You can't tell from the bottom picture, but these muffins really are loaded with blueberries. YUM!

[print_this]
Blueberry Coffee Cake Muffins
Recipe slightly modified from Barefoot Contessa
INGREDIENTS:
12 tablespoons (1 1/2 sticks) unsalted butter, at room temperature
1 1/2 cups sugar
3 extra-large eggs, at room temperature
1 1/2 teaspoons pure vanilla extract
8 ounces low-fat sour cream (I used 1/2 cup low fat sour cream, 1/2 cup low fat buttermilk)
2 1/2 cups all-purpose flour (I used 1 1/2 cups whole wheat, 1 cup all-purpose)
2 teaspoons baking powder
1/2 teaspoon baking soda
1/2 teaspoon kosher salt
2 half-pints fresh blueberries, picked through for stems
DIRECTIONS:
1. Preheat the oven to 350 degrees F. Grease your muffin pan with butter (on the top of pan only!). Place 16 paper liners in muffin pans.
2. In the bowl of an electric mixer, cream the butter and sugar until light and fluffy, about 3-4 minutes. With the mixer on low speed, add the eggs 1 at a time, then add the vanilla, sour cream, and milk.
3. In a separate bowl, sift together the flour, baking powder, baking soda, and salt. With the mixer on low speed add the flour mixture to the batter and beat until just mixed. Fold in the blueberries with a spoon, until batter is completely mixed.
4. Scoop the batter into the prepared muffin pans, filling each cup just over the top, and bake for 25 to 30 minutes, until the muffins are lightly browned on top and a cake tester comes out clean.
COOK'S NOTES: I ran out of sour cream, therefore had to sub buttermilk which worked great. This is not necessary though. I always like a mix of whole wheat and regular flour, but feel free to experiment.
[/print_this]