Hope you all had a great Thanksgiving!
Everything went well over here- we were invited to friends on Thursday and I only had to bring 3 dishes. Since the last few years I have been cooking the entire meal, this was quite a treat. The food was all delicious and the company was lovely. The kids were ready to play with other kids and take a break from mommy so we all thoroughly enjoyed it. In case you still have leftovers you are wondering what to do with, check out my Thanksgiving Leftover Potato Pancakes recipe (of course you could save this for Christmas or Hanukkah dinner leftovers too).
Friday we basically stayed in PJs for most the day when finally I got so stir crazy I suggested we run a quick errand and pick up dinner. I was really trying to avoid any Black Friday shopping because it's just not my thing. We ran into Michael's looking for something for my daughter's birthday party that is next weekend and were out of there in 20 minutes. I think since it was 4:30pm all the crazy people die-hard shoppers were already done.
Saturday and Sunday were pretty quiet too as there was more house cleaning and a little Holiday baking to be done. I LOVE Holiday baking. My absolute requirements are homemade gingerbread houses, rolled out sugar cookies, a treat for Santa (usually a cookie or fudge) and lots and lots of pumpkin bread. Anything else that gets made in the month is just bonus.
One of my favorite traditions is making homemade gingerbread houses. Honestly this is fun for single people, girls night out, families and kids.
I got went ahead and made the dough over the weekend and I will cut out the pieces sometime this week and bake them so they are ready to assemble when we are. This is last year's house!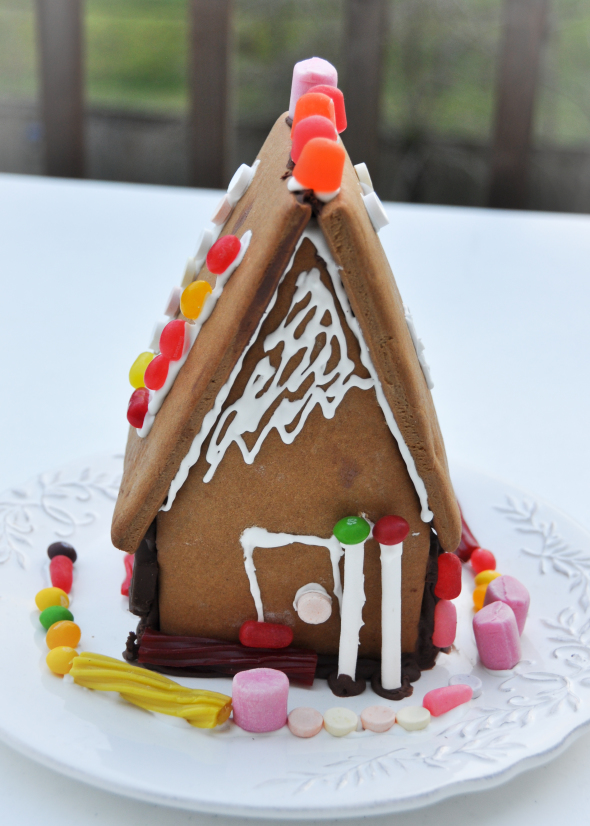 I am trying to cross off some of our traditional December activities/traditions just in case the baby decides to make an early appearance! Oh and I have been using the same recipe for years with cut-out templates from Martha Stewart's website. Let me know if you want the recipe but I won't bother linking to it since Martha doesn't seem too fond of bloggers. 😉
I have also been enjoying a lot of cookbook/magazine reading over the long weekend. I think I have mentioned before just how many magazines I subscribe to and it's a bit insane, but I LOVE the Holiday editions so I am making sure to read as many as I can. Speaking of cookbooks, since I am one of the members of the Cooking Light Bloggers' Connection, I was sent their new cookbook, Lighten Up America to enjoy!
It was just published the end of October and includes 150 recipes that have been made lighter, but just as delicious, as their guilt-laden namesakes.
You remember when I made the scones here? That recipe was from this cookbook. To be honest I haven't had time to try any other recipes but it's a beautiful book that would make a great Christmas gift. You won't necessarily find anything too unique in here but it's a nice place to go for lighten-up traditional dishes.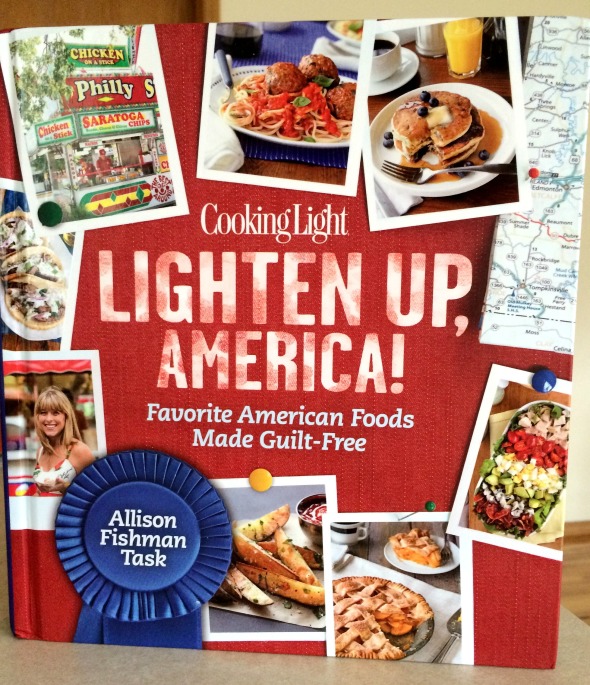 These are a few of the dishes from the cookbook I thought I'd try next:
Chicken Tikka Masala
New Orleans Gumbo
Onion Rings (that are not deep fried)
Butternut Squash Salad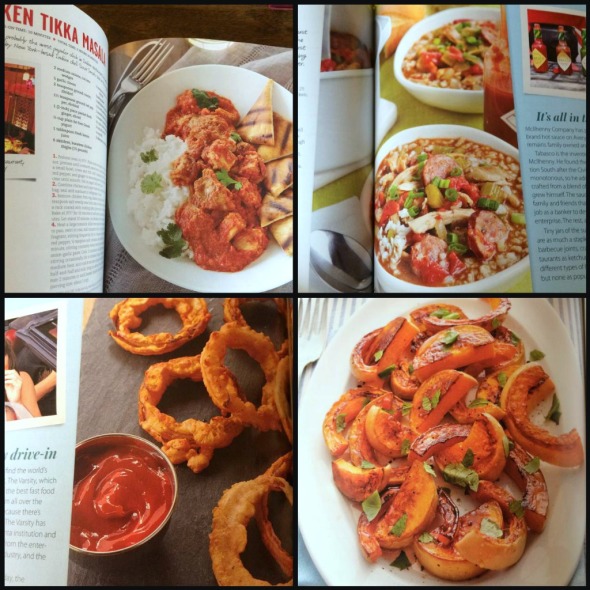 Did I mention that my friends at Cooking Light sent me 2 cookbooks? One to keep and one to giveaway to one of you!! You should definitely enter to win a copy for yourself or to gift to someone during the Holidays.
GIVEAWAY DETAILS: 
Winner will win a copy of Cooking Light Lighten Up, America! Cookbook!
HOW TO ENTER:
Just enter via the Rafflecopter below.
And this is directed at the non-bloggers who might not be clear on using Rafflecopter….the mandatory requirement is to leave a comment. Super easy. Once you click on the rafflecopter it will unveil the question you should comment about. I really don't care whether you answer that question or not, but you've got to leave a comment. I noticed during my last Suja Juice giveaway there ware a ton of people who entered via rafflecopter but never left a comment on my site so your entry won't be valid. Sorry!
If you don't know how to leave a comment….and the reason why I am going through this is because there were a LOT of people that entered the rafflecopter last time that didn't leave a comment (mostly my friends, haha) so they either 1) don't know how to 2) were just ignoring the rules….so here is my quick tutorial.
Look at the top of the post in the right hand corner and if you are the very first person to leave a comment is will say (so just click on that, enter you email and comment and you're done):

or if someone already has left a comment it will start showing the number next to the message box (just click on the message box, enter your email and comment and you're done) :

Ok sorry if that seems silly but I had to go through several winners last time that didn't follow the rules.
CONTEST WILL START DECEMBER 2nd AND WILL END DECEMBER 9TH at 12:00AM
Good luck!
a Rafflecopter giveaway

Questions: How was your Thanksgiving? Did you have a long weekend?