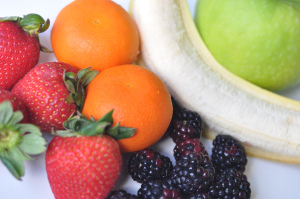 Wow did this week go by fast! I can't believe it's already Sunday and time to plan meals. I'll have to admit I am going to be a bit lazy this week on my meal planning. I attempted grocery shopping on Saturday along with the rest of the people on post. Super irritating. Everyone was going for the same BBQ items, the produce was picked over and I couldn't handle the traffic in the store. I ended up with about 1/3 of my list and just plan on winging it this week and using things from my freezer.
As you meal plan this week, or even if you skip it and just grocery shop for the week I thought it would be helpful to remind you of the newest dirty dozen and clean fifteen list. Summer is prime time for fresh fruits and vegetables; you just want to make sure they're not loaded with toxic chemicals. The lists provide you with the foods that are most likely to be heavily contaminated with pesticides when grown using conventional methods. When it comes to the dirty dozen, try to buy organic. I am sad to report in my small town in Missouri I can only find organic celery, spinach and occasional strawberries. 3 of the 12. Boo. Our Farmers Market is also pathetic so I personally don't have  many options this year, but maybe that will change throughout the summer.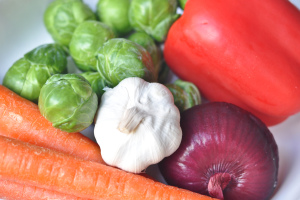 The EWG makes clear in their press release about the 2011 guide that they are not advising people to stop eating the fruits and vegetables listed in the Dirty Dozen. They say that "the health benefits of a diet rich in fruits and vegetables outweigh the risks of pesticide exposure". What you can do to reduce pesticides is wash all your produce with water and lightly scrub those especially with edible skin like apples, peaches, plums, etc. I like to keep a designated brush just to clean my produce. Some other ideas to avoid pesticides: plant a garden, shop at a Farmers Market or join a CSA.
The Dirty Dozen
1. Apples
2. Celery
3. Strawberries
4. Peaches
5. Spinach
6. Imported nectarines
7. Imported grapes
8. Sweet bell peppers
9. Potatoes
10. Domestic blueberries
11. Lettuce
12. Kale and collard greens
And here are the 15 fruits and vegetables that rank lowest in pesticide residues, and therefore may be safer to purchase non-organic.
The Clean 15
1. Onions
2. Sweet Corn
3. Pineapples
4. Avocado
5. Asparagus
6. Sweet peas
7. Mangoes
8. Eggplant
9. Domestic cantaloupe
10. Kiwi
11. Cabbage
12. Watermelon
13. Sweet Potatoes
14. Grapefruit
15. Mushrooms
And if you're not currently linked up to my facebook page, I'd encourage you to "like" me, unless you're not into facebook! On my fan page I also posted the pdf shopper's guide to the dirty dozen and clean fifteen list provided by the Environmental Working Group (EWG) in case you missed it! Perfect thing to print out and carry in your purse for when you go shopping. Have a great week and here is our menu:
Menu for the Week of July 3rd
Sunday
BBQ Brisket Sandwiches (if it's done in time- on the smoker now!), Coleslaw, Chips
Monday
Brisket, Potato Salad, Coleslaw, Pinto Beans, Watermelon, Revolutionary Strawberries (see previous post)
Tuesday
Pan Fried Orange Roughy, Leftover Potato Salad, Green Salad
Wednesday
? Probably a Pasta Dish
Thursday
Sauteed Chicken Breasts with Capers and Cherry Peppers, Rice, Green Beans Almondine
Friday
? Maybe Pizzas on the Grill
Saturday
Dine Out
Whether you meal plan or not, have a great week in the kitchen. If you are going to miss fireworks tomorrow, here are some shots I took last year. Have a safe and happy 4th everyone!